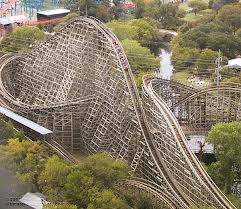 Horrific.
Every family's worst nightmare. A Dallas mom, Rosy Esparza, fell to her death while riding the 14-story tall Texas Giant roller coaster with her kids at Six Flags Over Texas outside Dallas last weekend.
"My mom! My mom! Let us out, we need to go get her!" her daughter and son reportedly screamed as their car came to a stop just after 6:30 p.m. on Friday, the New York Daily News reported.
The ride — at 153 feet high the tallest steel-wood hybrid coaster in the world — is closed and Six Flags is investigating how such a tragedy could have happened — how someone apparently could have fallen when they were supposed to be safely restrained. Witnesses on the ride told reporters she questioned the restraint system when she boarded. They said they saw her "flying off," according to www.rideaccidents.com.
The Dallas News reported it was Esparza's first visit to Six Flags Over Texas, 19 miles west of downtown Dallas, the first amusement park in the Six Flags System. "We are working closely with authorities to determine the cause of the accident," a Six Flags spokesman said.
It's important to remember that as awful as this is, fatalities or even injuries are not common on theme park rides.
According to the International Association of Amusement Parks and Attractions, the chance of being seriously injured on a ride at a fixed-site park in the United States is one in 24 million; only 61 of the 1,415 ride-related injuries –less than 5 per cent required overnight hospital treatment.
Deaths are far more rare. The chance of being fatally injured is 1 in 750 million. (You can read the National Safety Council's report on theme park injuries here . It was released earlier this year but was based on 2011 data. The number of injuries has dropped significantly in the past decade, the report said.
That's no consolation, of course, to someone who is injured or killed. Ironically, the same day as Esparza died, a ride at Cedar Point amusement park in Sandusky, Ohio malfunctioned and seven people were injured but none seriously enough to be hospitalized.
We are going to theme parks—and paying a lot for the privilege—to have fun. We expect to be safe. IAAPA likes to remind us that 297 million guests visit 400 U.S. amusement parks every year and take 1.7 billion safe rides.
But maybe being in vacation mode makes us too complacent. A new study based on data from the National Electronic Injury Surveillance System has tracked 20 years of injuries, NBC News reported earlier this summer. About 20 kids a day are hurt on rides in the peak season, said Dr. Gary A. Smith, who conducted the research for Center for Injury Research and Policy at Nationwide Children's Hospital in Columbus, Ohio.
Most of the injuries are not serious. But about 67 kids a year are injured badly enough to be hospitalized, according to an analysis of the data. That's not the way any of us want to end our theme park day.
"In the past, the discussion has always been on roller-coaster injuries and the bigger rides," Smith told NBC News. . "The message here is that these injuries occur across a broad spectrum of types of rides and across many locations." That includes injuries at rides at malls, stores restaurants and arcades. They accounted for nearly 12 per cent of the injuries reported.
I think whether we are at a big theme park or an arcade, we have to take more responsibility for our family's safety. If we think there is something wrong with the restraint system, we shouldn't take a young park worker's word that it is safe. Get off the ride!
IAAPA says most injuries occur because guests didn't follow the posted safety guidelines or rode with a pre-existing medical condition that was aggravated by the ride. That's why it is key that the kids — and especially teens — understand that these rules are in place for an important reason, to keep them safe:
· Obey listed age, height, weight, and health restrictions. That means you shouldn't let your kids stand on tiptoe to meet the height requirement.
· Keep hands, arms, legs and feet inside the ride at all times.
· Remain seated in the ride until it comes to a complete stop and you are instructed to exit.
· Always use safety equipment provided and never attempt to wriggle free of or loosen restraints or other safety devices.
· Parents with young children should make sure that their children can understand safe and appropriate ride behavior.
Most important, never force anyone—adult or kids– to ride attractions they don't want to ride. You're there to have fun, after all.