By Eileen Ogintz
Sure, everyone's talking about how to travel greener. And that's certainly a good thing.
But what about all the stuff we take with us?
It turns out that you can be more mindful about how what gear you choose can be better for the environment—clothes too—everything from socks to shirts, jackets to ski pants, purses and backpacks. That was a big topic of conversation recently at Outdoor Retailer in Denver where scores of outdoor brands gather to showcase what's new.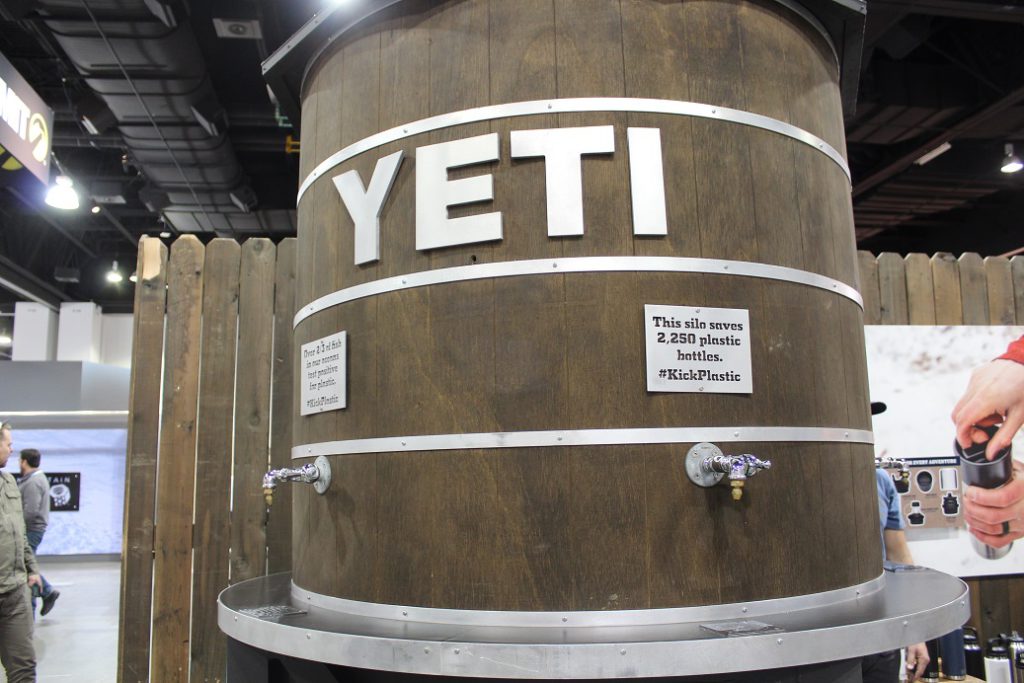 REI, for one, is now touting "good & used gear." "One less piece of gear in our landfills," the company says. "One more chance at adventure." It's less expensive too.
Drop your used Patagonia gear in the mail, and get a store credit; Shop the collection of Worn Wear Recrafted from other clothes and they're "Better than new" the company promises .
Patagonia is one brand that is taking the lead.in this initiative, actively using recycled materials—even in jackets and ski pants like the Insulated Snowbelle pair I've got. Not only are they plenty warm, waterproof and breathable with a lining that increases the garment's wicking ability, but the insulation is 90 per cent recycled. Patagonia is moving toward 100 per cent renewable and recycled raw materials with Fair Trade purchases that send more money back to factory workers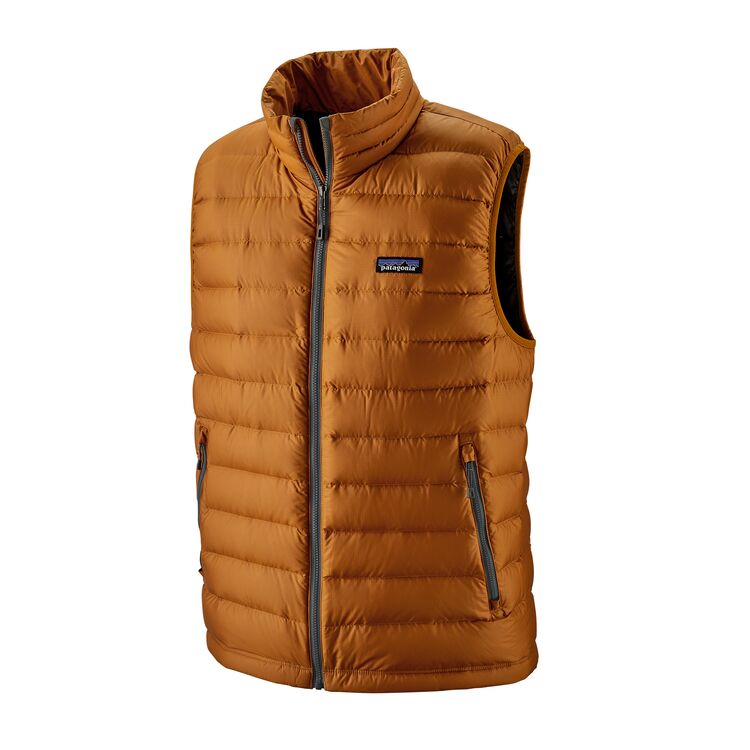 I love that if something happens to your Patagonia gear, you can swap it for a replacement, as my husband did recently when the zipper broke on his well-loved down vest.
I also love that Patagonia gear is so adaptable. The 3-in-1 Snowbelle Jacket, for example, features a waterproof and breathable outer layer with a reversible zip-out insulated jacket (warm without bulk!) . Wear it as a shell, without the shell as a light jacket or know you will be warm on the slopes.
"We're in business to save our home planet," the company proclaims, donating time, services and at least 1 percent of our sales to help hundreds of grassroots organizations all over the world so that they can remain vigilant, and protect what's irreplaceable.
Wouldn't it make you feel better when you are visiting a glacier that is receding or wondering why the weather is so crazy that at least your luggage hasn't contributed to harming the environment? Check out the Black Hole Patagonia collection—backpacks to wheeled duffels.
Toad & Co., another favorite brand of mine, makes clothes that are made from a minimum of 80 per cent sustainable fibers. In 2018, the company reduced emissions by 51 tons of CO2, enough to drive 150,000 miles by using organic cotton, recycled fibers and other materials known for low impact growing and clean manufacturing. The company also has a commitment to hiring workers with special challenges.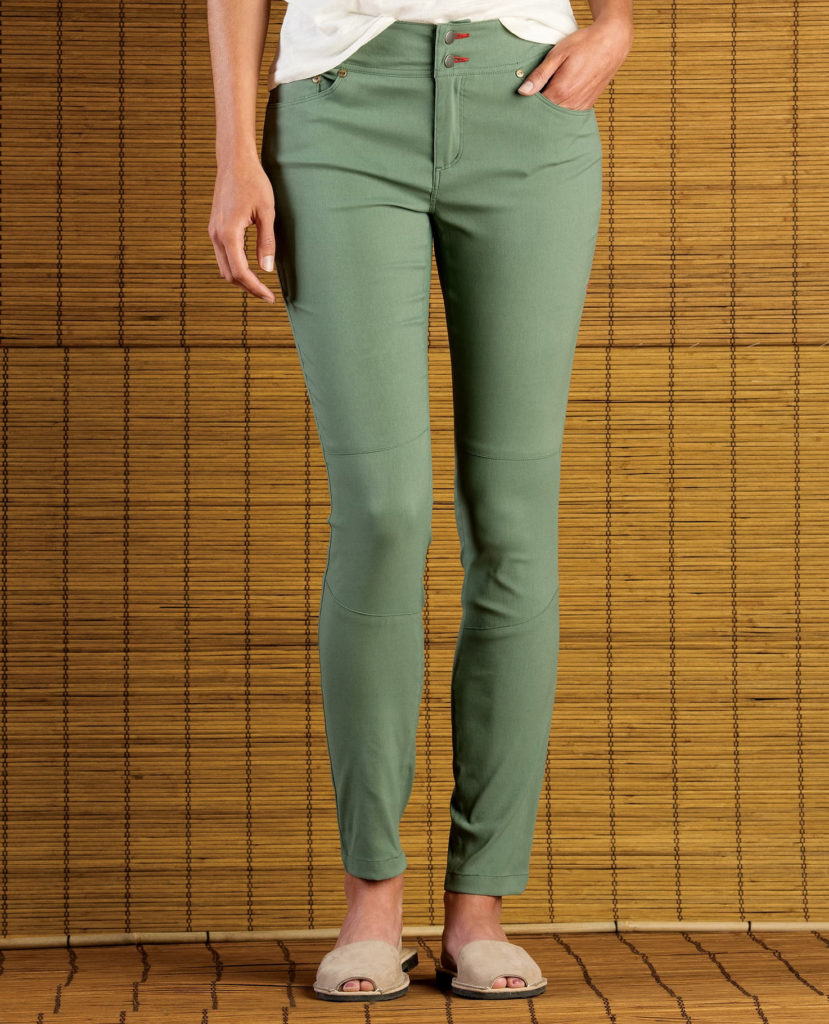 Their stuff also is comfortable for travel (think moisture wicking and preventing odor) and stylish. My favorite pants for travel are their Flextime Skinny Pants with plenty of stretch for the hiking trail (they are quick-dry too!) but able to be dressed up for an evening out. The even come in a de-bug version. Brands famous for their stylish duds are getting on the sustainability bandwagon too—like Aspen-based Obermeyer, known for their sleek and colorful ski wear for adults (think leopard print snow pants and retro brightly-colored one piece ski suits !) and kids alike, including sizing that allows the jackets and pants to increase the sleeve length and pant hem up to two inches with built-in hems so the ski gear can be worn for several seasons.
Obermeyer will be utilizing REPREVE in their Tuscany II Jacket and Malta Pant next season. REPREVE is a branded performance fiber made from recycled materials (including plastic bottles) to create beautiful eco-friendly products.
Brands like Wisconsin's Wigwam Mills that has been around for more than 100 years works with local utilities to improve efficiency and reduce their carbon footprint, also recycling as much as they can while producing socks for all varieties of sports with innovative technology. Colorado-based Smartwool is also committed to sustainability—from ensuring the sheep that produce their wool are treated humanely, the wool growers fairly and using recycled wool fiber in some of their products to reduce their environmental impact without losing the performance benefits of wool.
I realized when I got new base layers from L.L. Bean— they come in different weights and are good for layering and also as stand-alone tops that wick moisture, dry quickly, are anti-microbial to control order—that they also are made from recycled materials. The Maine company, founded in 1912 by Leon Leonwood Bean with boots designed to keep hunters dry in the Maine woods, remains committed to helping families enjoy the joy of the outdoors, starting with gear that will last from cotton grown using less water and chemicals to recycled fabrics which not only saves energy and water but allows us to make use of materials that otherwise would end up in the trash. Consider that by switching to recycled polyester fleece in their popular Trail Model Fleece vests, sweaters and jackets has helped keep nearly 40 million plastic bottles out of landfills!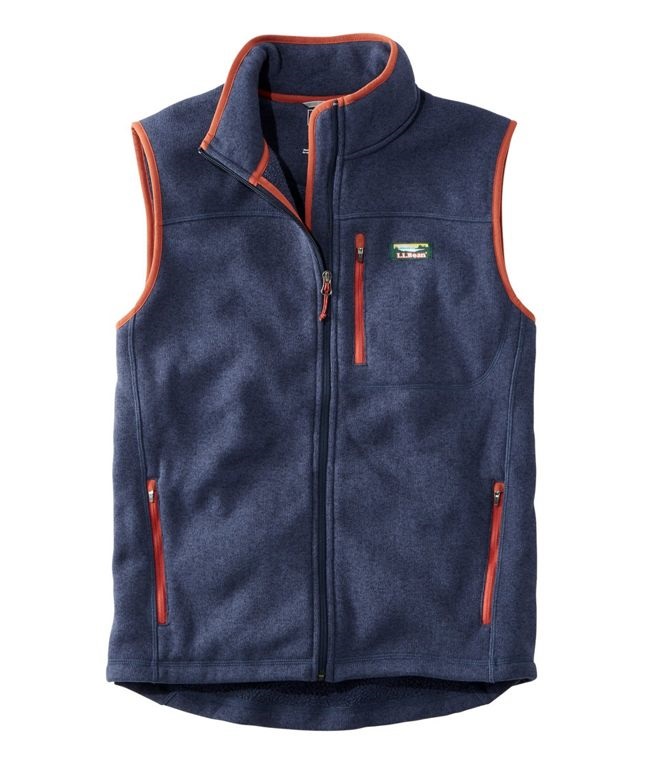 Don't forget smaller brands who are doing their part, like BSBrand.com that makes balaclavas and ski masks as well as base layers, water and sun gloves and helmet beanies. Fun patterned stretchy goggle covers protect or can be used to clean your goggles on your helmet when you take your helmet off—say for lunch– are made from left over fabric remnants from their other products. It's part of the company's Waste-Zero initiative that the company says now uses 90 per cent of the remnants that otherwise "would end up on the cutting room floor."
We all look at labels now in the grocery story to see how food has been made. Why not clothes and gear?