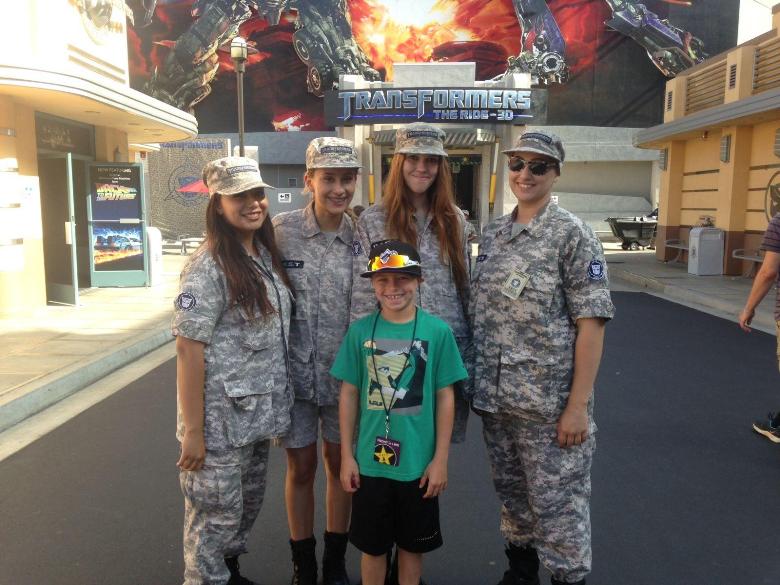 By Ethan Sitzman, veteran Taking the Kids Correspondent, age 11
LOS ANGELES — Universal Studios Hollywood was really fun! My dad and I arrived early and he decided to pay for preferred parking–good move dad! It seemed like a really good deal to me because we were able to get really close to the park, and it cut down our time getting in. Yay dad!
If you go to Universal Studios in Hollywood, do like we did and get a Front of the Line pass, also referred to as a "Gate A" pass. These passes are really cool because they helped us to save time because it lets you skip to the front of the line for anything in the park. With the pass, we also had reserved seating at the shows like WaterWorld (a really cool action-packed stunt show with people on motorboats and JetSki's. I won't give away the ending, but know that I was amazed to see something flying at me!), Universal's Animal Actors and Special Effects Stage. Like my dad says, you have to be smart using these passes though, don't use them when the line is really short (that'd be stupid), because you'll just waste the pass for that ride because you only get to go to the front of the line once with each ride. So be smart and use this pass when the lines are really, really long!
Once my dad and I got into Universal Studios Hollywood we decided to grab a quick breakfast at the Hollywood Grill (the only place inside the park that serves breakfast). After we ate, we immediately made our way toward the Transformers ride. Right as we got to the Transformers ride we were told that it was shut down due to some mechanical thingy that wasn't working right, so my dad and I looked around and I decided to conquer my fear of going on the Revenge of the Mummy ride. The line was really short early in the morning so we got right on (we didn't use our front of the line pass!). I was really nervous the first time to go on the Mummy ride but I realized it wasn't half bad. The ride was really, really fun, and really thrilling. I can't believe how much fun I had on this ride. I thought I'd be scared, but right after we were done going on it the first time, I wanted to ride it again. For the record, I didn't think I would be able to ride it once because it would be too scary, but I ended up riding it 5 times throughout the day!
Since we were down in the lower lot at Universal, and since it was getting hotter, I convinced my dad to go on the Jurassic Park ride. We saw a lot of really cool dinosaurs on this ride, and I was even scared a couple of times, in a good way. At the end of the ride you go down a big hill that's really fun. Be careful as you're waiting to get off the boat, because these little pesky dinosaurs will try to squirt water on you when you aren't looking. See if you can spot the can of shaving cream (which is an important element to the movie itself) when waiting to get off the boat!
We decided to kill some time on the lower lot hoping that the Transformer ride would soon be open. We discovered the NBCUniversal Experience which is a behind the scenes look at a lot of cool things from the movies. It wasn't crowded at all and I was able to see some cool stuff from the movie Coraline and ParaNorman. This is a good place to go if you want to get out of the heat and chill for little bit. It's quiet and cool–and it has the actual car used in the Back to the Future movies. I wish that they had made this bigger with more props, but it was cool anyways.
The Transformers ride was still shut down, so we went back up the escalators to the upper lot. I rode the Simpsons ride which is also a motion simulator. You are in Krusty's new ride–which is also the ride that Homer, Bart, Marge, and Lisa are on. Maggie and grandpa were left outside of the new ride. Sideshow Bob had escaped from Springfield jail and is out to kill the Simpsons. He takes over the ride and then switches a button from Thirilling to Killing and try's to hurt you. You are always right behind the Simpsons. Homer is even funnier than ever. Also once you are done with the ride you can enjoy Krusty's arcade which involves a lot of regular carnival games.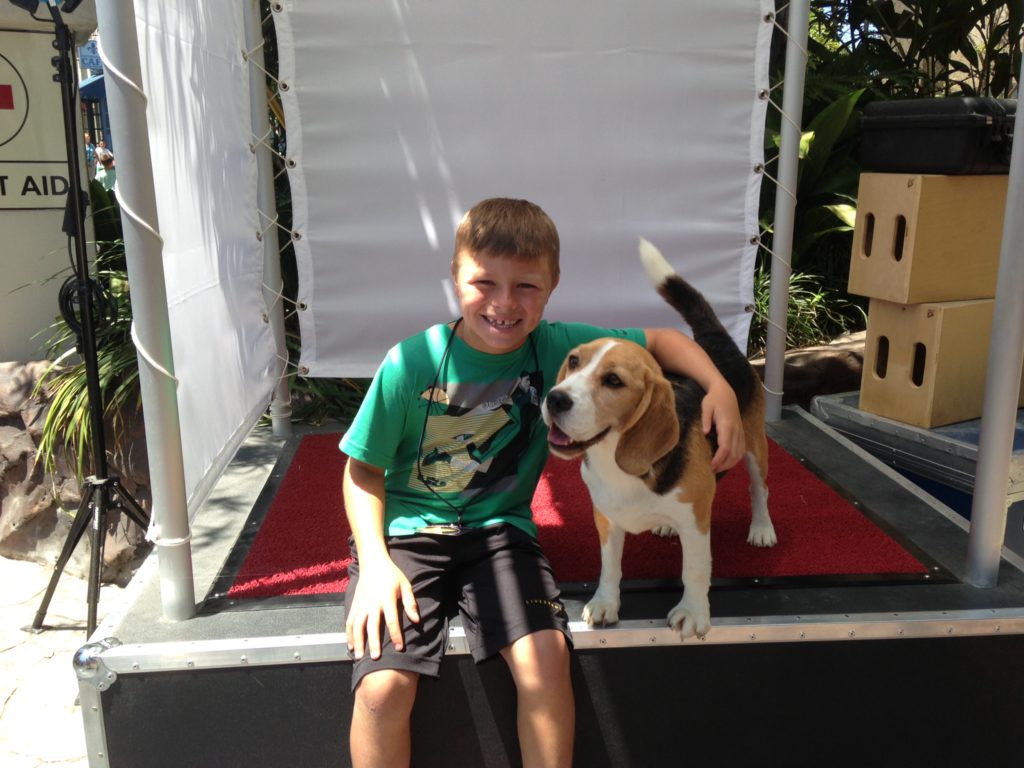 This is me and a dog named Adam. His real name is Adam but in movies he is called different names in different movies. He also works for animal actors, which is a show that has all or most of the animals in Universal Movies. He was such a cute dog and I am pretty sure that he was a star in Beverly Hills Chihuahua and in the movie We bought a Zoo. He was a really cute dog and was sniffing and kissing me. I would recommend to see this show and the ending is very exciting.
It was exciting when we went on the famous Studio Tour. We saw into every "stage" as it was called that was ever used in a Universal movie or TV show. We also saw some amazing props like some sweet cars from Fast and Furious, The Flintstones, and even some cars from Jurassic Park. I was also kind of creeped out when I saw a guy named Norman from the movie Psycho. He started coming at us with a knife! I liked the King Kong, Jaws, and the earthquake part of this ride. The ride takes about an hour, so make sure that you plan for that. Oh, and make sure that you get an outside seat on the tram so that you have a really good view of everything.
We found out that the Transformers ride was finally opened. So we headed back down the escalators to the lower lot. When we got there, the wait time for the ride was almost 3 hours. So we used our front of the line pass, but it still took about 45 minutes to get on the ride. I had fun on Transformers The Ride in 3-D–it is pretty amazing and was worth the wait. (For those of you who've been to Universal in the past, I am pretty sure that this ride used to be the old Spider-Man Adventure ride.) The ride is a motion simulator that moves all around a city going from battle to battle. We were riding a Transformer named Evac who was a recruit in training. In the ride, we are battling Megatron and other Decepticons as we help protect the AllSpark. The ride is really fast and takes you through some really cool battle zones. You have on your 3-D glasses on at all times. (After my day at Universal, I went home and watched The Transformers movies just to learn a little bit more about it.) The ride is kid friendly–it is more of an adventure and thrilling than scary.
As our day was winding down, I wanted to hit the gift shop and grab some stuff to remember my trip from. From the time that I knew that we were going to Universal Studios Hollywood I wanted to make sure I picked up a minion from the movie Despicable Me 2. I was really irritated that they had no minions left to buy in the whole park. Now I was really desperate to get a minion. I had seen some minions in the arcade zone, so my dad and I headed over there to see if I could win one. Since I am a pretty good baseball player, I was pretty confident I could win a minion. I won one in a arcade game that you have to throw a ball and knock down 4 clowns by throwing 6 baseballs. I knocked down 5 clowns and only missed once. I got the minion KEVIN. I was sooooo excited! I also won my sister Hannah a purple minion! While in the arcade zone, I also got a caricature sketch of me done that looks almost exactly like me. The artist was amazing!
Universal Studios is known for its great studio tours. I doesn't have a lot of rides, but the ones they have are really, really cool and fun. They're only about 7 rides, so some of them have a pretty good wait. I went on all of the rides which was exiting. And I really liked all of the shows. Don't think that these are going to be boring and a waste of time–they aren't! I mean it isn't the acting capitol of the US for nothing. They are entertaining and fun to be at (plus my dad got to sit down and rest a bit which is cool).
At the end of the best day ever Kevin, my dad and I all went out to eat in Universal's CityWalk (which is outside of the park and doesn't cost anything to go to). For dessert I got my favorite food ……………………… CRÈPES.
Thanks Universal for a great time hanging out with my dad. I hope to come back soon and checking out Minion Mayhem in 2014!