By Eileen Ogintz
Tribune Content Agency
CODY, Wyoming — Looks certainly can be deceiving.
We've driven more than an hour from Cody, Wyoming, and then up more than 10 miles on a rutted dirt road in the middle of nowhere — a dusty, barren rocky landscape on a private ranch in the Big Horn Basin in north central Wyoming.
But this is what scientists have dubbed "The Jurassic Mile," for in these rocks — in some places right at the surface — is one of the most significant and exciting dinosaur finds in North America dating back 150 million years.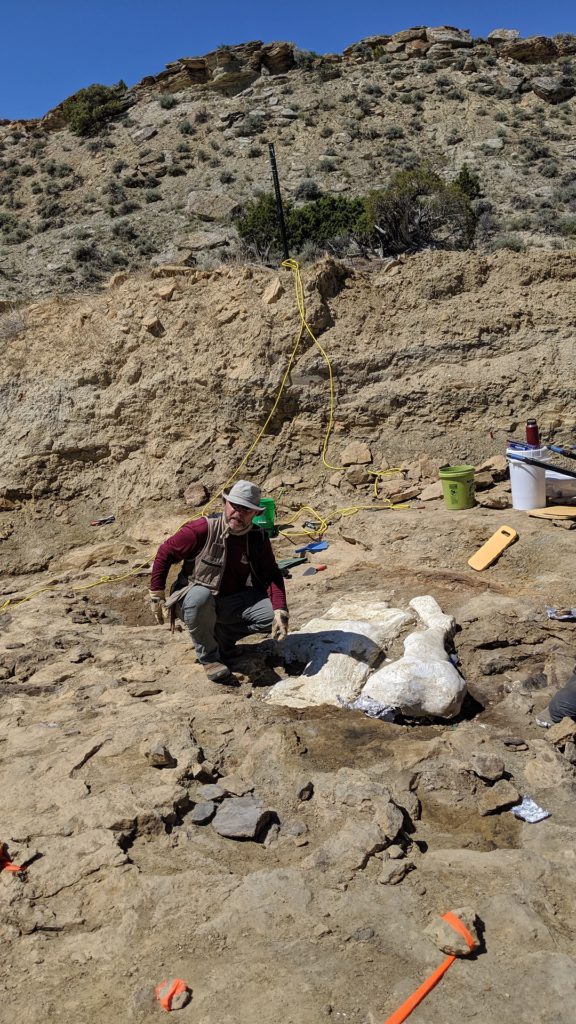 "For the diversity of the bones, plants and trackways (dinosaur footprints), this is a world-class find, absolutely. It's one of the largest excavations in North America, if not the world," said Dr. Phil Manning, Mission Jurassic Lead Scientist, chair of Natural History, the University of Manchester, UK and Scientist-In-Residence at The Children's Museum of Indianapolis.
"This is very special, to have the opportunity to actually walk in the footsteps of dinosaurs," said Professor Anne Schulp, a researcher at Naturalis Biodiversity Center, Leiden and professor of Paleontology at Utrecht University, as she stands at the site — where only a small portion of the area has begun to be excavated — just 1 percent of the 640-acre site, which includes four main quarries where mountains and an ancient seabed once came together. (You can read more about my visit to the dig site at ttk-old.o2dev.net.
"There are so many bones, it is almost an embarrassment," said Prof. Manning, pointing to a giant leg bone here, a backbone there. We see a petrified log that might have been part of the "log jam" that killed some of these dinosaurs. "Every time we dig we hit more bone."
That children will be able to see "real," bones, not casts of fossils, will encourage their interest in the science and the "wow," factor so essential to keeping kids' engaged, scientists here say. "It is so important for kids to see the real stuff," said Prof. Manning. The museum also sponsors a couple of trips each summer for families to visit the dig site.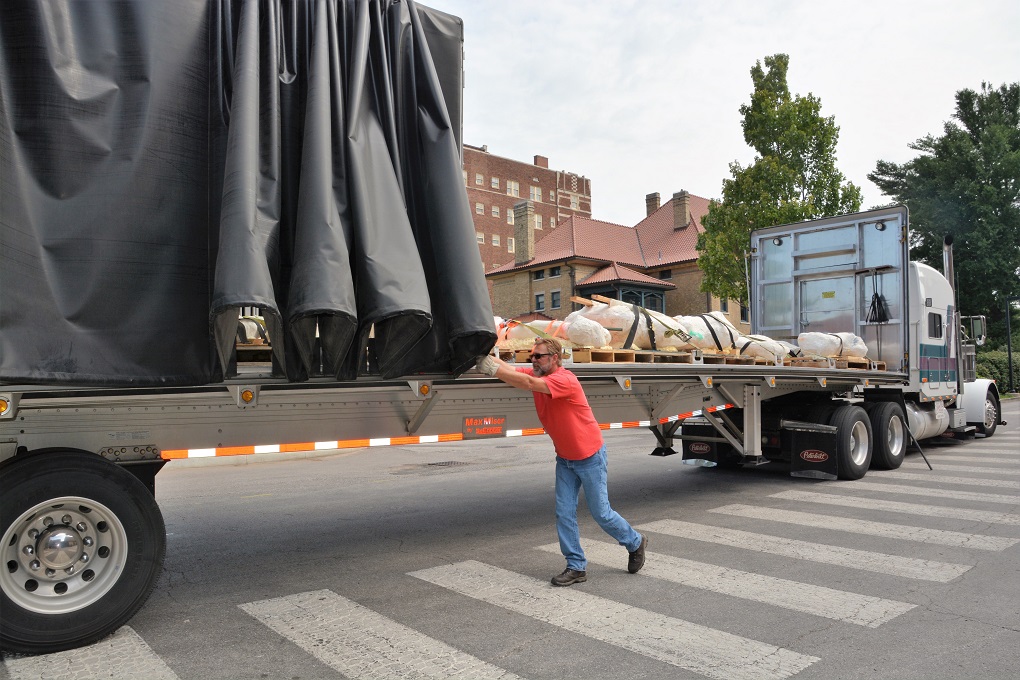 The Children's Museum of Indianapolis the largest children's museum in the world, is the lead on this 20-year, $27.5 million project, which has drawn partners and scientists from the Natural History Museum in London, (it was here that paleontologist Sir Richard Owen, the museum's founder, first coined the term "dinosaur" in 1842, it means terrible lizard), Naturalis Biodiversity Center, Leiden, Netherlands and the University of Manchester.
The scientists believe they can put together the most complete picture of the Jurassic Period, unraveling mysteries millions of years old — like how the huge sauropods (weighing 13 tons) moved, how they behaved, what they ate and how they died. They're using cutting-edge, 21st-century science and tools, everything from particle accelerators to the world's most powerful computers, analyzing chemical isotopes and making digital copies of bones that will tell them how fast dinosaurs grew and how fast they healed.
Prof. Manning explained that thanks to the "super" computers his team is using, they are developing evolutionary algorithms that can help their skeletal models with muscles "learn" how to walk. Hopefully, he explained, that same technology can be used to help those developing better prosthetic limbs for humans.
Merging the chemistry of fossils with new technology developed at the Stanford Synchrotron Radiation Lightsource in California, he continued, has led to new ways of mapping the chemistry of modern brain tissue. "We are about to embark on a major human brain mapping exercise to look at the chemistry of both healthy and "sick," brains," he said, including those suffering from Parkinson's to Alzheimer's.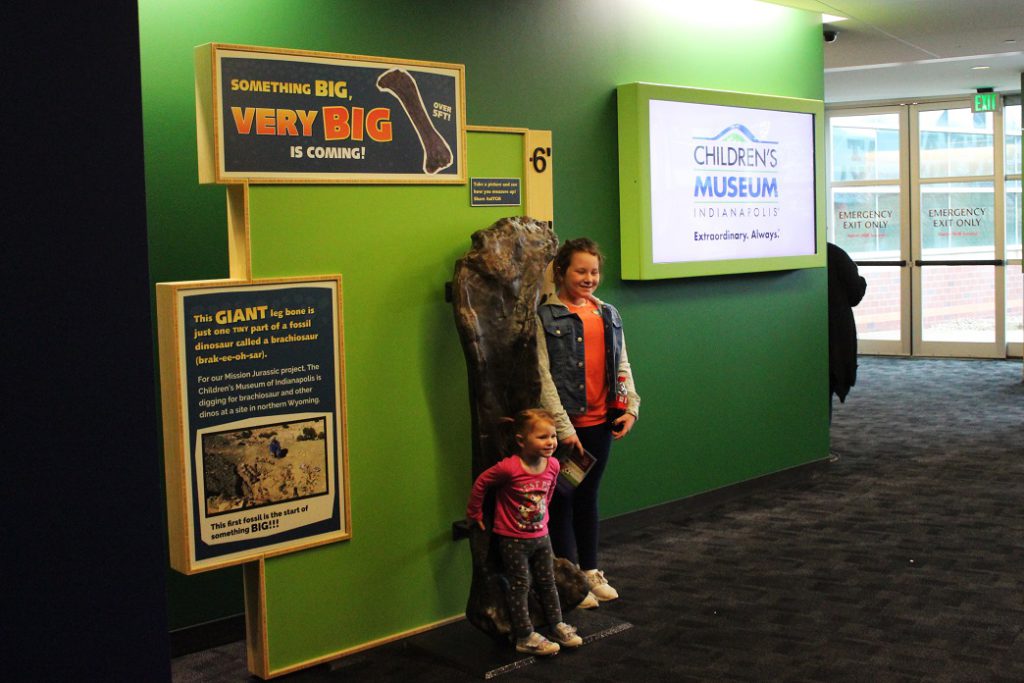 The confluence here of bones — including articulated fossils, which means they are still connected as they were in life — the trackways, giant footprints of several species, and rare fossils of ancient ferns, gingkos and cycads — there were no flowers then — is what makes the find so exciting. Earlier paleontologists and dinosaur hunters simply discarded fossilized plants, so it is rare to find them at a dig, explained Dr. Victoria Egerton, scientist in residence at The Children's Museum and a research fellow at the University of Manchester. She specializes in paleobotany.
The site also has fossils of many other animals and marine life that were creatures of the Sundance Sea, including Ichthyoaurs, which were like today's dolphins. Kids will love seeing the big curved "devil's toenails (Gryphae) that are ancient oysters and the bullet-like fossils, a type of belemnite, an extinct squid-like creature.
Work has been going on for the past three summers but this is the first time this international team has been brought together and the site expanded with 30 scientists, graduate students and volunteers working, each group bringing different expertise and perspectives.
The site originally was discovered by the rancher who first permitted private dinosaur hunters to dig. The Children's Museum found out about the find soon after "through the paleontology grapevine," Prof. Manning said, and was able to secure a 20-year lease from the rancher.
Twenty years, said Dr. Egerton, may not even be enough time to excavate all that is here.
Nearly 600 specimens weighing more than six tons have already been collected over the past two years and some are already being shown to museum visitors in Indianapolis, including a five-foot, 1-inch femur of a brachiosaurus that weighed about 28 tons. The lab where the specimens are prepared — and where visitors can watch them work — is being tripled. Finds from the site will form the basis for major expansion of the Dinosphere exhibit at the Children's Museum and will also be exhibited at the partner museums.
The work is painstakingly slow, with the scientists using their hands and small brushes to uncover the bones. For transport, they are carefully covered in plaster "jackets," each with a specific number that will be entered into a computer — a dinosaur's Social Security number, one team member joked, with details on everything from who found the bone and where to who created the jacket and who opens that jacket in the lab.
The small red flags everywhere designate where we can't walk because bones there haven't yet been excavated.
"This is the tip of a dinosaur-sized iceberg," Dr. Manning said. "It's daunting."
© 2019 EILEEN OGINTZ
DISTRIBUTED BY TRIBUNE CONTENT AGENCY, LLC.