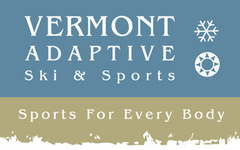 The next time your kids are making you wonder why you left home with them, think of Terrie Easton.
The Burlington, VT mom has eight-year-old twin boys one of whom has been diagnosed with autism; the other with a variety of cognitive and emotional disorders that present special challenges.
That means anything that is tough for anyone traveling with kids—waiting at airport security, taking off your shows, letting go of a special backpack, sleeping in an unfamiliar room—is much more difficult. It's all the more frustrating when strangers don't appreciate the circumstance and ask Easton why she simply can't get her boys to behave. "It's really tough out there," she acknowledged.
That's why programs like Vermont Adaptive Ski & Sports (www.vermontadaptive.org ) are so important to families like the Eastons. While she got a rare break on a recent Sunday morning, her boys were out with separate instructors exploring Bolton Valley (www.boltonvalley.com )
"This gives them a lot of self esteem. It's huge for them," she said.  "The patience the volunteers have is tremendous. There is no way we could do this without the help of this group."
Lucie  Whiteford was also enjoying a rare break while her 17-year-old son Andrew who has Down Syndrome  was out snowboarding with a "cool dude" instructor, she said. "Another 17-year-old can just go with a friend," she explained. "This allows him to be out there  like any other kid in high school. He has so many challenges. This is something that is positive and healthy. It makes him one of the guys! "
Erin Fernandez, who oversees the program, says it enables those with challenges—and they can range from severe learning disabilities to terminal illness—have enabled some 3,000 outings a year in summer as well as winter. There's sailing, canoeing, climbing, kayaking, horseback riding, biking  as well as snowsports with special equipment.  There are other programs elsewhere in the country—in Park City, Utah at the National Ability Center (www.discovernac.org )  at the National Sports Center for the Disabled in Winter Park, CO (www.nscd.org ) in Breckenridge, CO  at the Breckenridge Outdoor Recreation Center (www.boec.org  ), among others.   
Families are invited to participate, of course, and the price is at a sliding scale. Families suddenly can enjoy the outdoors together  as well as to see the family member who has special challenges excel on their own terms. "The goal is for these families to participate as a family and to ultimately make them able to go out independently," said Dave D'Angelo, who oversees the organization's Burlington summer programs, among others.
And those programs are why Terrie Easton is looking forward to summer for the first time in many years, knowing her boys will be out doing things she and her husband couldn't  do with them without considerable help.  "This summer will be fabulous for them," she said.  The best part: "I can go to work and not worry and just say have a great time!"