By Eileen Ogintz
VANCOUVER, British Columia — The first thing you notice is the noise. Happy Noise. Kids playing.
There is a four-story tube slide and multi-level play space, virtual reality, a huge arcade and more than two dozen shops where kids are encouraged to play whether trying magic tricks at Clowning Around, cuddling plush animals at Kaboodles or trying dress up at Fun Clothing.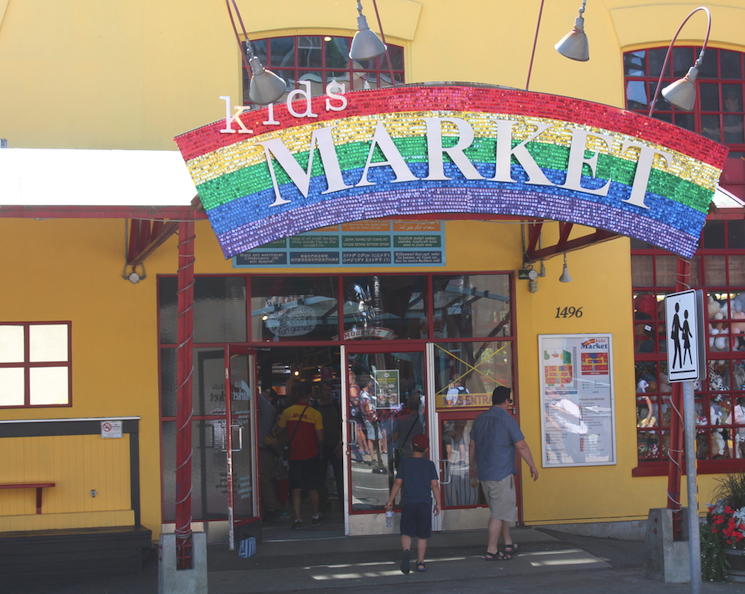 Welcome to the Kids Marketon Granville Island in Vancouver. Founded in 1984, the owners converted a century-old paint factory into a marketplace for kids. The idea originally was to create independent shops with unique toys and games. Many of those original shops are still here. There's even a hair salon for kids where they perch on various toy cars, watching videos while their hair is trimmed.
It's a kid's dream," said Jenniver Telford, visiting from Nashville, TN with her husband and four year-old son.
"The kids won't get bored here—it's hard to get them to leave," said Monta Maeda, who was here with his two daughters five and three, the older one clutching a new LEGO set. "There is a lot to do that is free, but you end up paying," laughed the Vancouver dad.
The Kids Market is on Granville Island, which draws 10 million visitors annually to its famous public market, restaurants, theaters, galleries, studios and pop up stores.
It is the place to get everything from the freshest seafood, artisanal chocolate, freshly baked bread, flowers, pie, pastry, gelato and more. Once an industrial area, today there are weavers, printers jewelry makers working in studies adjacent to distilleries and breweries as street performers entertain. Let's not forget the Granville Island Water Park where kids can cool off on a hot day.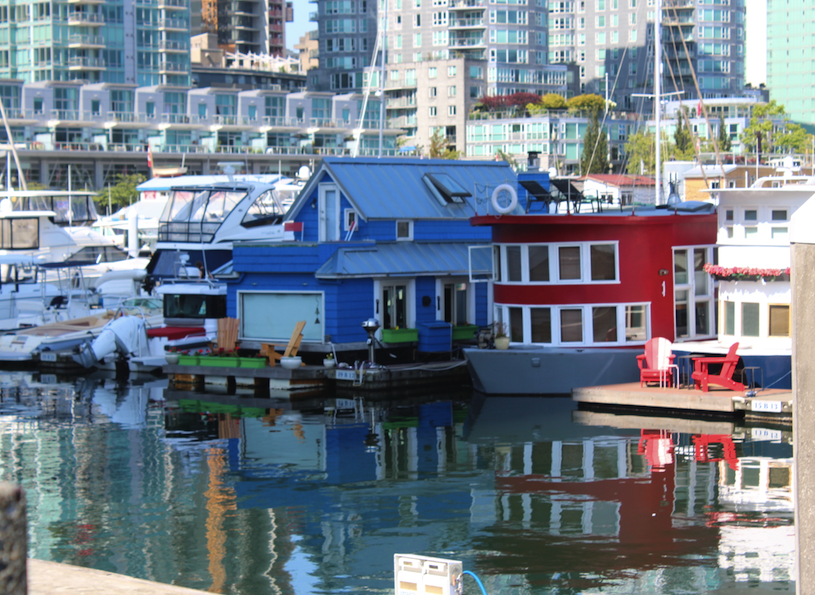 Granville Island is now 40 years old with more than 300 businesses, studios ad facilities, including the Sea Village neighborhood of floating houses where 2,500 people live.
Vancouver, wherever you go, is kid-friendly and fun. Rent bikes and ride along the seawall, gawking at the big yachts, to the huge Stanley Park. It is home of the first-rate Vancouver Aquarium; the Miniature Railway through the giant trees the park is famous for; the Kids Water Park; the famous native Totem Poles; the Stanley Park Horse-Drawn Tours; playgrounds, beaches and spectacular gardens — the Shakespeare Garden is planted with flowers and plants mentioned in the Bard's works.
The Vancouver Aquariumis a must-see for visiting families and it's easy to see why it was packed with exuberant kids, parents and grandparents on a hot summer day while we were here. It's huge with 135,000 square feet and 50,000 animals including many like Senor Cinco, a rescued, blind California sea lion and Jessica, a recent arrival, a harbor seal shot in the face by more than 20 pellets.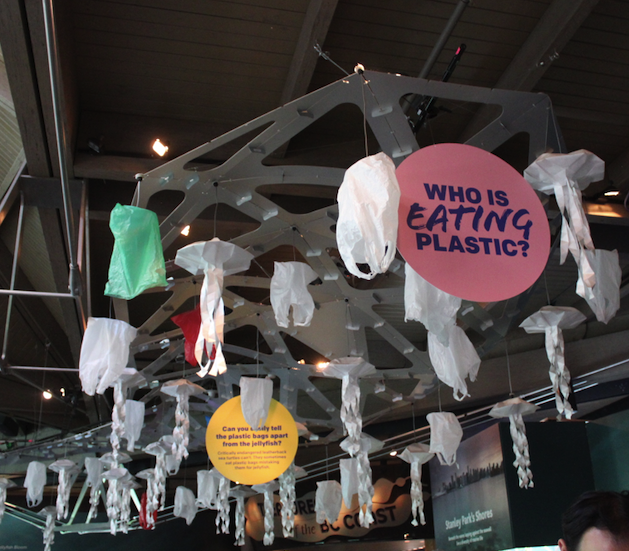 The habitats range from the Arctic to the Amazon but throughout, the message is clear—it is up to us to save the planet and the creatures who inhabit the Earth and every one of these creatures help scientists studying how these animals can better survive in the wild.
We learn that endangered Sea Turtles have trouble mistaking plastic in the ocean from Jelly Fish, ingesting plastic. Frogs in some place are being eaten to near extinction. A huge net bag hanging from the ceiling shows the average amount of everyday debris found on a shore line.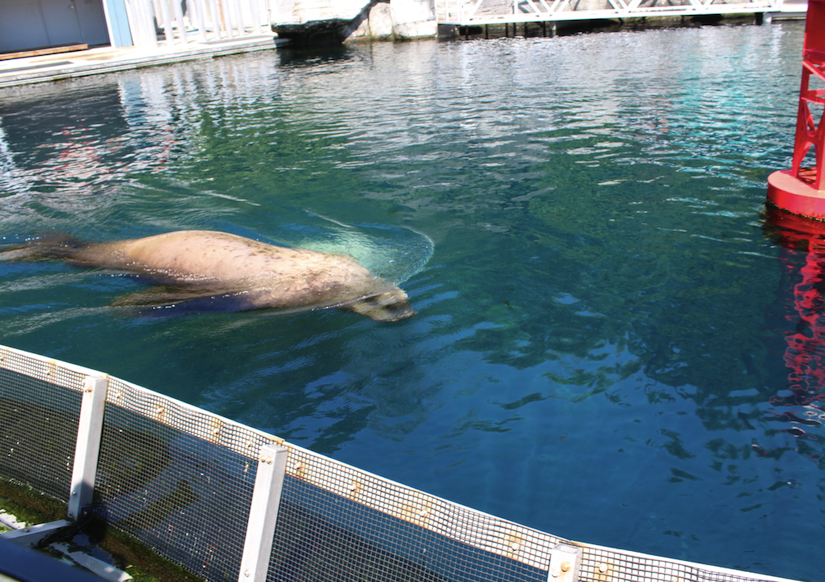 There are lots of fun facts. "Where Weird is Normal": (Did you know a jelly fish's mouth is also its butt?). Interactives: (want to touch a Ray? Get your face painted? Watch as the seals jump and cavort outside?) There are special Meet a Penguin (how tall are you compared to a penguin?) and Meet a Snake programs that highlight the Aquarium's research and conservation initiatives.
For families visiting here, the Vancouver Aquarium is a great introduction to the local ecosystem. The Pacific Canada Pavilion exhibits marine life from the Strait of Georgia (check out the divers swimming with the herring, salmon, halibut, crab and more). The Treasures of the B.C. Coast showcases the diversity of life underwater in British Columbia — including the giant Pacific Octopus and Canada's Arctic where climate change is having a huge impact.
Families can eat or get a snack outside while they watch the seals, sea otters, sea lions and more. And since everyone's hand gets stamped, when the cacophony gets too overwhelming, just go outside and play in the park for a while.
In fact, Vancouver is a great place to play — whatever your age.