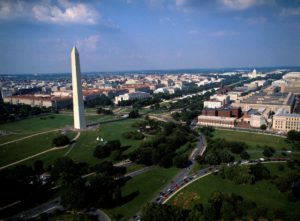 The National Mall from the Washington Monument to the Capitol
By Eileen Ogintz
Tribune Media Services
Welcome to America's front yard.
That's the National Mall's nickname in Washington, D.C.
This, huge, beautiful three-mile-long expanse bordered by the Potomac River and Capitol Hill is where you'll find the Smithsonian museums, the famous Reflecting Pool, memorials to U.S. presidents and those who've died in wars. This is also where families often head first when visiting the nation's capital and where they relax when they're on museum overload. Did we mention it's a great place to ride a carousel, turn cartwheels, fly a kite or read a book?
Come to the Library of Congress 2012 National Book Festival (Sept. 22-23) on the National Mall (www.loc.gov/bookfest) and the kids can help Clifford the Big Red Dog celebrate his 50th birthday and get some of your favorite books signed by authors.
Twenty-seven EU embassies and cultural institutes host open houses, puppet and theater shows, dance and music concerts, films and more at the free Kids Euro Festival (http://www.kidseurofestival.org/) Oct. 17-Nov. 13.
Fall is a great time to visit Washington, D.C. Hotel rates are down as much as half, and the summer humidity has disappeared, along with the crowds. No wonder it's Travelzoo's featured destination right now. (For more fall getaway ideas, check out the TakingtheKids special favorite fall getaways section, http://ttk-old.o2dev.net/travel-topics/fourteen-favorite-fall-getaways-2.)
Love football? A Gaylord National Resort package just across the Potomac in Maryland includes accommodations and Washington Redskins tickets.
The Liaison Capitol Hill, an Affinia Hotel, (and mention promo code VOTE12), is touting a Swing into the Election deal for $159 a night this fall, complete with walking tour kit of political sites and first lady cookies and milk.
Explore the eclectic Dupont Circle neighborhood when you stay at the Carlyle Suites Hotel, which is also offering fall deals. Look for more hotel deals at www.washington.org.
Another plus: There's probably no city with more free attractions — more than 30 of the city's 50-plus museums are free. "Frommer's Washington, D.C. with Kids" points out that there are plenty of fun things to do, from watering the plants in the Children's Garden at the U.S. Botanic Garden to tracing your family tree at the National Archives to visiting the 19 Smithsonian museums.
Let's not forget the Smithsonian's wonderful National Zoo with its resident pandas. The zoo has also just unveiled the new American Trail exhibit that was five years in the making and where you will be transported to the Pacific Northwest and meet California sea lions, beavers, bald eagles and even two American gray wolves.
Even a kid who professes to hate museums has got to find something compelling at one of the Smithsonian museums. How about a 70 million year old dinosaur egg (you'll find that at the National Museum of Natural History) along with the O. Orkin Insect Zoo where they can climb inside the replica of a termite mound.
Your kids can touch a piece of the moon at the Air and Space Museum, where you can look up and see the history of flight hanging above you — the Wright Brother's airplane, Lindbergh's Spirit of St. Louis, the plane Chuck Yeager broke the sound barrier in.
Sure the Smithsonian museums can be overwhelming. But since they're free, visit and take a break out on the National Mall, or come back another day.
I love that you'll find special Discovery Stations with interactive activities. For example, later this month the exhibit "Moving Beyond Earth" at the Air and Space Museum will allow visitors to interact with a robot used for space exploration by giving it simple commands. At interactive kiosks, your kids can take turns being mission control's flight director, as well as perform other jobs related to spaceflight.
I also love that the Smithsonian offers a kids' website with fun online activities, including a "Virtual Dinosaur Exhibit," "Mr. President," where you can learn about each of our nation's presidents and "Meet Me at Midnight," which magically transports you to the galleries at night.
Check out the Presidential  Campaigns  and the Press exhibit at the interactive Newseum, where kids especially love the  exhibit on First Dogs.
Got a junior foodie? Show him or her Julia Child's kitchen at the National Museum of American History and explain how she transformed American cooking in a new exhibition focusing on food and wine in America, currently scheduled to open in November. While you're there, don't miss the original Star Spangled Banner and the interactive exhibit that surrounds it. The museum is filled with all sorts of things that Americans have used at home, work, and play — military uniforms, a World War II Jeep, Edison's light bulb, Jim Henson's Kermit the Frog and Oscar the Grouch.
Let's not forget the Smithsonian's art museums. Visit the Freer Sackler Museums of Asian Art where you can listen to stories or make your own art project through the ImaginAsia program.
For teens, there is a special ArtLab at the Hirshhorn Museum and Sculpture Garden.
And for those who love stamps, The National Postal Museum has the largest display of stamps in the U.S., planes hanging from the ceiling and exhibits that let you sort mail.
Are you wearing comfortable shoes? The Smithsonian experts remind families the Smithsonian Museums along the National Mall span an area from 3rd to 14th Street.
Tip: Print out special family guides before you visit each museum. For example, the National Air and Space Museum has one guide, "I Spy in the Sky," for young children and another, "Looking at Airplanes," for older children. There are also special kids' gallery guides.
The 10 Tips for Visiting Smithsonian Museums with Children can also help take the stress out of your visit too. Most important advice: Explore any exhibit that capture's your child's interests, even if you hadn't planned to go there.
And leave when they've had enough.
When else can your kids turn cartwheels on America's front yard?
© 2012 EILEEN OGINTZ, DISTRIBUTED BY TRIBUNE MEDIA SERVICES, INC.