By Eileen Ogintz
KUSADASI, Turkey (Day 9) — No one is speaking English.
We are in a tiny village of Sirince not far from the famous ruins of Ephesus, a world heritage site, eating lunch outside at a small tavern where we feast on "Pide," a kind of flatbread filled with greens or cheese or meat and cheese. There are grape leaves and stuffed zucchini flowers, "mantar" mushrooms with cheese, local beer, and homemade baklava for dessert with Turkish coffee prepared the traditional way in hot sand—all for less than $40 for four of us.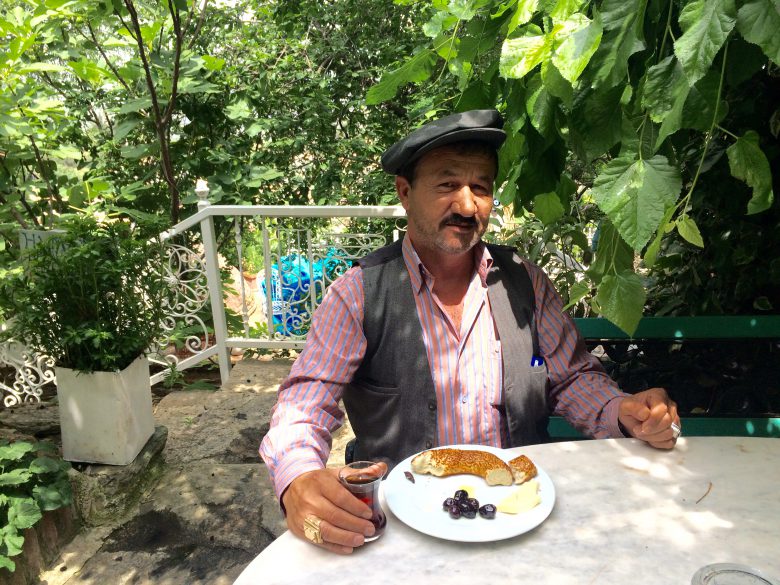 Turkey, especially Istanbul and the southeastern parts of Turkey near the borders with Syria and Iraq, have been deemed not safe for tourists and tourism by the U.S. State Department because of recent terrorist incidents and political unrest. Tourism from North America is down 80 per cent, says my old friend Alper Ertubey, who runs the adventure company Hike and Sail. Alper met us when we came ashore from the Carnival Vista, which was making its last port call before its final destination in Athens (we boarded in Barcelone 9 days ago).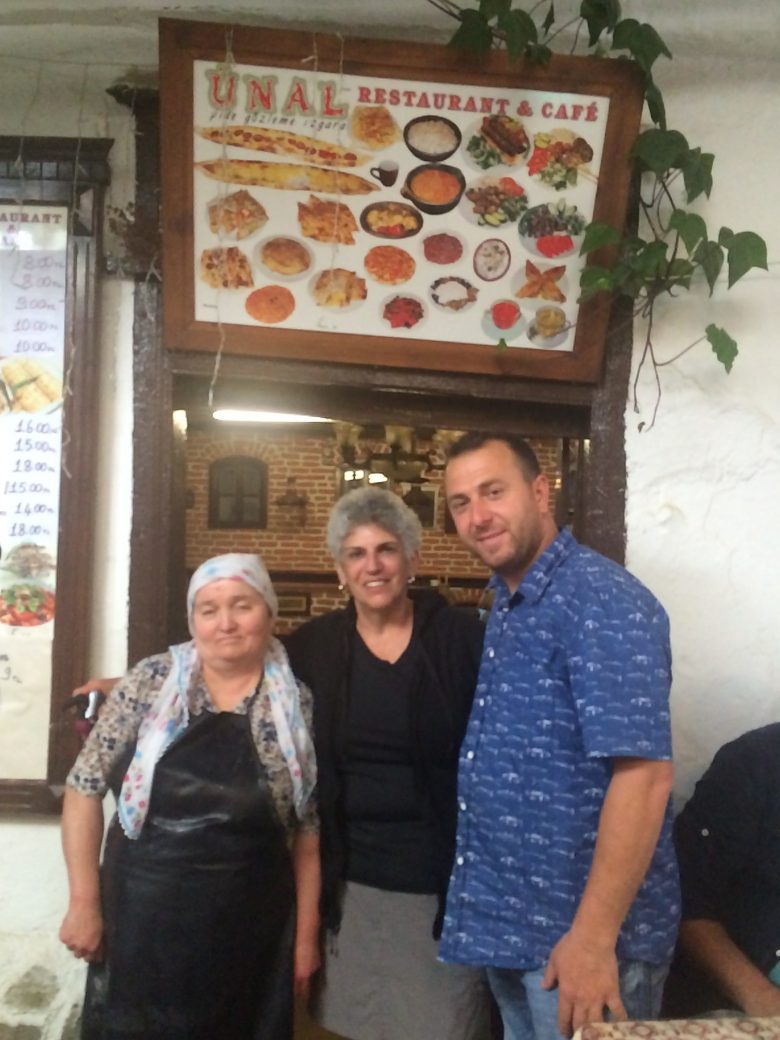 He brings small groups here to this village and Unal Pide & Restaurant that is popular with Turkish tourists for its market. We love the 18-room Nisanyan Hotel, an idyllic spot atop a steep cobblestoned path. We buy scarves from Mehmet Avcl and pose for pictures with the taverna owners who tell us proudly they've been in business here 20 years, welcoming guests to sit at tables outside, plants hanging above them, or in the tiny restaurant inside with just a few tables. All around us, young people, families and old men are gathered enjoying their Sunday afternoon, drinking a beer or local fruit juice or a Turkish coffee.
We're 400 miles from Istanbul along the Coast but as far away from the fears of bombings and terrorism as we can get. "Tourism brings people together from different cultures," observes Ertubey, adding it is much more difficult to throw bombs at people you know. "When you attack the tourism industry, you are attacking everyone."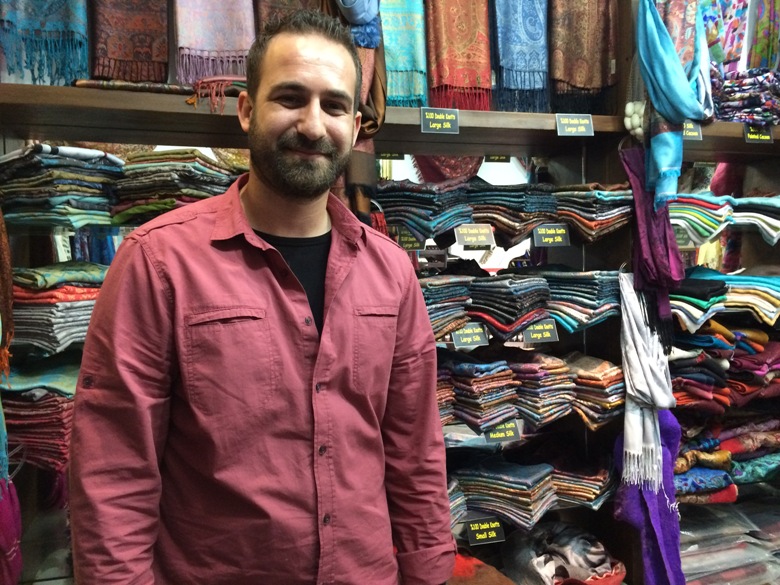 Business is substantially down in a country that previously welcomed some 20 million tourists a year but more disheartening, Ertubey says, is the loss of connection of the local people meeting those from different cultures and different parts of the world in a country that once was the crossroads of East and West. "Many hotels aren't even going to open for the season," he said. Companies that once hired 160 guides are down to one tenth that number.
He describes a sailing trip he hopes to organize in the fall that would include some small Greek islands as well as those in Turkey, sadly bypassing the wonderful city of Istanbul where we have such terrific memories.
We try not to focus on the negative but on being in this beautiful small village about 15 miles from the famous ruins of Ephesus, and a lot farther in spirit from the bustling port of Kusadasi, filled with vendors selling jewelry and rugs, leather jackets and purses, scarves… saffron and other spices, white Turkish cotton shirts, designer knockoffs. Each merchant beckons you inside with promises of a terrific bargain. Truth be hold, the prices are good—a lot better than Italy, in fact, and we feel good, hoping that our small purchases in some way may help those here who rely on the tourism industry for their livelihood.
We'll be back soon, we hope.