By Eileen Ogintz
Tribune Content Agency ,
Thanks, Walt!
"You see Cinderella's Castle and you get such a feeling of joy, and there aren't many places that give you that," said Emily Jordan, visiting from Marietta, Georgia, with her husband and two kids as Walt Disney World starts celebrating its 50th Anniversary. "The World's Most Magical Celebration" unveils new rides, spectacular nighttime shows, restaurants, some 150 new eats, many shimmer touches, and more — a celebration that will continue for the next 18 months. Even Cinderella's Castle has gotten a makeover complete with pixie-dust sparkle and all the characters are sporting new "EARidescent" duds and guests are snapping up 50th anniversary merchandise (#DisneyWorld50 on social media).
"We've been talking about coming for this for years," said Stephanie Hoopes, a Pennsylvania teacher here with her extended family for the celebration. "Coming here is a family tradition," she said.
Jordan, who still has her mouse ears from a trip when she was nine, said despite the pandemic, she didn't want to put off a visit any longer. Many others must feel the same way, as evidenced by the crowds — and traffic jams — on Oct. 1, when the celebration officially kicked off. "I want the kids to have the same memories I do," Jordan explained. As her husband Chris noted, he still remembers his visit as a first-grader when he lost his new Disney hat on Space Mountain. "You won't get bored here," offered Elise Jordan, 12.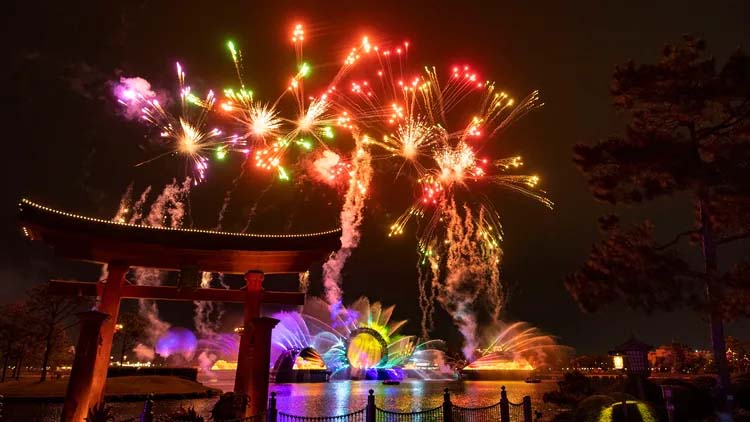 That's an understatement with four theme parks, two water parks, more than two dozen hotels, Vacation Club properties, campgrounds, 63 holes of golf, an ESPN Wide World of Sports Complex (popular races are returning starting next month), Disney's Boardwalk entertainment area and Disney Springs, the waterfront entertainment, dining and shopping district that attracts as many locals as tourists. With other major theme parks as well, Orlando has become the "theme park capital of the world," drawing nearly 76 million tourists in 2019 before the pandemic, making it the most visited city in the country. While estimates do not foresee a recovery to pre-pandemic levels for another two years, tourism officials say that discount Disney tickets in Orlando are still available to attract theme park visitors, with several months this year already meeting or exceeding 2019 numbers.
Especially in the next 18 months, there will be plenty of new experiences across Walt Disney World, including the chance (starting March 1) to spend two nights aboard the Star Wars: Galactic Starcruiser in a new kind of "storyliving," as their choices will determine their adventures as they interact with characters and crew and become part of the action. (Reservations open the end of this month, with all-inclusive rates starting at just under $5K for two guests.)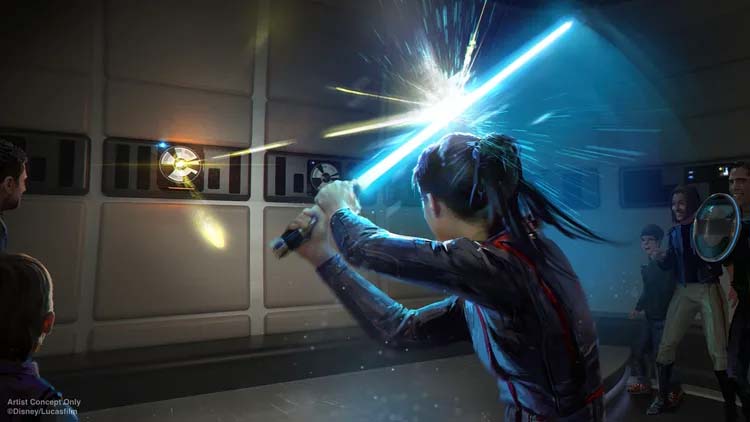 Epcot literally is being transformed with four connecting neighborhoods: World Showcase, World Celebration, World Nature and World Discovery, new iconic lights across the panels of Spaceship Earth, a new nighttime Spectacular "Harmonious," one of the largest nighttime shows ever created for a Disney park, underscoring how story and song unify us wherever we're from (Disney songs are performed in more than a dozen languages) all with fireworks, moving fountains, lighting and massive LED panels.
Families have long asked for more Epcot attractions for younger children and Disney Imagineers have responded with: Guardians of the Galaxy: Cosmic Rewind coming next year (the first "other world" showcase pavilion at Epcot and a storytelling coaster that rotates 360 degrees as guests go on an intergalactic chase) and the brand-new Remy's Ratatouille Adventure that adults will enjoy as much as the kids. You see Gusteau's Paris restaurant, made famous from the Academy Award"-winning Pixar film Ratatouille," from Chef Remy's level (he is a rat with a passion for food!) as he scurries under the stove (you'll feel the heat) avoid a wet mop (you'll feel the water droplets). Check out the massive hanging ham weighing 2.7 tons and a 26-foot-long fish!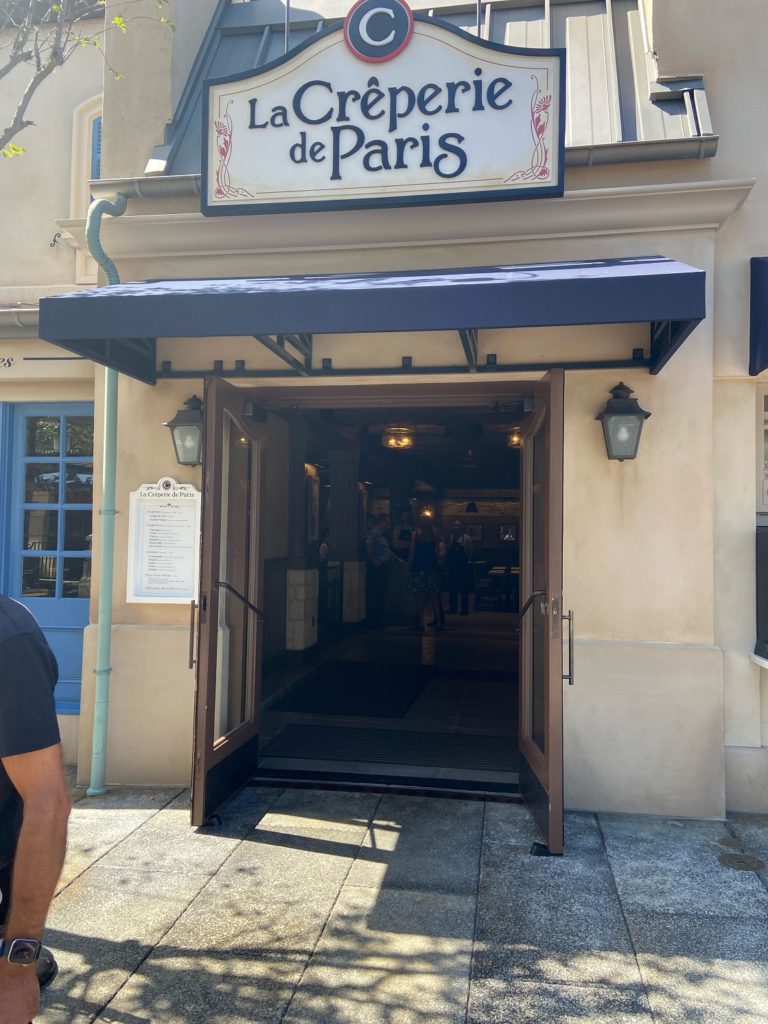 The attraction is going to make you hungry! Luckily, In the expanded France Pavilion, there's the new La Creperie de Paris serving up huge buckwheat crepes inspired by the Brittany region of France with special flour imported from France, as well as sweet dessert crepes. (How about one with hazelnut chocolate spread? There's a walk-up window too.) Be forewarned that the kids will beg for the interactive Chef Hat that looks as if Chef Remy is cooking alongside the wearer.
At Animal Kingdom Theme Park, the new daytime "Disney KiteTails," is guaranteed to be a crowd pleaser as windcatchers and kites of all shapes and sizes fly over water. The big three-dimensional kites depict Disney animal friends (think Simba and Zazu) and fly along accompanied by Disney songs.
The new nighttime "Disney Enchantment" at Magic Kingdom is designed to inspire all of us to believe in magic, with fireworks, music, and for the first time, an immersive projection that extends from Cinderella's Castle down Main Street USA. The new "You Are the Magic" song is performed and was written by Grammy winner Philip Lawrence, whose musical career began here as a Disney Cast Member.
There are still COVID protocols, of course – masking indoors and on rides, for example, no lining up for autographs. But some changes, like the ability to mobile order food on your Disney app (no more waiting in line) have made the guest experience better. And while you still can't hug your favorite characters or pose for photos with them, new opportunities have been created so that they can appear in your selfies from mini parades to appearances on balconies and rooftops.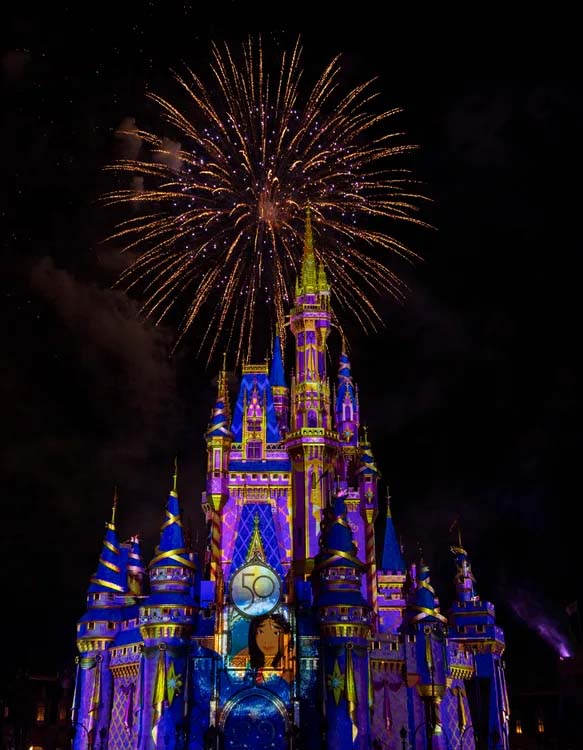 Another plus: "Lines are shorter and it's easier to get on the rides," said Holly McCulley, here with her daughter and granddaughter from California.
With the U.S. re-opening next month to fully vaccinated travelers from 33 countries and with children between 5 to 12 expected to be eligible soon for the COVID vaccine, the hope here is that tourists will again flock to Central Florida where their presence supports the region's largest work force.
The Magic Kingdom, of course, is where it all started — Epcot didn't come until 11 years later, Disney's Hollywood Studios in 1989 and Animal Kingdom 10 years later – with just one park with fewer than two dozen attractions and two hotels "out in the middle of nowhere," said Tom Morris. Morris first came here as a 12-year-old on opening day and has spent his career as a Disney Imagineer and creative executive.
"The park," he said, "was mind-blowing to a kid."
It still is … to lots of adults too.
NEXT WEEK: Eating your way through Walt Disney World.
©2021 Eileen Ogintz. Distributed by Tribune Content Agency, LLC.