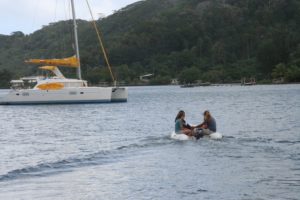 DAY 2 — The first morning we wake up on our boat! We eat some of the food we'd provisioned ahead- awesome croissants (this is French Polynesia, after all) crispy baguettes longer than my arm, giant green grapefruit called pamplemousse, sweet papaya and local yoghurts.
Finally, we're underway! Sails billowing, six foot swells! At first we're all excited by the sheer adventure of it-our sailboat, no other boat in sight as we sail east 40 miles from Raiatea to our next stop on our magnificent catamaran from Tahiti Yacht Charter (www.tahitiyachtcharter.com).
Click: PHOTO GALLERY But then the swells get the better of some of us and several get sick. We laugh about it when we arrive at Huahine and have views of bays that are lush, green and remind me a little of the northern Minnesota island resort we vacationed at when the kids were young. We tell other family travel barf stories and laugh some more.
That's another plus about a sailing trip. Like camping, all of the artifices and defenses are down — no makeup, no fancy clothes, close quarters. As long as you like the people you are with, it is a spectacular way to travel — no schedule but your own.
There are less than 6,000 residents on this island and we meet some of them in the morning when we stop at the early market to buy some food. Outside are people selling Polynesian cru, a dish made with raw tuna and coconut milk and another with cooked bananas and coconut milk. We buy some of the sweet coconut milk to make our own banana desert. We see giant Taro plants, fresh lettuces and oh-so-friendly locals. Luckily, our friends Pam and Allan Roza are Canadian and speak French. My fractured French isn't going to do it!
The previous afternoon, while the girls lazed on board, our Captain Turo took the four of us about 10 minutes from where we were moored to the reef so we could snorkel. We didn't have to wait for a snorkeling excursion, a large boat or pay for the privilege. We just hopped in our Zodiac and headed out to see the reef. The water was so clear — I could see tiny shells imbedded in the sand six feet down. I'd never seen such large brain coral. We saw tiny blue fish and striped Longfin Banner Fish, trumpet fish long and skinny and blue-green Chromis, among others. As usual, they ignored our presence. We and the fish had the reef to ourselves. And when we'd had our fill, we simply motored back to the boat. I love being my own queen of my vacation univers!
We leave the guys on board and head to shore where we visit Huahine Te Tiare Beach Resort (target="new"www.tetiarebeachresort.com) that is about as iconic as you can get — with thatched bungalows set over the water with their own decks and dock, a white sand beach with kayaks, canoe and volleyball net and a spectacular restaurant with a thatched roof and canoe and shell chandelier hanging from the beams.
The manager, Sylvain Delanchy tells us business is down at the small resort with less than 50 bungalows, others set in gardens planted with blooming tropical flowers. That's why this may be the time to come. Rates are down at least 20 percent and kids under 12 fly free on Air Tahiti Nui. We see other families, including one large multigenerational group, enjoying the resort and the dining room.
The resort is accessible only by boat and opened just 10 years ago by a Californian who fell in love with the idyllic spot.
Did I mention food? Turns out the resort has a reputation for its kitchen that is well deserved — from the Tahitian specialties to the home-made ice cream (pistachio or coconut) and the chocolate Lava cake, we dine well.
This is the kind of place, I think, where you really can forget all about your troubles — or the world's troubles — and you do feel like you have traveled to another planet, from the French and Tahitian locals, to the spectacular lush green landscape, to the thatched roves and crystal clear water.
Next: A vanilla plantation and a black pearl farm