By Eileen Ogintz
BERLIN (DAY ONE of FOUR) — Scooter anyone?
If you are staying at the Westin Grand Berlin, you can borrow one for your kid to tool around on along with bikes for the adults or older children. The public relations director got the idea after touring Barcelona with her young daughter and seeing how much kids enjoyed "scootering" rather than walking an unfamiliar city.
Westin and Le Meridien Hotels have just introduced new family programs, they say, in response to a changing global demand for family travel. Rather than focusing on a kids club, this idea stresses that playing "knows no borders or language barriers but rather inspires kids to explore learn and build relationships." Urban and resort hotels will offer a range of activities families can do together—whether hunting for crabs in Hainan China to cooking in Hilton Head, North Carolina.
Le Meridien has a new partnership with LEGO as well as with KaaBOOM! The goal is to create new playgrounds.
According to a new survey conducted for the hotel brands, half the guests traveling with kids say they travel differently than five years ago, going farther from home and staying longer.
Here, the hotel—ideally located in the city center within walking distance to many museums and historic sites—is still evaluating what programs it might offer. Kids will enjoy the enormously popular activity to hammer on a chisel and be able to take home a piece of the Berlin Wall that has been standing in front of the hotel since Jan. 9, 2009. When it was installed it was 1meter wide and 3.7 meters high and weighed 2.7 tons. Now it's about 1.2 meters shorter as some 7000 guests have taken bits home. (There is a special "Fall of the Berlin Wall" offer at the Westin Grand Berlin.) We learn that in the divided Berlin, this 400-room hotel, built in 1987, was actually   East Berlin's most upscale hotel.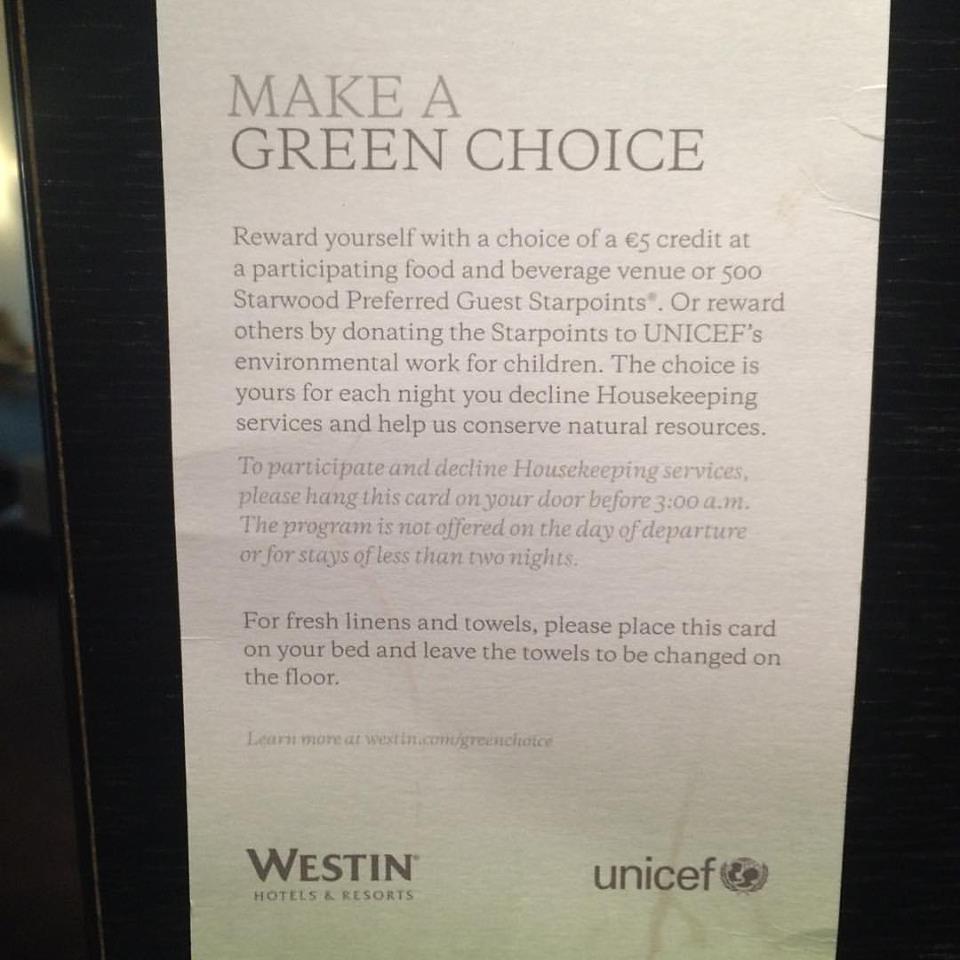 I also like Westin's "Green" offer, in which we can forgo maid service and our sheets being changed daily in return for a coupon to use at restaurants or bars or 500 SPG points.
I also like Westin's "Eat Well" menu for kids—everything from whole wheat French toast to a "deconstructed" caesar salad. Kids also get a small guide that instructs them to "look closer" because hidden wonders are everywhere — and encourages them to eat something new or "order something on a menu you wouldn't try or make a pretend menu of foods you've tasted on your trip!"
Executive Chef Peter Hampl encourages guests to eat seasonally—thus you can have your choice of goose liver, smoked goose or goose breast as "everybody is going to eat goose in Berlin between November and December," Hampl said.
Locals in fact, come here for dinner for the goose—or take it home. In the lobby lounge, you can get a version of Berlin's popular curry sausage as well as a veggie burger. Kids love Berlin's popular potato soup, he suggests,
I'll have some more berry compote, please.