DAY FOUR — Thanks a lot Andrea.
This was supposed to be our day to hang at the pool. In fact, we chose the Hyatt Grand Cypress in Orlando because it's got a new water play area—big new water slide and 1500 acres with put-put golf, tennis, sandy beach with paddle boats, smores pit…the list goes on and on.
But Tropical Storm Andrea put a wrench in our plan. It's pouring. Yesterday, it was raining so hard we had to return to the hotel from Epcot to dry off before there was a lull in the rain—enough for us to enjoy an evening at the Magic Kingdom.
Some families of course, rain jackets and ponchos in hand, hit the parks anyway, "We're not made of sugar, we won't melt," said Arlys Pellegrino, here with her husband and two daughters from Colorado Springs. They'd decided to head to Epcot because there are more indoor attractions. "You can't let the weather stop you," said Pellegrino. Besides, she added, looking around the Hyatt's spectacular lobby, "How can you be sad in a place like this!"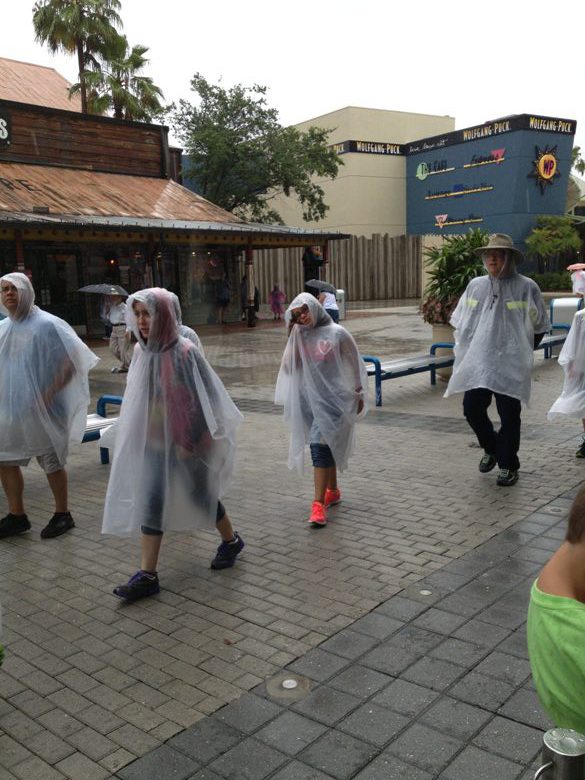 Others, like the Cartwrights, here from England, are planning to spend the day shopping. "We're having to get a new suitcase for all we've bought," laughed Fiona Cartwright, who added she was glad their seven year-old daughter Millie already has had plenty of time to enjoy the resort's water playground. Orlando, of course is known for its shopping with several malls and outlet malls, not to mention Downtown Disney with the largest Disney Merchandise store in the world.
Eight year old Amanda Li, here with her mom from San Diego for a gymnastics competition, said as long as there is no thunder and lightening, she's going swimming anyway. "You're going to get wet anyway," she aid.
"And at least it's not so hot," added her mom Sarah.
"We may go to a movie," said Dan Templeton, here with his wife, seven year-old daughter and extended family from Omaha, Nebraska. They certainly have their pick.
There's also bowling—at Splittsville in Downtown Disney, and a chance to try sky diving at iFlyOrlando—an indoor simulator. There's Disney Quest—five floors packed with video games including the chance to design your own rollercoaster, though it was so crowded we couldn't even get in.
Let's not forget museums—there is everything from WonderWorks Orlando and the Orlando Science Center with a Kids Town for kids under 48 inches tall (ready to explore what's under a city street?) to the Orlando Museum of Art with drop in classes and the Mennello Museum of American Art.
The Hyatt Grand Cypress was adding some indoor kids' activities too—make a lizard craft, a hula hoop contest, a couple of movies to make up for the activities we couldn't do around the pool—or at least try to make up for them.
As for us—like a lot of families at this hotel, we slept in (we didn't leave the Magic Kingdom till nearly midnight!), enjoyed a leisurely breakfast and think we'll hit Disney Quest –before our spa appointments at the Grand Floridian's new Senses Spa. While I get a massage, my cousin and eight year-old Hannah get to have mom-daughter mani-pedis.
"A new rainy day alternative," said Kristie Johnson, who with her mom and friend opted for massages and pedicures for the two eight year olds—complete with little tiny mouse ears on their big toes. "We'd be in the parks if it wasn't raining but this is a chance to do something different," she said. And relax, rather than braving the rain and the wind.
You've got your pick of spas in Orlando too.—including another V Senses Spa about to open at Walt Disney World at Saratoga Springs Resort. Not a bad way to spend a rainy day.
"We're having fun," said 18 year old Courtney Pelligrino. And on vacation, no matter what the weather, that's what matters.
"You can't stop because of the weather," added her mom Arlys Pellegrino. "We're only here once."