By Eileen Ogintz
When I was a kid, growing up in the New York City suburbs, it was a trip to see the tree at Rockefeller Center and the window displays at the big Fifth Avenue stores. If we were lucky, we scored a hot pretzel from one of the street vendors.
Nearly thirty years later, when my kids were very small and we lived in Chicago, it was a trip to the mall to get a photo with Santa and a visit to the Museum of Science and Industry to see all of the decorated Christmas trees representing cultures from around the world and a trek to a Christmas Tree farm.
Later, when we moved to Connecticut, we tried going to see the balloons being blown up for the Macy's Thanksgiving Day Parade but that turned into a disaster when we lost the visiting relatives in the crowds.
Last year, we simply hunkered down. This holiday season, despite continuing COVID-19 protocols—and the alarming new Omicron variant–families are flocking to their favorite holiday lights displays and celebrations, some returning to what was an annual pre-pandemic run-up to the holidays and others creating new memories whether at zoos, botanical gardens, parks and festive teas, dinners and performances.
As we now live in Denver—and are "vaxxed and boostered," we feel safe—and excited to see how the Mile High City lights up the holidays, both with free and reservations-required displays across the city at the Botanical Garden, The Denver Zoo, and the Elitch Gardens theme park, among them.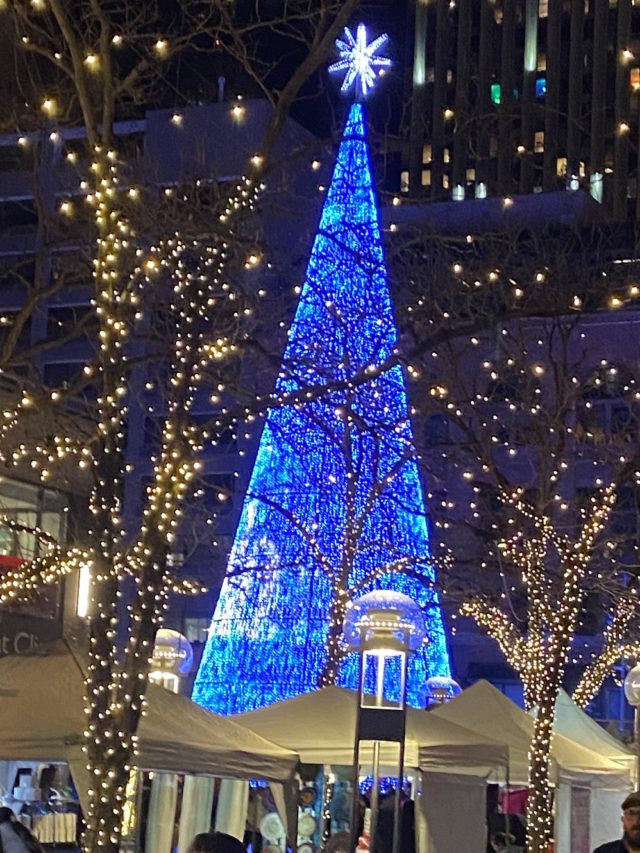 There certainly is a lot to choose from, including many free attractions—the chance for a selfie with Santa (and Mrs. Claus) at the Union Station Grand Illumination, where the exterior façade of the century-old train station is transformed with a light show. With your grown kids, make a reservation for a holiday drink at the pop up bar Miracle at Denver Union Station and stroll over to the Dairy Block to check out the holiday market—and artisanal food offerings. Once home to Windsor Dairy in Denver's historic LoDo neighborhood, it has been repurposed to showcase the Front Range's retailers, food and beverage purveyors
There is no charge to walk inside The Mile High Tree (actually 110 feet high complete with a lights and music show, the largest such installation in North America or to watch the Light the Lights show every night at the City & County of Denver Building..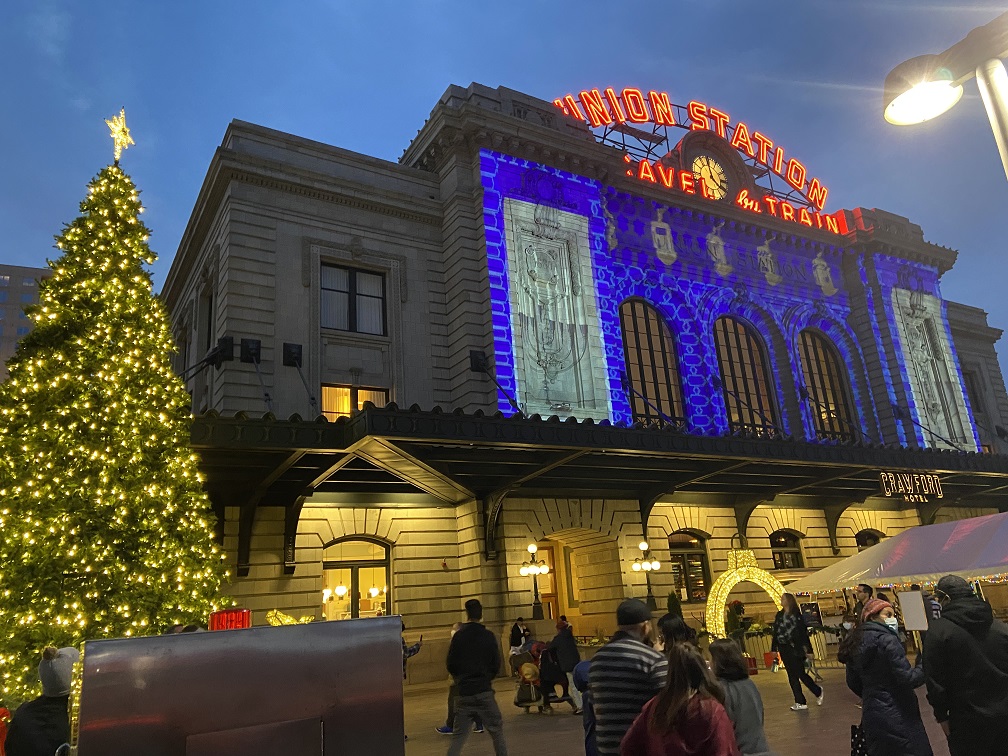 We joined Denver families— the kids decked out in their holiday best—for the return of the musical adaption of A Christmas Carol at the Denver Center for the Performing Arts, returning after a four year hiatus—first for a major renovation and then because of the pandemic. The performers seemed as excited to be back as was the audience as they sang and danced their way through Charles Dickens timeless tale—particularly relevant this season as like miser Ebenezer Scrooge, we have all been forced—in our case by the pandemic—to re-evaluate the meaning of the holidays and what matters most. (Everyone 12 and older is required to show proof of vaccination, making all of us feel that much safer.)
This is the first year for Luminova Holidays at Elitch Gardens Theme and Water Park with more than 3 million lights, a 65-foot tall Christmas tree, a 25-foot snowman (how come he never melts?) an 200-foot long candy cane tunnel and rides on some of Elitch Garden's famous attractions, as well as strolling holiday entertainers and plenty of interactive activities (light-up hopscotch maybe?)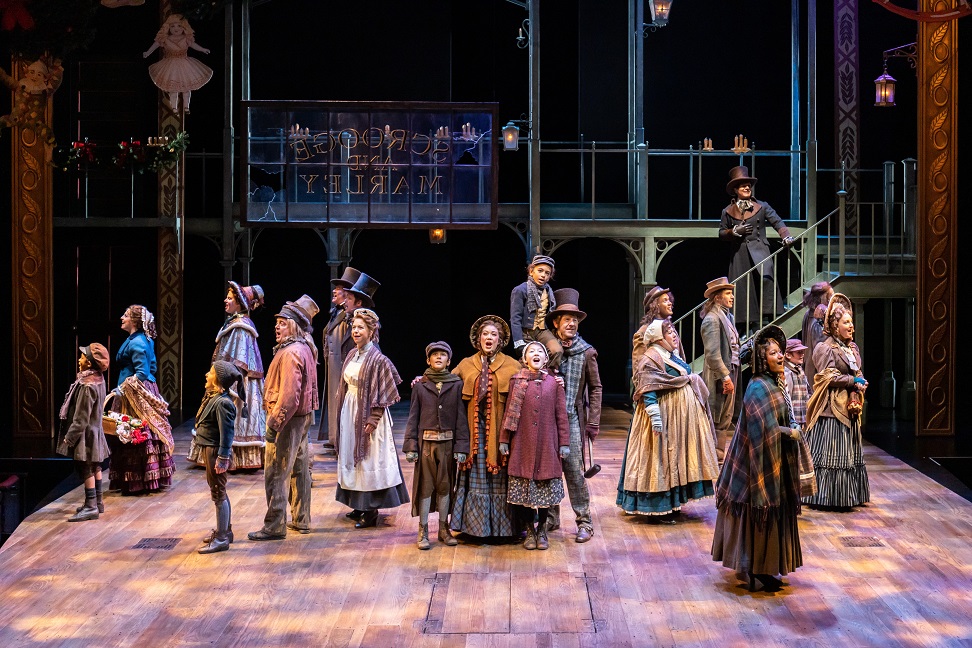 Then there are long-held Denver holiday traditions—like Blossoms of Light at the Denver Botanic Gardens that has drawn families from across Colorado for more than 30 years, from babies and toddlers in strollers to seniors in wheel chairs and kids racing through the new O'Fallon Perennial Walk-a 200-foot-long, 17-foot tall tunnel of animated lights. (Get tickets in advance!) In the foothills, the Trail of Lights at Chatfield Farms takes you a winding nearly mile-long path in the countryside.
The Denver Zoo's Zoo Lights is celebrating its 30th anniversary (there have even been marriages) with the zoo transformed into Colorado's WILDEST winter wonderland with more than a million lights over 80 acres complete with animal light displays- think two rams butting heads, a fox chasing a rabbit, a kangaroo hopping or Flamingos in the water. Two million LED lights complemented by kids with light sabers, light-up necklaces and more. The Zoo has been celebrating its 125th anniversary all of 2021. Don't forget your masks!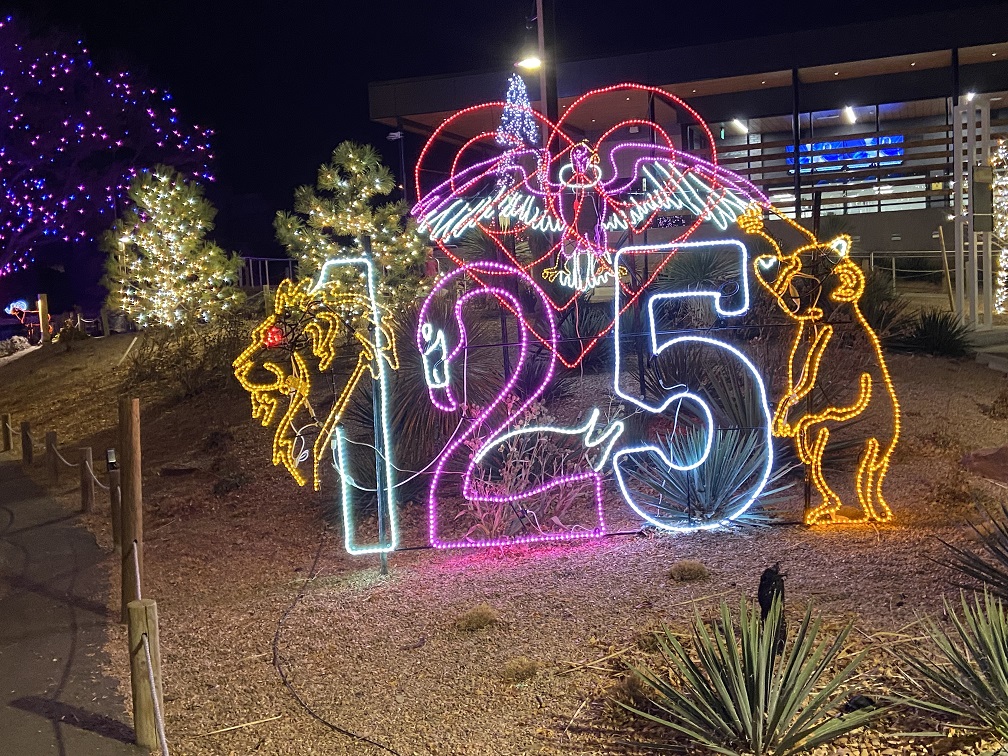 Many are trying to support local businesses this holiday season and there's no better place than the 16-block Winter Wanderland in the Cherry Creek North neighborhood with more than a half-million lights decorating more than 600 trees, including eight musical trees and a new interactive "domino effect by Creos" art installation with big colored dominos, each with its own sound. I plan to visit during Saturday Night Lights (the first three December with free treats and entertainment.
Families love the 9News Parade of Lights in Downtown Denver (Dec.4) with big holiday floats, giant character balloons, marching bands, equestrian unites and more. But no worries if you miss it as the floats will be on display until the day after Christmas on various plazas including Denver Union Station.
Let's not forget the Denver Christkindl Market at Civic Center Park across from the Capitol where you can enjoy mulled wine or hot chocolate, maybe a German beer while perusing artisan gifts.
Giant Pretzel anyone?