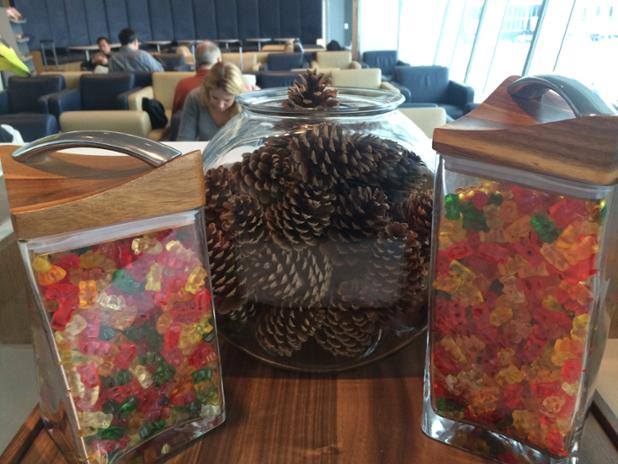 By Eileen Ogintz
Is it worth it?
IN-FLIGHT, NEW YORK TO FRANKFURT –Is paying extra for premium economy worth the extra price? Sometimes, you get a lot for your buck; other times you wonder what you paid for.
Lufthansa, I discovered, has among the best premium economy sections I've seen—offering that rare pleasant travel experience on a long haul flight in a new service introduced last year. The seats offer up to 50 per cent more legroom than economy and we found the seats almost comparable to business class on a domestic flight. There are electrical sockets, extra storage, foot rests. It's priced closer to economy than business, though.
The new seats are wider, can be reclined more—giving us one and a half times as much room as in economy—that makes a difference on a flight lasting more than six hours and/or overnight. Even better, you can adjust your headrest to your height. You feel more like you are in business when you board and there is a water bottle waiting, a welcome drink offered and a special amenity kit (need some comfy socks?) The screens for the entertainment system are bigger too.
Food is served on porcelain tableware and the food wasn't bad—salmon, rice, salad…. The idea for this was that when Lufthansa last revamped First and Business, there was a huge gap between those classes and economy—in price too. This offers a welcome alternative.
You can bring two suitcases rather than one—when you want to bring home an extra bag with all of your purchases–but an even better perk is for 25 Euros (almost equivalent to $25 these days) is spending that too-long pre-flight time in a Lufthansa Lounge ideal if you need to get some work done, let a baby nap or grab a snack—complimentary.
We waited in the Lounge at JFK where we had a bite (soup, salad and sandwiches) and coffee (alcohol is complimentary too) and my husband was even able to participate in a conference call in relative quiet.
And though it was an overnight flight, we arrived less exhausted than we would have otherwise.
So in this case, yes paying premium was worth it. On some other airlines, not so much. Before you sign on for your next long haul flight—or upgrade with miles—make sure you know what you are getting and if it will be worth it to you. Does the extra legroom really matter? Is the food appreciably different? Maybe the ability to bring an extra bag seals the deal.
Thanks, Lufthansa