By Eileen Ogintz
Tribune Content Agency
The Chuangs planned on exploring Puerta Vallarta with their 6-year-old twins, strolling the famous Malecon along the ocean, seeing baby sea turtles released, enjoying a local meal while their ship, Holland America's MS Oosterdam was in port.
They didn't plan on the rain that got worse as the day went on. "The kids were miserable," said Yvonne Chuang, who hails from Northern California. "We were back by lunchtime," She was sitting by the pool — luckily with a retractable roof — full of splashing happy kids, including hers. "Only my husband was disappointed," she said.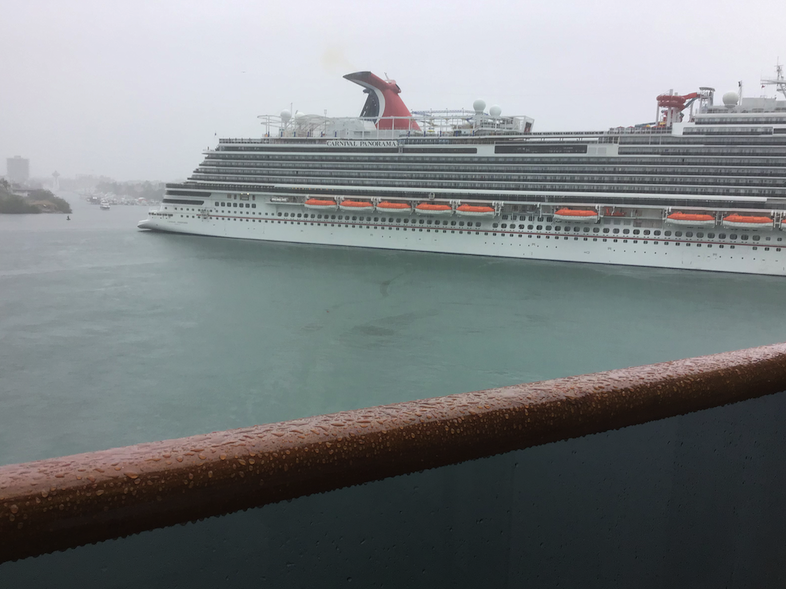 Weather can derail the best-laid plans. We almost didn't make it to San Diego and the Oosterdam before she sailed, in fact, because of canceled flights, thanks to a morning snowstorm in Denver. We've been stuck in a hurricane in Orlando, more than one ski country blizzard and a forest fire in Alaska, among other places. (A good reason for travel insurance!) Even on the best-planned vacation, things don't always go as planned — a good lesson for kids, I think, in learning how to adapt.
That might mean playing cards or a board game rather than exploring a new city, as many families were doing aboard the Oosterdam.
Shore excursions typically go rain or shine and only a few were canceled that day in Puerta Vallarta, including our sunset cruise. Families who had made plans independently reported they were relieved when the activities were canceled. There's something to be said for a relaxing day with no agenda, perhaps a workout in the big fitness center, a spa treatment or a musical performance.
Rather than an early morning horseback ride, Zoe Kirshenbaum, 21, was glad to sleep in after a late night of New Year's Eve partying aboard the ship. She was eating breakfast — at 4 p.m.
Others were snacking around the pool and in the Lido Buffet on everything from pizza, tacos and nachos from the make-your-own taco bar, burgers (The Dive-In for milkshakes, burgers, fries, hot dogs, grilled veggie and chicken sandwiches was especially popular), as well as everything from made-to-order pasta and salads, stir fry and, of course, ice cream, sweets and pizzas.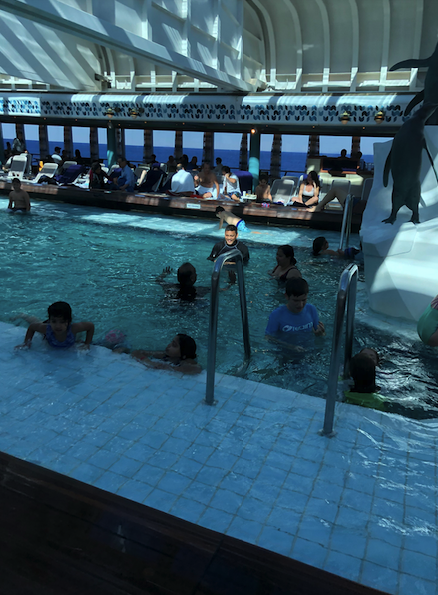 That's one good thing about a cruise ship — there is always food available and on the Oosterdam — particularly good food. Cruise Critic recently awarded the cruise line top honors for their dining from the dining room with special port-to-table offerings, reflecting the region, the signature restaurants (lobster ravioli in Canaletto or the buffet, perhaps roast suckling pig or ceviche at dinner? "What other cruise lines offer in the specialty restaurants, we offer in the dining room," said Executive Chef Rohit Dimri, adding that the emphasis here is on the quality of the food, which guests appreciate, including fresh fish bought in port, rather than gargantuan portions.
I have to admit that a cruise ship like the 2,000-plus passenger Oosterdam was a pretty nice place to wait out the storm in port for adults, as well as the nearly 400 kids onboard — except perhaps for families with kids under three. They were too young for the kids' club, lamented Lydia Dunbar, traveling with her husband, young son and extended family, nor was there a designated area where parents could bring toddlers to play. "We were so disappointed," she said.
Others said they wished there were more organized family activities on the rainy day. It's tricky to create the right balance, acknowledged Oosterdam Cruise & Travel Director Betty Ann Chun, explaining that while there typically are many families aboard holiday cruises, that isn't the case the rest of the year.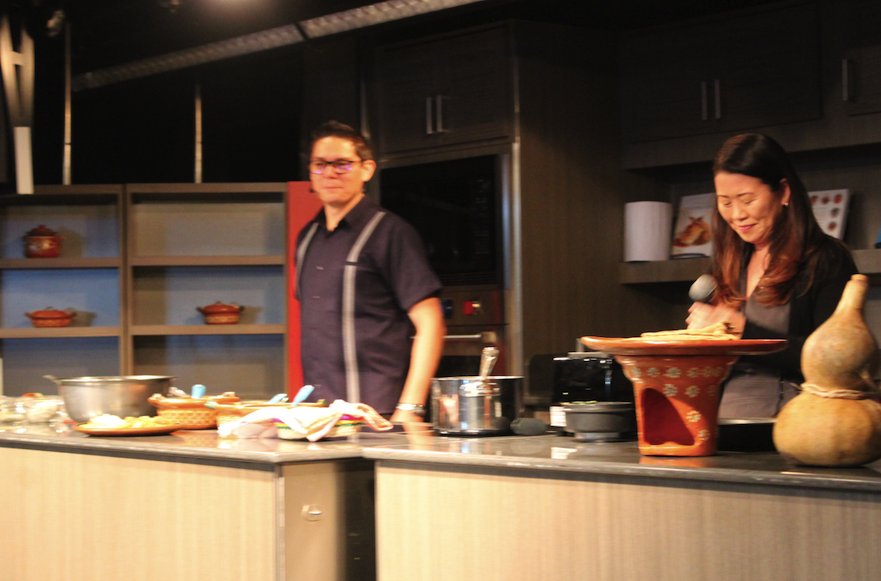 To meet families' needs, Holland America is piloting a new-style program on Oosterdam with the new Hi-Score area for older kids, teens and families — everything from foosball to video games, old-fashioned board games to giant puzzle mazes. There are also youth spa offerings for moms and daughters and fathers and sons to do together.
And while the Hi-Score area on the 10th deck is designed for 10- to 17-year-olds, evenings, between 7 to 10 p.m., are designated family time when teens can challenge their parents and young families can join the fun. The staff, rather than facilitating activities, sit back and allow the kids, teens and their families to play together.
"You just go and do what you want and that's good," said Jessica Crawford, 14, from Vancouver, who nonetheless said she and her younger brother and sister felt "a little neglected," elsewhere on the ship.
(There is still a small kids' club where some supervised activities are offered for younger children, including on port days.)
Chun explained that the new program, including game nights and trivia, is in response to families' desire to spend more time together onboard.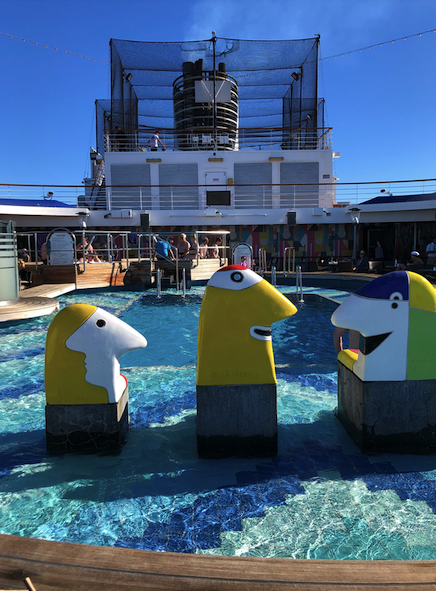 Selica Ta Foya, from Albuquerque, a veteran of eight cruises gave a thumbs-down to traditional kids' programs. She'd rather be hanging with her cousins and grandparents. "A cruise is for family time," she said.
Anneka Nelson, 11, certainly was enjoying her fourth cruise, a "girls' trip" with her mom and grandma, who she doesn't get to see that often. "Super nice to go to different places and not pack or unpack," she said.
Super nice not to have to cook, clean or do laundry, added her mom, Lisa Nelson, a busy physician. "Life is so crazy," she said.
But not onboard, not even in the rain. Look around, Lisa Nelson said. "People are happy."
© 2020 EILEEN OGINTZ
DISTRIBUTED BY TRIBUNE CONTENT AGENCY, LLC.