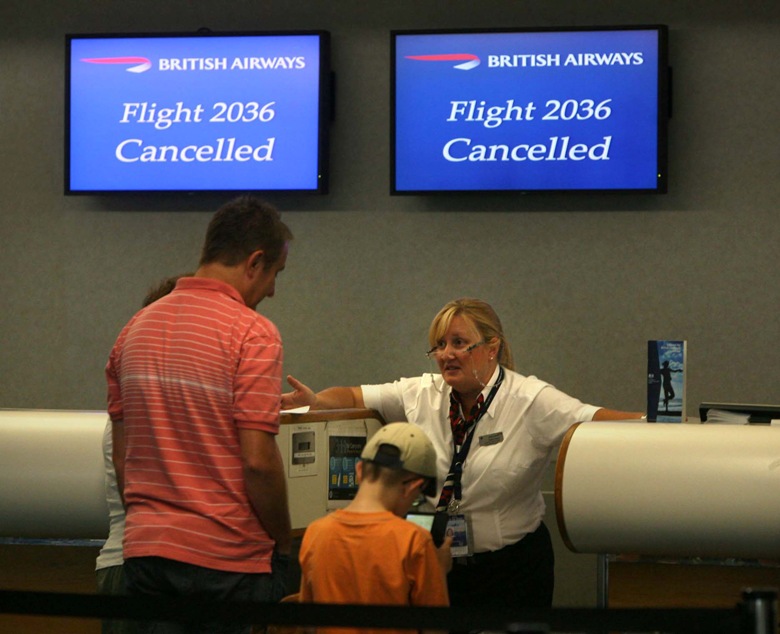 By Eileen Ogintz
Tribune Media Services
It has happened to all of us.
No matter how well we plan, a blizzard grounds your flight and closes the highway or one of the kids or your mother-in-law gets sick or it rains when it's supposed to be sunny, or snows too much to ski.
All you can do is shrug off your disappointment, keep your cool and make lemonade out of a travel lemon.
For us, that meant enjoying a quiet "staycation" after Christmas instead of taking a much-anticipated diving trip to Grand Turk Island. Though our flight was scheduled two days after the Christmas blizzard that crippled the East Coast, we thought we were good to go and left our house that morning boarding passes in hand. But in the hour it took us to get to JFK our flight was canceled and we couldn't get another for several days. Work schedules dictated we cancel the trip.
Sure we were disappointed, but it wasn't all bad. Our tickets were refunded and since we were home we didn't have the unexpected expenses so many did being stranded far from home. Tip from travel agents: Invest in travel insurance to defray those unexpected costs (www.insuremytrip.com, www.travelguard.com).
"I don't care what season, but for hurricanes and storms, travel insurance is essential," said Nancy Yale, president of Cruise, Resort & World Travel in Connecticut. Glued to the computer, Yale spent hours on the phone trying to get clients where they needed to be.
Maybe it is time to consider using a travel agent, columnist Joe Sharkey suggested in the New York Times recently. Yes, they charge a fee — typically around $35, according to Kristina Rundquist, a spokesman for American Society of Travel Agents. (Plug in your zip code at www.asta.org to find one near your home.) But, like Yale, they can run interference for you when plans go awry because they have access to the same reservation systems as airlines and might be able to get you squared away when you otherwise would be on hold with the airline for an hour. (I was.)
"When travel goes awry, travelers have enough to worry about. Call us and let us go to work for you," said Dan Sherman, a spokesman for Ski.com, the largest provider of ski vacations in North America. "Our offices are like a command center, he added. "Especially in times of bad weather, we know what's going on, where the open seats are," and can rearrange your travel whether that means extra nights in a hotel, returning rental cars to a different airport or changing flights because a whole family came down with food poisoning. Yes, that happened, with the Ski.com agent even able to get their ski rentals reduced without charge.
The key, I'm convinced, when these things happen is to make the best of the situation, even if that means being stuck in the snow rather than being on a Caribbean beach. (We slept late, played in the snow with our dog, a rescue pup from Georgia, ate leisurely meals, watched movies and umpteen "Law & Order" episodes, read by the fire and simply hung out together— probably more than we might have if we were diving.)
My friend Roxie Nauman, who lives in Minneapolis, reported that last year her family's holiday trip to visit relatives in Iowa was also derailed by weather. And she, too, was surprised that they enjoyed their time at home just as much. "No one in the neighborhood could go anywhere either," she explained. "There was no rushing around and it became a very old-fashioned Christmas drinking cocoa, making cookies. … You do the best you can."
And sometimes that leads to unexpected benefits, especially thanks to social media. There has been considerable discussion about how the savviest travelers now are turning to Twitter to get their flights rebooked by sending direct messages to their airline. (I wish I'd thought of that.) Facebook even helped Amber Johnson turn a travel disaster into an impromptu reunion with a college roommate who lives in the D.C. area. After her friend saw her post complaining about being stranded last summer in Washington, D.C., with her young daughter, "she generously picked us up," said Johnson. "We spent the next day swimming and playing with her family. It was an unexpected mini-vacation with a dear friend I hadn't seen in years."
Even getting sick on a cruise ship can have an upside, according to another mom I know. She and her husband — parents of a child with Spina Bifida — had left him and his brother with their grandparents for a much-needed getaway, only to get sick two days into the trip. The ship's doctor, concerned that they might be contagious, confined them to their cabin.
"We were fine by the next day, leaving us three days in a 215-square-foot space," she laughed. "But that trip probably saved our marriage. … We were forced to talk and to deal with things we would have brushed under the carpet in the ship's bar. It really was a gift we needed and I often look at it as a real turning point in being a special needs family that beats the divorce odds." Plus, Carnival gave the couple a free seven-day cruise.
The week after New Year's my daughter Melanie and I decided to go ahead with the dive trip, just the two of us. She still had winter break from college and didn't want to miss the opportunity to get her PADI certification. Besides, she told me, "We don't get enough girl time together, mom."
We had a blast. (More about our adventure in my travel diaries and an upcoming column.) And we managed to make it home relatively on schedule, despite the next storm that walloped the East Coast.
Lemonade, anyone?
© 2011 EILEEN OGINTZ, DISTRIBUTED BY TRIBUNE MEDIA SERVICES, INC.