By Eileen Ogintz
Tribune Content Agency
If you think your kids are too old for dinosaurs, maybe it's time to think again.
"You are never too old for dinosaurs," said Bronx native Samira Walinski, 15, who had just seen the T. rex: The Ultimate Predator exhibit, which just opened last spring, at the American Museum of Natural History in New York.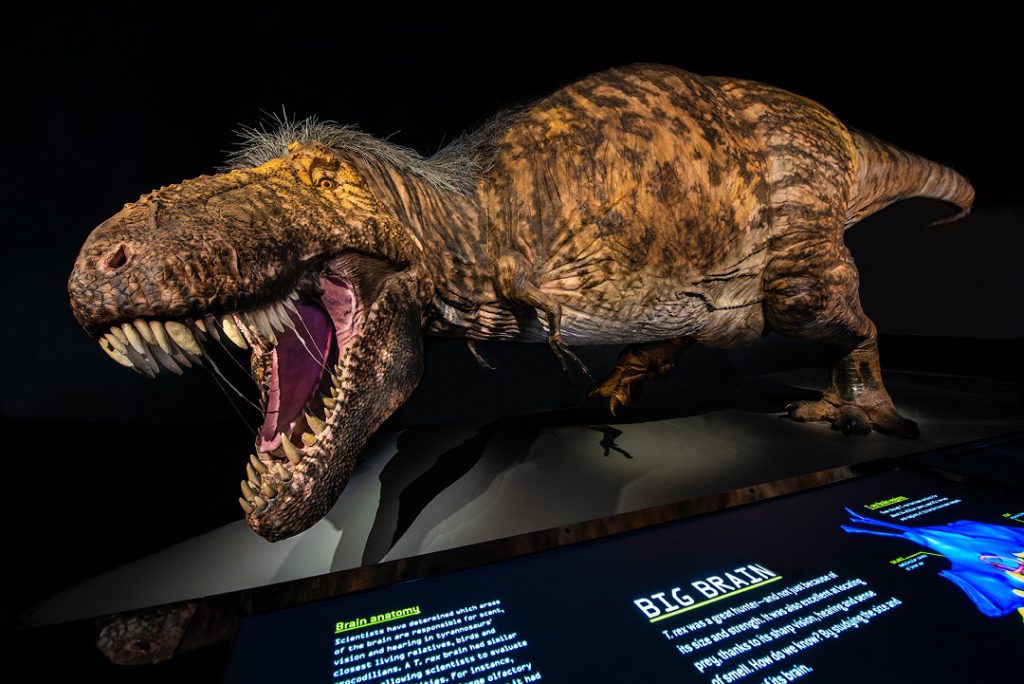 The museum, long one of the most popular family attractions in the Big Apple, is celebrating its 150th anniversary with a multi-year series of events, programs, exhibits and projects that began with the new T. rex exhibit and will culminate with the new Richard Gilder Center for Science, Education, and Innovation, complete with interactive theater, new galleries and a multilevel Collections Core showcasing sections of the museums' working scientific collections.
It's more than appropriate, museum officials say, that the anniversary celebration has kicked off with this major exhibition on T. rex, as the species was discovered on a museum exhibition in 1902 by famous paleontologist and fossil hunter Barnum Brown. (You can see one of the few original specimens of T. rex on public display in the Hall of Saurischian Dinosaurs.)
The museum's paleontology explorations and research, in fact, date back even further to the 1890s and continues to be a leader in the field with one of the largest and most diverse paleontology collections in the world.
The new exhibit reveals groundbreaking advances in the science of studying these amazing creatures and displays the most scientifically accurate life-size T. rex model to date, complete with patches of feathers. There are also reconstructions of several T. rex hatchlings, a 4-year-old juvenile T. rex and a "roar mixer," which invites you to imagine what the king of dinosaurs might have sounded like. There's also shadow theater featuring a floor projection of a life-sized adult T. rex skeleton coming to life in his environment, responding to visitors' movements. It's the museum's first multiplayer virtual-reality experience.
Tabletop "Investigation Stations" enable visitors to explore fossil casts with virtual tools, including a CT scanner and microscope. The adults were having as much fun as the kids, obviously. "Even young children can get something out of a visit here," said Liza Potseo, from San Francisco, visiting with two young children.
"You can learn a lot here," said Samira Walinski. That's if you "look at everything and pay attention." For example, did you know that the T. rex could pulverize and digest bones? Did you know he was part of an extensive dinosaur family that includes more than two dozen different species and spans more than 100 million years of evolution? Most T. rex, the exhibit explains, were not giants, either — Proceratosaurus bradleyi, the earliest known tyrannosaur, which lived about 167 million years ago, was about the size of a wolf. Did you know the T. rex had excellent vision and its eyes were as big as oranges?
Kids were busy placing various tyrannosaur family members in the correct time period on a magnetic wall while at another interactive station, they worked to attach the right size tail to a T. rex torso.
Dinosaurs, especially the T. rex, "fascinate and inspire the masses like few other animals, living or extinct," observed Michael Novack, the museum's senior vice president and provost for science.
Mark Norell, who curated this exhibit and is the chair of the museum's division of paleontology, noted that in the last 30 years there has been a huge increase in not only the number of tyrannosaur fossil discoveries but also technology that allows scientists to explore complex scientific questions. "I never would have imagined that one day we'd be able to look at the shape of T. rex's brain," he said.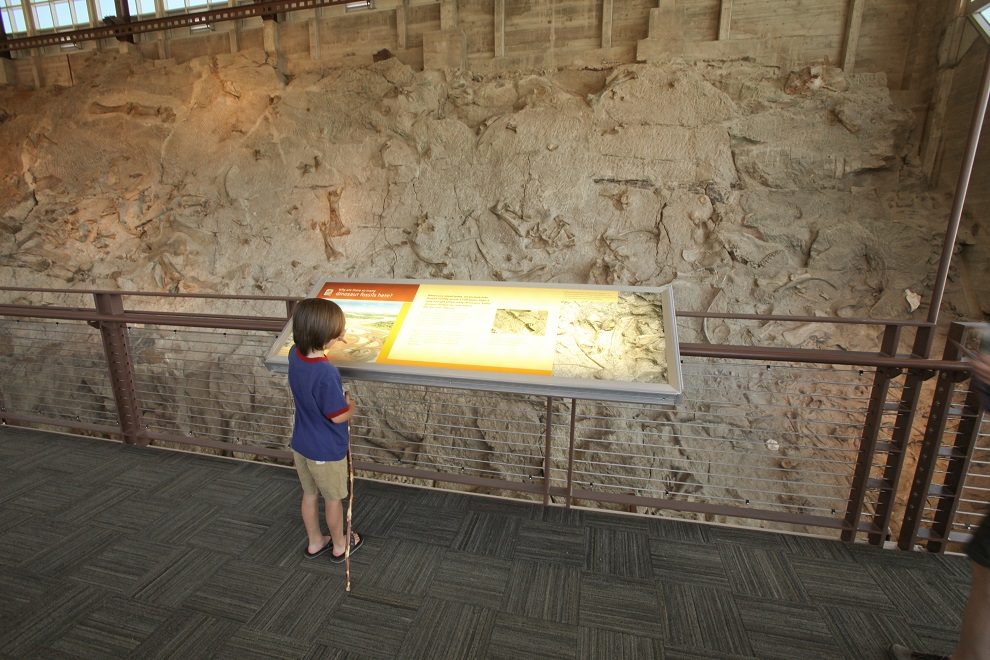 Recently, I was at Dinosaur National Monument, which straddles Utah and Colorado and is most famous for the 1,500 ancient bones exposed on the cliff face inside the Quarry Exhibit, which includes an 80-foot Wall of Bones. Nearby at the Utah Field House of the Natural History State Park Museum, kids can join hands-on digs and watch as scientists prepare fossils in their lab. There is a Children's Lab and an area where kids are encouraged to make up their own dinosaur stories.
There are other new interactive options for junior paleontologists, their parents and grandparents to explore this summer, even the chance to join a dig:
— The new 31,000-square-foot fossil hall at the Smithsonian National Museum of Natural History boasts 700 fossil specimens and enables you to see how our actions are driving Earth's changing climate, as did long-ago geological events. The exhibit is designed to inspire a new generation of scientists, as visitors travel through ancient ecosystems.
— The Wyoming Dinosaur Center in Thermopolis, Wyoming, has 30 full-size skeletons and the chance to sign up for the Dig for a Day program on an active dig site. In August, Road Scholar offers a five-night paleontology adventures for grandparents and grandchildren at the Wyoming Dinosaur Center where you will join paleontologists on fossil hunts and then follow the bones to the preparation labs.
— Meet SUE the T. rex at Chicago's Field Museum. At 40-foot long and 90 percent complete it's the largest and most complete T. rex in the world. Travel back 67 million years to South Dakota where SUE lived. Last year, SUE got scientific updates that offer a more accurate picture of the T. rex and, at the end of the year, it was moved into huge new digs in the Griffin Halls of Evolving Planet, along with interactives and animated videos. (SUE's gender, by the way, is unknown, though it has been named for Sue Hendrickson, who discovered it in 1990.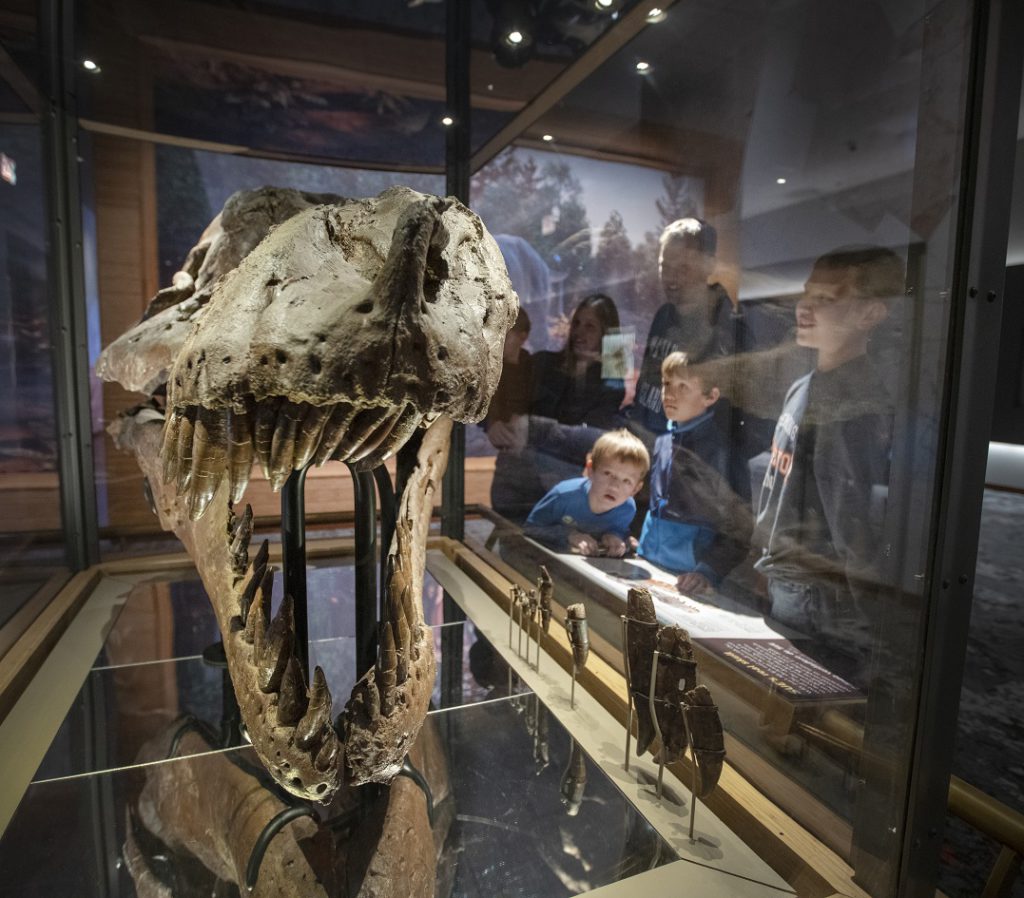 — At the Dinosphere exhibit at the Children's Museum of Indianapolis, staff will share updates on the progress of the Wyoming dig site and lab volunteers will bring fossils and samples from the dig site out to visitors and talk about what it's like to prep fossils in the lab.
The best part, of course, is to see kids of all ages so engaged in scientific exploration. "I love it all!" said Samira Walinski.
(For more Taking the Kids, visit ttk-old.o2dev.net and also follow "taking the kids" on www.twitter.com, Facebook and Instagram where Eileen Ogintz welcomes your questions and comments.)
© 2019 EILEEN OGINTZ
DISTRIBUTED BY TRIBUNE CONTENT AGENCY, LLC.