By Eileen Ogintz
PALISADE, COLORADO – The Palisade Basecamp RV Resort is beautiful, overlooking the famous peach orchards and the Colorado River. And we've got the latest Winnebago Boldt RV with all the latest gadgets and gizmos — so many that it took an hour tutorial before we left Denver to get a rudimentary understanding of how everything works.
But it's 30 degrees now several hours later and we can't figure out how to turn on the heat. It took us a half hour to find the right hose to hook up for electricity. The manuals — there is one for the car and one for the "house" part — are as thick as a college text.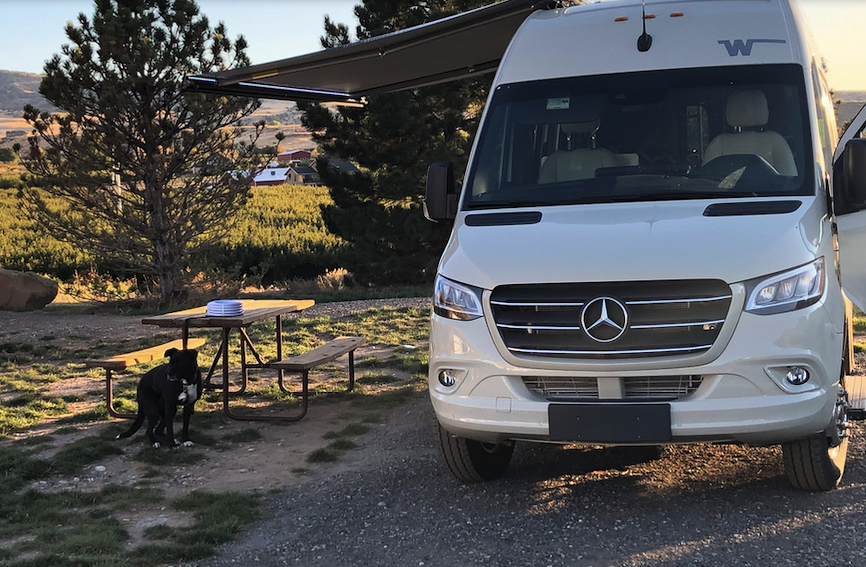 But we finally figure it out, after a very cold night. Boy was I glad we weren't in a tent! Even without heat, the all-new Boldt (named for German explorer and naturalist Alexander Von Humboldt) is an over-sized van complete with cooktop, microwave, shower and toilet — even a TV. With a Mercedes-Benz chassis, it's a smooth ride and a lot easier to drive than my husband anticipated, even on Interstate 70 through Central Mountains of Colorado. It is also so new that everywhere we've been, RV owners stop by to ask us how we like the Boldt.
For more camping ideas, read our column here.
The 40 million people in the United States who Go Rving regularly sure would be laughing at us newbies. But this is a first, and an adventure for us and whenever you step out of your comfort zone, you've got to figure there will be some bumps along the way. That's why they call it an adventure! Duh.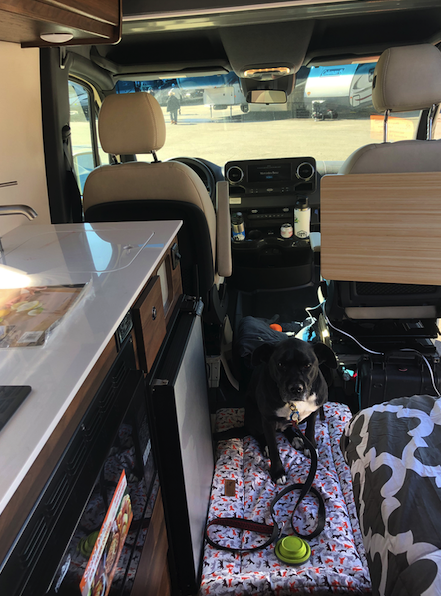 At the Palisade Basecamp, kids certainly are having fun as parents feel comfortable letting them bike and play around the campground, more than they would in a hotel. Our 10-year old rescue pup, Trooper, likes the off-leash area to exercise, and enjoys just hanging out around in inside our cozy Boldt. The cold night didn't seem to bother Trooper, but she snuggled up next to the heater once we got it working the next morning.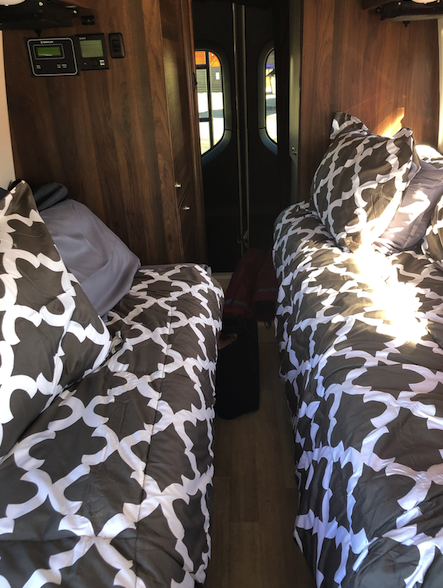 And if you are renting an RV rather than buying one (more than 9 million American families now own an RV and, while people think they are mostly seniors, the households aged 35-54 are those most likely to own), it's important to ask a lot of questions first. Are there pots and pans? Utensils? Hoses to hook up to the water at the campground? A "Cousin Eddie" hose long enough to reach the sewer dumps? Blankets and sheets?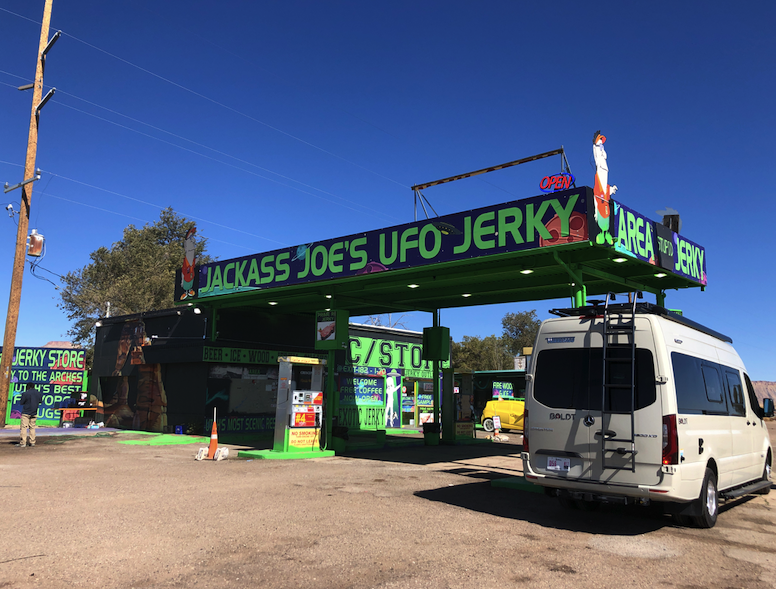 You'll want a plastic table cloth for the picnic table at a campground and you will want to know if there is a grill available and whether it is charcoal or gas.
Good sites for rentals are www.outdoorsy.com and www.RVShare.com.
I'm glad we brought our LL Bean basecamp chairs and wish we'd brought our Keen closed toe sandals for camp shoes. You'll want reusable water bottles — put stickers on them where you go — and insulated mugs for coffee and tea. I'm also glad we brought our YETIc ups but discovered there was no room for our big YETI cooler. I wish I'd brought the soft-sided one.
As they say, live and learn. Families certainly want to have new experiences on vacation.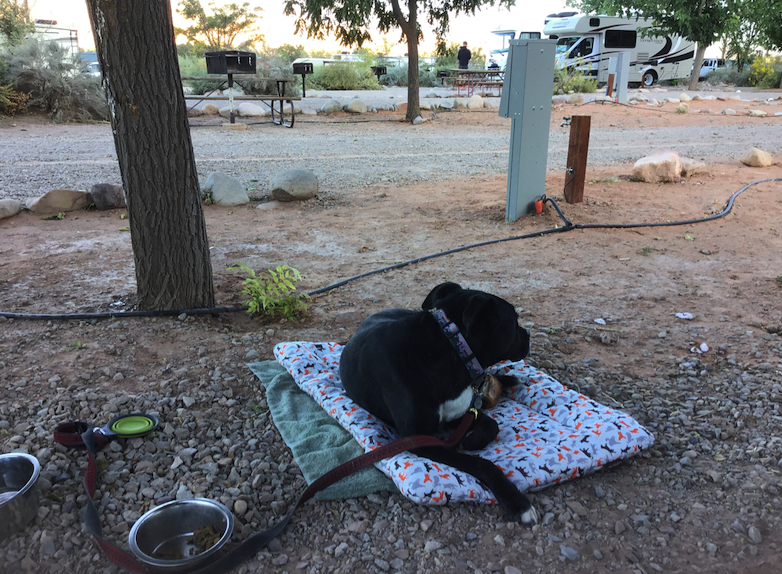 I'm writing this in the sunshine at the KOA Moab campgroundn ear Moab, Utah, where we will spend three nights exploring nearby Arches and Canyonlands National Parks. After my husband makes us egg sandwiches for breakfast (using the induction cooktop and right pan took another consultation with the manual, of course, and even the internet). Pretty good breakfast.
"It takes about six trips to really feel comfortable," suggests Gregory Leet, from Phoenix, as he was walking by with his two dogs. Leet said he bought a similar sized RV last year. "It's a lot of fun," he said. "The accessibility to the outdoors is great, but it isn't for everybody." My husband joked with him: "It's kind of like high tech stone age."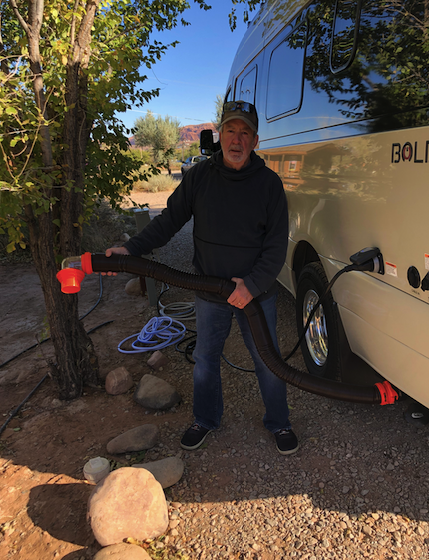 This KOA campground is really like a small village with over 100 mostly RV sites but some cabins, tent sites as well as bathrooms, showers, a pool, laundry, even a dog park and WI-FI. Rates for campsites as well as RV rentals vary greatly depending on the size of the vehicle, time of year and where you are — like cars.
"RVing has really become a thing in the last five years," Lett said. Indeed, according to the 2019 North American Camping Report, sponsored by KOA, not only are more people camping — more than a million new households last year alone — but campers are increasingly excited about new ways to camp, including renting an RV, especially among Millennials, Gen Xers, as well as Hispanic and African American campers.
Just one warning: "It can be a marriage tester," Lett laughs.