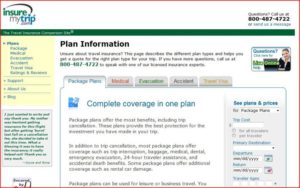 Note from Eileen: In my years writing Taking the Kids, I have often urged family travelers to purchase travel insurance prior to going.  It's paid off for me on many occasions and for many different reasons, whether it's a cancelled vacation due to a blizzard (it happened to us last Christmas) or a scratched cornea on a ski trip (happened to me earlier this year in Colorado).   One of the hurdles to purchasing insurance traditionally has been the time spent comparing coverage and prices, but now there's a new way to save time and money … through an aggregator like InsureMyTrip.com, which offers the following tips:  
 When you're planning a family vacation, there are dozens of little details that need your attention.  Between booking airfares, sleeping accommodations, and planning what to see, where to go, what to do, what to eat…it hardly seems as if adding one more thing to the "To-Do" list could be worthwhile.  But for family travelers, taking a few extra minutes to research and purchase a travel insurance policy that suits your needs can be as important as any other part of booking your trip.  Here are five reasons we recommend travel insurance for anyone planning a family vacation:  
Kids Get Sick. Even if the little ones are in top form when you set out on your trip, anyone who's ever come into contact with a human being under the age of 12 understands that "perfectly well" can turn into "factory of germs" seemingly overnight.  We also hate to come across as forecasters of doom, but sometimes, excited children + unfamiliar surroundings = an injury requiring medical attention. Depending on your particular health insurance policy, as well as your travel itinerary, you may not be insured for medical care away from home.  With travel insurance for your trip, you may still have to pay up-front for the expenses, but you might be able to get reimbursed after your return.
Did We Mention Kids Get Sick? …At the least convenient times, like the day before you're supposed to leave.  If you have to cancel your trip due to illness (yours or theirs), the right travel insurance policy will allow you to recover your pre-paid costs.
Camping in the Airport Sounds Fun Until You Do it. What with all the unpredictability we've seen lately in flight status — the weather, among other factors, is doing air travelers no favors — it's always worth considering that if you've got to take a plane, there's a chance you'll be delayed.  Sure, for a few hours, you can amuse the kids with people-watching, portable gadgets, and the duty-free shop; but if your delay stretches for too long, you may need to consider leaving the airport and getting comfortable.  Travel insurance can help cover the costs for meals and accommodations if your delay lasts more than 5 or 6 hours — an indispensable benefit for your family's well-being, and the sanity of all the other travelers.
Weather.  Again.  If Mother Nature decides to toss out an epic snowstorm, hurricane, or offhand eruption of some obscure Icelandic volcano, it may become next to impossible for your family to take that long-awaited vacation, even if everyone's in the best of health.  Unfortunately, most families we know don't have unlimited funds, so losing the pre-paid costs you've invested in for a missed vacation could be more than just a bit inconvenient.  A quality travel insurance policy should help you recover that money so you can put it towards another family trip.   A bonus tip to be aware of: Some policies actually cover cancellation of your trip if a lengthened school year (due to extra snow days, for example) causes you to miss your departure date.   
Family Rates. Families who are looking for the best deal on their vacations may believe that the added expense for travel insurance will bust their budgets.  However, many travel insurance policies are in fact family-friendly, offering coverage at no cost for children under the age of 17 who are traveling with an immediate family member.  Coverages will vary, as will the definition of "immediate family" — some policies restrict this to parents and grandparents, while others expand to aunts, uncles, etc. — but it is possible to purchase travel insurance for your whole family, while paying for only the adults.
We encourage you to do your homework before buying your family's travel insurance; not all policies are the same, and they don't all offer the same benefits.  Visit our website at www.insuremytrip.com or call our Customer Care center at 800-487-4722 to learn more about what type of travel insurance policy will best fit your needs.