By Eileen Ogintz
ABOARD THE WIND STAR, Aegean Sea — Are you a night owl?
Then you'll love the Greek Island of Mykonos — AKA The Party Island of Greece — which is decidedly sleepy in the morning as we walk through the crooked, impossibly narrow whitewashed and stone streets of Mykonos Town, past still closed designer shops of Matoyanni Street, the Tria Pagadia (Three Wells) The water is no longer potable but according to legend, virgins who drank for it would soon find a husband.
Four windmills line Alefkandra Ridge just south along the waterfront. They are no longer used, though one has become an Airbnb, our guide Marili Papadoupolou tells us. Shops open in the afternoon and might stay open till midnight; partying goes on till early morning—which caused a spike in COVID cases earlier this summer and a 10-day lockdown. Mykonos is also known for having been one of the first islands to welcome LGBTQ people.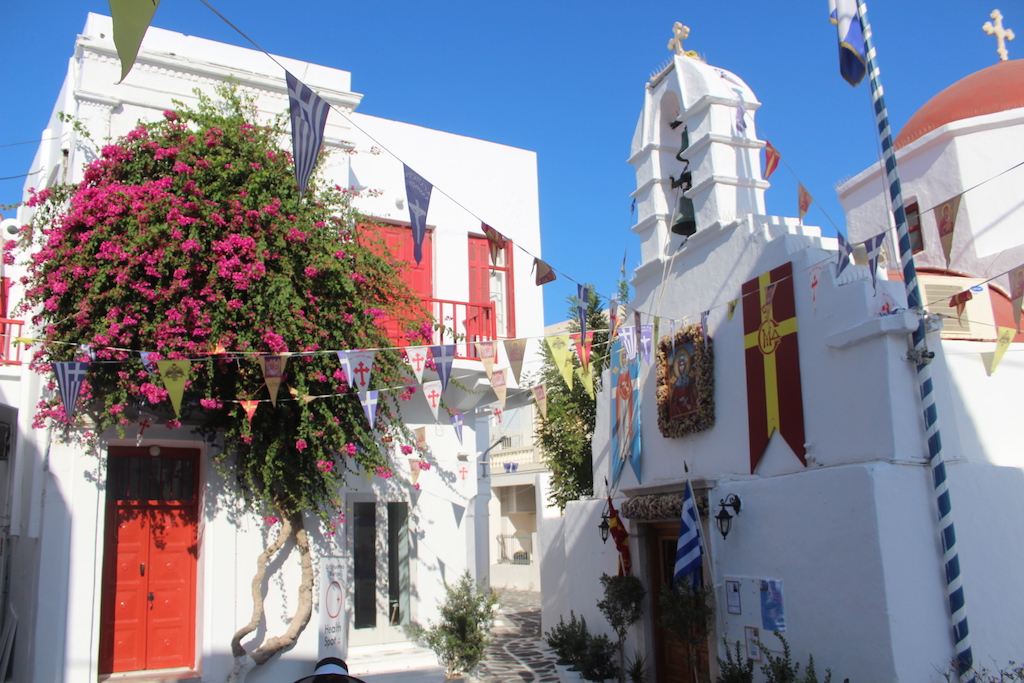 This barren, rocky island didn't have a lot going for it. But then jet setters, among them Jacqueline Kennedy Onassis, began arriving on their yachts in the 1960s. Hollywood stars followed and now Mykonos is a haven for the glitterati and 90 per cent of the island economy is based on tourism—thus all of the expensive designer boutiques, jewelry shops, restaurants, cafes and clubs.
We stop at The Gioras Wood Bakery, one of the last wood bakeries that dates from the 15th Century. In those days, the windmills nearby would grind the wheat. Today, all of the breads, pies, cookies and more are still baked in the wood stove. It has been run by the same family for more than 200 years. We munch on some traditional almond cookies, checking out the traditional Mykonian rusk, "sea bread," baked three times in the wood stove. Because it can be preserved for more than a year, sailors would carry it with them, dipping it into the sea when they wanted to eat. Interesting!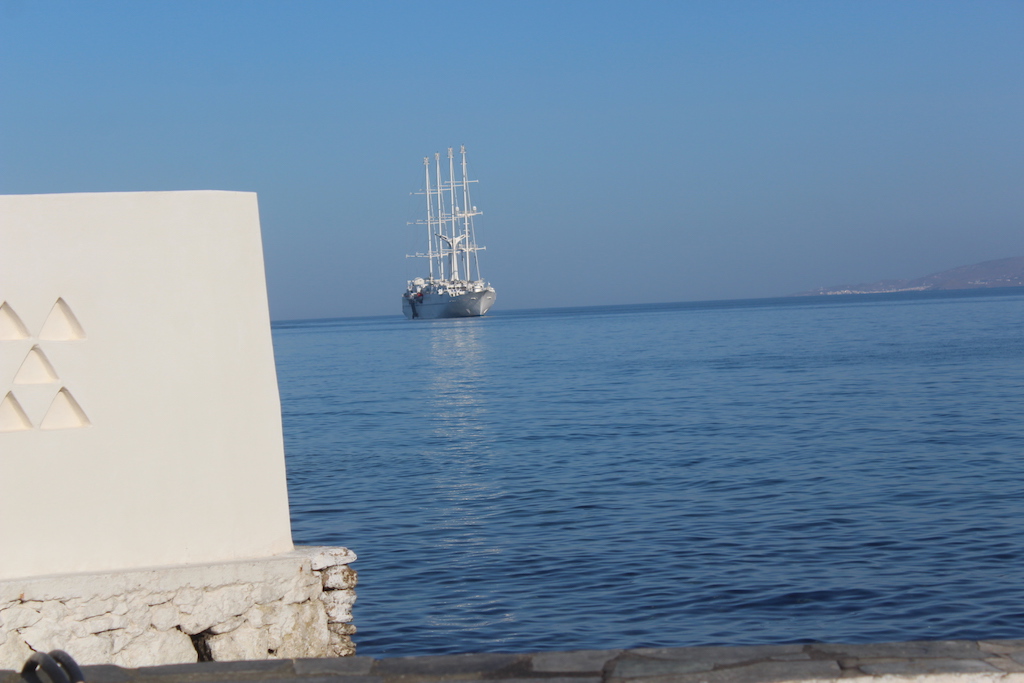 Just nine of us have opted for this "Five Senses of Mykonos Tour from the Wind Star, our sailing yacht that is touring the Greek Islands this week. There are just 58 passengers aboard (the ship can hold 148) and half are on a Tauck tour with their own guides. We're still in pandemic protocols, of course.
"It's nice when you just have one day to have someone take you and not have to find places on your own," said Julie Tyson, traveling with her parents and partner from New England.
"We saw things we wouldn't have seen," agreed Jan Ryerson, here with her husband Roger from northern California. The couple typically are not cruise people, they said, but decided a ship was the best way to see the Greek Islands—and the small ship experience that Windstar Cruises offers was more appealing than a large one carrying thousands of people.
Elta Oakes, a great grandmother traveling solo opines that it is easier to meet people on a smaller ship. "And the staff knows your name by the second day," she added, noting she has sailed on many large ships. "It's much more personable."
After a short bus ride, we are sitting on a terrace at Vioma Organic Farm. When he was in his late forties – 28 years ago — Niko Asymomytis quit his banking job in Athens and moved his family to the center of Mykonos to follow his passion — making wine — on land owned by a monastery.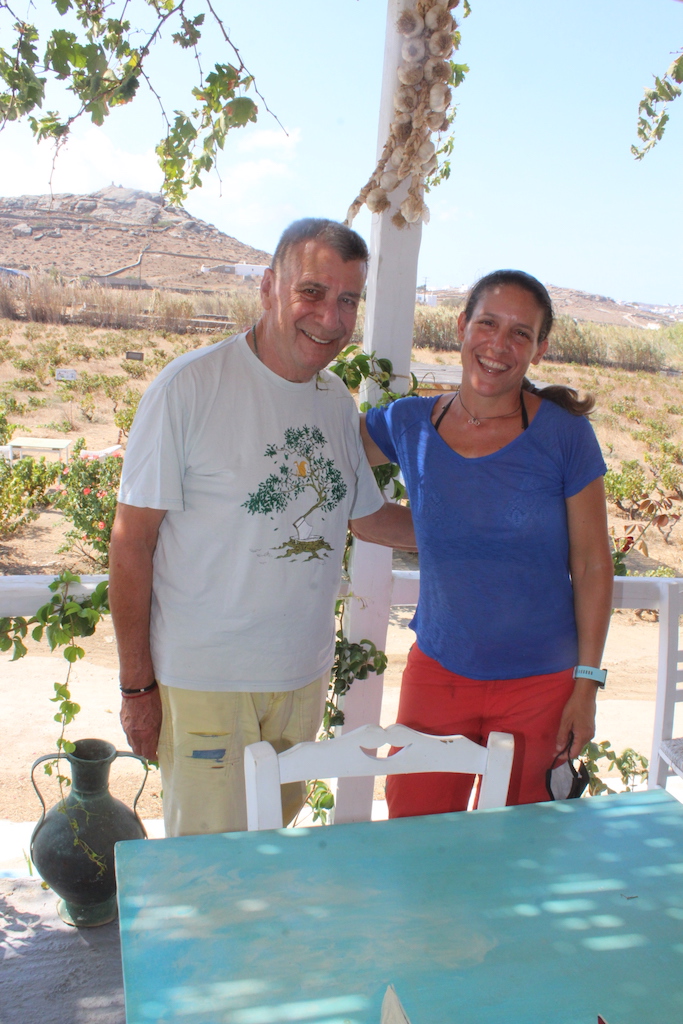 "I was sixteen so I complained a lot to my mother," said Dimitra Asimomyti, as she serves us a white, red and dessert wine accompanied by a local Louza ham, two varieties of cheese and of course, a Greek salad with tomatoes, cucumber, capers all drizzled with olive oil.
Her passion, she jokes, isn't farming so she has a bike company www.yummypedals.gr that offers various guided rides complete with picnics, or wine.
The farm's two dogs and cats join us; There is also a donkey, goats (some of the cheese is goat cheese, of course) chickens and turkeys. But these don't look like any vineyards I've seen. There is bamboo which acts as a buffer to Mykonos' famous winds, rose bushes (as they serve as a "warning" before a disease could infect the vines. Asymomytis plays classical music to the vines. "They grow healthier with the music," his daughter says.
The dried ham traditionally was sent along with sailors and fishermen who might leave Mykonos for months and would give them a taste of home.
Today, the family's wines—more than 15,000 bottles a year—are mostly sold locally and in Athens. They are delicious!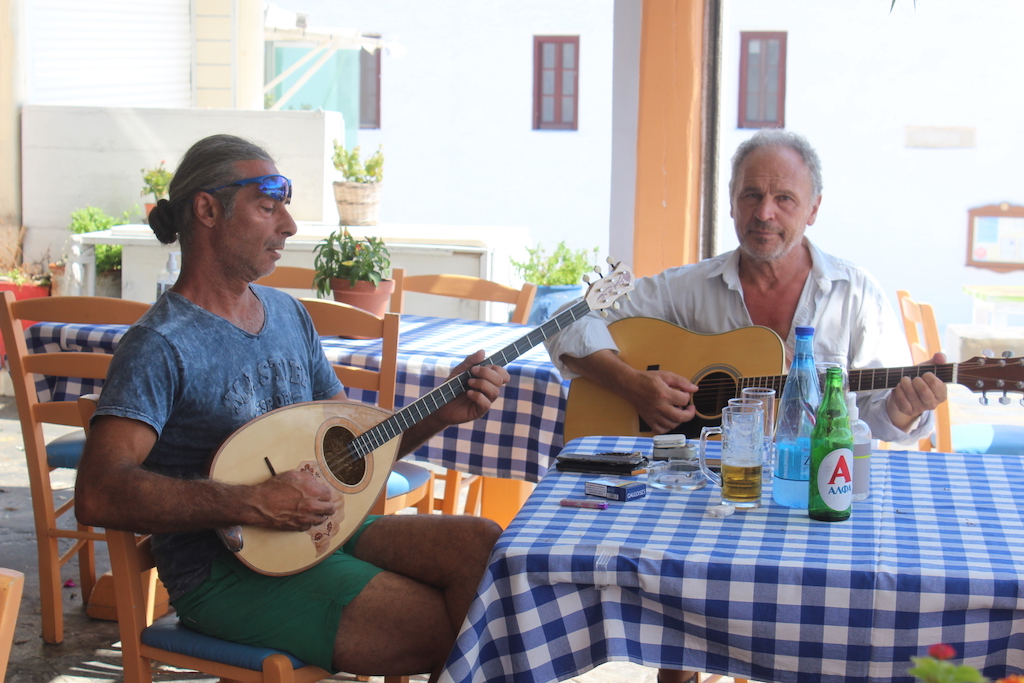 Later we visit the Monetary of Moni Panagias Tourlianis marveling at the elaborate alter screens and incense holders. It is said the monastery contains an ikon of the Virgin Mary that has been working miracles for centuries. We stop nearby at a traditional taverna for gyros made from meat we see roasting on a spit and a sip of Ouzo, the traditional Greek licorice-flavored liqueur as two Greek musicians serenade us.
By the time we return to the port, Mykonos Town has woken up. Cafes are busy serving lunch; shoppers are looking for souvenirs.
Shirley Pinneo, another solo traveler on Wind Star, had opted to visit the nearby island of Delos on her own, though there was a tour offered to see the important archeological site on the uninhabited island that is said to be the birthplace of Apollo. (SO sacred a site in ancient times that no one was allowed to be born, to die or be buried there.)
"I have a tendency to get bored with too much narrative from guides," Pinneo explained. "I can leave when I want to and I can go at my own pace," she said. "And it's a lot less expensive."
Either way they choose to explore, the Wind Star passengers seem to have found what they were looking for—on Mykonos anyway.