By Eileen Ogintz
ABOARD THE WIND STAR, Aegean Sea — Room service anyone?
There's no charge aboard the Wind Star sailing yacht for room service. But we also learn that we can have room service anywhere we like besides our cabin — the pool deck, the lounge… "We can deliver anywhere on the ship," says the Hotel General Manager James Deering.
Having skipped lunch in Mykonos, we ordered cheese and crackers, which arrived in the Lounge where we were having drinks.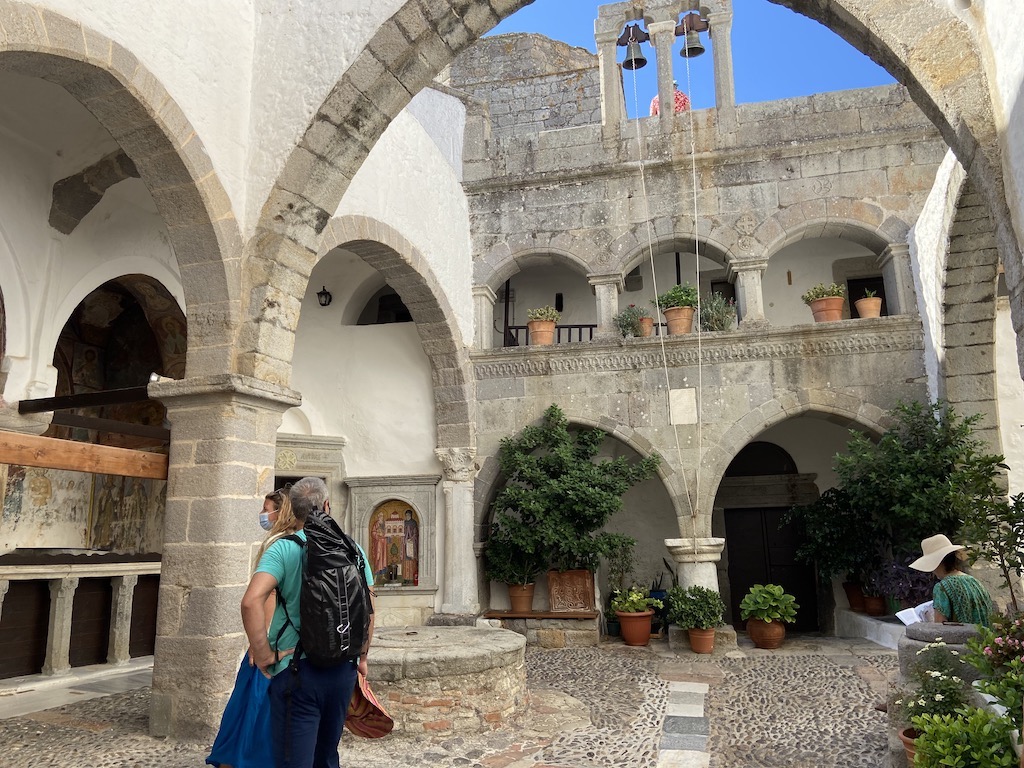 Passengers don't always realize that, said Deering. Nor do they realize all of the safety and health protocols in place —ultraviolet wands for disinfecting services; ultraviolet in the air systems; disinfecting the tenders. He's pleased that the Wind Star hasn't had a single case of Covid-19 in Greece since the ship has been sailing here this summer.
Of course it is a small ship- a capacity of just 148 passengers but just 58 on board. There's roughly a 2-1 ratio of crew to passengers and they couldn't be more attentive.
We ask Geering why not more local food on board. He explains the crew, including the chefs and cooks, come from more than 20 countries so it is wiser to leave the local specialties for guests to sample on the islands, as we did today during our stopover on Patmos. We lunched at Kaboypakia at Katmos Beach, our feet in the sand and a smiling toddler at a nearby table enjoying his french fries..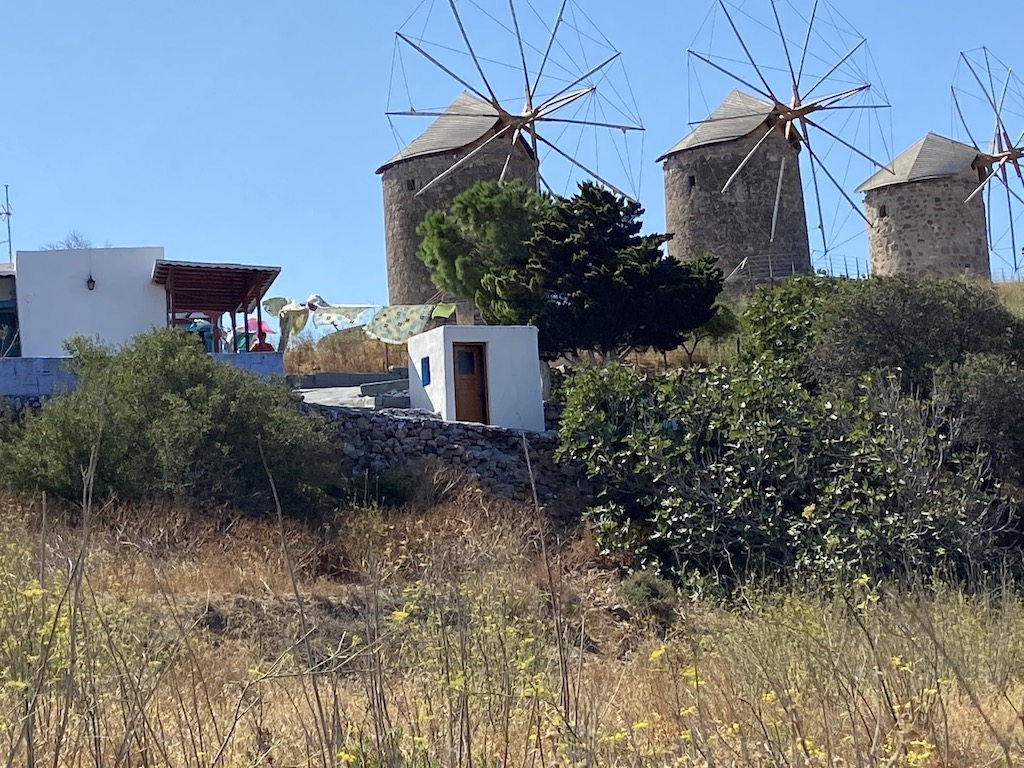 Deering says in the Wind Star dining room, the menu changes nightly with dishes created with James Beard Foundation affiliated chefs. Tonight that will include a Vietnamese Beef Wrap as well as Panko-Crusted crab cake from Annie Pettry of Louisville, Ky. There's also Viennese-style Pork Schnitzel, Veal Osso Bucco, as well as grilled salmon, chicken and steak and Curry-Rubbed Cauliflower for the vegetarians.
Last night, featured dishes including curried coconut shrimp and chicken tikka as well as hot-seared cured salmon from Minneapolis, Chef Paul Berglund.
Deering also notes that if you opt for Candles, the open-air steak house, you can also order from either restaurant menu.
Breakfasts and lunches are part-buffet; part to order but there is no helping yourself due to Covid protocols. The staff serve you fruit and yogurt at breakfasts; salads at lunch and then you can order waffles or omelets made to order; burgers or fish and chips. No one is going hungry obviously. And the food is excellent.
This is a cruise line where they aim is to please the passengers, whether you want to opt for their shore excursions or explore on your own.
"Sometimes the guides go on too long," said 16-year-old Kate McPherson, cruising with her grandmother Jeannie Argotoff, who had signed them up for a morning tour to see the top sites on Patmos Island—the UNESCO World Heritage Site where St. John the Evangelist wrote the Book of Revelation. The monastery of St. John dates from 1088, surrounded by the historic village of Chora. The thick walls protected the from invaders; The Grotto of St. John is built around the cave where St. John lived while he wrote the Book of the Apocalypse.
We were going to skip both sites but ended up sharing a cab from the port town of Scala with another couple from our ship ad found ourselves at the beautiful monastery. We decided to walk down the hill to the Cave which we also decided was underwhelming. Pro tip; either opt for a tour or bring a guidebook as the signage is only in Greek. We would have missed the famous stone pillow entirely had not an English speaking Greek tourist pointed it out in a dark corner.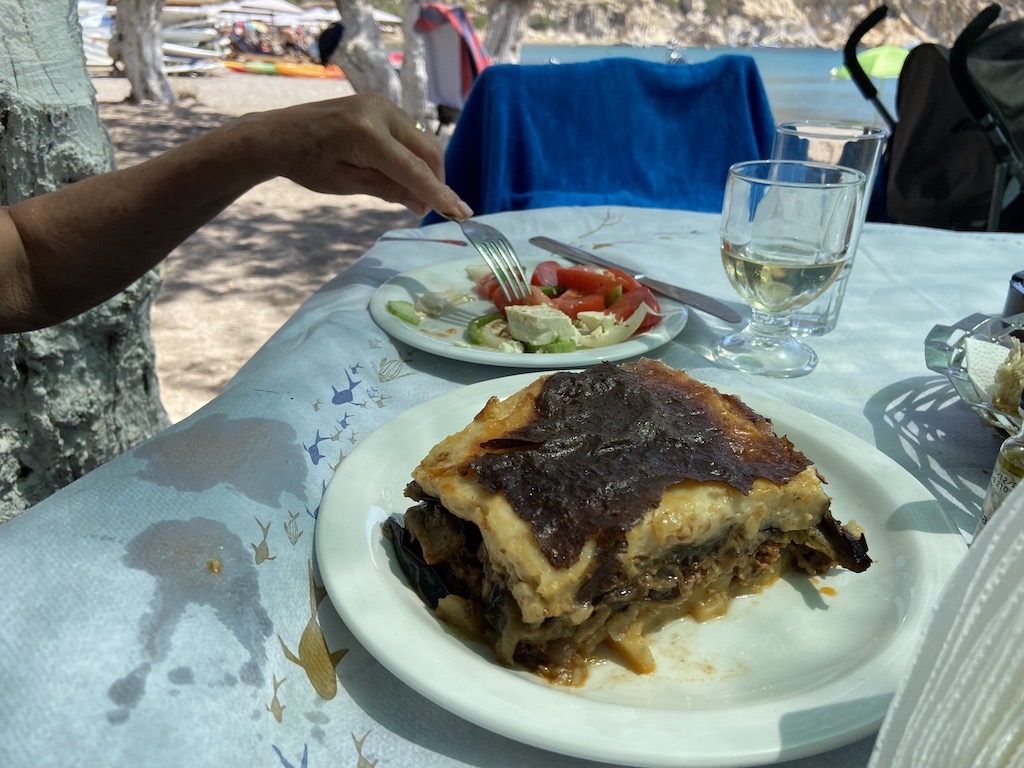 The positive: We were able to move on when we liked. We walked the rest of the way to the port town of Scala –- a little more than a mile — and caught the local bus to the popular beach at Katmos, situated on an inlet that is protected from the winds. (The ship did also a transfer here).
Our friendly local bus driver suggested Kaboypakia where we had the choice of sitting at tables set in the sand under a canopy or across the road in the taverna. We chatted with an English woman traveling solo and a family with a two year-old and took dips in the water as we waited for our food.
I checked another experience off my bucket list—eating Moussaka (the Greek casserole with eggplant and meat with a bechamel top.
"How was lunch?" our English speaking bus driver asked when we caught his bus back to the port where we could take a tender back to the Wind Star.
"Delicious," I replied.