By Eileen Ogintz
ABOARD THE WIND STAR, Aegean Sea — Jeannie Argatoff isn't concerned about cruising through a pandemic.
"I'm not worried," the grandmother from British Columbia declared. Not only is she vaccinated, but she has had a bout with COVID-19—after a trip to Italy last year.
Her granddaughter Kate McPherson isn't worried either. She's too excited to be aboard the Windstar Cruises sailing vessel in Greece. Nor is she concerned that she is the youngest passenger—by decades—aboard.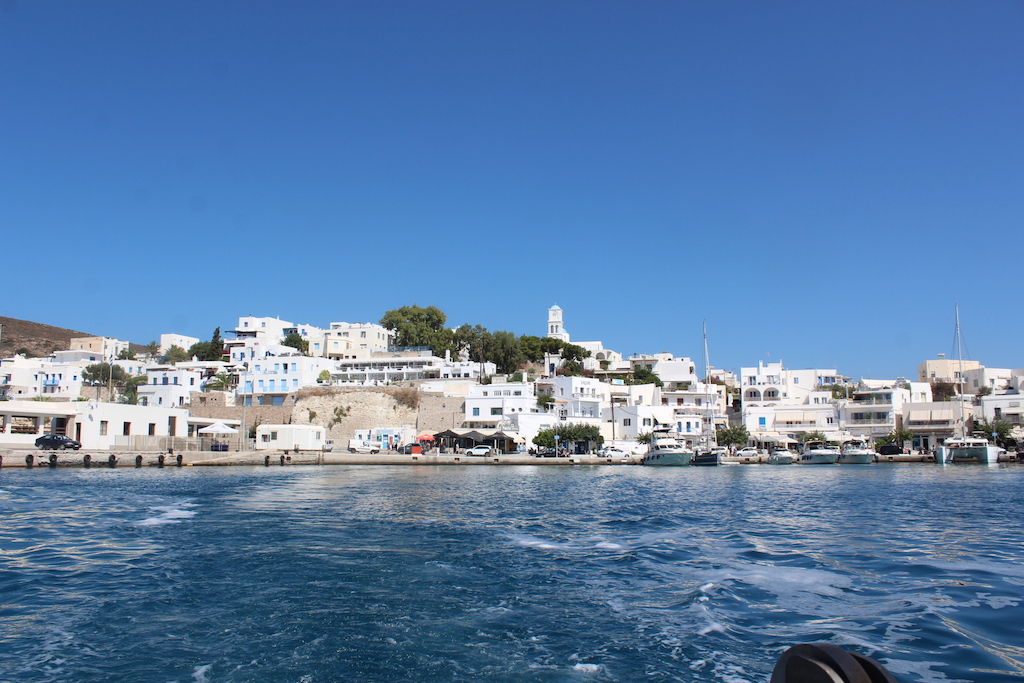 The Wind Star motorized sailing ship we're on can accommodate 148 passengers in 73 staterooms and one larger owner's suite. But it has typically been sailing with half that number since cruises resumed this summer. This week-long cruise around the Greek Islands has only 58 passengers on board and half are part of a Tauck tour group that has their own tours scheduled.
Elta Oakes, a retiree from San Diego an avid cruiser, says this is her first cruise since the Pandemic but she has two more scheduled in the coming months. "I'm not worried about cruising," she said, adding she will get the vaccine booster when it is available. Meanwhile, she's impressed with the efforts cruise lines have made, including increased cleaning, air filtration, mask wearing (everywhere on the ship) among the measures
Windstar Cruises has a six-ship fleet of small sailing and all-suite ships that sail around the world. We sailed this ship some 21 years ago from Athens to Istanbul, our first "big" trip without kids, and we have fond memories of our adventures—spending the day on a traditional Turkish Gulet boat; riding motorbikes in Santorini, buying Turkish rugs for our home.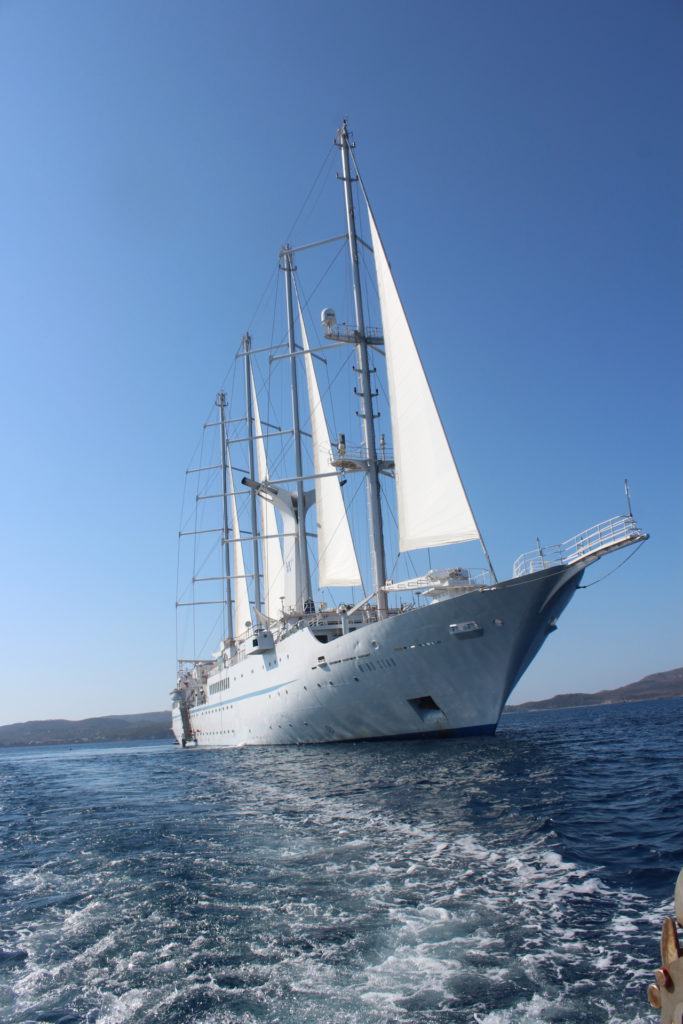 This is not for those with mobility issues—we have to go up three flights of stairs to the Veranda where breakfast and lunch are served and down a long flight to the tender to get to the island we are visiting and back up to the ship.
The line also is the Official Cruise Line of the James Beard Foundation with dishes from Foundation-affiliated chefs served nightly in Amphora, the main dining room. There is also Candles, where you can dine under the stars on steaks and seafood.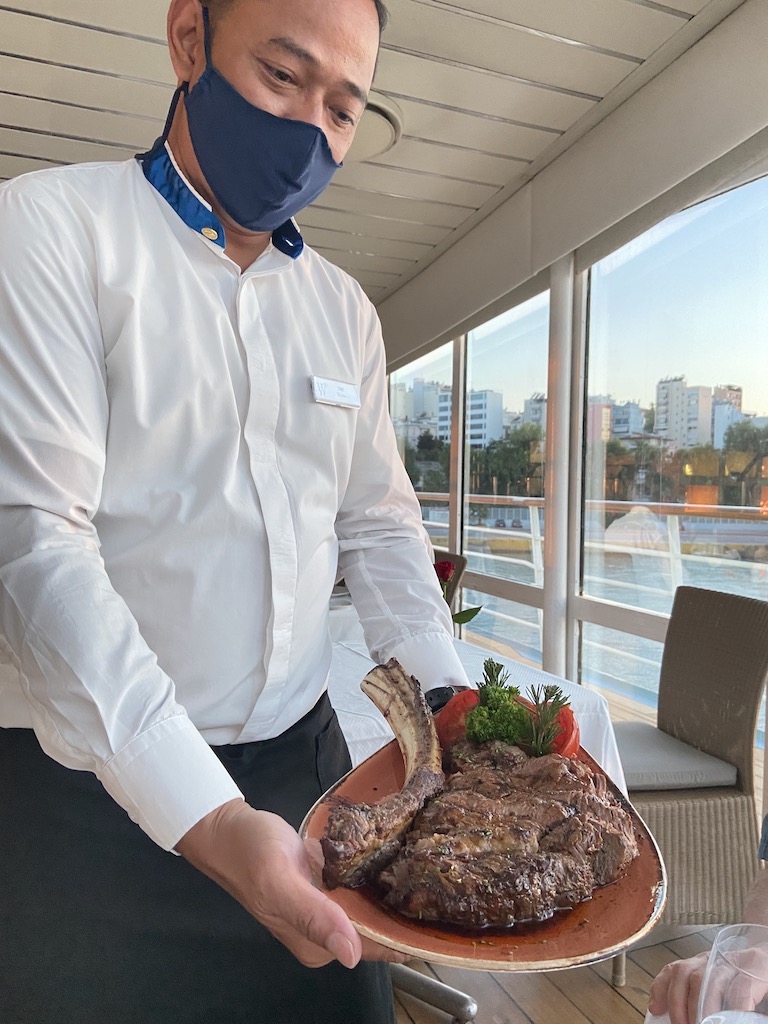 Argatoff, who has sailed Windstar Cruises many times, always take a grandchild—or two—with her. Windstar, she explains, because it is small, makes travel more enjoyable. She doesn't always opt for shore excursions either. "We learn so much when we explore on our own," she said.
But it's certainly different sailing during the pandemic, even on a small ship. "We weren't sure it wasn't going to be cancelled," said another passenger from Atlanta, Ga. In fact the cruise we originally were supposed to be on this week was cancelled and we booked Windstar instead.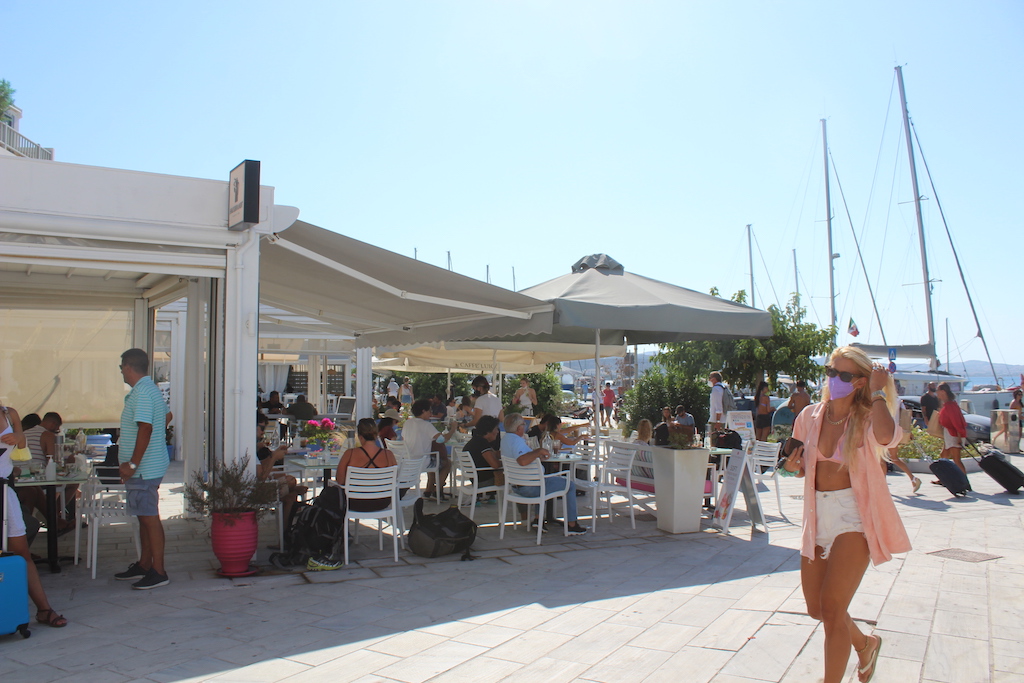 Every country has different regulations to enter. For Greece, we had to show our vaccination cards to prove we were fully vaccinated as well as a form listing what countries we had been recently. To board the ship, we had to have a temperature check and a rapid COVID test–had it been positive, they would have retested us and had it been positive again, we would have been quarantined for 10 days in an Athens hotel.
The itinerary for this cruise has changed twice because of the Pandemic. We are in Milos today, the fifth largest island in the Cyclades archipelago, west of Santorini. We originally were supposed to visit Mykonos and then Kusadasi, Turkey. Instead, we are remaining in Greece and have come to Milos instead of Syros, the original substitute. We will go to Mykonos tomorrow.
The crew couldn't try harder to please us, greeting us by name by the first evening. How do they do it, I wonder?
We never did have a sail away party yesterday because we didn't sail away until late in the evening as a result of several crew members' delayed flight into Athens. Our Captain, Ned Tutton, explained that, because of the Pandemic, crew members arriving from certain countries—in this case Panama—must quarantine on board for 10 days before resuming their duties. The captain had no choice but to wait for them, he explained.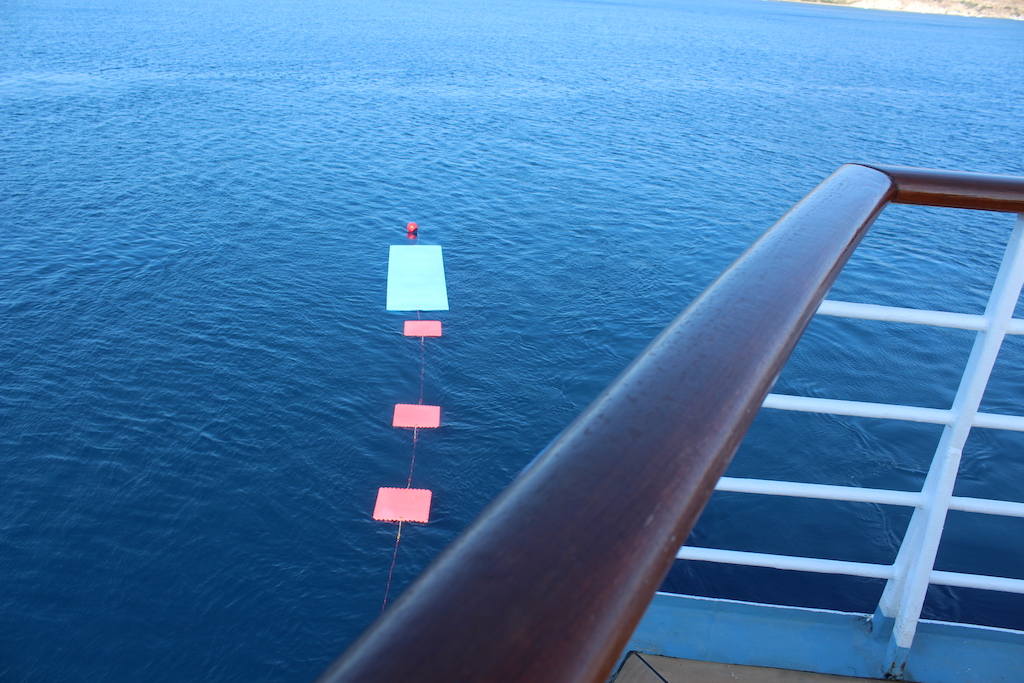 No one seemed to mind as they relaxed on board. Today some headed off to explore Milos on their own, others with a tour. Though I'm not always a fan of organized tours, I can see the pluses today, especially visiting a place I hadn't prepared for. Taxis are expensive (60Euros just for an hour) and most places seemed out of cars and scooters. We did a little shopping but it is very hot so we opted to return to the ship out in the bay where it was cooler (the tender back and forth runs frequently).
The water platform was open—a definite plus for this ship and anyone traveling with teens or young adults. There's a big float a short distance from the boat, kayaking, paddle boarding, even tubing and water skiing, though Jose, the crew member on duty when I go for a swim, warns me the current is strong—too strong for water skiing.
That's OK- it's open till 5 p.m., he tells me. Maybe later it will be calmer—or another day, I think.