By Eileen Ogintz
Where are the kids?
Not aboard Virgin Voyages, Richard Branson's cruise line. The minimum age is 18 on this mid-sized ship (about 2,400 aboard this voyage from Miami.) And that suits the passengers just fine.
That's why Canadians Tracy and Jason Vansickle chose Virgin Voyages' Valiant Lady for their first cruise. They left their three at home, they explained, and didn't want to be surrounded by other people's kids.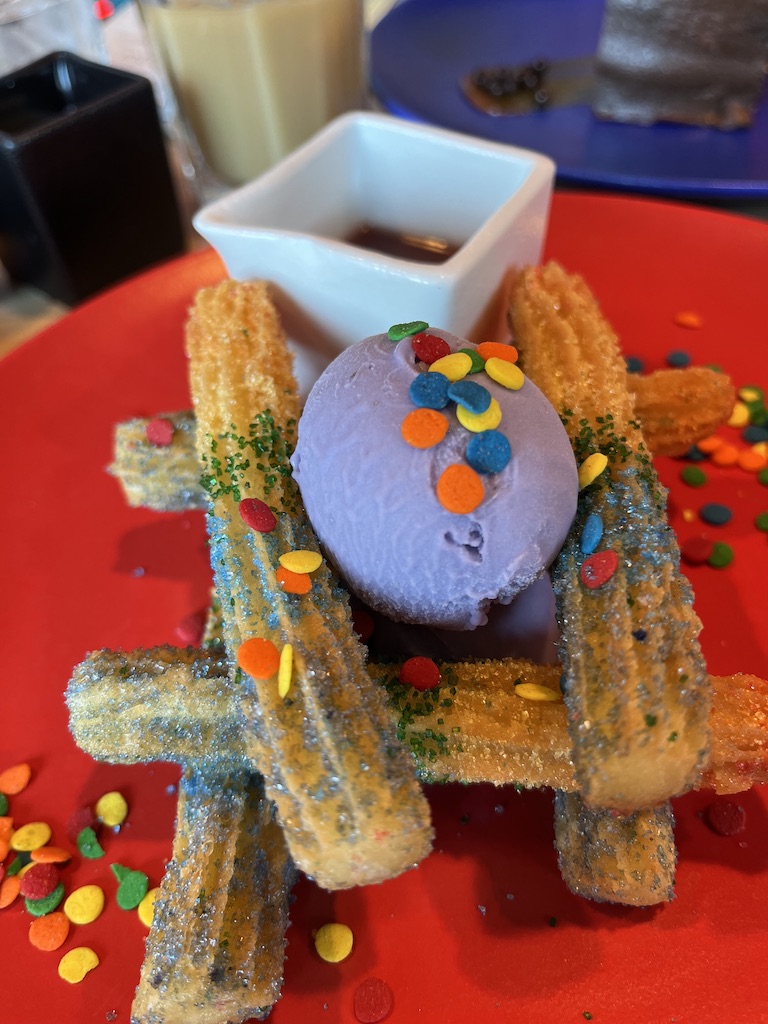 "I love kids," said Australian Jennifer McCrabb, a school principal and administrator for more than two decades. She added she is about to be a grandmother, but as she and her husband are traveling without children, the adult-only atmosphere was a deciding factor for choosing Virgin Voyages.
"How nice to be in the pool or the hot tub and not have kids in diapers and kids everywhere," said Kate Charlesworth-Miller, here with her daughter, her daughter's mother in law and sister in law on a girl's trip. Charlesworth-Miller said her daughter, mom of a preschooler, chose Virgin Voyages for this trip precisely because there wouldn't be kids. "We're loving it," she said, adding that she has spent a lot more on past cruises that she has enjoyed a lot less.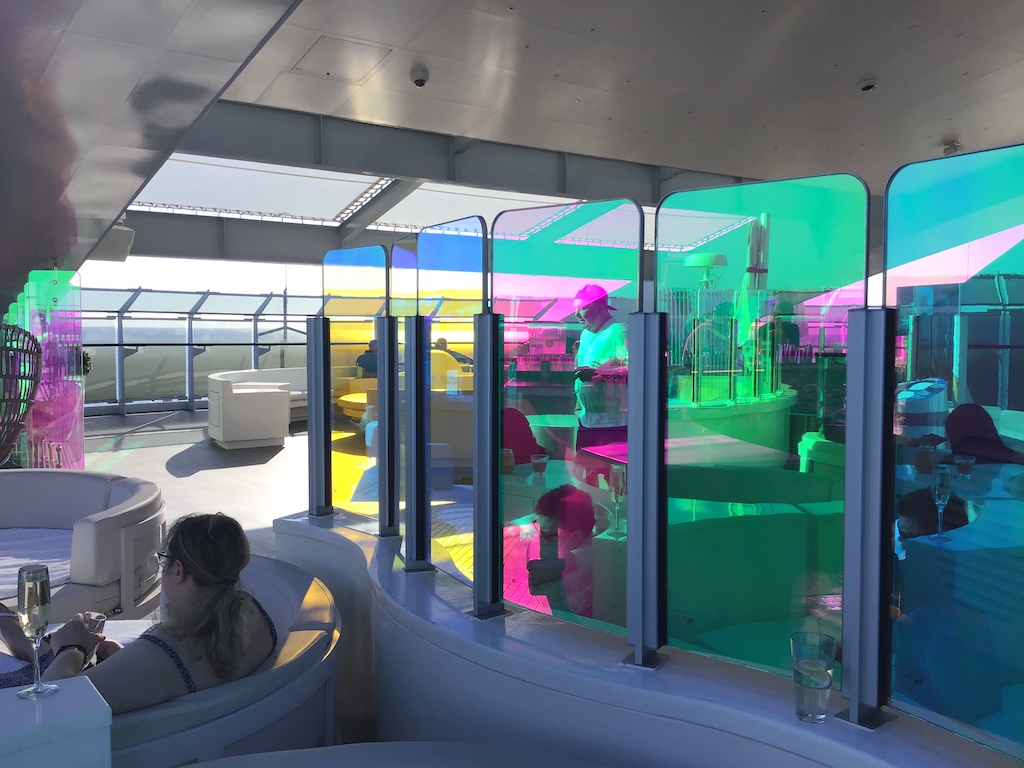 "Without kids it is so much more relaxing and leisurely, "she said, noting she has cruised with her children and even an infant granddaughter. "Then it's all about them," she said, smiling.
The passengers on this mid-sized ship are a decidedly eclectic, friendly crowd, ranging from 20-somethings to mother-daughter groups, seniors, single sex couples and solo travelers. "All kinds of people, normal people who just want to have a good time and the crew is so happy," added Charlesworth-Miller.
Christina Morales, traveling with her husband Robert, said she opted for a Virgin Voyage solo last winter and had a great time. "I had so much fun," she said. "Everyone was so friendly."
Already she and her husband are planning another Virgin Voyage with their four adult children and plus ones. "It is a whole different vibe," said Morales, a cruise veteran.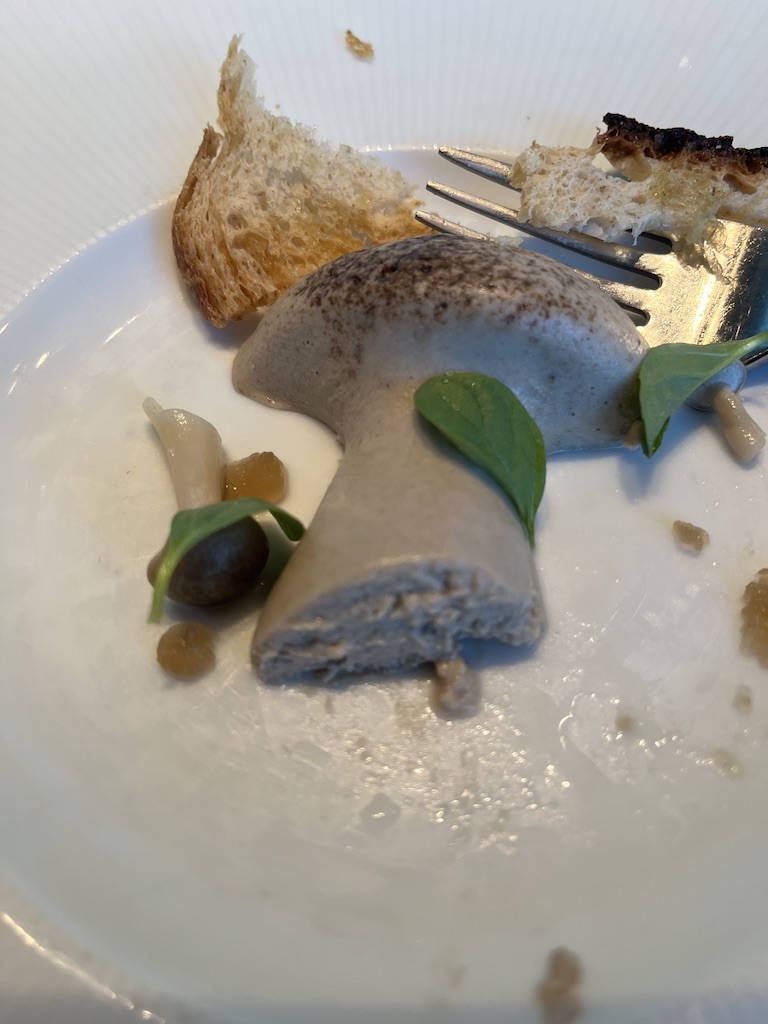 We met at Test Kitchen—every restaurant on board is included and the food is excellent. Here, we are simply given a list of ingredients (mushrooms, eggs, scallops, beef or venison, blue cheese, and chocolate. It is left to the chefs to choose how to prepare the dishes. We sit at counters watching them at work, which is conducive to conversation.
Our dishes: A delicious mushroom pate shaped like a mushroom; eggs with English peas and caviar; scallops; a filet of venison or beef followed by a palate cleanser of a blue cheese and honey mousse and chocolate lava cake made with both white and dark chocolate for dessert. It is as much an experience as a dinner, with, at an extra charge, wine, or cocktail pairings.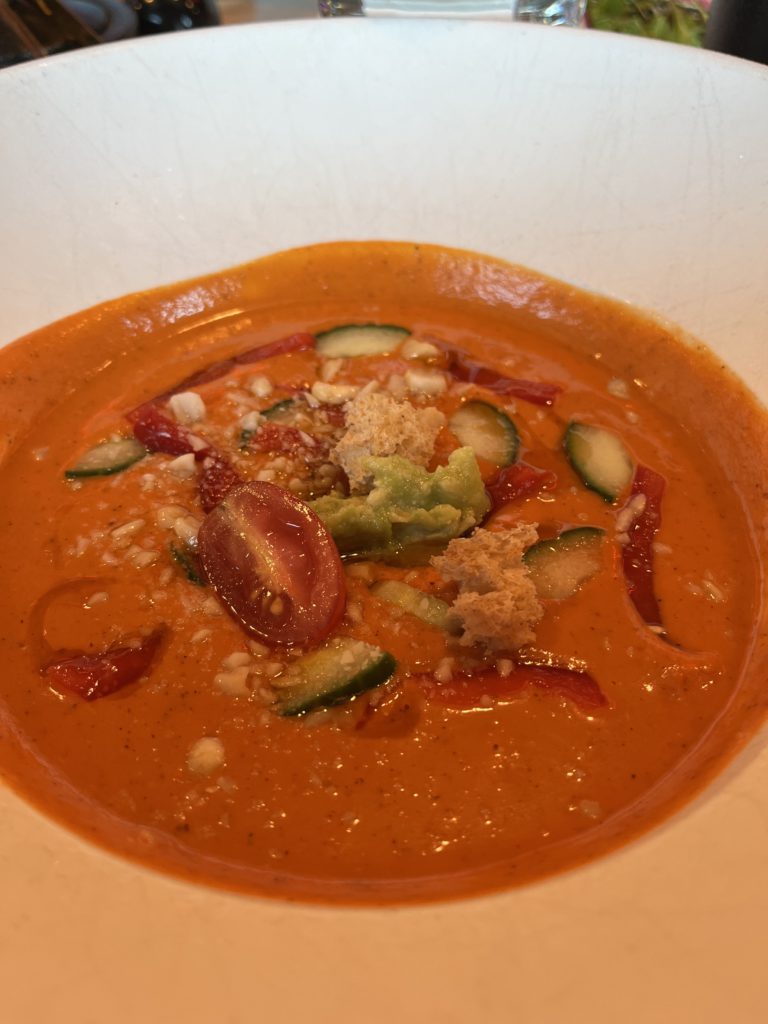 This morning, a sea day, after a visit to the busy fitness center, we indulged in brunch at Razzle Dazzle, with its mostly vegetarian forward menu — though "naughty" options included bacon and a fried chicken sandwich. We had some of the best Gazpacho I've tasted, delectable buckwheat waffles with cherry maple syrup and a wild mushroom frittata with goat cheese. The dishes were so beautifully plated that neighboring diners couldn't resist asking which dishes these were.
We couldn't resist the rainbow churros with purple tube ice cream and strawberry caramel sauce. Too pretty to eat—almost.