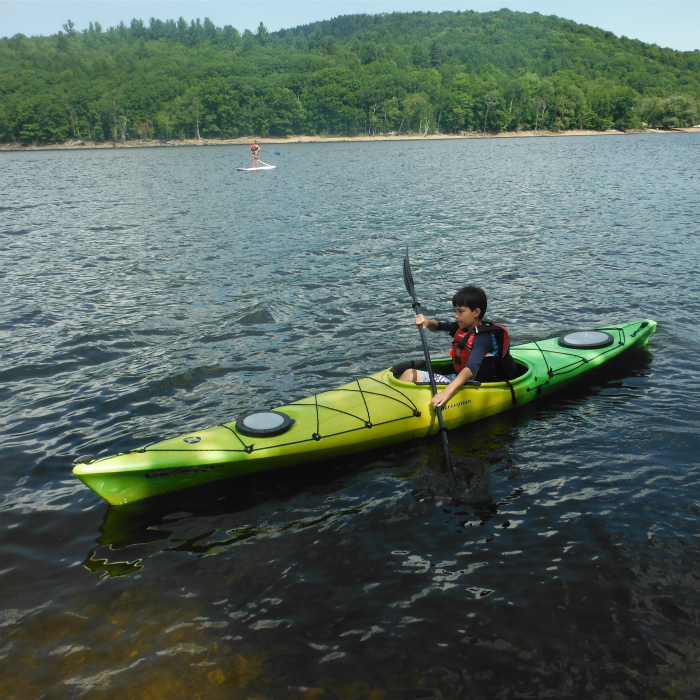 By Sheri McDonald, Taking the Kids Correspondent
I have one child who will try almost anything. She takes on challenges and new tasks with vigor, even when she's afraid. Two of my children consider their risks more carefully and will usually take on a new challenge after some careful consideration. Then there is my eleven year old son, Kellen. He is a brave kid. He lives with serious health issues, deals with chronic pain and faces invasive treatment on a monthly basis, so I have no doubt that he is brave. He is also afraid of trying new things. While we are always trying to bring him out of his shell, he is pretty content to sit back and watch other people take risks, but that changed at family camp.
At Mount Snow Family Camp we were all given opportunities to step outside of our comfort zone and try new things. Some of the activities that are offer at Family Camp are:
Mountain biking
Hiking up the mountain
Riding chairlifts to the summit
Tubing
Cliff jumping
Paddle boarding
Kayaking
Ropes obstacle course
Swimming
Tennis
Basketball
Crafts
Talent Show (put on by the kids)
While not all of these activities seem particularly scary, some of them were very intimidating for my son. His brother and sister embraced tubing, but he wasn't excited to give it a try. With some coaxing he finally agreed to try it and we learned that tubing will not be high on his list of fun things to do. He didn't enjoy it at all, but we were so proud of him for giving it a try.
He surprised me on the day that we visited Lake Whitingham to get kayaking and paddleboarding lessons. While one of the Family Camp staff took 6 year old Griffin out on a paddleboard, Kellen got himself a life jacket and picked out a kayak. He listened to the instructions and headed out into the lake. He did amazing and he truly enjoyed it. It was a huge confidence booster for him, and he even went on to try paddleboarding afterwards.
The staff at Family Camp work hard to make the kids feel comfortable so that they have fun and experience as much or as little as they want during their time at camp. They jumped right in the water with the children during swimming activities, took the kids out on paddleboards, held onto bike seats for the kids who couldn't ride on their own yet and just always made themselves available. It was a comfort for us parents because we could relax knowing that there were so many other adults available to watch and help our children.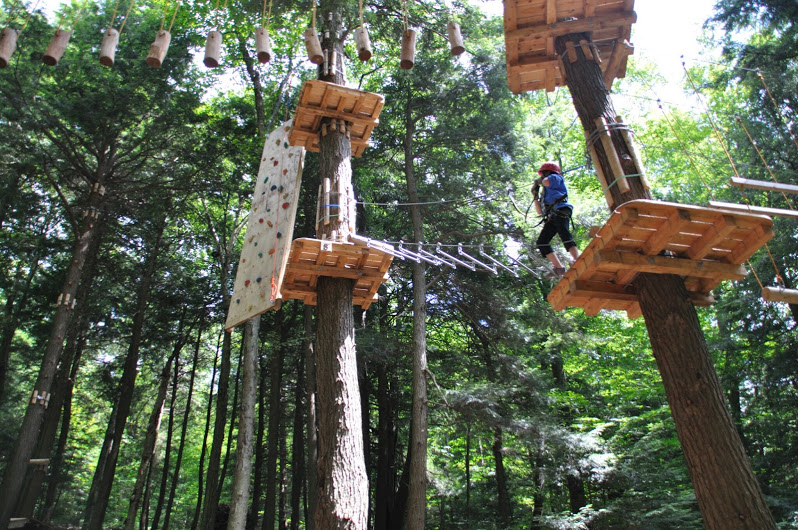 We didn't take part in all of the activities, and that is one of the benefits of family camp. You can follow the itinerary or choose your own path. We opted out of cliff jumping, which was more of a spontaneous activity than a scheduled one. Since Griffin wasn't old enough to take part, we also didn't go on the all day Ramblewild excursion. Ramblewild is a ropes and climbing course in Massachusetts (approximately one hour away from Mount Snow) where you wind through a 900 acre Berkshire wood. Everyone who went on the excursion raved about what an incredible experience it was and next year we hope to return to family camp and experience it for ourselves. While the restrictions for Ramblewild are about height rather than age, children 7 and up are generally able to participate.
Rather than going to Ramblewild, we took the opportunity to ride the Bluebird Express to the top of the summit. This was a challenge for my son who was afraid to ride up that high, but after sitting in the demo seat and getting instructions on how to board the chairlift, he took on the challenge and found out it was not scary at all, but beautiful and relaxing.
By the end of the week we were all able to say we pushed through our fears and tried some new things. My children have all gone to summer camp and faced new experiences while they were there, but it was really special to be with them while they gained confidence and took on new challenges. That is one of the many things we loved about Mount Snow Family Camp.
About Family Camp
Mount Snow Family Camp is located at beautiful Mount Snow in Vermont. It is an opportunity to unplug and reconnect with the family, while still enjoying the luxuries of staying in a condominium. The Mount Snow staff are full of energy and incredibly accommodating to their guests. Delicious meals are provided three times a day while drinks and snacks are available to the family camp guests all day every day, at no additional charge. Running for ten weeks each summer, Mount Snow Family Camp is the perfect getaway for your family.
Sheri McDonald is a lifestyle blogger who shares her every day experiences and travel stories at Kidsumers.ca and BigFamilyTravels.com.