By Eileen Ogintz
Tribune Content Agency
The theme park tickets have been long bought. You've survived the long flight to Orlando and are at a hotel five minutes away from Disney World, yet the kids on their first visit here aren't clamoring to hit the theme parks.
They want to stay right where they are because they're having way too much fun at the expansive Explorer Island pool-water play area at the New Four Seasons Orlando at Walt Disney World, said Susan Fairbank, watching her 4-year-old twins play. "Brilliant," was the way the London mom described her family's stay so far.
"We hear all the time that guests are cutting down on their time at the parks to enjoy the resort," said Resort Manager Ben Shank, noting there are five acres for fun and games, including the complimentary daily kids' club, beach volleyball and pool snacks brought around every hour. (Fresh baked muffin or fruit kabob, anyone?)
Truth be told, Susan and Adam Fairbank really weren't miffed as it was far more relaxing for them at the largest Four Seasons in the world, stretching over 26 acres, than waiting in lines at a hot and crowded theme park.
Take note hoteliers: This resort has upped the bar for pleasing upscale families. The difference, well-traveled parents staying here explain: The Four Seasons provides what they need before they even ask for it, from a diaper genie waiting in the room to a booth at the rooftop Copa restaurant where pooped kindergartners can sleep while parents relax over an excellent steak dinner with selected Spanish wines. If the little ones can stay awake, there's a good view of the fireworks at two Disney parks.
The little touches are what make the biggest difference, said Kate Bestic, here with her husband and three kids from Jacksonville. There is the sunscreen at all of the towel stands, the mini teepees where kids can get out of the sun at the pool and take a nap, the pint-sized robes in the rooms, the accommodating restaurants that will provide half portions rather than just kids' fare. "We've stayed at upscale hotels all over Orlando and this is by far the best," Bestic said. "Now I wouldn't stay anywhere else."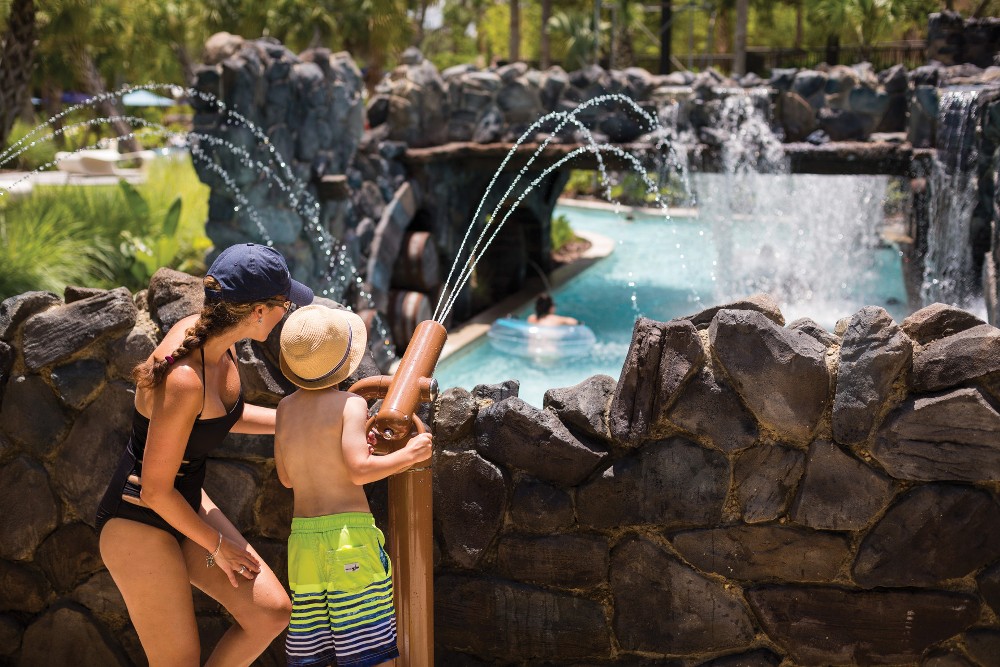 Let's not forget the complimentary teen "Hideout" with all kinds of games — video and otherwise, rock wall, dive-in movies, and The Mansion area with Ping-Pong, pool tables and more to encourage families to play together.
Of course, this doesn't come cheap, though it's a lot less expensive in summer and fall when rates start at under $400 a night, half what they may be other times of the year, with a daily $50 Experience More-Resort Credit with a three-night stay.
"It is expensive," said Fairbank. "But it is really good value." Another tip for hoteliers: At the recent TMS Family Travel Summit I co-chaired in Mexico, new research showed that family vacationers do not think cheapest is best. They will pay more for a memorable experience and what they perceive as good value.
At the Four Seasons, that translates to a staff attuned to the littlest visitors and all those complimentary amenities, especially Orlando's most comprehensive complimentary kids' club. (I loved the outdoor citrus-themed playground.) Smart marketing, I think. Parents go off guilt-free and spend money at the spa, golf, or on a relaxing long lunch overlooking the resort's wetlands. There's a desk onsite to purchase Disney tickets.
Did I mention there is no resort fee? That there are free fitness and yoga classes for adults, that you can use the terrific spa facilities anytime during your stay (I especially loved those "water experience" showers that with a touch of an iPad you can choose Tropical rain, Arctic Mist or Forest Rain?)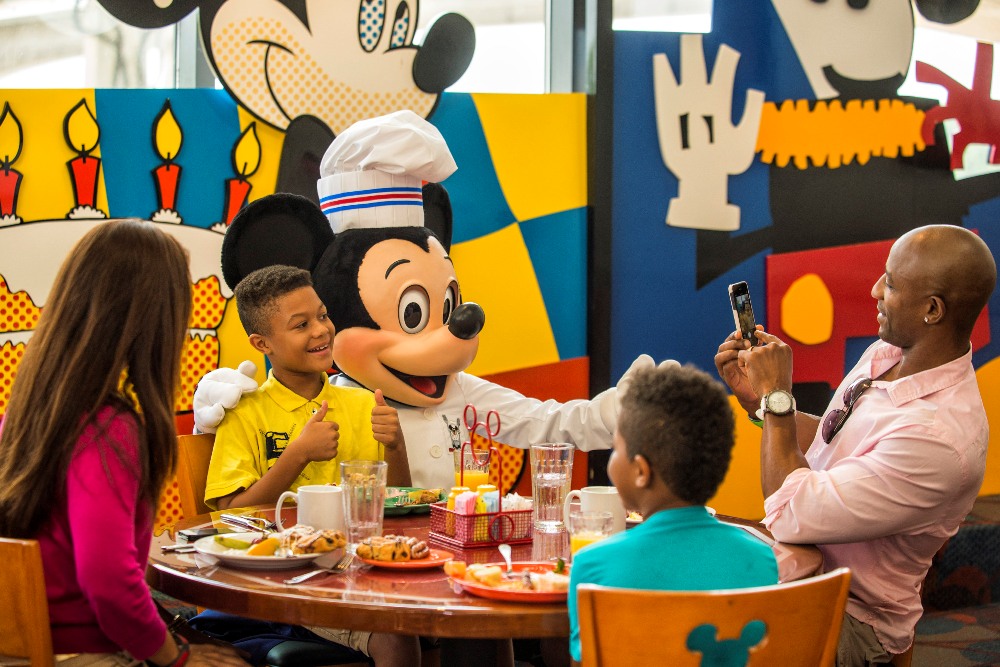 Because hotel staff knew getting a reservation for a princess makeover at Disney's Bibbidi Bobbidi Boutique could be hard to get, the spa created its own hair-makeup experience, complete with princess outfits for little girls.
Families who aren't hotel guests flock here for the Good Morning Breakfast with Goofy and his Pals because it is more intimate (the kids get more time with the characters) and the food is better (think house-made charcuterie and made-to-order omelets), even though it is considerably more expensive ($42 for adults and $22 for kids 3 to 12.)
Those programs, as long as you can afford them, can really de-stress your experience in a place like Orlando that can be so exhausting, especially in the summer heat. "Time is extremely precious on vacation," said resort manager Ben Shank. "You shouldn't have to worry about anything." (To make it easier, encourage the kids to help plan your trip with my Kid's Guide to Orlando and Birnbaum's 2015 Walt Disney World for Kids.)
Unfortunately, there's no guarantee you'll have a stress-free vacation even at the most luxurious hotel and there are others to choose from in Orlando, including the Ritz-Carlton and onsite at Walt Disney World and Universal Orlando. I can tell you from personal experience.
As long as you can afford the freight, here are other ways to de-stress your experience and build memories:
— VIP tours at Walt Disney World, Sea World and Universal Orlando with front-of-the-line access and knowledgeable tour guides offering insider tips. At Disney World, guests might be whisked via town car from one park to the next to get in all of the latest must-see attractions
— Trainer for a day and the option to ride on the front of two dolphins at Discovery Cove, the reservations-only sister park of SeaWorld Orlando that restricts the number of guests to 1,300 day.
Upscale and trendy dining experiences, where sophisticated kids menus are offered at places like Todd English's bluezoo, Emeril's Tchoup Chop Chop, The Cowfish, Orlando's only sushi burger bar on Universal Orlando CityWalk.
That's assuming you can get the kids to leave the resort.
© 2015 EILEEN OGINTZ
DISTRIBUTED BY TRIBUNE CONTENT AGENCY, LLC.