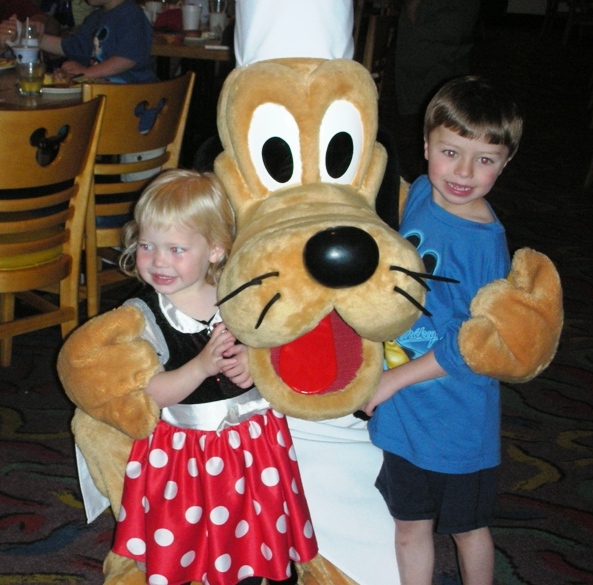 DAY ONE — It's 3 p.m. and the pool at Disney's Boardwalk resort in Orlando is packed with parents and kids, including a lot of little ones. "It takes patience with young ones. They get so overwhelmed and excited but it's priceless to see their faces," one mom in the pool told me.
All agreed that a secret to a successful foray with the mouse was to relax and give up the idea of seeing it all. And of course you need to try to stay within your budget. "But I don't mind the price — you can't put a price on this kind of fun," said Nicole Cabral, a mom from a Fall River, MA.
Sharon Orfaly, here with a two year old and five year old, said her family is back for the third year in a row and can't think of a better vacation. Her tip: "Don't over-plan. Take each day as it comes. You've got to go with the flow!"
Some days, she adds, the pool is all the kids want to do; other times they want to spend hours trying on princess dresses. "It's so much fun seeing everything through their eyes," she acknowledges. And, while bed times are important, "You've got to bend the rules!" It's vacation after all."
A few more tips for Disney neophytes: Carry your own water and snacks, allow each child to choose a must-see attraction and make sure everyone gets that in each day.
"I was worried the kids were two young," said a mom of a three year old and 18 month old. "But it's fabulous. There is so much to do!"
That's an understatement. There's too much to do — in one trip anyway. But it is fun to see the kids' excitement — and the grandparents' excitement too. "I was just as exited to meet Cinderella as my daughter," one mom Candice Segenthaler, from Pittsburgh, joked. "It's really special."
I'm here with my cousins Mike and Jayme Sitzman from the Denver area with their five year old Ethan and three year old Hannah. They've been to Disneyland in California but this is their first trip to Orlando and they want to hit the park as soon as they arrive so we head over to Hollywood Studios. But by the time we get there, and eat dinner, the park is closing! We need to get more organized, we think. There's always tomorrow.