By Eileen Ogintz
Remind me never to fly on the first day of winter break in our part of the country. Our flight was at 7 a.m. and the airport was already jammed. We were going skiing which meant unwieldy amounts of bags. The rules used to be that you could have three pieces of luggage when you were going skiing — presumably a boot bag, ski bag and suitcase. But apparently the rules have changed, the United Airlines agent told me.
Now you are only allowed two bags…I was so confused and the lines were so long that finally, the agent let us go. Good thing, by her calculations I would have owed more than $100 in excess baggage charges!
We're heading to Crested Butte Mountain Resort in Colorado to meet up with an assortment of family, all staying at a condo in the spanking new Lodge at Mountaineer Square, which is part of the hundreds of millions of dollars of improvements here.
We've been coming to Crested Butte for ten years or so. It does take an extra effort to get here — flying into the town of Gunnison, Co. But we've always thought the extra effort was well worth it in the end. For one thing, the town of Crested Butte — a five minute free shuttle ride from the mountain village — is utterly charming with the entire downtown on the National Register of Historic Places. But unlike other ski towns, Crested Butte really is a community — a laid back, friendly community that goes out of its way to make visitors feel welcome. That's the same at the mountain too. The ski school here is smaller than many others and friendlier too. It's the kind of place where the young instructor who taught my five year-old cousin Ethan Sitzman for a few days last year immediately recognized him and went out of his way to have Ethan in his class. Ethan for his part was totally psyched! "We're getting a facelift and more modern but I don't think the people will change," said Ellen Osterling, who oversees the children's programs. "I think what sets us apart is that we have a personal touch. We let people know that we appreciate them coming and we build relationships."
The Lodge at Mountaineer Square is part of a huge overhaul of Crested Butte's base village and it's certainly more upscale than anywhere else we've stayed here — huge rooms (always a plus when sharing space with a lot of family), flat screen TVs, leather furniture, granite countertops, hot tub and one of those indoor outdoor pools that you can swim from inside to outside and fluffy robes — you get the picture — nicer bathrooms than at home. This is the first place I've ever stayed at Crested Butte with a ski valet… and I don't mind it a bit. I also didn't mind it a bit when there was a bellman on hand to help me bring the groceries up to our condo. Everyone is unfailingly helpful.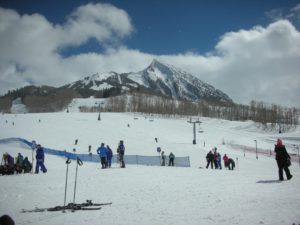 For dinner we head to a Crested Butte institution — Slogar that in a series of interconnecting rooms serves fried chicken, mashed potatoes, homemade biscuits and coleslaw. Everything is served family style and the platters keep on coming. Two of my daughter's friends from college who are staying with us have a contest to see who can eat more chicken…they declared the contest a draw at seven pieces each!
Not only is the ambience great at Slogar — the restaurant is in a bevy of rooms that make you feel like you are in a Victorian parlor — but dinner is a steal at $14.95 a person (including ice cream). It's fine to bring young kids (last year Ethan fell asleep in his mashed potatoes) or go for an adult night out. By the time we leave, we're stuffed –and happy.