DENVER, CO — Grab a backpack.
But not just any backpack. These backpacks at the Denver Art Museum are designed to inspire kids to become lifelong art lovers—and art museum goers.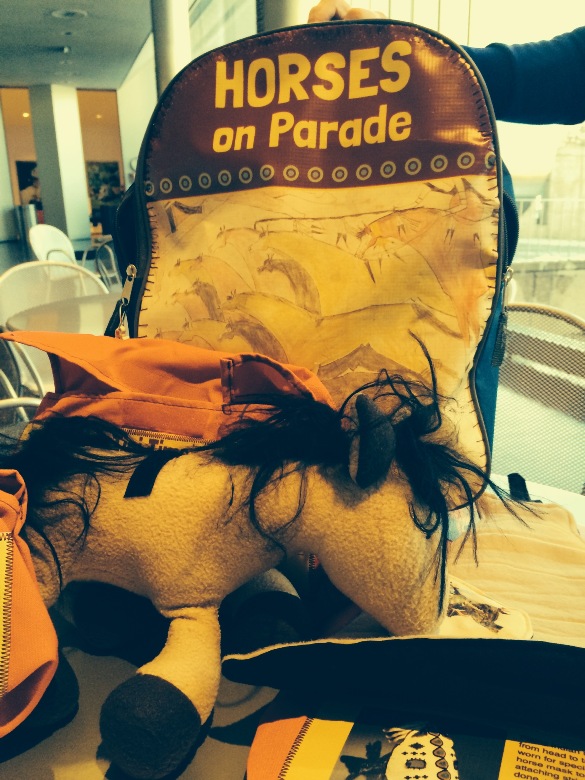 You can Live Like a Chinese Scholar in one exhibit or create an American Indian horse mask, discover European fashion or become a detective as you make your way through the furniture gallery.
Did I mention these backpacks are free? They're designed for different age groups, including for preschoolers. And if you are short on time, the kids can grab an Art Tube with one simple activity, like decorating special specs to enhance your viewing pleasure. Fun! No wonder on weekends and school break times, one in four visitors are kids.
And Given Denver's large Hispanic population, every activity is bilingual.
It turns out that some 20 years ago, the Denver Art Museum was the first in the country to not only embrace families but to introduce backpacks-to-borrow as a way to engage kids.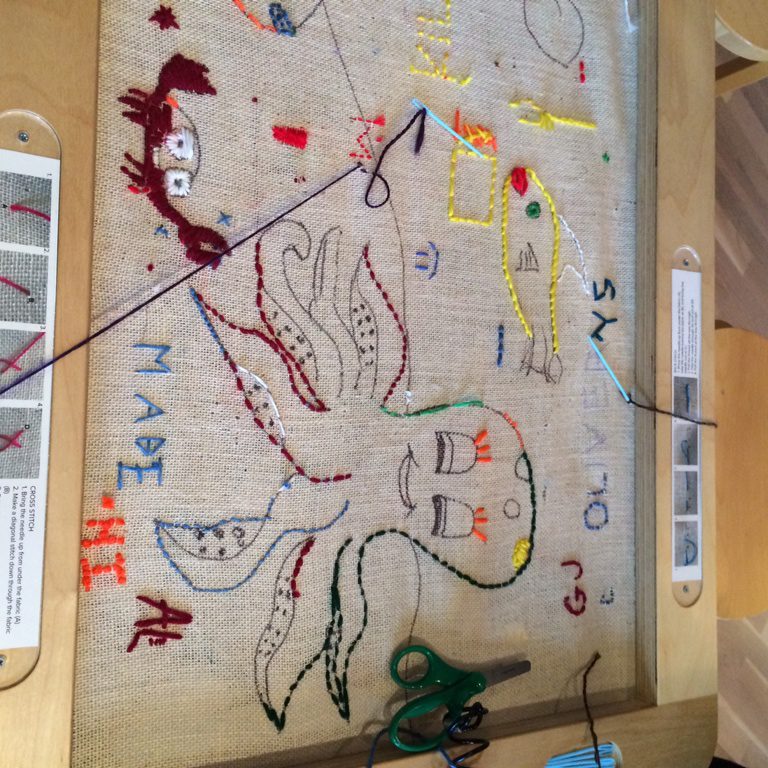 Each one contains an art making project (make a horse's mask like Native Americans would have had for their horses or a Chinese scroll). There are family games (dress your plush horse with saddle blanket, a bridle and mask) and activities to encourage the kids to look at the art all around them differently.  For example, in the Chinese Scholar backpack designed to be used in the Asia exhibit—the Museum's Chinese robe collection is one of the finest in the country–there is a tiny scholar's desk complete with brushes, and other objects kids can arrange as a scholar might.
There are 12 different backpacks for different exhibits in the museum which includes more than 70,000 objects in their collections—including 18,000 in the Native Arts department.
"This makes the art come to life. Our goal is to connect the family to the collection," explains Heather Nielsen, the museum's assistant director who helps oversees education programs.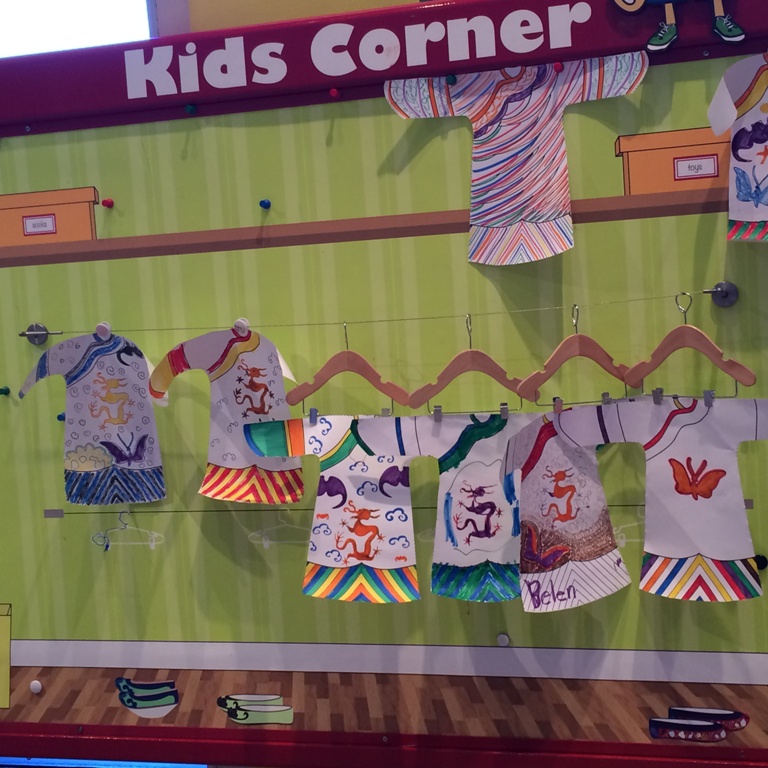 She adds that the biggest barrier to parents' bringing kids to art museums is their own insecurity about their lack of knowledge. "We want to show them that you don't need to know anything about art to enjoy it."
The museum encourages parents to ask the kids questions—what is the first thing you see in that painting?
Stand in front of the art and pose—like the people, animals, shapes.
Make up a story about what you see.
Imagine what you would hear or smell if you were in the art.
What is really amazing about this museum is that the family activities aren't limited to these backpacks—as wonderful as they are—or to a family discovery museum. They are all over.
For younger kids, there is a dress up area where they can try on Chinese Robes and make their own paper robe; they can pet a giant turtle sculpture (the only place in the museum where you can touch a sculpture!)
In the Textile Art Collection which includes everything from pre-Columbian textiles to contemporary works of art in fiber to quilts, there is a "thread studio" where kids can try their and at a two kid-sized embroidery tables where they can stick, create a quilt pattern out of small shapes or weave on a giant loom.
In the European Gallery which features the fanciful "Fruit Faces" of 16th century artist Giuseppe Arcimoldo, kids can create their own fruit and vegetable faces on magnetic boards with small magnetic strawberries red peppers, bananas, squash, pears, lemons and more.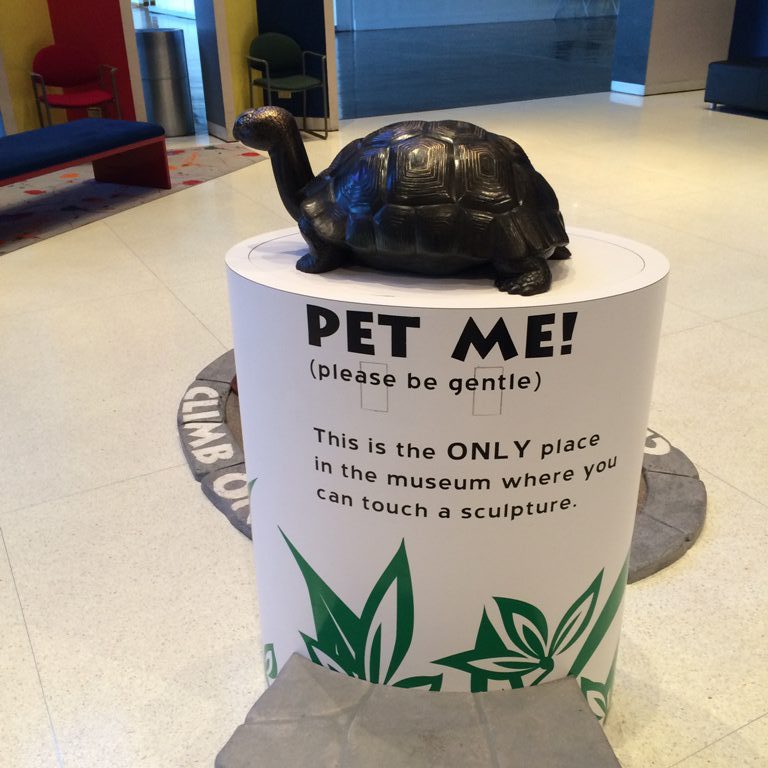 There's plenty for even the littlest museum goers, like 16 month old Tristan Cox who was busy adding wings, arms, legs and eyeballs to make a puppet based on the fanciful creatures in the Hieronymus Bosch painting hanging in the gallery. Kids a little older can put on puppet shows at the puppet theater right there. "What's nice is he plays and we can look at paintings," said his mom Spice Cox. "I became a member because of all the family activities here.
There are art projects to do with Create-n-Take (get inspired by the Spanish Colonial silver cups and crowns on display and make your own.)
You can mix and match images from the western art collection to make a landscape, decorate a treasure chest with Peruvian animals and plants, make your own postcard in the western American art gallery, stamping it with images from the collection .
In the "Just for Fun" area, you can play with the dollhouse that is a model of the museum—and small plush objects that depict the museum's collections—a mummy cover, the famous red painted horse, a pre-Columbian ceramic or a horse mask.
The museum invites contemporary artists to create exhibits too—in this case, a giant felt wall by Nick Cave where families can make their own creation from felt pieces and figures.
"Things don't need to be 'kidified' to work for families," observes Nielsen. "We want families to be comfortable to explore contemporary art. "
Nielsen adds that parents these days are seeking an alternative to children's museums—as terrific as they are. "They want a place where they can all play, imagine and create…parents want to feel a sense of satisfaction too!"
We stop in at a studio where children and parents are busy creating art at easels and sketching items on tables—a wire dog, a tiny chair, a wooden hand with paints, chalk and crayons. You can also check out a sketchbook and take a "challenge" as you wander the galleries (Copy basic shapes you see in the Western America Art gallery)
"I like that you can do your own stuff at this museum, not just look at things," said 10-year-old Roisin Mooney, visiting with her mom Theresa.
Theresa Mooney notes that she is home schooling Roisin and the museum provides "a wonderful learning experience. She can look at the paintings and sculptures and objects and then do her own art. "We are huge fans of this museum," she says. "It's the best thing about living in Denver."