By Eileen Ogintz 
Tribune Media Services  
Congratulations! You've just won the lottery. Now where are you going to take the kids? 
Travelocity and TakingtheKids collaborated on a new poll asking families just that — where they'd take their kids on their "dream trip," if money was no object. According to the results from the 1,500 people polled, it's clear that no matter how bad the economy, when it comes to our vacation wish list, we dream big.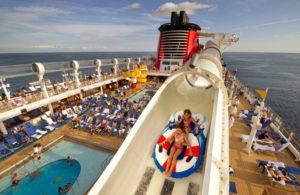 We want to show the kids the world, traveling to foreign cities. We want to share the excitement of seeing exotic wildlife. We want to cruise and kick back on a beach, enjoying first-class service all the way. Sixty percent of respondents said that what matters most when thinking about a dream trip is to have an authentic experience; 40 percent want the best service possible. 
But what many families don't realize is that these dream trips are more affordable than they realize, as long as you plan smart. Certainly families are thinking a lot about where they want to go. Families who travel with kids have more dream vacations planned — in their minds anyway — than those who don't travel with kids — 88 percent as opposed to 75 percent. "That surprised me," said Genevieve Brown, Travelocity senior editor. "That told me that family vacations are very important to people." 
Absolutely. According to the new Portrait of American Travelers from the Y Partnership and Harrison Group, four in 10 leisure travelers have traveled with children in the last year. Nearly a third of leisure travelers who are grandparents have traveled with their grandchildren in the last year. 
These are the times we strengthen family bonds and build memories that last a lifetime — even when things go awry, as they always do when kids are part of the equation. In my family, some of the most memorable moments have come from missteps. We've had our share of dream trips — the Galapagos Islands, climbing Mt. Kilimanjaro, sailing around Tahiti on our own yacht — and missteps along the way. 
I've learned that one family's dream might be another's nightmare. (The cramped quarters of a sailboat aren't for everyone, no matter how spectacular the environs. I met a mom who couldn't get off their boat fast enough.) I've also met a lot of families who have saved for years for that special trip, whether to Africa, Hawaii, Paris, the Mediterranean or Orlando. (Yes, 9 percent of those polled said they'd go to Orlando on their dream trip and 12 percent said they'd want their children to experience a theme park.) 
But if money weren't a concern, more of us would venture farther from home. More than a third of those polled said they wanted their kids to experience a foreign city and 27 percent said they'd go to Europe. Nearly as many want to go to Hawaii. Eleven percent wants to see exotic wildlife, though only 5 percent said they'd take the kids to Africa, even fewer to Costa Rica or the Galapagos Islands — two of my favorite family destinations. 
Travelocity's Brown notes that families could save as much as 40 percent on airfare if they opt to go to Europe over Thanksgiving rather than over the summer. You'll avoid the crowds too. Save even more (as much as $525 for two people) if you book your flights and hotel together. Maybe you could swap houses with a European family and avoid hotel costs altogether. (Check websites like www.luxehomeswap.com and www.homeexchange.com.) 
Hawaii, still reeling from the drop in Japanese tourism this past year, has many deals too, especially if you can go before Christmas or after New Year's, says Brown. For example, Maui's newest luxury resort, the all-suite Honua Kai Resort & Spa, has just announced 50 percent off published rates and a fifth night free through Dec. 22, excluding Thanksgiving week. OHANA Hotels & Resorts promises special rates on one-bedroom Oahu units starting at just $125 a night. One of my favorite Hawaii family resorts, the Grand Hyatt Kauai Resort & Spa is running a 20th anniversary special thru the Christmas holidays with a fifth night free, $20 resort credit nightly, breakfast and discount on spa and golf. The kids will love the pools! 
For the 18 percent of you who would take your kids on a cruise if you had the money, go for it! "Pricing is phenomenal," said Brown, with many deals this fall starting at under $75 per person, including lodging, entertainment (supervised kids programming) and, of course, all the food you can eat. (Check out www.allthingscruise.com to compare cruise lines and my family cruise guide on ttk-old.o2dev.net.) 
The 22 percent of you who want to get away with the kids and relax on a beach don't have to wait either. Go to the Caribbean for Thanksgiving, suggests Brown, when many resorts still offer low-season rates or opt for a long fall weekend. (Just get travel insurance in case of a hurricane.) The upscale Condo Hotels Playa del Carmen, which offers all the amenities of a resort and an ideal location in the safe and fun Riviera Maya beach town, touts half-off deals up through Oct. 31 and 35 percent off up through Dec. 22. Beaches all-inclusive resorts, is welcoming military families this fall with an extra 15 percent off rates that are already as much as 65 percent off rack rates. 
Sure, winning the lottery would be nice, but you don't need that to make your family's travel dream come true. 
So where did you put those suitcases?
© 2011 EILEEN OGINTZ, DISTRIBUTED BY TRIBUNE MEDIA SERVICES, INC.