By Kyle McCarthy, The Family Travel Forum
The Disney Wish set sail July 14, 2022, propelled by wishes from godmother Make-A- Wish Foundation and the dreams of thousands of Disney cast members. She is the first in a series of three new Disney Cruise Line ships to join the fleet by 2025.
According to current plans, Disney Wish is following public health protocols which require 90% of passengers ages 5 and older, plus 95% of crew, to be vaccinated. She is sailing three- and four-day Caribbean itineraries stopping at Disney's private island, Castaway Cay and, on longer voyages, in Nassau as well.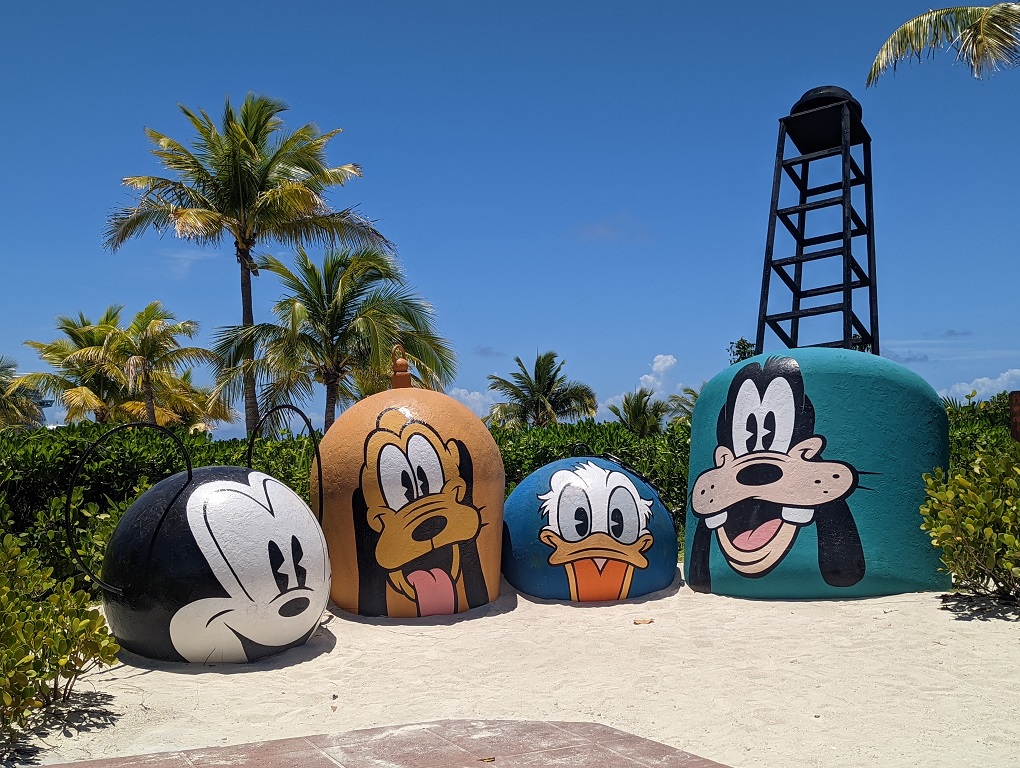 Let's look at the ship's many family-friendly features that will thrill first-time cruisers and surprise fans of DCL's other four ships.
Deck 3's Grand Hall, said to be "Disney's Castle at Sea," is the first surprise. The theatrical space features a balcony and a platform stage where Disney Characters greet families as they board. Unlike other DCL ships decorated in Art Deco or Art Nouveau motifs, favorite moments from Disney films inspire the ship's interior design.
Character faces, magical icons and symbols ranging from the Lumiere candlestick ("Beauty and the Beast") to pixie dust ("Peter Pan") are subtly woven into carpets, fabrics and wall coverings. It is a Disney fanatic's nirvana and an attractive, eclectic style to others.
The general arrangement of Disney Wish intersperses adult and family spaces on each deck in a fresh way. An enticing clear tube off the Grand Hall lets kids (and adventurous adults) slide right into the supervised Oceaneer Club for ages 3-12.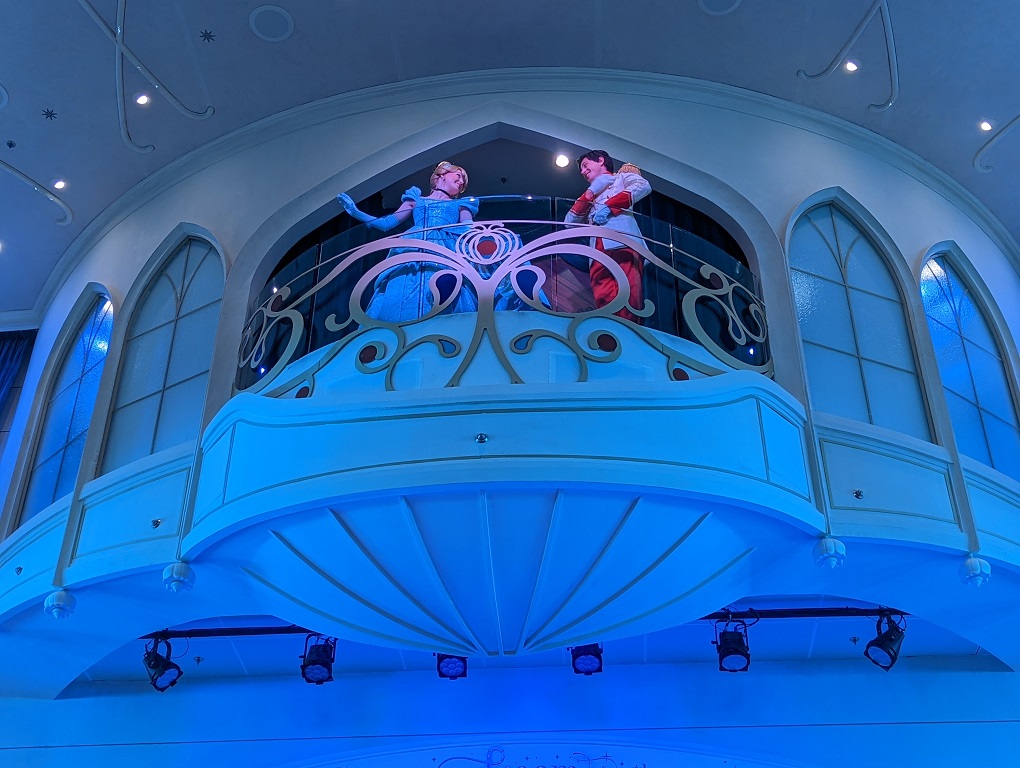 Disney's terrific and very popular childcare setup has been maintained. Infants 6-months and older, ages 3-12, tweens and teens have their own fantastic facilities with skilled counselors to lead them in imaginative play. Our Annual Family Cruise Guide has all the details on the nursery, Oceaneer Club, The Edge and Vibe.
Active families will love the new Hero Zone, a vast athletic space that converts from basketball courts to jogging track to an inflatable challenge course themed to "The Incredibles." There are several venues to relax and have a good time together. Most of the music clubs, lounges and bars are open to families during the day and become 21+ at night.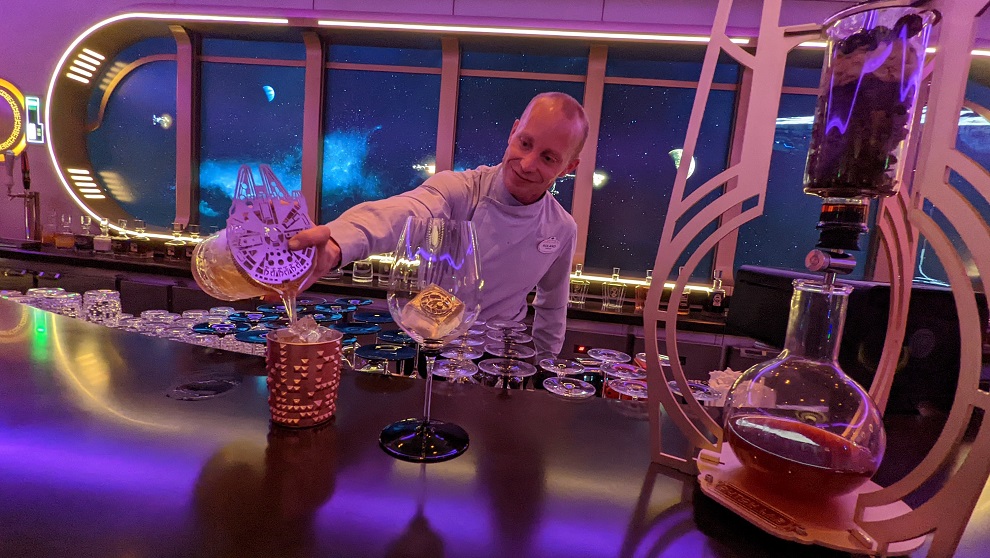 Favorites include Star Wars Hyperspace Lounge dominated by video screens, whooshing spacecraft and gurgling tubes and Bayou, a New Orleans bar decked out in magnolia blooms that serves both beignets and Hurricanes.
Personal care is emphasized (which parent doesn't need some Me Time?) Senses Spa, the largest among all DCL ships with an expansive outdoor Rainforest lounge, provides massage, beauty treatments, acupuncture, injectables and more to ages 18 and older. All ages are catered to, from the Bibbidi Bobbidi Boutique doing Prince, Princess and other costume makeovers to the Tangled Salon and Hook's Barbery barbershop.
We found the upgraded amenities made the family staterooms (more Disney Wish stateroom details) seem more luxurious. All 1,254 staterooms have Frette linens, crisp white duvets and guest bathrobes and slippers. There's even a glamorous four-bedroom Tower Suite inside the decorative bow funnel if grandparents want to splurge on a reunion cruise.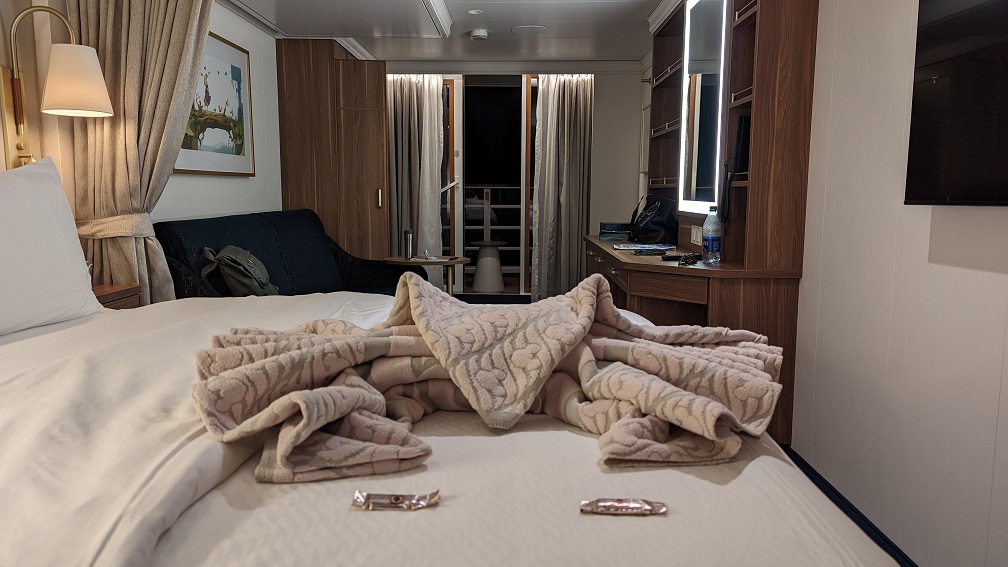 We love introducing kids to live theater on a cruise where entertainment costs are included, and Disney does it exceptionally well. The two new Broadway-caliber shows are "Disney Seas the Adventure" (an original story incorporating favorite Disney music and characters) and a retelling of "Disney The Little Mermaid." Both utilize the theater's innovative technology for terrific special effects, light projections and surround sound.
Be sure to let your kids know that the latest Disney and Pixar films also play non-stop in the two cinemas at sea. Lots more family-friendly entertainment includes game and trivia shows, live music, and a refreshed, rock-themed Pirate's Party with fireworks at night.
Book family meals early or late so you can fit in the shows. You and your wait staff will rotate through 1923, a themed restaurant decorated in memorabilia commemorating the founding year of the Walt Disney Company. Depending on your group's ages and interests, the evening at superhero-themed Worlds of Marvel or the "Frozen" inspired Arendelle: A Frozen Dining Adventure will be favorite. The special Plant Based Menus at each restaurant (and vegan choices at the buffet) underscore DCL's commitment to feeding every guest well, regardless of special diets or allergies.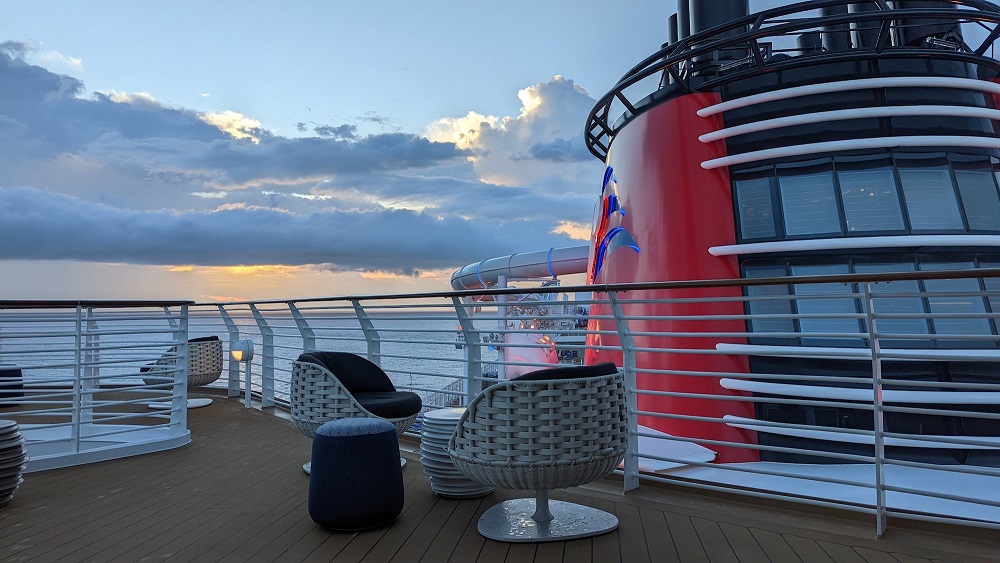 With adult children ages 18+, enjoy a family celebration at one of the premium (from $45 per person and up) adult eateries. It's hard to choose between Palo Steakhouse, The Rose or the innovative French spot, Enchanté. The menu has been designed by three-Michelin-starred chef, Arnaud Lallement, who did the Remy restaurants on other DCL ships. Most likely, available reservations at these small and highly desirable venues will make the choice for you.
Queues may seem equally daunting at the family friendly Aquamouse, a gently rolling water coaster coursing through a long tube on route to a splash pad. More of an attraction thanks to its retro Micky and Minnie cartoon projections, music and special effects, it's a fun raft ride providing great views over Deck 12. If you're tired of waiting, check out the five family pools, all with lifeguards and complimentary flotation jackets. We found the cute Chip n' Dale pool to be least busy.
Remember, download the sophisticated MyDisney Navigator app and sync up your family members because it's the best way to discover what's going on and when.
It's 2022! Don't expect a Daily Ship's Activity Calendar under your stateroom door!