Updated July 1 2021. Our annual cruise guide will be updated with more information for 2021 and beyond as more information on a resumption of sailings is made available.
SO, WILL YOUR FAMILY BE CRUISING IN 2021?
The cruise industry has taken a major step forward with the announcement that some cruises to Alaska will resume in mid-Summer from Seattle, though without any stops in Canada.
One of the first US cruises will be the Celebrity Edge, leaving Fort Lauderdale on June 26 for the Caribbean at reduced capacity. All crew will be vaccinated, and most passengers will have to be. Initially, U.S. guests 16 and older are required to be fully vaccinated; that age drops to 12 as of Aug. 1. Passengers 18 and older from the UK must be vaccinated.
Based on recent guidance from the U. S. Centers for Disease Control and Prevention ( CDC) and close collaboration with Alaskan officials, Princess Cruises, Holland America Line and Carnival Cruise Line plan to resume guest cruise operations for a partial season in Alaska, each with one ship sailing round-trip, starting in late July. These Alaska cruises are available for guests who have received their final dose of an approved COVID-19 vaccine at least 14 days prior to the beginning of the cruise and have proof of vaccination. Crew vaccinations will be in accordance with CDC guidelines. Guests have continued to book the popular Holland American and Princess land tours.
Royal Caribbean has also announced plans to launch its Alaska season with 7-night cruises – roundtrip from Seattle – on returning favorites Serenade and Ovation of the Seas, beginning July 19 and August 13, respectively.
Norwegian Cruise Line also will return to Alaska with 11 week-long voyages from Seattle beginning Aug.7 on the Norwegian Bliss sailing through Oct. 16. Guests will benefit from the second cruise pier in Icy Strait Point, a collaboration with Alaska Native-owned Huna Totem Corporation that initially was scheduled to open last summer. There will be additional shore excursions, including the world's largest ZipRider sip line and the most accessible coastal brown bear viewing platforms in Southeast Alaska.
The news follows the temporary waiver of the Passenger Vessel Services Act, allowing cruising to Alaska to resume upon obtaining the pending Conditional Sailing Certificate from the U.S. Centers for Disease Control and Prevention ("CDC"). In partnership with local governments and health protocols requiring vaccination of all passengers and crew. The cruise lines expect approval.
Princess Cruises will resume operations in Alaska starting July 25 through September 26, with seven-day cruises onboard Majestic Princess, a Medallion Class ship. Its cruises will visit signature ports, glaciers and attractions in Alaska including Glacier Bay National Park, Juneau, Skagway and Ketchikan.
Holland America Line will resume its cruise operations to Alaska with seven-day itineraries aboard Nieuw Amsterdam, calling at Juneau, Icy Strait Point, Sitka and Ketchikan, with scenic cruising in Alaska's iconic locales, including Glacier Bay and Stephens Passage. The first cruise for the brand is scheduled to depart July 24, with 11 Saturday departures that will operate through October 2.
"We are excited to once again serve our guests from the U.S., and we express our deep gratitude to all national, state and local officials who have worked collaboratively with us, the CDC and our entire industry to make this possible. It is great news for cruising, for travelers ready to again explore the world and for all the communities in Alaska that depend on cruising and have suffered great hardships over the past year," said Arnold Donald, CEO of Carnival Corporation.
In early April, additional CDC cruise ship guidance was issued, giving many of the major cruise lines hope of resuming some sailings over the summer from US ports.
At the same time, FDA approval is expected shortly for teens from age 12-15 to get the Pfizer COVID-19 vaccine. How many will actually be vaccinated in time for summer vacation isn't clear yet. Teens 16 and older already are authorized to get the vaccine. President Biden has announced his goal to have 70 per cent of the U.S. population at least partially vaccinated by July 4.
This matters to cruising families hoping to cruise this summer or later this year because public health officials urge that parents not cruise with unvaccinated kids. It is unclear at the moment whether all passengers will be required to be vaccinated once sailings start again from US ports.
Until cruises restart in the United States—expected some time this summer– several of the major cruise lines are circumventing the U.S. no-sail rule by starting and ending cruises offshore. Crystal Cruises, Norwegian, Royal Caribbean, Seabourn, Windstar and Celebrity will cruise from the Caribbean and Greece this summer.
Some, including Crystal, Windstar, Norwegian and Seabourn, are requiring all passengers and crew be vaccinated; Windstar will require and administer a free COVID-19 antigen test pier side prior to embarkation and a negative result is required to board. Celebrity and Royal Caribbean are welcoming younger guests, requiring a negative COVID-19-PCR test for younger guests.
According to CLIA, restarting cruises will provide a much-needed boost to the U.S. economy—with the cruise industry supporting nearly 450,000 American jobs and contributing over $55.5 billion annually.
And while you peruse cruises available this summer or next year, make sure to read the fine print as cruise line refund policies vary from a future cruise voucher to additional onboard spending credits or a full cash refund. That's why we advocate you get insurance premium bids for family travel insurance.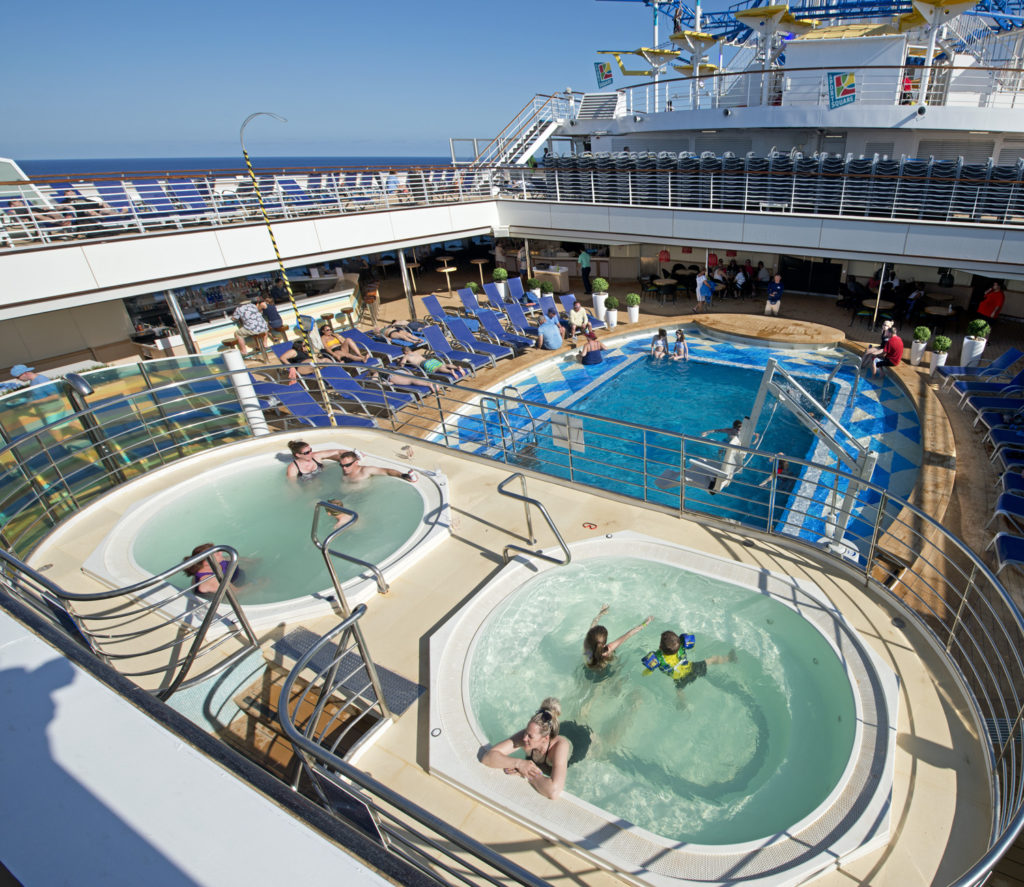 WHY PLAN A CRUISE VACATION NOW?
Parents and grandparents love cruising because they get a lot of bang for their vacation buck: activities, meals and lodging all for one price, including morning-till-night programming for kids, at considerably less than many resorts charge.
The cohort that's been called Skip-Gen Travel -– grandparents traveling with grandkids and leaving parents behind –- also flock to cruises because they're an easy way to get the whole gang on vacation (especially in Alaska and Europe), get qualified assistance with the kids and reduce the stress of group travel.
Families are already seeing a surge in value pricing and value-added amenities for when cruising resumes, particularly for 2022 from major cruise lines including Holland America and Princess.
Bucket List Cruises are Trending
Before the Covid-19 pandemic, CLIA projected a whopping 32 million cruise passengers worldwide in 2020. Obviously, there are no projections available yet for 2021.
Yet cruise companies are touting bucket list trips to places like Antarctica and the Galapagos. For Antarctica, check out the new, all-inclusive family-friendly voyage aboard World Navigator, the first expedition ship by Atlas Ocean Voyages. This Antarctica adventure is ideal for kids as young as eight as well as active seniors. Another plus: chartered Atlas flights that will help prevent layovers and delays. Get ready to kayak past ice floes!
Quasar Expeditions offers specific family cruises on small yachts with special discounts for kids, child-friendly menus, guides who make every activity an adventure for all ages and once-in-a-lifetime experiences like swimming with sea turtles, close encounters with Blue-footed boobies, snorkeling in crystal clear waters, star gazing and more.
So, Will Your Family Be Cruising in 2021?
CLIA has called for the CDC to allow for the planning of a phased resumption of cruise operations from U.S. ports by the beginning of July 2021. According to CLIA, restarting cruises as part of the broader travel industry will provide a much-needed boost to the U.S. economy—with the cruise industry supporting nearly 450,000 American jobs and contributing over $55.5 billion annually.
But according to major news outlets, the CDC has said that the "Framework for Conditional Sailing" Order will remain in effect through Nov. 1, 2021. Details for the next phase of the CSO are currently under interagency review," the CDC said in a statement to CNN.
Advances in always-connected technology for passengers at sea mean you won't want to unplug on the major cruise lines. Fortunately, there are cruises for families who can't wait to unplug; that's why it's so important to choose carefully.
So what are you waiting for? We're featuring the 2021 Taking the Kids Cruise Guide to help you plan an adventure at sea, so set your sails.Our annual cruise guide will be updated throughout 2021 as cruise lines announce their plans. Be forewarned that some of the cruise and shore activities, onboard facilities and programs we review below, dating to 2020, will likely be modified to accommodate new regulations.
Please use an abundance of caution in your travel planning and get in contact with small ship and major cruise companies for the latest itineraries and information.
Cruise Reviews Of Major Family-Friendly Cruises
Here are some of the top family cruise vacation options to consider, in alphabetical order. Please note that facilities and onboard experiences may change when cruising resumes to curb the spread of the pandemic.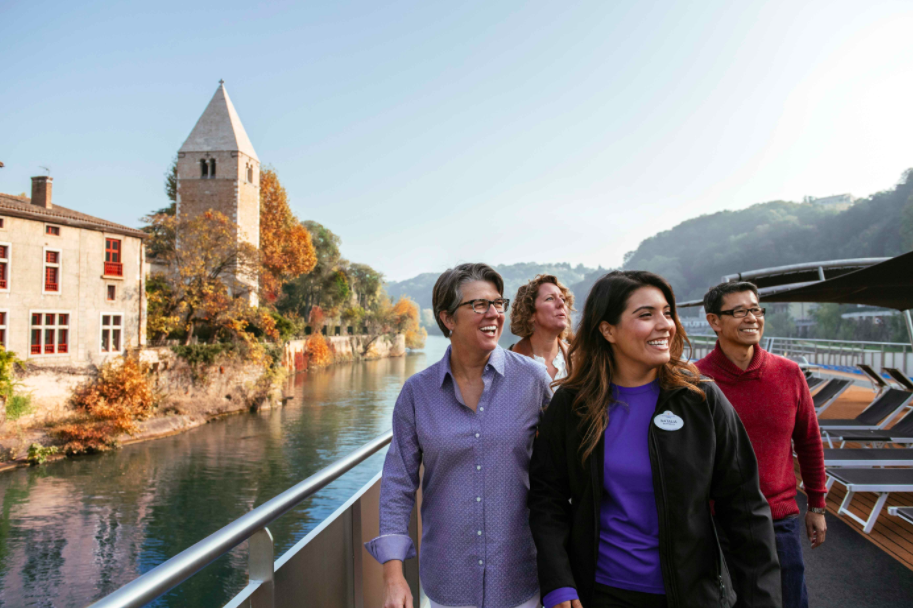 Adventures by Disney, the escorted tour operation run by the famed family brand, offers European river cruise sailings for families and adults. These luxury, all-inclusive itineraries escorted by expert guides are active, immersive and hassle free. The expanded 2020 season was set to include a record-breaking 27 river cruise departures along the Danube, Rhine, Seine and Rhone rivers.
What's New: There's a brand-new, eight-day, seven-night itinerary through southern France, including Provence, on the Rhone River onboard AmaCello. Adventures by Disney will embark on six Rhone River cruises, three for families and three for adults in this first year. Beginning in 2020, Adventures by Disney guests can enhance their European river cruise vacations with three-day, two-night Escapes to Paris, Amsterdam and Budapest. These guided group itineraries are designed to maximize vacation time, highlighting each city's most well- known attractions while also uncovering unexpected hidden gems. Two dedicated Adventure Guides lead guests in enriching, exciting activities the whole family can enjoy. Adventures by Disney Escapes can be booked as standalone getaways.
For Kids and Teens: All Adventures by Disney river cruises feature the expert services of Disney-trained Adventure Guides, who specialize in creating unforgettable vacation experiences that parents, children and teens can enjoy. These range from active excursions, castle and museum tours and unique onboard activities to a special welcome party, teen and Junior Adventurer dinners and Disney movie nights that young guests can enjoy while adults enjoy wine-tasting and adult-only dinners.
Around the Ship: Sailing with AmaWaterways, a premier luxury river cruise line, these all-inclusive vacations allow guests to explore the heart of Europe with active, hands-on excursions.
The winter of 2021, the World Navigator, a newly constructed, small (98 staterooms) expedition ship will launch as the first expedition ship from Atlas Ocean Voyages. Atlas' signature All Inclusive All The Way program includes complimentary round-trip air travel from major U.S. and Canada gateways, a choice of shore excursion at every port, prepaid gratuities, gourmet dining and premium beverages, Wi-Fi and more perks — with generous refund policies for those who book early. Nine to 12-day cruise expeditions sail only Nov. 2021 to March 2022. And, if you just can't wait to get aboard this luxeadventure vessel, check out their amazing Egypt and Greek Isles itineraries for Summer 2021. In a flash sale from June 24-July 7, 2021 only, guests booking select voyages will receive $2,000 to $7,000 savings per stateroom or suite — quite a bargain for this calibre of adventure!
What's New: Everything's new about World Navigator. Her Antarctica observation deck, called Water's Edge, is closer to the sea than any other ship currently sailing, meaning you can get closer to the southernmost continent's unique wildlife. Families will appreciate that benches wrapping around the bow are heated so you can stay outdoors much longer. Near to the shore and in ecologically sensitive areas, hydrojets (a silent impeller system) will be used for navigation to prevent scaring off marine life close to the vessel. New SKF stabilizers promise to reduce turbulence from rough seas along the Drake Passage by up to 15%.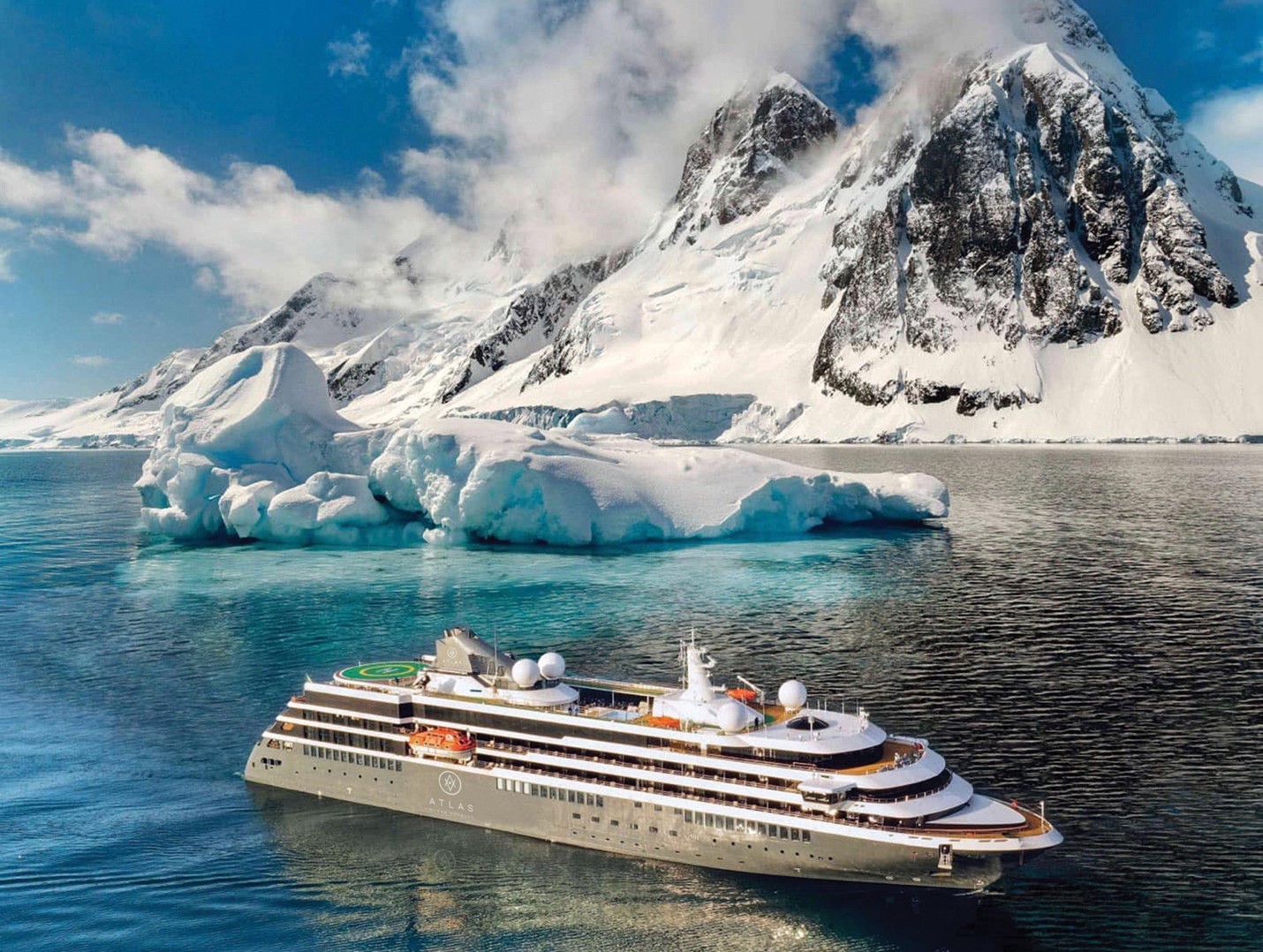 For Kids and Teens: All ages will love that Atlas Ocean Voyages flies guests directly from North America to Ushuaia, Argentina – port of embarkation – via private jet. There will be onboard programming by scientists, explorers and naturalists plus a professional photographer to share tips. Daily excursions by Zodiac inflatable craft let those who are not stand-up paddleboarding explore the icy environment and visit penguins, Elephant seals and exotic birdlife on shore.
Around the Ship: World Navigator hasfour dining venues and two lounges to catch up on the day's adventures. Me time can be spent at the fitness studio or L'OCCITANE spa. Cabins with balconies sleep up to three persons; amenities include binoculars and polar parkas to use on your expeditionary excursions. Expect personalized stocked minibars plus a butler for the suites. This remarkable Antarctica cruise adventure combines luxury with thrills, comfort with exploration, and is designed to be shared with children and grandchildren ages 10+.
Carnival president Christine Duffy has said that Carnival does not plan to move any ships away from their U.S. homeports. "I've always said Carnival Cruise Line is America's cruise line. We sail from 14 U.S. homeports … and a significant number of our guests drive to their Carnival vacations, and we also sail with more families and children than any other cruise line."
What's New: Carnival Panorama and Carnival Mardi Gras are the newest ships. Carnival Panorama features family suites with access to a family lounge, Camp Ocean, Seuss at Sea (operated exclusively with Dr. Seuss Enterprises), the first Sky Zone trampoline park at sea and Smokehouse Brewhouse featuring barbeque favorites created by Guy Fieri and four brewed-on-board craft beers, among other cool features. Mardi Gras is the line's largest and most innovative ship, with the first roller coaster at sea, the first seagoing restaurant from New Orleans chef Emeril Lagasse and a wide variety of accommodations with 180 suites across 11 different categories.
For Kids: Carnival Cruise Line offers complimentary programming and facilities for kids in three age groups: Camp Ocean (ages 2-11) is designed for younger cruisers and features indoor play areas stocked with games and toys along with indoor climbing mazes, computer labs and video walls. Kids can also eat with their counselors so parents can enjoy a night to themselves, and enjoy a Green Eggs and Ham Breakfast with Dr. Seuss characters for a nominal fee.
For Tweens: Circle "C" provides 12- to 14-year olds with a place of their own to dance, watch movies outdoors, play games and get together with new friends.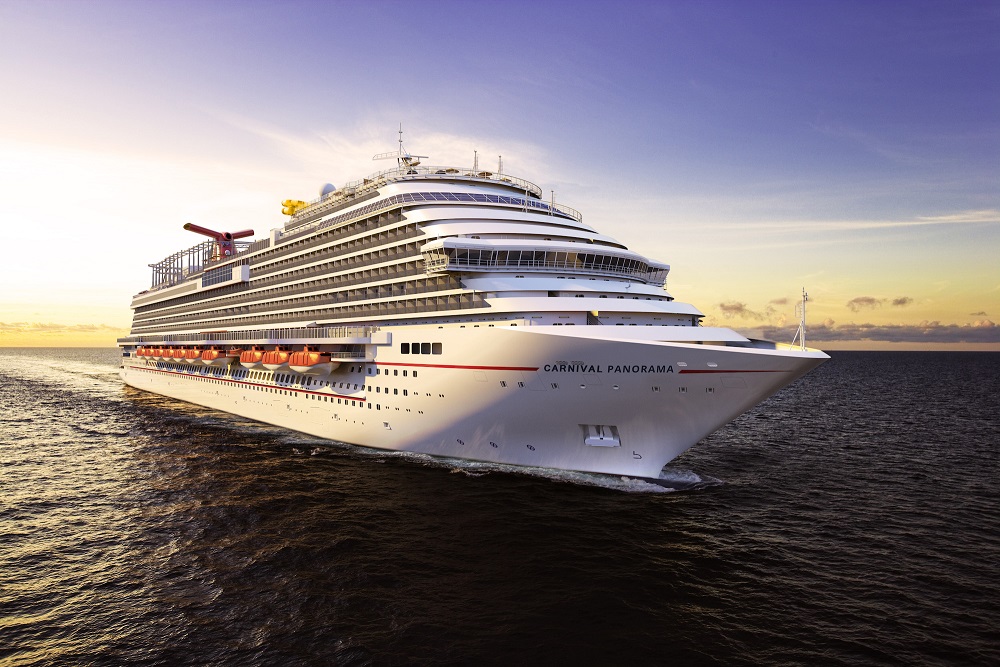 For Teens: Club O2 (ages 15-17) includes a dance floor with a DJ, soda bar, movies, video games, and pool parties.
Around the Ship: Outdoor games and activities, along with children's wading pools, and main Lido deck pools offering the line's signature water slides. Outdoor play areas with mini basketball hoops, jungle gyms and other playground equipment, mini golf, as well as game rooms offering the latest video and arcade games, are available fleet-wide. Some ships offer suspended ropes courses as well as a bike-ride-in-the-sky attraction called SkyRide. The line also offers nightly babysitting and Carnival Night Owls featuring a full schedule of activities running as late as 1am (fees apply for babysitting and the Night Owls program).
The fleet's 13 ships, including Celebrity Edge, are known for their sophisticated cuisine, upscale ambience, destination-focused itineraries and themed cruises focusing on art, food and wine. Families enjoy cruising Celebrity because it's more low-key than its sister Royal Caribbean ships yet offers popular kids' programming.
What's New: The new Celebrity Apex will make its debut in Greece this summer while the Millennium will do seven-night cruises from St. Maarten, also beginning in June. Bothwill sail with all crew and guests above the age of 18 vaccinated against COVID-19, and those under the age of 18 with negative PCR test results. Try the Family Travel Forum LetsGetChecked test kit which comes with an exclusive discount code; find out more at this discount COVID testing link.
A cruise vacation with Europe's leading cruise line will give your family a chance to get to know European families through a Teens Lounge plus the supervised Squok Club (activities grouped by ages 3-6 and 7-11) with Peppa Pig as the mascot. The Costa Crociere company, headquartered in Genoa, Italy and founded in 1948, has 27 ships (six more planned by 2021) which operate under the Costa, AIDA and Costa Asia brands.
This is one of the world's largest river cruise companies operating more than 50 River and Small Ship cruises, including River Ships throughout Europe, Canal Barges in France, Mediterranean Cruises, and cruises around the world. International experience with a French Flair means service and food are excellent. There's a friendly, multilingual staff, and shore excursions (included in rates) emphasize expert guided tours of local arts and history. CroisiEurope, while new to Americans, is very popular among European families because it's the only river cruise where children under 2 travel free and children under 10 travel at a discount.

What's New: With sailings halted due to the pandemic, the best-selling itinerary for Croisieurope has become their private barge trips on the canals of France. Special Family Club Cruises with CroisiFamily itineraries in the summer months will sail in Portugal, Italy, Spain, and Croatia, where children 16 and under travel free or half-priced. Multigenerational groups and groups of friends may prefer the privacy of one of their elegant, crewed barges which ply the canals through the gorgeous French countryside. Both options are very good value and you can see in our review of a CroisiEurope cruise.
For Kids: CroisiEurope features river cruises with cycling and hiking shore excursions for families who like to actively explore together and, with such superb cuisine, you won't have to feel guilty about sampling everything.
For Teens: Tweens and teens with a cultural bent or an interest in practicing their French will love this river cruise. Look for itineraries offering hiking, biking and other off-beat shore tours for more adventurous travelers.
Around the Ship: CroisiEurope is the global leader in river cruiser ship building, so their vessels are extremely comfortable and able to navigate in unusual waters. There's always a main restaurant, bar, lounges, library and roof deck space for sightseeing. Each ship is unique and designed for the smallest harbors at the destination, with easy access that's ideal for family elders. Don't expect constant activities or kids' clubs because the focus is on the destinations and local culture.
The all-inclusive luxury cruise line, Crystal, reports that growing numbers of families and multigenerational groups are opting for the line's six-star service and designated spaces for kids and teens — rare at this price point. The ships carry between 900 and 1,100 passengers with all of the amenities you'd expect on a cruise line touting luxury, service, space and enrichment programs.
What's New: Crystal is cruising with reduced capacity, new close-to-home Bahamas Escapes from Nassau beginning July 3, 2021 on its award-winning flag ship, Crystal Serenity. In addition, Crystal will also offer 10-night voyages round-trip from Antigua and Iceland. Crystal has announced that guests must be fully inoculated with a COVID-19 vaccine at least 14 days prior to boarding any Crystal ship. Safety protocols include comprehensive Crystal Clean+ 4.0 measures, including negative COVID-19 tests for both guests and crew. This trip would only be available for those with adult children or older teens who have been vaccinated.
Cunard continues the tradition of luxury cruising that began in 1840, complete with fencing and dance classes (on all three Queens), and is the only line offering regularly scheduled transatlantic service between New York and Southampton, England on flagship Queen Mary 2, including a kennel at sea.
What's New: Cunard plans to double its program in Alaska when Queen Elizabeth sails 10 roundtrip voyages out of Vancouver, each ranging from 9-12 nights. Itineraries feature scenic cruising through the Inside Passage including the awe-inspiring Glacier Bay National Park. Cunard offers full days in several of the region's ports including Juneau, Ketchikan, Sitka, Skagway, Victoria and Icy Straight Point. The famous Rocky Mountaineer Train will be offered pre- and post-Alaska cruise including three- or five-nights' accommodation and two full days aboard the train.
For Babies: The Night Nursery is available for children ages 6-23 months from 6pm-11pm. It is free-of-charge on a first come, first served basis.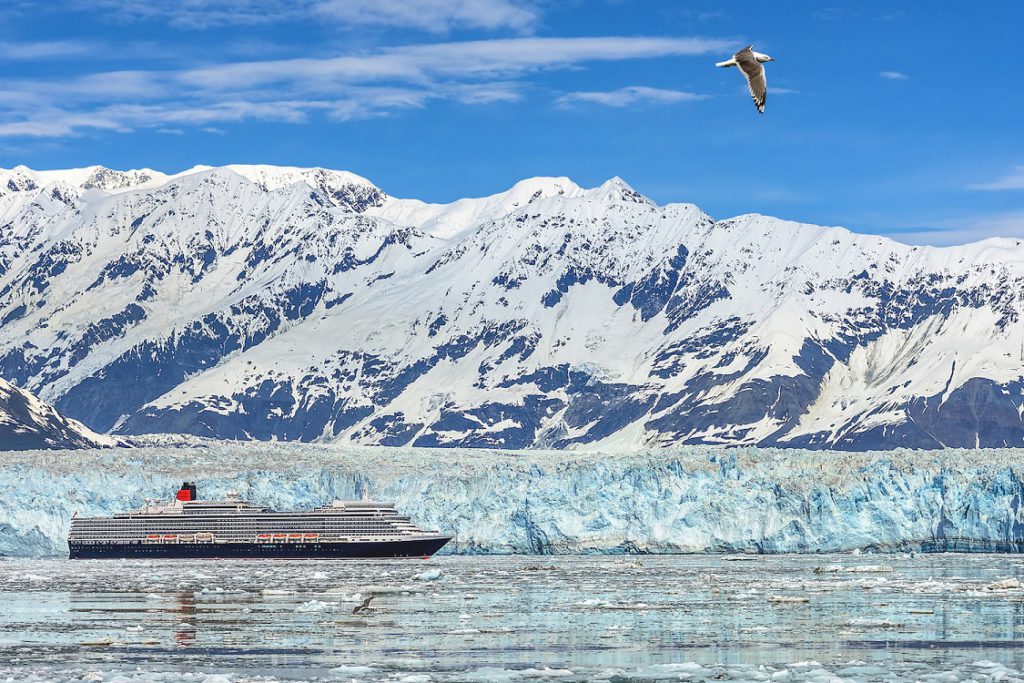 For Kids: Kids ages 2-7 are invited to the Play Zone, an area stocked with books, toys, puzzles, computer games, and more. Tots ages 6 months to 2 years are welcome with a parent in the Play Zone. The Kids Zone is for ages 8-12 and features gaming consoles, sports competitions, arts 'n'crafts and karaoke.
For Teens: Teen Zone offers team games and deck sports by day, while evenings bring pizza and dance parties. Game consoles are available. All kids and teen programs are free-of-charge.
Disney leads in creative kids' programming and activities, from character experiences, larger-than-life youth clubs, pools, aqua play areas and waterslides to themed deck parties that culminate with dance parties and fireworks at sea. Cruise Critic, the world's leading cruise reviews site and online cruise community, has repeatedly named Disney Cruise Line the Best for Families.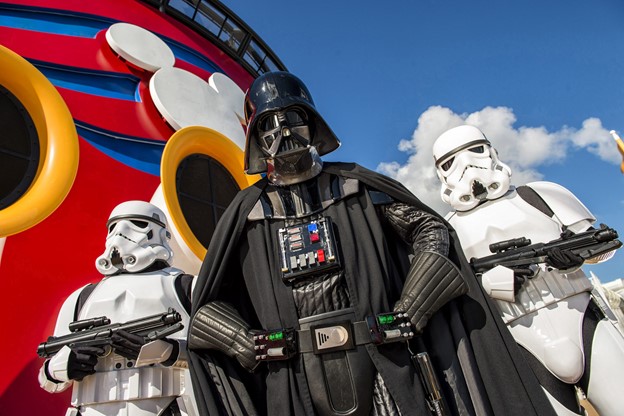 What's New: Following the favorite ships: Disney Magic, Disney Wonder and Disney Fantasy is Disney Wish, an even more innovative, family-focused ship from the magic-making team at Disney. Booking opens May 2021 for the June 2022 debut sailing. Disney Wish boasts 1,254 staterooms, many with concierge service, many connecting, some with king beds and a sofabed, third and fourth wall bunks and even four large Royal Suites (two are duplexes!) From the enchanting Grand Atrium watched over by a golden Cinderella to the enhanced children's programming and dining, including a Frozen dinner theater and upscale French and a modern steak house for adults. This is a ship to wait for. Sign us up to try Imagineer's Workshops where we can design thrill rides, then surf the 750-foot-long AquaMouse water coaster above the top deck. While the kids play, adults can head to the adult-only pool and spa, the Hyperspace Lounge for a Stars Wars themed drink and some audio-visual gaming that transports you to a galaxy far, far away and a no-kids-allowed dinner. Also new for 2022, pre-cruise escapes with Adventures by Disney in Rome, London, Barcelona and Copenhagen.
For Babies: Children ages 6 months to 3 years (or from 1 to 3-years-old on Transatlantic and Panama Canal itineraries) are welcome at "it's a small world" nursery, where they'll be cared for by trained counselors. Nursery space is limited, and reservations are required.
For Kids: Open to kids ages 3-12, Disney's Oceaneer Club is the ultimate destination for creativity and fun. Step into worlds inhabited by some of your favorite characters on each of the Disney ships, such as Andy's Room, Star Wars: Millennium Falcon, Star Wars: Command Post, Marvel Super Hero Academy and Pixie Hollow.
For Tweens: The 11 to 14-year-olds have their own Edge club with comedy improv classes, trivia contests, pirate challenges and a lounge with flat-screen TVs, the latest video games, computers and more.
For Teens: Teens 14-17 have their own coffee bar and space in Vibe, a space to chill out, listen to music, watch TV and play group games. On the Disney Dream and Disney Fantasy, teens even have their own sundeck. There are even special teen shore excursions like The Wild Side at Castaway Cay, where teens explore on bikes, snorkel, and ride a high-speed boat around the island.
Around the Ship: There's everything from character meals and meet-and-greets, first-run movies and Broadway-style entertainment to adult-only restaurants and deck areas. Families love Disney's private island Castaway Cay with its snorkeling lagoon, bike trails, stingray encounter and beaches for everyone from adults to the entire family. 2020 brings don't-miss limited engagements of two popular experiences – Star Wars Day at Sea and Marvel Day at Sea. Star Wars sets sail on the Disney Fantasy (seven-night cruises between January and March 2020) and Marvel superheroes rule the Disney Magic (five-night cruises from January to March 2020) on splendid voyages to the Caribbean and Bahamas featuring a special day at sea filled with unique character encounters, live shows and action-packed entertainment.
This line now carries more than 25,000 kids and their families aboard its 14 mid-size ships every year, including so many multi-generational groups that they have designed a special Family Reunion Program (for groups booking eight or more rooms) featuring complimentary room upgrades and more. Note that Alaska cruise itineraries may not sail in 2020, HAL has committed to offering Alaska land tours to families.
What's New: Holland America's ms Koningsdam plans to add a series of northern Europe and Baltic cruises to HAL's itineraries. With a $300-million investment, HAL is planning exciting enhancements to its top staterooms with new furnishings, decor, amenities and upgrades for all suites on the line's Signature, Vista and R-Class Ships.There is also an emphasis on programs and activities that bring aboard the culture and cuisine of the region where the ship is sailing with cooking demonstrations, port-to-table dishes in the dining room and cultural ambassadors. Holland America recently was recognized by Cruise Critic for having the best dining program at sea.
For Babies: Holland America welcomes infants 6 months and older (12 months on Transocean sailings). By advance request through the Service Department, guests may arrange commercial baby food, diapers and refrigerators for a nominal fee. A limited number of high chairs, booster seats and cribs are available at no charge.
For Kids: The Club HAL program provides supervised activities for kids ages 3-12. All children participating in the youth program must be completely toilet trained and pull-up free. Younger cruisers (ages 3-7) enjoy their own space where they can play, create and make new friends. Club HAL activities include PJ parties, arts and crafts, pirate treasure hunts. kids Olympics, video game tournaments, and more. Children with special needs are invited to attend Club HAL activities under the supervision a trained staff.The ms Oosterdam, sailing this winter from San Diego, is piloting a new-style kids' and teen Hi-Score program with self-starting activities for kids and ones they can share with their families.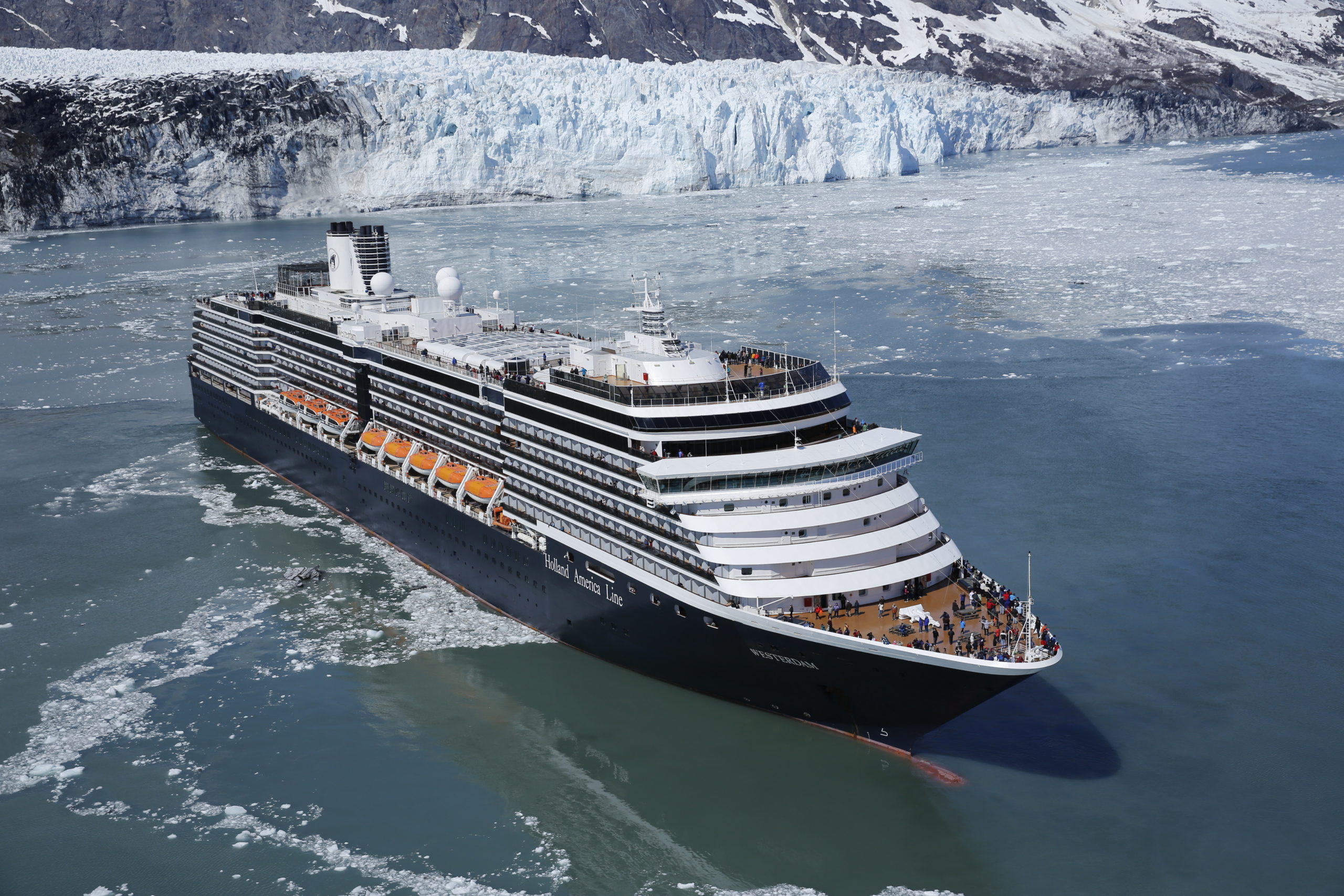 For Tweens: The 8-12s have their Club Hal area featuring air hockey, foosball, Kinect for Xbox 360, and large LED screens for video games and movies. Teens also enjoy dance parties, deck sports, trivia nights, karaoke and Xbox tournaments.
For Teens: The Loft is an adult-free lounge where teens ages 13-17 can hang out and enjoy movies, games, and music. The teen-only space, supervised by HAL staff, is where teens enjoy music, games and more. Other activities include volleyball, a steel drum class, jewelry making and mocktail mixologies. Guests age 16 and older are invited to use the onboard Fitness Center.
Around the Ship: Look for swimming pools, basketball, volleyball and tennis. Families love the private island Half Moon Cay with its array of activities like snorkeling, bicycle tours, water sports, and adventure areas. In addition to Club HAL and teen activities, kids' programming and cartoons are on the in-cabin television on the HAL entertainment channels.
MSC Cruises offers innovative itineraries, family-friendly deals, single parent specials and a few unexpected luxury perks such as an Aqua Park, water slides and supervised clubs for ages 3-17 to guests from around the world. Premium experiences include a new nursery for ages 1-3 years plus VR thrills and a gaming arcade. Kids 11 and under sail free on select sailings on MSC Cruises too. Guests of the all-inclusive MSC Yacht Club also enjoy special suites, a luxury lounge with a special 24-hour concierge and butler service, private dining and more on select ships.
Norwegian Cruise Line invites you to cruise with your kids on 17 ships departing from several U.S., European and Asia-Pacific homeports. The line is distinctive for "Freestyle" Dining meaning you can eat when you want and where you want, although many of the a la carte options carry a premium fee. The newer ships have space dedicated to craft brews and fine wines, Broadway shows, a nursery accepting passengers ages 6 months and up, plus innovative use of outdoor spaces. Norwegian Encore is NCL's newest, glitiziest ship.
What's New: In July, the Norwegian Jade will being weeklong cruises through Greece. The line will deploy other ships to Jamaica and the Dominican Republic in August. All Norwegian cruise will only board fully vaccinated passengers.
Peter Sommer Travels has led cultural explorers around Europe since 1996, and may be best known for their expert guided, small ship cruises which consistently receive five-star reviews from travelers. Typically, these top value gulet cruises on classic small yachts are all-inclusive of airport transfers, meals, beverages, land tours and guides; international airfare is extra.
What's New: This award-winning tour company now offers itineraries to Greece, Croatia, Italy and Turkey, with group or custom private tours by yacht typically planned any time between May and October. Their group family yacht tours, eight-day routes in the Aegean through the Greek Islands and along the Carian Coast of Turkey, run annually in July.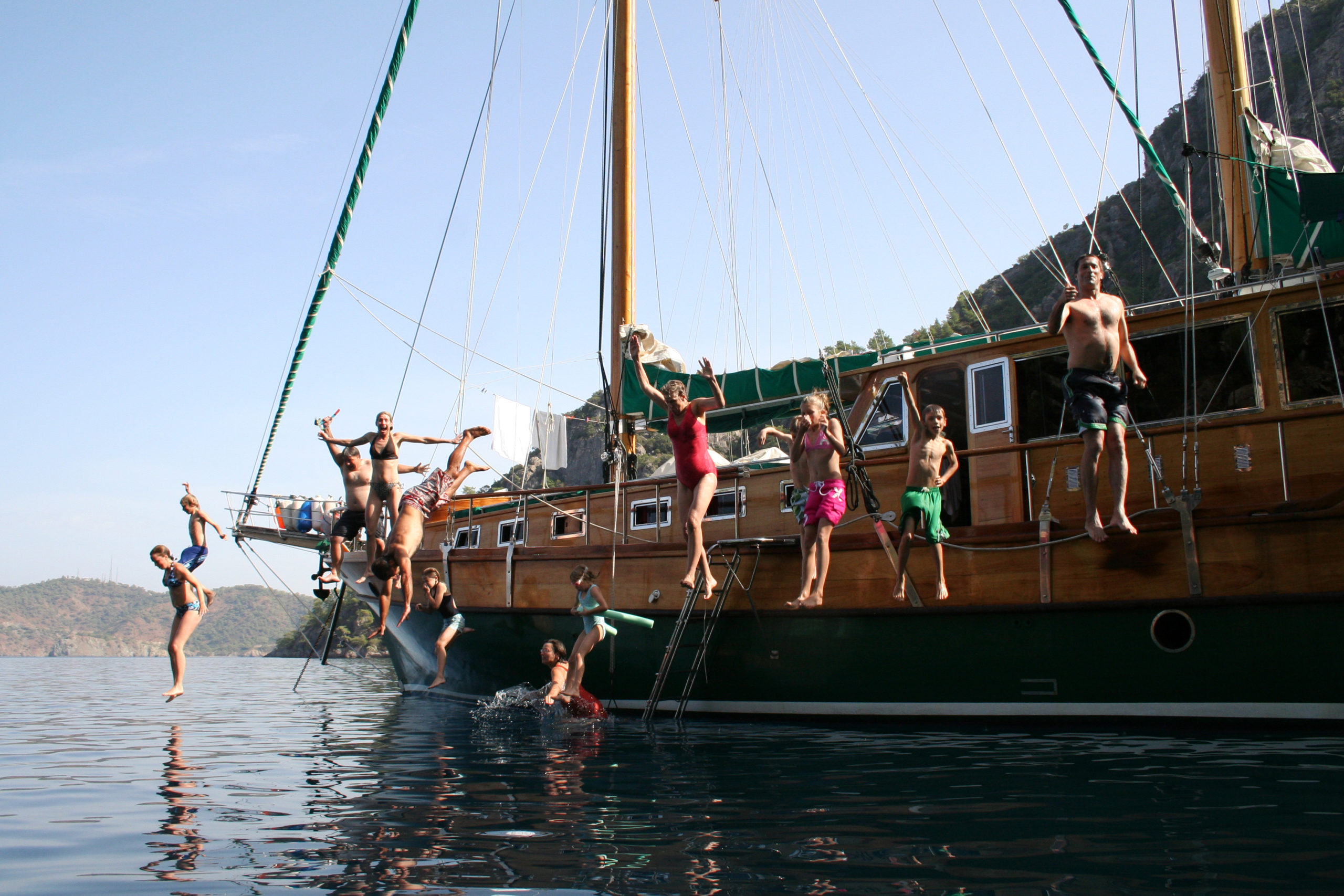 For Kids: Kids love Peter Sommer Travels' classic wooden yachts which are traditional Turkish gulets with swashbuckling style! The gulets' small size and high crew-to-guest ratio mean that even children ages 6 and older are entertained, both by the cruising adventure and the storytelling of expert guides.
For Teens: School-age children and teens will be thrilled by fascinating shore excursions and attention to historical detail. In addition to ports of call and delicious local meals (everyone raves about the fresh food!), families are kept busy at sea, where they can snorkel, go fishing and take out a canoe. Relaxation is always an option. Here are 10 great reasons to choose this family yacht tour.
Around the Ship: Peter Sommer Travels' gulets are equipped with comfortable double, twin and triple cabins with private bath. There's Wi-Fi when coverage permits, so it's easy to share the experience with friends and family back home. You'll meet like-minded families who, reviewers say, count on the engaging guides to create eye-opening, memorable trips for their children.
Princess Cruises' Sky Princess and Enchanted Princess have the line's first Sky Suites, which feature the largest balconies at sea and can accommodate up to five guests making them ideal for families. Families love Princess' private island in the Caribbean and family-friendly shore excursions. Note that Alaska cruise itineraries may not sail in 2020, Princess has committed to offering Alaska land tours using its many hotels to families.
What's New: Sky Princess introduces the first escape room at sea, Phantom Bridge. Other highlights include the breathtaking Atrium & Piazza, over 50% larger than on other Princess ships, their largest Movies Under the Stars screen, two deep tank swimming pools, a brick-oven pizzeria, and signature features like The SeaWalk, a dramatic glass-bottom walkway which USA TODAY calls one of the "Top Gee-Whiz Features at Sea." Princess Cruises' Caribbean Princess has The Reef, their first spray park, which is ideal for younger cruisers.
In collaboration with Discovery Inc., Princess has expanded its Discover at Sea partnership with re-imagined youth centers called Camp Discovery. Experiences are focused on Play, Discover, Huddle (interact with peers) and Create, with lots of activities for each. Additionally, cultural activities related to the Caribbean, Alaska and Europe will help young cruisers learn about the customs and nature of where they cruise, and MythBusters science activities will challenge their minds.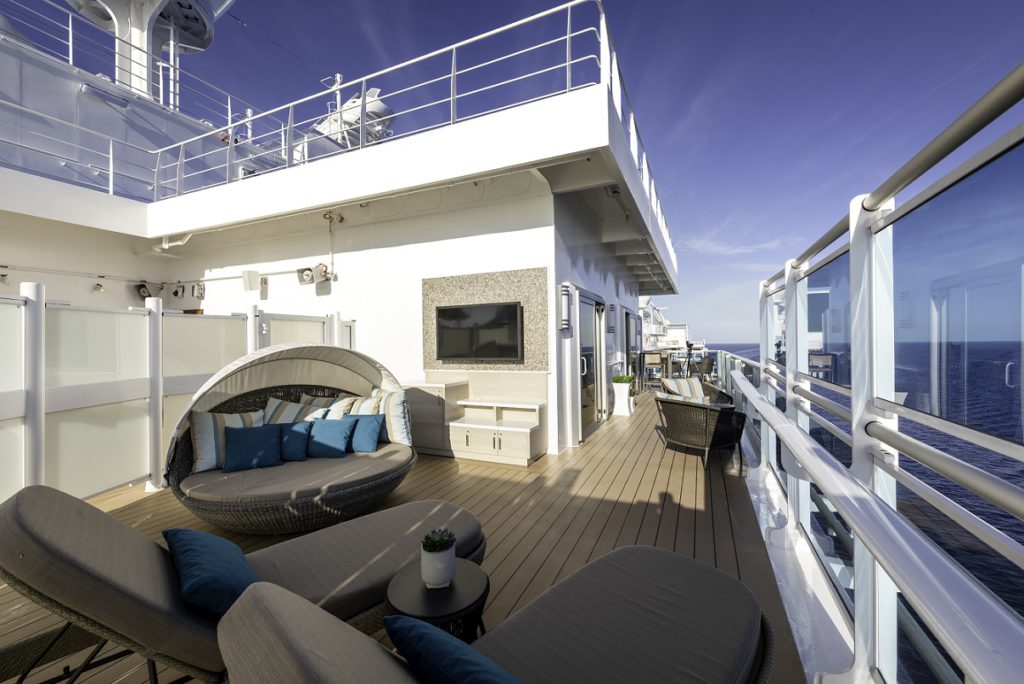 For Kids: Princess Youth Programs start at age 3 with The Treehouse, a bright, whimsical forest and animal-themed center including hands-on activities for kids. In-room babysitting is not available, but there is late night group sitting for $5 per child. On shore days, youth programs are offered.
For Tweens: The Lodge for 8-to 12-year-olds is inspired by the great outdoors and is filled with sports activities and places for kids to explore and hang out.
For Teens: The Beach House will offer ages 13-17 a contemporary surf-themed lounge where teens can hang out and socialize. There will be parties, movies, teen makeovers, dance classes and game competitions.Around the Ship: Families love the Movies Under the Stars, swimming pools, the line's private island Princess Cay, video games, basketball courts and more. Afternoon tea is a time-honored tradition on Princess ships. The Voice of the Ocean is a popular game show guests can participate in and Princess Cruises' partnership with award-winning composer Stephen Schwartz brings Broadway-caliber musicals on board. Guests can get moving with Zumba Fitness at sea, the exhilarating dance-fitness program. Discovery at Sea brings some favorite TV shows and hosts on board with programs like Shark Week, Discovery and Animal Planet Shore Excursions and Stargazing with Discovery at Sea.
Regent Seven Seas is known for their small ships, attentive service, food and amenities. Everything is included—even shore excursions. That's why the upscale line is a favorite of grandparents who are treating their families to a trip, particularly a bucket list trip in Alaska.
Think family vacation — on steroids. Think of every kind of food and entertainment you could want aboard some of the world's biggest and most innovative ships. And that's only the beginning — this is not the cruise line for couch potato relaxation. Royal Caribbean has announced 2021 summer cruises from Bermuda as well as the Bahamas.
What's New: This summer, Vision of the Seas offers seven-night cruises from first-time homeport Bermuda, includinga full Perfect Day at CocoCay. Seven-night cruises on board Adventure of the Seas will set sail from Nassau and also include a day at CocoCay as well as a stop in Cozumel. Sailing with vaccinated crew, the cruises – at this time – will be available to adult guests who are fully vaccinated against COVID-19 and those under the age of 18 with negative test results. Family Travel Forum readers get 20% off LetsGetChecked mail-in test kits with an exclusive discount code; find out more at this discount COVID testing link.
AND SOME PARTING THOUGHTS
The coronavirus pandemic has upended the entire cruise industry, and we expect many innovations and structural changes to emerge once the major cruise lines resume sailing. We will update this section as we learn more.
Meanwhile, with nine of 10 families surveyed using the environmental record of cruise lines to make their choices, we are closely watching these companies' self-reported responsible tourism practices. Pool safety continues to be another real concern aboard cruise ships. Please study these pool safety tips and be constantly vigilant aboard ship — and on land — when you're around water.
Bon voyage!
Wherever you see ads or images within this special FamilyTravelConsulting.com travel section, the advertising and custom content has been brought to you by our sponsors. All other content and opinions are based upon the authors' actual travel experience and knowledge.