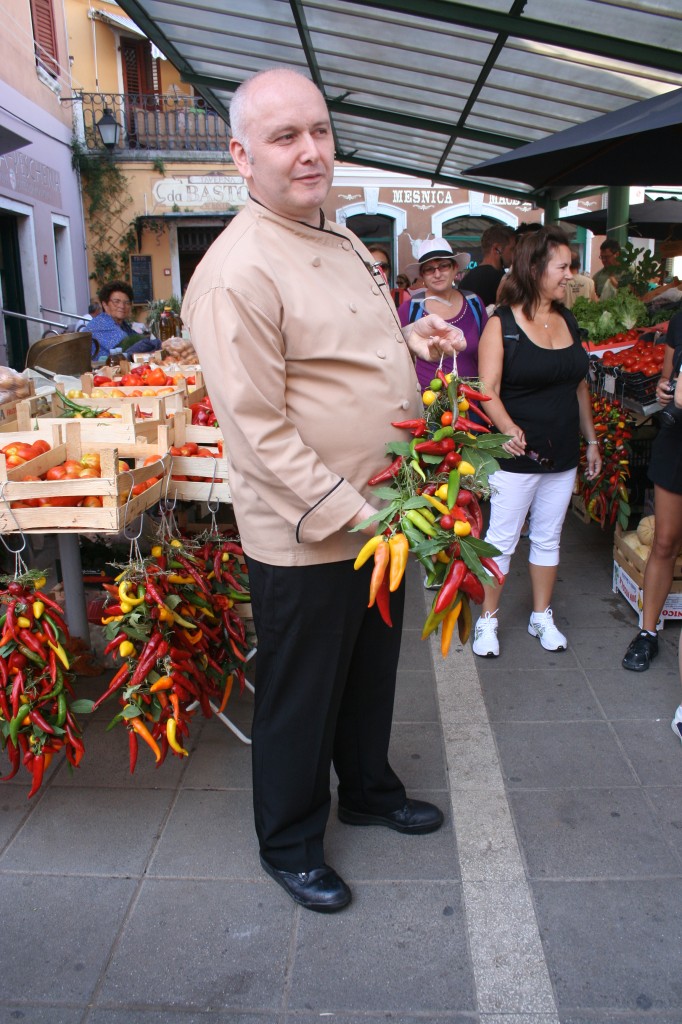 DAY THREE – Rovinj, Croatia (via the Wind Surf).
Let's play follow the Chef.
It's the most unique shore excursion I've ever seen and it doesn't cost a penny.
We've just arrived at our first Croatian port, Rovinj, aboard the 315-passenger Wind Surf—one of Windstar's distinctive sailing yachts and the largest in the three-ship fleet. The Ship's executive Chef Ronald Waasdorp has invited guests to follow him to the local open-air market and 28 of us have taken him up on his offer.
"I don't know what we'll find," he says, but he promises he'll buy a few local products to use on board.
Of course you couldn't do this on a huge ship and that's one of the things that make Windstar so different. "So mellow," one guest sighed today, looking around at people relaxing on deck, the sails up, after we'd finished a terrific lunch—everything from burgers and steak sandwiches to eggplant salad, lamb curry, spectacular looking salmon wellington, roasted beets with red meats, chilled raspberry and mint soup, grilled octopus with giant beans, chicken salad… the list goes on and on.
I'll remember this lunch when I'm eating leftovers at home…the sails billowing, the blue skies, the Adriatic. We sailed from Venice last night to Rovinj, which is on the Istria peninsula. Like other towns in this region, there is still an Italian influence. The archipelago contains about 20 islands and islets—we see all varieties of sailboats. 
Another plus of a small ship like this is the ability to come to small ports. We wander up the uneven cobblestones, peaking into open doors where housewives in their kitchens wave in greeting. We savor the view from the top and stop for a coffee in the harbor. Only 15,000 people live here and it is a welcome respite after the crowds in Venice.
At the market, we stroll past tables with brightly colored strings of red, yellow and green peppers, the strings of garlic, the berries, the tomatoes. The chef buys truffle oil and honey. Lavender is grown locally and is offered for sale. We taste local cheese and ogle the huge dark purple grapes. There is pumpkin oil and olive oil and shaved truffles (a tiny jar for 14 euros or about $22). Honey flavored with truffles, the chef says, mixes wonderfully well with goat cheese. Maybe we'll enjoy as an appetizer on board he teases.
Locals are here doing their shopping, buying fresh figs and berries and tomatoes "For a local market, it is very good," he says. "Everything is very fresh."
This may be a resort community but it is a real local town. He buys squash blossoms he will use for dinner, he says. Chef Waasdorp tells us he has 22 cooks, three men working in the stores and 10 cleaners to serve us—some 264 passengers this week. We have our choice of four restaurants—no assigned seating or seating though two of the smaller venues—Candles (a steakhouse) and Le Marche (seafood) require reservations because they are set up on deck for just 40 people each.
Everything is so easy! There are no crowds, no huge buffets, no fighting to find a lounge chair on deck. No wonder so many passengers have cruised with Windstar before. Carolyn Swiney, who lives in Ireland and Florida, tells me this is her eighth cruise. "We love them," she says.
This is our second—the last one more than a decade ago and I remember on our first day why it I was so memorable.
And though this is a decidedly adult experience, there are a smattering of kids—including four traveling with their grandparents from California. "It's not really for kids but we're having fun," one tells me over lunch—scoping out the desserts before their burgers arrive.
This is the kind of place where strangers sit down with you at lunch and you strike up a conversation or spend dinner talking to the couple at the next table about your kids. It's the kind of experience for couples to remember why they became couples in the first place and as one man told me over lunch, an easy way to travel from Venice to Rome with plenty to see along the way, but not having to lug suitcases or navigate trains or check in and out of hotels.
The ship is very comfortable, the food delicious, the atmosphere relaxed (no jackets or ties, no formal nights) but it isn't really luxurious. The cabins are relatively small (though there are some suites on this ship) and there are no balconies in the cabins. But we don't miss them—because we're spending our time on deck or on shore excursions.
The waiters come around with frozen grapes and Peach Melba as an afternoon snack.
The seas are calm and the sun shining and for once, I don't have to worry about anyone else's happiness or agenda. For once, I'm the one being pampered. And it feels good—really good.
Next: Sometimes the best vacation days are unplanned—just like life