DAY FOUR: Korcula, Croatia (via the Wind Surf).
Sometimes the best vacation days are unplanned—just like life.
We arrived this morning on the Wind Surf on the Croatian island of Korcula—a beautiful town with medieval walls that is on the sixth largest Adriatic island—nearly 20 miles long and three miles wide. The area is known for vineyards, olives small groves and more.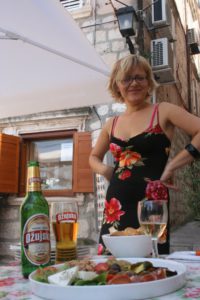 People here believe Marco Polo was born here, though there is no physical evidence to confirm that.
I thought a friend who is a local guide was going to meet us—miscommunication that often happens when you are traveling.  Instead, we joined a local walking tour learning that this tiny town—just 3,500 people live here—"You can walk around naked and no one will even notice or see you because everyone is home," promises our guide Katija Tedeschi.  She shows us the churches dating back to the 14th and 15th Centuries. Streets are laid out so that the townspeople would get the maximum sea breezes. The doctor's house was paid for by the town officials in order to examine everyone who came in to protect the town from disease (it didn't work because plague wiped out 60 per cent of the population at one point.) 
I can't believe the manuscripts we see with the writing still perfectly clear that are from the 15th Century …. the vestments embroidered by nuns in the in the 15th Century… the Tintoretto painting… even a necklace of gold given to Mother Theresa after she won the Nobel Prize and gifted to a young priest she had worked with who was from Korcula.
This is a place that thrives on tourism but isn't kitschy. It's charming with narrow streets, tiny shops and uneven cobblestones that are steep. I don't care whether Marco Polo was born here but vendors do because there are Marco Polo shops everywhere. Apparently, he did fight and lose a battle against Genoa here and was captured and put in prison where he told his tale of his fantastic Chinese adventures to a fellow prisoner named Rustichelli who turned it into a best seller called "the Million" (because Marco Polo was always saying he saw a million of this and a million of that).
After our tour, we were looking for a snack and Katya's daughter had recommended a tiny restaurant Maje I Tonke (www.facebook.com/umajeiTonke). It took us asking directions and several wrong turns on the narrow street that was less than five feet wide to find it only to discover they were just closed… "Come back tonight," the young owner said. "We have to go back to the ship," we said, gesturing to where our ship, the Wind Surf was anchored just offshore.
"I'm an American journalist," I pleaded and that was all it took to reopen (soon there were other customers as well). She set us up with an oilcloth flowered table cloth outside and served us some of the house specialties—grilled eggplant, tuna, homemade goat cheese and homemade smoked ham, marinated anchovies, hummus, marinated zucchini, homemade bread followed by onion marmalade and polenta and the local wine. At just 80 dollars for the four of us, it was the best part of the day…this tiny restaurant about the size of a NYC apartment kitchen run by two young women who made sure to tell us they were serving "different" food from the typical fare of fried fish and fried potatoes with new friends we'd met on the ship… sitting outside overlooking the ancient medieval walls and the sea beyond.
Next: Where is my pedometer when I need it?