By Eileen Ogintz
Tribune Content Agency
Ready to Play Big?
That's assuming you are ready to become the size of a Green Army Man — less than five inches tall — and join the toys as they come alive in Andy's Backyard at Walt Disney World's just opened Toy Story Land at Disney's Hollywood Studios.
All of this is inspired, of course, by the Pixar Animation Studios "Toy Story" movies (the fourth to premiere next summer) in which Andy's beloved toys — Woody, Jessie, Buzz Lightyear, Slinky Dog and the Green Army Men come alive when humans are gone. (You might want to revisit the films before you come!)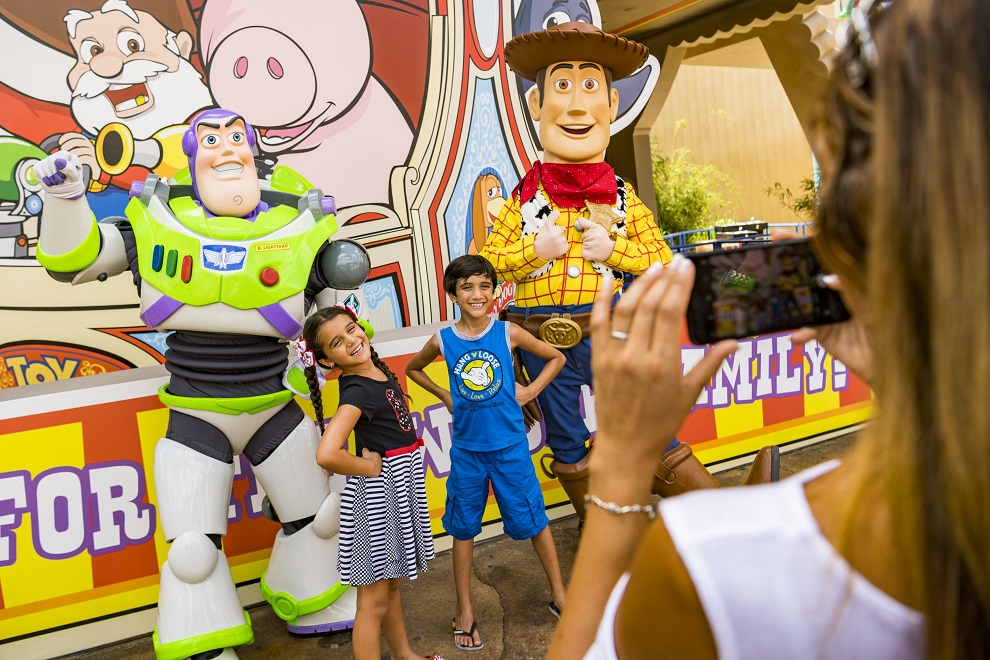 Life-sized Green Army Men patrol the park, recruiting guests who promise "never to leave a toy behind." Of course, there are plenty of photo opportunities with favorite "Toy Story" characters.
"What kid hasn't wanted to see their toys come alive," said Bob Chapek, the chairman of Disney Parks, at the June 30 opening of the new 11-acre "land," signaling a major step in the expansion and transformation of Hollywood Studios. The much-anticipated Star Wars: Galaxy's Edge" land opens late fall next year and a new "Star Wars"-themed hotel is planned nearby. Also opening next year will be Mickey &Minnie's Runaway Railway.
Walk into Toy Story Land and you are suddenly toy-sized, surrounded by giant playthings — giant building blocks, yo-yos, board game pieces, Scrabble tiles, as well as Rubik's Cube, Cooties and other toys — lampposts shapes like Tinker toys and benches built from Lincoln Logs and K'nex pieces.
"Take the time to look at all the details," said Dave Minichiello, the executive creative director of Walt Disney Imagineering, whose team labored for several years to create this experience.
"It is fun to be small," says Pixar executive Roger Gould. Many of today's parents grew up with the "Toy Story" movies, the first of which premiered in 1995, and the franchise continues to make new fans around the world still today.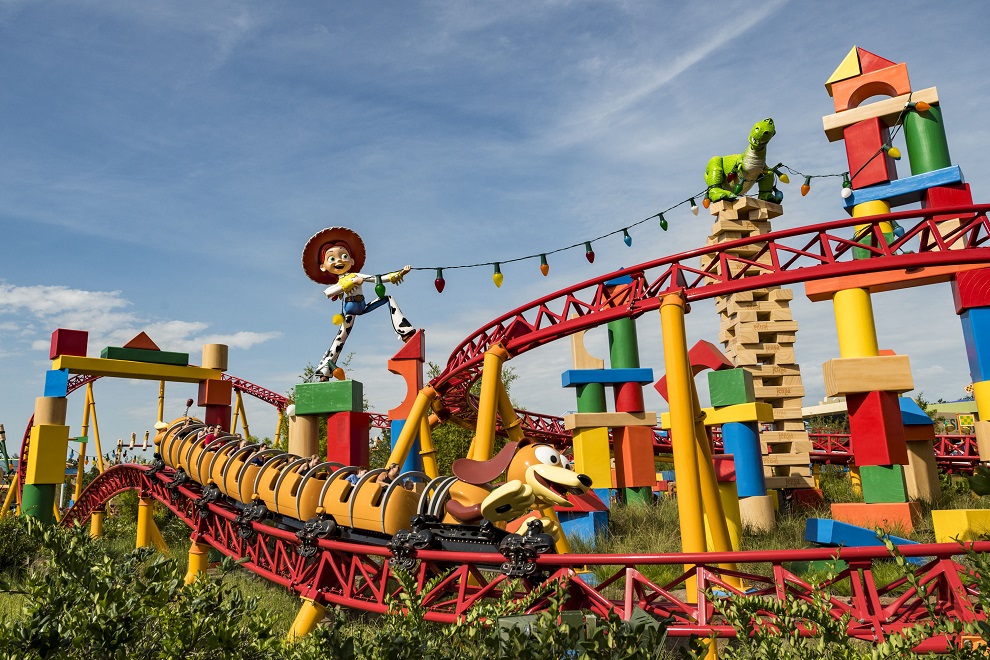 There are popular "Toy Story"-themed lands at Walt Disney Studios Paris, Hong Kong Disneyland and Shanghai Disneyland; The Toy Story Mania! Attraction has been a hit since it debuted in 2008 here and at Disneyland's California Adventure in California where the newly imagined Pixar Pier just debuted (more about that in an upcoming column).
For kids ready for their first "big kid" coaster ride, Slinky Dog Dash at Toy Story Land won't disappoint. The backstory: Andy has assembled his roller coaster from his Dash & Dodge Mega Coaster Kit, adding his Slinky Dog on the track that takes you around the backyard, as Slinky Dog bends and twists his coils over hills and down drops.
There are hidden details and backstories everywhere. The little aliens from the playset Andy won at the Pizza Planet restaurant, for example, swirl you around in toy rocket ships through a multicolored galaxy, especially fun at night, as they deliver pizza throughout the galaxy. They come from the planet Pepperonia.
Even the food is elaborately themed "classic flavor with a modern twist … what you wish your mom put in your lunchbox," explained Chef Robert Adams, as he demonstrated how to make "Tatchos" (think potato barrels with chili, queso sauce, sour cream, Fritos, shredded cheese…). Other big hits for guests have been the barbecue brisket melt and freshly baked lunchbox tarts. There are also root beer floats and, for adults, grown-up lemonade with cherry vodka. (The kids' menus feature half grilled cheese or turkey sandwiches with potato barrels.) See Chef Adams demonstrate the new dishes here.
(A tip from Chef Adams: Rather than wait in line, order ahead on your My Disney Experience App; you will be directed to a special line and your food is readied.)
If you are a "Toy Story" fan, you will want to stay at a Disney resort this summer — there are 28,000 rooms to choose from at all price points, including rentals of Disney Vacation Club condos — as you will have access to early-morning "Extra Magic" hours (7 a.m. — 8 a.m.) daily all July and August. (Also being piloted this summer is the immersive Pixar Play Zone evenings from 6 to 10:30 p.m.) at the Disney Contemporary Resort with special character interactions and experiences (think building racecars and racing them at Radiator Springs Racetrack; a dance party with Mr. Incredible and Mrs. Incredible, $65 per child).
And if you plan smart, you don't need to bust the budget .Check out the "Play Big" offer that saves up to 25 percent at select Disney hotels Aug. 2 through Oct. 7; The "Enchanted Escape Together" promises a four-night stay and theme park tickets for just over $2,000 (valid most Sunday-Thursday nights Aug. 12 through Oct.4). Come when the dining packages are free.
Avoid long waits by booking your rides on the most popular attractions far in advance (up to 60 days when staying at a Disney resort). You can book your rides, make dining reservations, order food and monitor the wait times and more, all on the My Disney Experience app, which not only makes planning in advance easier but helps you on the go in the parks.
Download the new Play Disney Parks App with themed games you can play together on one device. There's also Disney trivia and Apple Music's curated playlist inspired by attractions and characters.
Be prepared. If you come this summer, it will be hot; it will be crowded. That's all the more reason to take time during the heat of the day to relax at your hotel pool. Give up on the idea that you can see and do everything, even in one park, even in one land like Toy Story Land.
"The great thing is that everyone is or was a child," says Roger Gould. "We want everyone to feel they are here to play."
Sometimes that can be hard to remember.
"The toys have landed," declares Sarge, the commander of the Green Army Men. "Deploy!"
© 2018 EILEEN OGINTZ
DISTRIBUTED BY TRIBUNE CONTENT AGENCY, LLC.