POINT REYES, CA (Day 2 of 3) — It's all in the technique.  That's what we learn when we destroy two borrowed oyster knives at the Tomales Bay Oyster Farm north of San Francisco in Marin County.
We stopped for oysters after a spectacular hike in Point Reyes National Seashore — overlooking crashing ocean waves, amid purple, yellow and red wildflowers and seeing the resident elk.  The beaches are amazing! There are special kids' programs at the Bear Valley Visitor Center.
Take a walk along the famous San Andreas Fault where the 1906 Great Earthquake started.
Bring a sweatshirt.  It's going to be windy and cool, but perfect to beach-comb.
After our hike, we've adjourned to this famous Route One Oyster Farm for lunch.   My daughters and one's fiancé brought the rest of the picnic fixings—my daughter Reggie and her fiancé Dan Foldes live in San Francisco—and we've come here for lunch.   We have lots of company at the picnic tables overlooking the water and mudflats.
Some people are grilling oysters and steaming clams on the grills. We're here for the big, fresh oysters.  What a bargain!  A bag of 50 unshucked mediums for $60.  The mediums are huge!  (You could buy a dozen smaller ones for just $15).
They are so fresh.  We buy Tabasco sauce and horseradish, some lemons, borrow the knives and spring for a $5 pair of shucking gloves.  This is one lunch worth working for.
At home my husband Andy has been known to use a cordless drill to open oysters.  Here we have to do it the old fashioned way.  Before we get even half a dozen unshucked we've broken two oyster knives.  Dan retreats to ask one of the employees what we're doing wrong.  He returns with the technique and it's smooth shucking after that.  You just have learn to find the "hinge" on the oyster, poke and twist the knife into it until you break the suction, then pry the shell open and cut the oyster meat from the shell.   Ad a (very small) dash of horseradish, a drop or two of hot sauce and slurp it down.  Yum!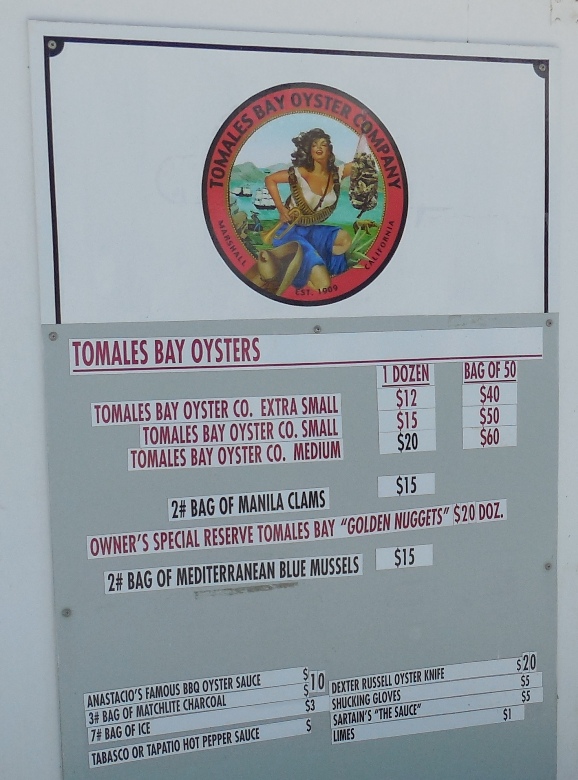 "Aaaaaauggghhh!" cries my daughter Melanie.  I thought she might have stabbed her hand shucking oysters.  "No, I just ate too much horseradish!"  We all laugh. 
Tomales Bay Oyster Company is one of a number of aquaculture farms around here, in business since 1909.   The oyster business in this area dates back to the mid-19th Century.