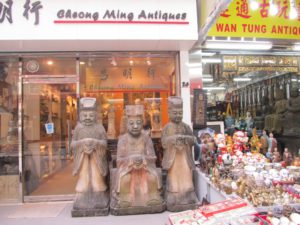 DAY 5–Think Times Square and the Vegas strip rolled into one.  On Steroids. Think Black Friday and post Christmas sales and New Years Eve revelers at the same time.
That only begins to describe Hong Kong Christmas Eve when hundreds of thousands  take to the streets—no cars are permitted in the hotel district—to shop and shop some more until two in the morning (the subways run all night). They book crazy expensive tables at hotel restaurants and move from hotel to hotel—the Peninsula to the Mira to the new Ritz—like a human wave—to pose for pictures with their families and friends by the Christmas decorations.
I have never seen such crowds—triple the worst rush hour in New York—with one big difference—everyone is happy and joking,  wearing Santa hats. School Kids from the Christian churches—there are only 10 per cent Christian here—sing carols on the street. It is strange where everyone is speaking Chinese and there is rarely a Caucasian face to hear Christmas Carols in English.
At Hong Kong's Times Square, crowds already have begun to gather by 8 p.m. for the midnight show and Countdown to Christmas with all of Hong Kong's young trendy stars. If you think it seems more like New Years Eve, you're right—it is—except that everyone is still shopping to the drop—from the Causeway Bay with big department stores and small local shop's to GOD which is kind of like a Hong Kong Version of Crate and Barrel and Ikea (love the  Panda PJ tops an the recycled purses and candles with double Chinese happiness) to Hong Kong's famous Ladies' Markets which are so jam packed our guide Wang Lau tells us to be like "sticky rice."
My daughter Mel, who has just arrived from Thailand, pronounces things here more expensive yet clearly there are bargains to be had—but you have to bargain as the merchants raise the prices expecting you to bargain down anywhere from 30-40 per cent for "original copies" of everything from Longchamps bags to Hello Kitty merchandise (my daughter loves that—pencils and mugs and tee shirts and slippers. You name it and you can find it here on the stalls that stretch for blocks.
I buy a silk scarf (at least I think it is silk) for $15.  I pick up some tiny Chinese animals to give friends—cats and pigs for $4. Mel buys a Hello Kitty thermos. I bargain the price for a small polka dotted make up kit form $18 to $8 and pickup puppets for two young cousins for the Chinese New Year.
"Everyone here comes to Ladies Market," our guide Wing Lau tells us. "It isn't just for tourists."
It also isn't for those who don't have cash—no credit cards allowed. I pass on the "Original copies" of the designer bags and the scarves.  I am on sensory overload!   There are more than 5,000 small stores and 600 stalls!  Each day, some 750,000 people pass through this area in the Mong Kok area of Hong Kong. The stalls are surrounded by shops—one street for shoes, one street for electronics.  Want a panda scroll?  Fayuen is considered the "sports street" for every variety of sports shoes Want Bath towels with Angry Birds on then? Rolling bags to carry all your treasures home?
The amazing thing is this is a moveable city—the venders set up in the morning and then pack everything away at 11 pm.  The shopping is particularly frenetic,  it seems, because it is Christmas Eva when Hong Kong residents want to be out shopping and eating and being seen. A good bet for foreigners—the vendors do speak English and because they've raised their prices' to start with, it's a good place to hone your bargaining skills (Start with offering half what they want and settle for between 30-40 percent of the Original price.)
This isn't a leisurely stroll through markets as I've experienced elsewhere in the world. It's more like shopping as contact sport. That's especially true when we get to Causeway Bay and the Hotel Districts where every shop–from Jewelry Stores with glittering gems in the window to Coach and Hermes is doing brisk business—and will until 1-2 a.m.
There are shops in the subways too—nicer than I've seen in other subways—and people are shopping there too lured by holiday sales and also the sheer excitement of bargain hunting and the crowds.
There are packs of teens, families with babies in strollers, couples holding hands. There are many tourists but few Caucasians. The tourists, I'm told, have come from China to experience Christmas Hong Kong style.
We return to the hotel after a diner-style Chinese dinner at a local restaurant called Tai Ping Koon that has been around  since the nineteenth century  that specializes in western Cuisine—Asian style. We eat cream crab soup and pork curry and try pigeon (I don't think I'll order it again).
This is a place with simple booths and paper placemats yet every table has been booked and people are lined up outside in the case there are no-shows.  Maybe they like the sweet red beans and ice cream for dessert—an acquired taste I think.
When we get back to the Mira Hotel , there is a big party going on in the courtyard that serves as the bar and gathering place. Even my 20 year-old daughter is too tired from shopping.
Clutching our purchases, we head up to our room. And fall asleep.
But instead of sugar plums, we're dreaming of bargains.