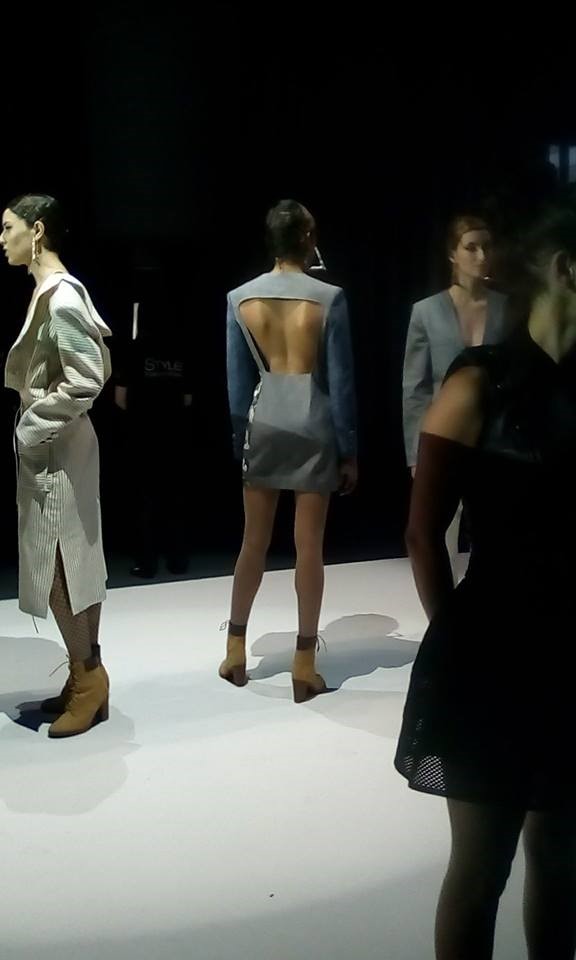 By Karen Saltos, Taking the Kids Correspondent
The Style Fashion Week NYC events at the Intrepid Museum were electrifying! I had the opportunity to see two afternoon shows in the presentation room at the Intrepid Museum at Pier 86. A diverse group of models of all ages sashayed down the runway in incredibly stylish clothing, swimsuits, and shoes. Read more about my amazing experience below:
Day 1: I arrived early and mingled with the other kids and teens while waiting to enter the venue. After security checked my bag I entered and walked up a plank to go to one of the hangars on the enormous Intrepid ship. I took a seat relatively close to the runway and marveled at the bright blue and white lights. A slew of photographers were crammed on a small platform at the end of the runway. The show was fast-paced and hip-hop music blared throughout the room. Most of the clothing was dressy, sexy and elegant. The designers were Romeo Hunte, Brittany Nicole and Misha Kaura. I had a ball snapping pictures with my iPhone and fantasizing about buying some of the clothes.
Day 2: I was thrilled that the models for the afternoon show were girls and teens. The multicultural group of fashionistas was rehearsing when I arrived early and a small bulldog was included in the pageantry! This time there was hip-hop, Arabic, and Pop music booming from the speakers. The models flaunted gorgeous dresses and other garments during the first part of the presentation, and some of them even danced. They wore colorful and frilly bathing suits during the second part of the show while the song Welcome to New York by Taylor Swift pulsed in the background! I would definitely buy one of the bikinis. The designers were Janelle Funari and KK Swimwear.
The Style Fashion Week NYC events were fun and exciting. The afternoon shows were especially good for kids and teens because the clothing is designed for young people who are interested in being stylish and learning about fashion trends.