By Eileen Ogintz
Tribune Content Agency
Is it possible?
Is it possible there is something everyone in your gang will enjoy this holiday season, no matter what their ages — even the I-don't-want-to-go-anywhere-with-you teens? Even better, you're guaranteed not to bust the holiday gift budget in the process.
Not only will you not spend much, but you'll find some bona fide holiday cheer and forget all the extra work the holidays bring, at least for a few hours.
I'm talking about taking the kids — and grandkids — to see the holiday lights. I admit such excursions don't always go as planned. When I tried to recreate my childhood memories by taking my kids to Fifth Avenue in New York to see the store windows and the famous Rockefeller Center tree, it was a disaster. "Too crowded," groused one. "Too cold," complained another. I was ridiculously stressed worrying that we'd lose one of them in the crowd.
Since holiday lights have become more and more festive each year, create new traditions to see them, even as early as Thanksgiving weekend, wherever you find yourselves. Small cities and towns deck themselves out as well as the biggest metropolis. Just pack a thermos of hot chocolate and some candy canes and see if this year's display tops previous years. You'll also find fantastic displays in museums too, like Christmas Around the World and Holidays of Light at Chicago's Museum of Science and Industry, which displays more than 50 volunteer-decorated trees reflecting Chicago's diverse ethnic communities and traditions.
Everyone oohs and aahs over the tall tree decorated with handmade origami ornaments inspired by exhibits and collections at the American Museum of Natural History in New York. Learn origami folding from the volunteers on hand. At the Children's Museum of Indianapolis, the world's largest children's museum, the Jolly Days exhibit is complete with a two-story Yule Slide, Santa arriving on a racecar "ice" fishing.
Every year, we put together the Taking the Kids Guide to Holiday Lights.There are holiday lights around lakes, in city parks and along riverfronts, Here's just a sample of what's waiting for you around the country:
ANNAPOLIS, MD. "Lights on the Bay" is a drive-through holiday light show at Sandy Point State Park along Chesapeake Bay with more than 60 stationery and animated displays, including a glowing lighthouse, Navy midshipmen, oysters and blue crabs. Visit starting November 23.
CHARLESTON, S.C. The annual "Holiday Festival of Lights" returns to James Island County Park this year Nov. 14 to Jan. 1. Named one of the top 20 events in the southeast, the festival will showcase millions of lights in more than 750 displays along a three-mile driving course. Don't miss the Enchanted Walking Trail and gingerbread houses!
CHATANOOGA, TENN. Rock City Garden's "Enchanted Garden of Lights" returns Nov. 23 with more than 30 illuminated holiday scenes. Ready to get your face painted like a reindeer?
CLEVELAND, OH. Starting in early December, head to Nela Park, home of the GE Lighting Institute in East Cleveland, to see thousands of lights illuminate buildings along Noble Road.
COLORADO SPRINGS — At Cheyenne Mountain Zoo, take in more than one million holiday lights and visit indoor animal exhibits. More than 250,000 strands of lights decorate the historic Broadmoor Hotel nearby where the annual White Lights Ceremony kicks off the season on November 29.
GRAPEVINE, Texas. They don't call this little Wild West town near Dallas the "Christmas Capital of Texas" for nothing; Grapevine goes all out for the holidays with 1,400 events along Main Street, at its wineries, the vintage railroad, malls and at its Great Wolf Lodge and Gaylord Texan Resort.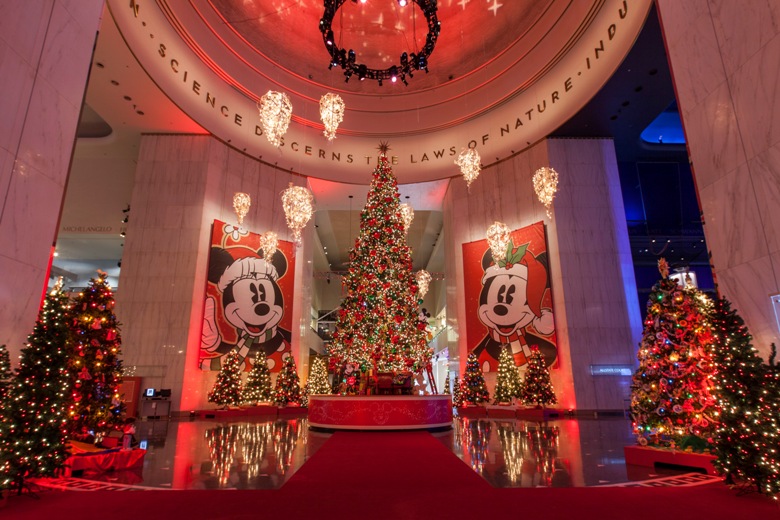 INDIANAPOLIS, IND. The Indiana Soldiers and Sailors Monument will be illuminated with 26 toy soldiers and sailors, 26 peppermint sticks and nearly 5,000 lights as part of the annual "Circle of Lights" celebration by Thanksgiving weekend. At Conner Prairie, check out the entries from the gingerbread house competition or explore the grounds of Prairietown to learn about holiday celebrations in the 1830s. Traditionally, many Indianapolis attractions offer free admission on one of the 12 days leading up to Christmas.
PIGEON FORGE, TENN. puts up more than five million holiday lights in gigantic displays during "Winterfest." Enjoy them from the comfort of a heated trolley car from November 11 to February 28. Additionally, the Dollywood theme park celebrates with four million lights and festive shows during its Smoky Mountain Christmas.
SPRINGFIELD, MASS., hosts the 19th annual presentation of "Bright Nights," New England's premier holiday lighting exhibit kicking off Nov. 26. This three-mile-long driving route through historic Forest Park is filled with themed displays like Seuss Land, North Pole Village and Jurassic World.
PAUL, MINN. Beginning November, 26, IBEW presents "Holiday Lights in the Park" with more than 50 light sculptures and animated displays in Phalen Park with proceeds donated to charity.
RICHMOND, VA Drive the family car or rent a bus or a limo like Limo Find to enjoy the Tacky Lights Tour, a local tradition featuring festive light displays, lawn decorations and animated scenery.
SYRACUSE, N.Y. "Lights on the Lake" returns to Onondaga Lake Park from November 14 to January 4 with a two-mile drive-through extravaganza featuring several themed scenes, including Land of Oz, Fantasy Forest and a Fairytale Grand Finale that your family is sure to love.
Have a candy cane for me!
(For more Taking the Kids, visit ttk-old.o2dev.net and also follow "taking the kids" on www.twitter.com, where Eileen Ogintz welcomes your questions and comments. Check out the newest in Eileen's Kids City Guide Series—The Kid's Guide to San Diego and The Kid's Guide to San Francisco, with The Kid's Guide to Denver and Colorado Ski Country coming next month.)
© 2014 EILEEN OGINTZ
DISTRIBUTED BY TRIBUNE CONTENT AGENCY, LLC.