Laurel and Katie Grace at the Statue of Liberty
(Note from Eileen: This summer for the first time and until Aug. 30, kids 12 and under go free on Statue Cruises during Summer Evenings at the Statue of Liberty. Families enjoy easier access to the Statue of Liberty, spectacular views of New York Harbor, a sunset cruise and also learn about the rich history of Lady Liberty by taking a tour with a Park Ranger. Families depart from Battery Park at 6 p.m. disembark on Liberty Island where they can spend up to two hours exploring the Island and kids can enjoy the Junior Ranger Program. Go to: www.statuecruises.com for reservations and other options. Statue Cruises is the concessionaire authorized by the National Park Service, Department of the Interior, to serve the public at the Statue of Liberty National Monument and Ellis Island. In addition to providing daily ferry service, Statue Cruises also operates the narrated Liberty Harbor Cruise, a 60-minute tour of the New York Harbor. Recently my young nieces from Arkansas took this tour and report below.)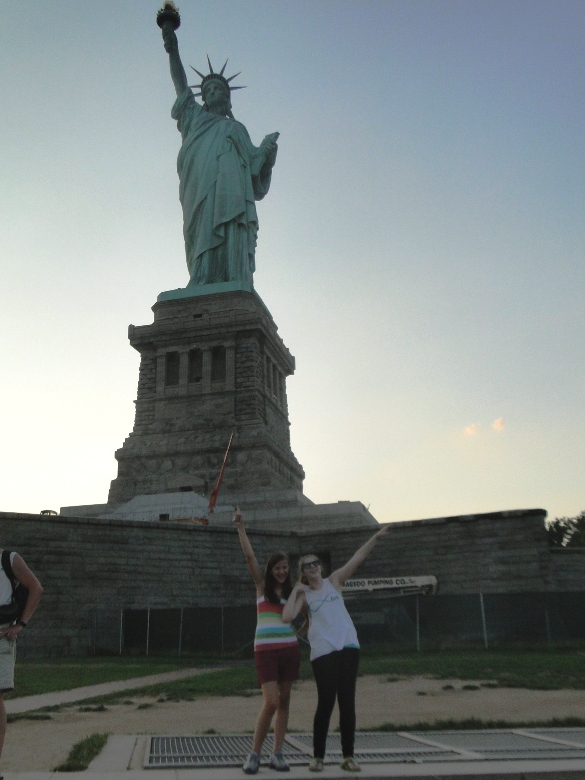 By Laurel E. Dhority
My family decided to end our stay in the Big Apple with a trip to see the Statue of Liberty. Let me tell you, the "Summer Evenings" Cruise out to the Statue of Liberty was the highlight of our whole trip.
It started with a long line at the security checkpoint.  Our patience would be rewarded, though, once we got on the boat.  We rode the Miss Liberty out to Liberty Island.  The trip is fast, only about 20 minutes.  It was a lot of fun to see all the different ships and boats in the harbor as we neared our destination.  As we pulled farther away from the city, the views got better and better.  You could see all the different sizes and shapes of the buildings and skyscrapers.  And the Statue itself got closer and closer….
Once we got to Liberty Island, we stopped for a quick bite of supper. The cafe had excellent service and delicious food – something for everyone. Then we started to explore the island.
You can walk all around the Statue's pedestal, but the statue is currently closed for renovations, so you can't go inside. It is scheduled to re-open near the end of 2012. Park Rangers are stationed all around the island to answer questions and offer information about the National Monument. Ranger Talks are also available, including one where you can get up close to a piece of the torch that was removed during the Statue's earlier reconstruction.
The most popular place on the island is the walkway directly in front of the Statue. This was a great place to take photos of the Statue and watch as the sun set and the torch at the top of the Statue lit up for the night. Standing in front of this historic monument made me feel really small!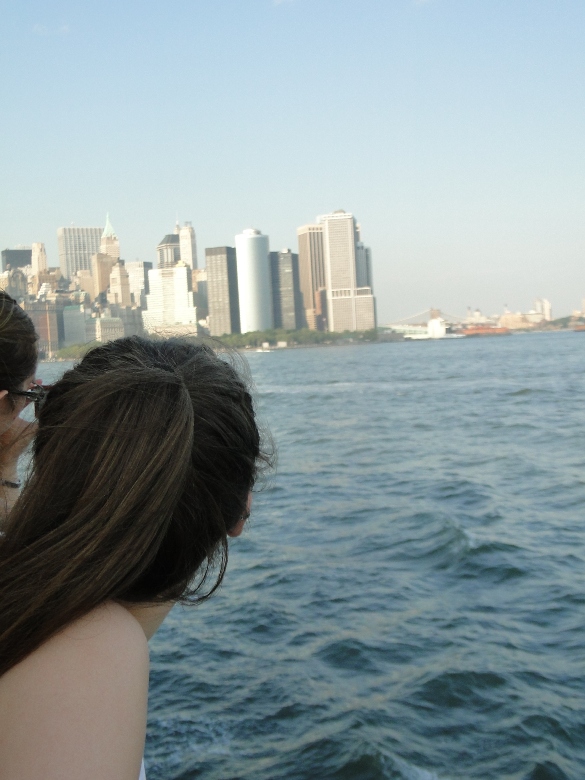 Turning around, we saw the lights coming on in the city across the harbor. All too soon it was time to make our way back to the boat for the ride back to the city, but not before a trip to the souvenir shop. They had lots of great memorabilia to choose from and the staff was very friendly.
As we boarded the Miss Liberty I saw the moon rising over the city and felt proud to see Lady Liberty watching over our country. Seeing the city at night was totally different than in the daytime, and nothing at all like my small hometown! The cruise was the perfect way to view the most famous symbol of freedom and see our largest city in all its nighttime glory.