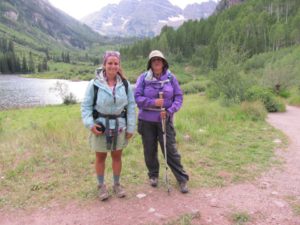 Because it's there.
Some vacations are about relaxing; some are about sightseeing and some are about accomplishing a goal—climbing a mountain, becoming a certified scuba diver, visiting as many ball parks as you can in two weeks (yes, we know someone doing just that this summer.)
I'd always wanted to do the famous hike between Crested Butte in Southwest Colorado and Aspen –12.2 miles along the West Maroon trail, crossing the Maroon Pass which is 12,500 feet high. And in the year since— as we get ready to meet up with family for a week at a Portico Club rental house in Snowmass, up the road from Aspen–I've thought a lot about that hike.
That I was able to do it has not only given me confidence to push myself in other arenas but has and made me smile when I'm feeling low. I treasure the memory, most of all because I shared the hike with my husband and 21-year-old daughter Mel, an avid hiker and backpacker who led the way.
This would be no walk in the park. We were at high elevation hiking over a mountain pass. Many people backpack here. I'd first heard about this hike years ago when we took our kids to ski at Crested Butte, one of my favorite mountain towns. Crested Butte is an old western town with an entire downtown area that is on the national historic register and a five minute free bus ride from the mountain (and the condos) and so safe we felt comfortable letting young teens wander. At many other ski resorts, you are 20 minutes or more from downtown if you stay on the mountain.
My interest was renewed when we were skiing in Snowmass and Aspen. "You gotta do it," locals said. "Amazing wildflowers."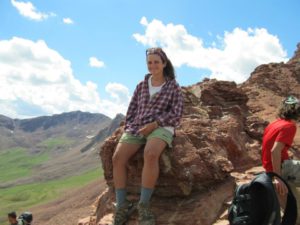 We hadn't been to Colorado in summer for years. With our daughter Mel spending the summer in Colorado Springs where she attended college, we invited her to join us on the hike, followed by a few days in Aspen. Mel had spent summer weekends climbing Colorado's famous Fourteeners—mountains that are over 14,000 feet high–was game.
Now all l had to do was find someone who would be willing to hike the other way and drive Mel's car to Aspen, about two hours in summer. I didn't think my bad knee could handle going both ways, spending the night –we met a family from Indianapolis doing just that.
Zhong-Yin Zhang, a biochemical researcher at Indianapolis university, and his wife Lily Wu had cajoled their 24 year-old daughter Sarah, who lives in Denver to join them  hiking since they needed to be out here for a conference.
"I thought on the trail there would be no distractions and she'd talk to me," he said. Sarah, for her part, preferred the hike to being cooped up in the car, she said, with her parents on a road trip—her dad's other way of trying to corral her attention.
Luckily, a friend in Aspen was glad for the excuse to hike to Crested Butte. We arranged that they'd hike over on Sunday and spend the night, driving my daughter's car back to Aspen Monday while we hiked; They kindly left their car for us at the trailhead in Aspen (though we could have taken the free bus back to town and The Little Nell, where we are staying post hike).
So at 6 a.m. on a summer Monday, we were waiting at the Elevation Hotel on the base of Crested Butte Mountain for the shuttle to take us to the trailhead about 13 miles out of town.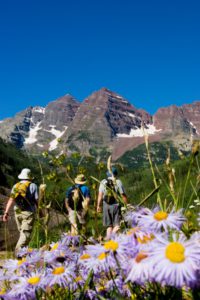 I felt like such a wuss when I saw couples, fathers and sons, entire families hiking with big packs because they were backpacking. One mom was carrying her toddler on her back while her husband managed the huge pack "with a lot of dirty diapers," he said.
Along the trail, hikers were encouraging and friendly. Some had their dogs. Others said they did this hike at least once a season.
The wildflowers were so beautiful–purple and yellow and white and red (check out some of our photos on our Facebook page). When we made it up to the pass, the mountains spread out before us. Wow! I was really glad for my Mountain Hardwear backpack that was not only comfortable but had a built in rain cover.
We thought the hard part was over after the first 4 miles uphill and over the pass but now we had another 8.2 miles to go to Aspen! We stopped for a short picnic—fresh bread from Crested Butte, cheese and hummus but we weren't really hungry.
We scrambled over rocks and crossed creeks.
I lost my balance in one and was near tears. "Don't you dare cry," my daughter Mel said. "Get up! You are going to finish this hike with a smile! Look around at how beautiful it is!"
I couldn't help but smile remembering hikes when she was four and I was the one encouraging her to keep moving.
And she was right. I was determined to make it to Aspen in time for a late afternoon massage I'd booked for us at the luxurious St Regis spa—motivation, I thought.
But my plan was foiled by all the big rocks that made us take it slowly. We were afraid of turning an ankle! Just when we thought we'd passed the hard part, there were more rocks, more creeks, more uphill! "At least four more miles," one back packer heading in the other direction said.
I thought we'd never get to Aspen. We did of course, a little later than we planned.
The massages had to wait for another day but we had plenty of bragging rights—at least I did.
My nimble-footed daughter said we should have made it two hours earlier.