WEDNESDAY — WHEN DO WE EAT?
It's impossible to go hungry in New York—not with vendors selling hot dogs, pretzels, kabobs and more on every corner.
It's also impossible to get bored eating in New York, whether you want to head to China Town or Ninth Avenue for good ethnic eats, great burgers, pasta, pizza or more gourmet fare. (www.nycgo.com) It's also fun to sample menus that are designed specifically with kids in mind. For example, there is a new Children's Tea at the Russian Tea Room. Did you know it was founded by members of the Russian Imperial Ballet in 1927? I didn't but we certainly loved the red and gilt everwhere. (www.russiantearoomnyc.com)
Four-year-old Hannah Sitzman slurped the largest cup of hot chocolate I'd ever seen while her mom and I sipped wine and drank tea (there were several varieties to choose from of course. We were served tea sandwiches and blini on tiered platters (Hannah especially liked the Little Pig-in-a-Blanket and grilled cheese) and then ate scones, red velvet cupcakes with sprinkles, chocolate mousse and more. Yum!
Sure it's pricey but it was also really special — something a little girl might remember for a long time. Moms and dads too.
That is also the premise behind the American Girl Café at the hugely popular American Girl Place on Fifth Avenue. On the day we visited, the black and white and pink café was crowded with moms, grandmothers, daughters and their dolls (if you don't have one, you can borrow one or a dog for lunch), enjoying a last outing before the school year starts again. "We come here every year," one mom told me. One older brother was being a good sport too, borrowing a stuffed dog for lunch. "We're going to the NBA store afterward," he said.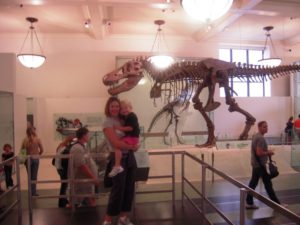 Since opening in 2003, American Girl Place New York has welcomed more than 10 million visitors, making it a top family attraction in the city (www.americangirl.com). You'll find American Girl Place also in Dallas, Los Angeles and Chicago. Girls can shop for everything from design-it-yourself-tees, the latest accoutrements for their dolls (one bought glasses, another cast for her leg,) get their hair fixed, take pictures and more.
We simply had a girls' lunch. Four year old Hannah loved that there was no waiting at this restaurant — they immediately brought a platter of veggies and dip, cinnamon buns and more, followed by tic-tac-toe pizza for Hannah and salads for her mom and me.
I'd told her no boys were allowed but she spied a couple. "Guess they didn't get the memo!" I joked.
And just like New York Restaurants are welcoming pint-sized visitors with special menus and VIP treatment, so are New York's stellar museums. When you enter the Metropolitan Museum of Art, for example (www.metmuseum.org) you can pick up a family map that encourages you to discover the Met — imagining yourself in another place and time." There are free family programs, Art Evenings for Families, family greeters in the Great Hall on weekends and even Family Audio Guides. Look for Printed family guides of specific exhibits that show kids how to hunt for details and maybe even learn a thing or two. (The warriors in Japan were known as samurai which means "one who serves." )
The Met — and the American Museum of Natural History (www.AMNH.org) across Central Park can of course be overwhelming for kids and adults alike. That's why it is worth taking a virtual tour first and then talk to the kids about what you want to see — the dinosaurs or the frogs? We saw both at the Museum of Natural History along with the Extreme Mammals exhibit. Hannah especially loved all the frogs- blue ones and yellow ones, big ones and tiny ones that come from around the world. The museum also boasts a terrific discovery room for young children to be able to explore science in age-appropriate ways. Hannah ran out of steam so we didn't make it to Journey to the Stars, the new spectacular Hayden Planetarium Space Show.
Just like a theme park, it's impossible to see an entire museum — especially a large one, especially with kids — in a few hours. Better I think, to concentrate on a few exhibits and leave happy — maybe even clutching a stuffed frog, like Hannah did.
There will always be another day — and more to explore.