ORLANDO, Fl. (Day 3) — AAH… I'm in the midst of possibly the best massage I've ever had at Orlando Grande Lakes Ritz Carlton Spa—thanks to the feet of the massage therapist, who happens to be a former paratrooper, he tells me! (www.GrandeLakes.com).
That's right. His feet. Ensconced in this huge 40,000 square foot spa (who says Orlando is just about Mickey Mouse, Shamu and roller coasters?), I'm getting an Ashiatsu massage. He uses bars to balance himself while his feet massage my aching back and other muscles. It's phenomenal! I was only treated to this amazing experience actually because of the rain—I'd signed on for a Eco Roof Top Hammock "experience" where I'd be surrounded by pots of herbs and plants, ensconced in a hammock. But it rained relentlessly today. Next time—when the weather is better.
For a family seeking luxury, the Ritz Carlton—connected to the JW Marriott–offers it all from the golf course and spa, the huge lazy river pool, to the chance to kayak or canoe through the headwaters of the Everglades (at Shingle Creek) or try your hand at a ropes course (there is a junior course too) or grab some adult time when the kids are happily entertained at the Huge Ritz Club with big windows overlooking the gardens, a play structure and water play area. I love it when kids' clubs incorporate outdoor space!
The Club level—with its DVD library and media room complete with popcorn maker and large screen TV—is so popular with families that the hotel typically sells out of club level rooms first even though they are the priciest. The hotel –two miles from Sea World and a 15 minute drive from Universal and Disney–is for the family looking for more than a theme park experience.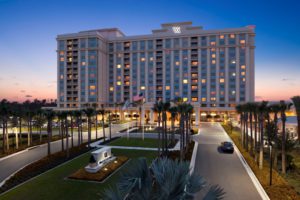 Orla Duffy, in town for a girls' weekend with her three daughters from Jacksonville, isn't planning to go to the theme parks at all, she says, as she and her 13, 14, and seven year olds enjoy hot chocolate and cookies in the club level before hitting the spa. "We're here to shop," she said. "I stay in the Ritz everywhere we go."
"It has a really good atmosphere," says 14 year old Rachel Duffy. "And everyone is really nice," adds 13 year old Sarah.
Other families who are hitting the parks also want the respite of a luxury hotel afterward. "I can only take six hours of Disney said Sarah Lammersen, who was staying at the new luxe Waldorf Astoria (www.waldorfastoriaorlando.com) with her three daughters aged 10, 7, 3 from Los Altos, CA "I didn't want Disney in my face all of the time. This is a beautiful new hotel. We can have a nice breakfast that doesn't have characters!"
She and the girls were playing in the Waldorf's kids room which I found very oddly placed inside the hotel's work out center though Lammersen didn't seem to mind. "I'd stay here again," she said.
The hotel's general manager, Michael King, notes that the Waldorf—connected to a new Hilton via a conference center that is double its size—attracts 55 percent families. And with the summer coming and the still weak economy, it is possible to get a luxury room here and at The Ritz, for example, for less than you might expect—allowing you to sample a little luxury (check www.visitorlando.com for the best deals and also become a fan of these hotels on Facebook. The weekend I visit for example, the Waldorf was running a special sale just for Facebook fans.
There are frequent shuttles too over to Disney's parks—less than a mile away (the hotels are surrounded by Walt Disney World) so you don't have to worry about parking or Disney's transportation system–that's assuming you can get the kids out of the pools.
While the Waldorf sports an adult like pool complex (maybe you could rent a private cabana for the day) the kids will prefer the Hilton pool with its water slide and lazy river (FYI you could get a very nice room next door at the Hilton for $75-$100. General Manager King says the hotel is closer to the parks than a lot of Disney properties, in fact.
This is incidentally, the first Waldorf Astoria outside New York City with its famous clock in the lobby, Peacock Alley Bar and Bull and Bear Steakhouse known for its grades of beef and where we enjoyed a terrific adult dinner one night complete with chocolate soufflé for desert that was so good my husband felt compelled to send a picture of it to the kids before we devoured every bite, making our chocoholics jealous .
"We wanted to stay at a nice place," says Sarah Lammersen. "I just didn't want Disney 24-7."
Good pick. The best of both worlds.
Another night, we ate dinner at Primo at the JW Marriott with nary a character in sight but with its own organic garden just outside and a menu full of pasta and homemade pizza (as well as other entrees) that will make the kids as well as the parents happy where kids who are guests of the hotel might be able to "help" the chefs harvesting lettuce or herbs for that night's dinner.
If not for the rain, I would have been tromping through the garden myself.
Next trip. That's the thing about Orlando –inside and outside the parks, there is always something new to see and do.
That Hammock Massage has got my name on it.