By Eileen Ogintz
DID YOU KNOW: The oldest rocks in the Grand Canyon date back 1.8 billion years. The Grand Canyon is 278 miles long, an average 10 miles wide and 1 mile deep.
DAY ONE
Get on river: 10:30 am at Mile 0, Lee's Ferry
LUNCH: Deli sandwiches, Mile 8 Below Badger
DINNER: grilled chicken, rice, salad with strawberries, pecan pie
CAMPGROUND: Lone Cedar, Mile 24
MEMORABLE RAPID: House Rock at mile 17
OTHER RAPIDS INCLUDE: Badger Creek Rapid, Soap Creek Rapid, Brown's Riffle, Sheer Wall Rapid—as many as a dozen.
"For seven days, you don't need to know what time it is,…For seven days you don't have to be anywhere." Ben Bressler, Western River Expeditions Grand Canyon Expedition Leader Sept. 2020
"SUCK RUBBER!"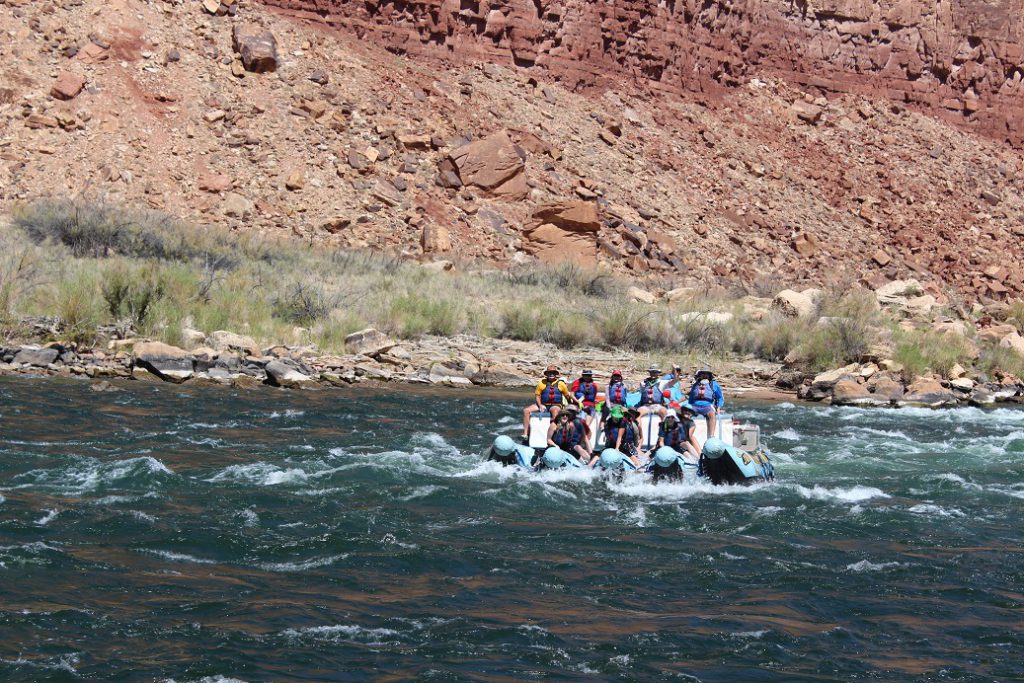 In Grand Canyon Canyon rafting parlance, "suck rubber" means those in the front of the raft not only need to hang on to ropes—in front and behind them—but to bend low into the rubber of the raft.
This wasn't our first rapid of the day but it was the biggest thus far —House Rock—rated a seven or eight out of ten or, according to our guide Alexis Smith, who has just finished college and is the "swamper" on her first Western River Expeditions Grand Canyon raft trips this summer after working for several seasons for the company out of Moab, Utah.
"There are a lot of cool rivers to run in this country, but to be in the Grand Canyon—this is an honor," Smith said.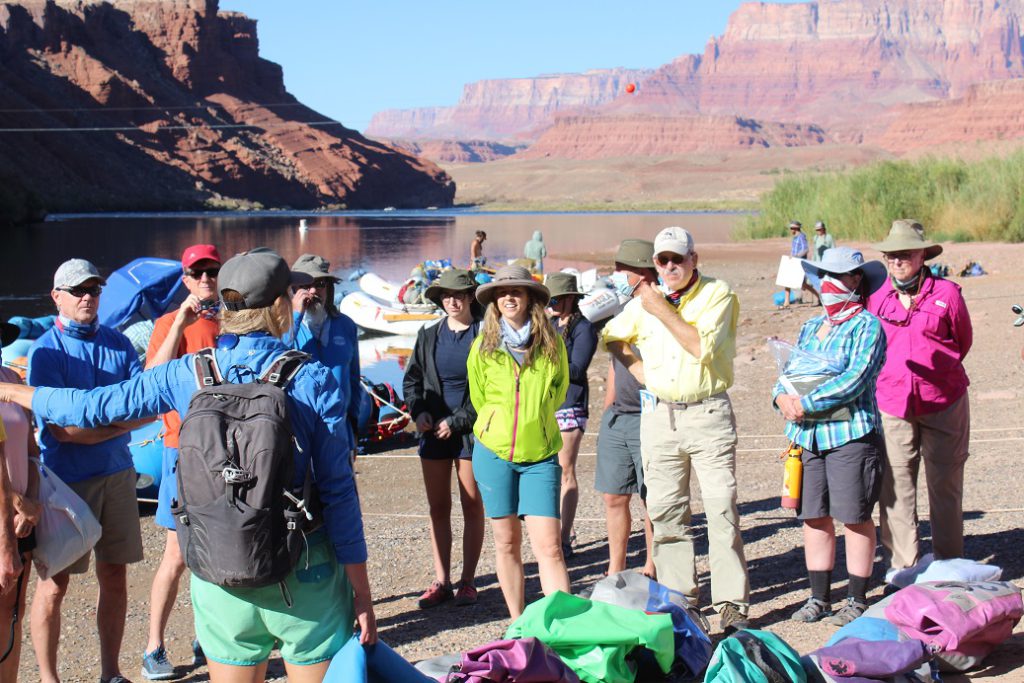 What she loves most about these trips—more than the spectacular canyon walls, especially when the sun hits them turning them different colors of orange and pink; more than the excitement of being splashed by the very cold water (50 degrees)—as we rock and roll through the white water is cooking in the outdoors.
We are diverse group of 32 (not including four guides) on this seven-day adventure, from across the country and generations. Emily Cleary, 18, is the youngest from Pittsburgh, here with her parents to celebrate her graduation after a "not so great" senior year (because of the pandemic), said her dad John. There are 30-somethings, those in their forties, fifties, sixties, and seventies. The oldest is a very fit J.J. Johnston, from Napa, CA who did this trip more than a decade ago and wanted to share the experience with his wife Lisa. We are doctors, nurses, writers, postal employees, firefighters, businesspeople, pilots (six actually!) and some newly retired.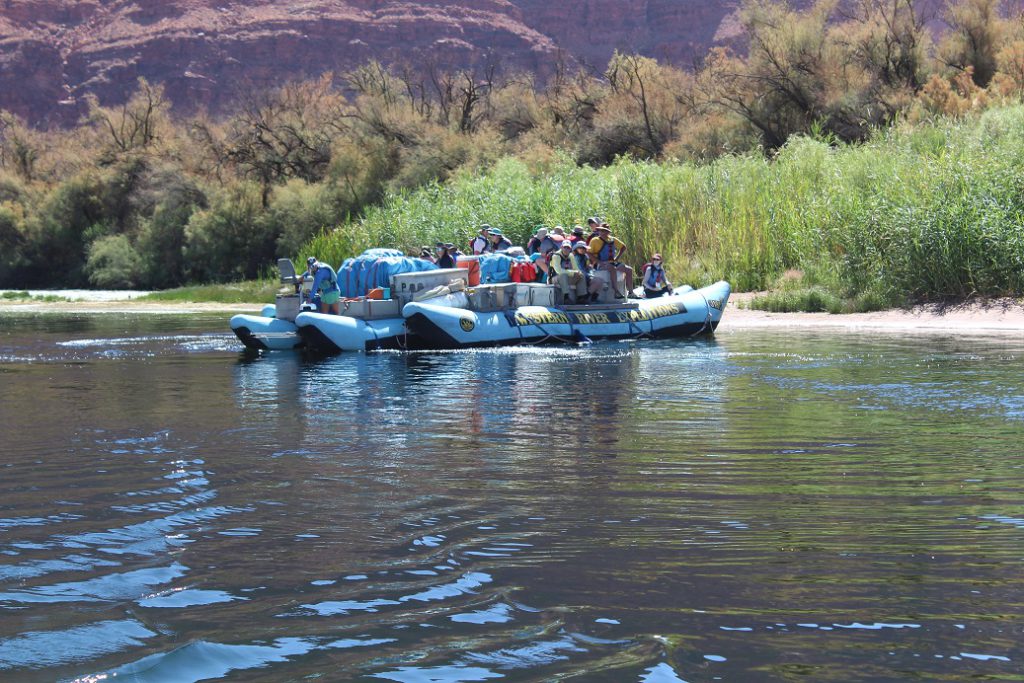 Dave Evans, from Ohio, is celebrating his retirement as a Delta Airlines pilot with his family—all three of his grown kids are pilots and excited to be here, the first time in four years they have been able to enjoy a trip all together. They have planned this trip for a year and were worried till they got on the river that it would be cancelled because of the COVID-19 pandemic.
Coincidentally, Bendel Rushing, a Delta captain from Texas, is also celebrating his retirement, along with his wife Lori and friends Wes and Donise Walker. Wes Walker is also a pilot and the two couples, like others on this trip, decided to come earlier this summer—there was unprecedented last-minute availability because of the pandemic.
"Wes didn't even ask me if I wanted to come," said Donise Walker who is not a camper and was admittedly nervous about the "outdoor experience" of peeing in the river ("the solution to pollution is dilution") or of using a portable toilet (called a "groover"), situated in a private location, albeit with a spectacular view. "This is a first for me," she said.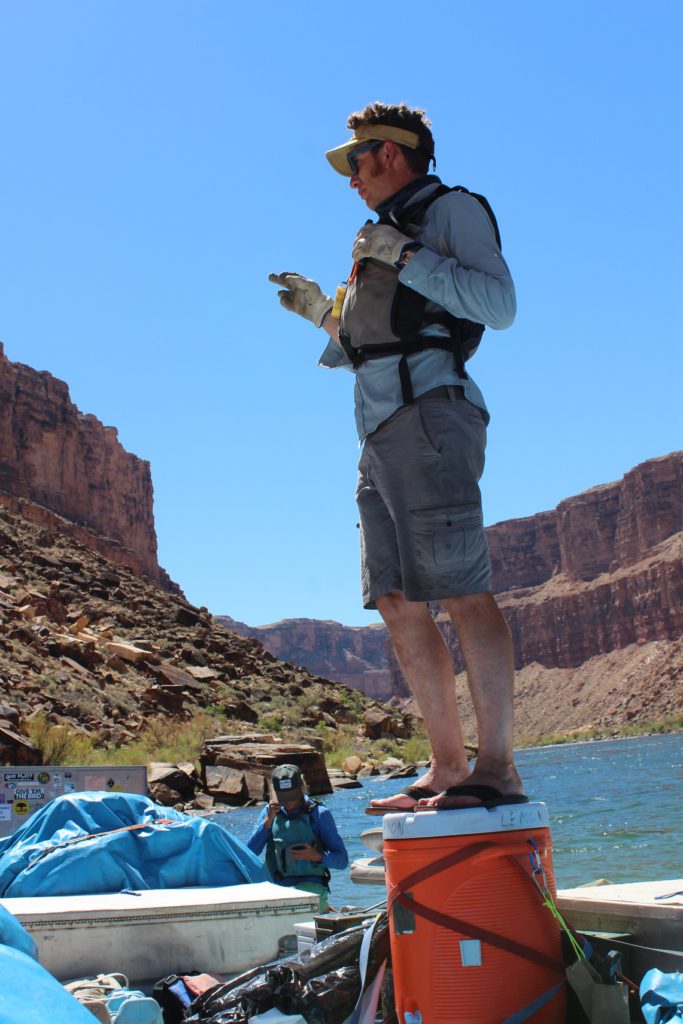 Our guides include Alexis, a registered dietician; Andy Dicus, working in Oregon in medical systems, who returns every year for one trip; Stephanie Devisser, an eight year veteran; and our expedition leader, Ben Bressler, a philosophy major in college who has worked for the company for more than two decades.
"For seven days, you don't need to know what time it is," he tells us before we get on the river. "For seven days we don't have to be anywhere."
He reminds us of the COVID mitigations (daily temperature checks; extra hand sanitizing; masks on while going through the food lines), and that we are bringing 36 different perspectives with us. "There is no need to get political," he urges. "Be patient, kind and respect one another."
Typically, a bucket-list trip like this draws first timers, including many who have never even camped, said Brian Merrill, president of the family-owned Western River Expeditions who started as a river guide when he was in college and met his wife guiding.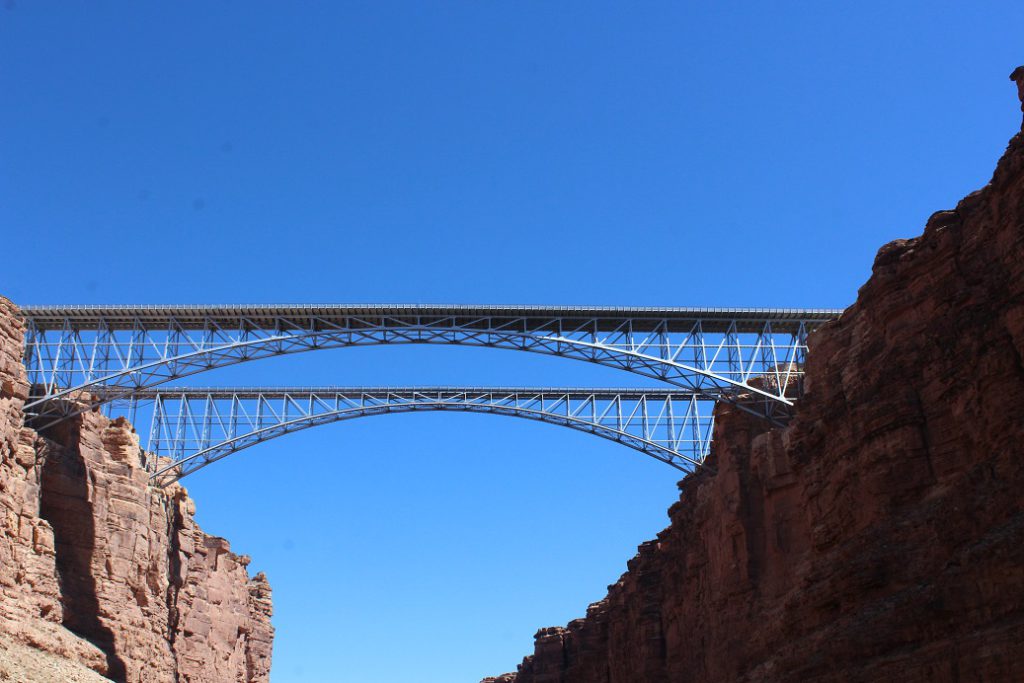 But nearly a third of the 32 passengers have rafted the Grand Canyon several times—Dr. Harold Pine five times, the first time when he was 12, and later on his honeymoon famously captured in a photo that the company still uses in their brochures.
Though he and his wife are now divorced, Dr. Pine, a Houston ENT surgeon, says the Canyon remains is a very special place to him, especially as his dad is now gone and he is able to relive memories of that first trip with his dad when he was 12 .
Like many on this trip, Dr. Pine and his friend, Dr. Dayton Young, had other plans this summer—climbing Mont Blanc in France. They were glad they could switch to this adventure when others couldn't make it.
Chicagoans Kris Anderson and Tom Coonan had planned to go to Ireland. When that was cancelled, Anderson said, "I booked the same day I saw there was room."
We also booked last minute–our trip to Greece was cancelled—and we convinced old friends, Jim and Linda Hicks from Midland, TX to join us. The Hickses and I have rafted the canyon before—me 40 years ago—but my husband Andy Yemma had never even been to the Grand Canyon.
And this is entirely different than what I experienced. We are on patented motorized rigs that enable us to raft the entire Canyon in a week without hiking in or out. The trip, I did required hiking down from the South Rim to meet the rafts and paddling our way through the rapids.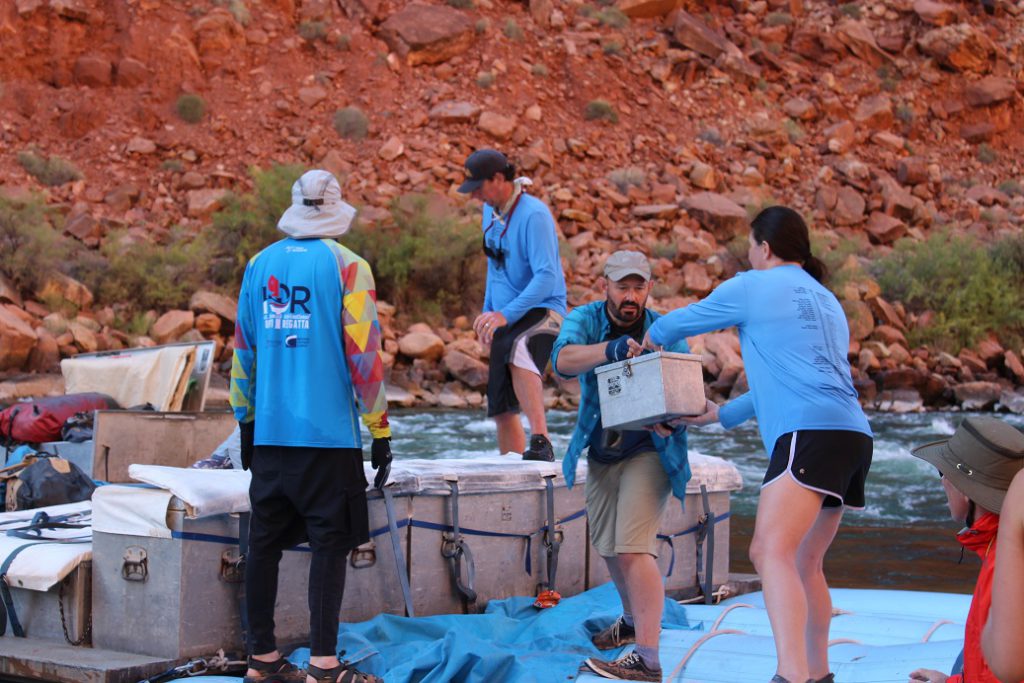 Those whose partners couldn't come—or didn't want to—didn't let that stop them. A brother and sister from California in their forties are here together–they enjoy sharing adventures said Jenni Buchanan. "My wife said go, I hadn't had a vacation in forever," said her brother Kevin Paulsen, who nonetheless feels guilty leaving her home with their two year-old. They are with old family friends Larry England and Marie Adlhoch, whose spouses also couldn't come.
Bressler and the other three guides take good care of us, from the extensive safety briefings before we started this morning (checking each person's life vest to make sure it was sufficiently snug) to teaching us geology—pointing out the nine different layers of rock in the canyon. They regaled us with tales of earlier expeditions including the first and most famous, the 1869 expedition by John Wesley Powell to "the Great Unknown"–the last unexplored area of the United States. They told us of Frank Brown's expedition in 1889. Brown famously declared "a real man knows how to swim," and therefore didn't wear a life jacket. He drowned in a rapid since named Brown's Riffle.
After an exhilarating first day, we make camp at a stretch of beach called Lone Cedar. We had traveled just 23.5 miles–the trip will take us 188 miles and through more than 60 big and small rapids in the course of the next week.
We scramble in the sand to find a place to camp … and get lessons in setting up our cots, chairs and tents, though it really is too warm to sleep in tents and most of us opt to forgo them for the experience of sleeping under the stars (the Milky Way is stunning) in sleeping bags on cots.
There are also lessons in using the groovers– "A real Grand Canyon experience," Bressler said.
The bugle calls us for hors d'oeuvres (we have brought our own beverages—beers are kept cold in mesh bags dragged alongside our rafts). For dinner, we serve ourselves buffet-style (masks on!) and eat in our folding chairs, washing our plates and cutlery in buckets afterward.
A trip like this isn't for anyone who doesn't like roughing it, from putting up and breaking camp each day to peeing and washing in the freezing cold river, to helping hoist bags and kitchen supplies on and off the two rafts (we form fire lines). There isn't Wi-Fi or cell service "That's the hardest part for me—not being in touch with my friends," acknowledged Emily Cleary.
For the rest of us, being out of touch is a relief. "The best is being able to disconnect from normal life," said Dr. Pine. "It is so rejuvenating."
And fun.