By Eileen Ogintz
Tribune Media Services
Let's travel back 100,000 years — on skis and snowboards.
Snow resorts around the country are pulling out all the stops for families this winter with everything from alpine coasters (Park City Mountain Resort, Breckenridge) zip lines (Crested Butte, Colo., Big Sky, Mont.) and family festivals (Sunday River, Me., Mount Snow, Vt.)
There are new kids' centers (Bromley Mountain, Vt., Heavenly at Lake Tahoe) and kids' pipe lessons at Woodward at Copper Park, www.woodwardatcopper.com) or Burton Riglet Park in Smuggler's Notch, Vt., complete with a "treehouse"-elevated platform with ramps to help snowboarders, some as young as three, learn the sport. Vail Resorts' nifty EpicMix app lets you total up the vertical feet you and your kids have conquered and immediately brag about your mountain accomplishments, sending photos from mountain photographers to Facebook and Twitter.
But Snowmass, Colo., the home of Aspen Skiing Company's largest and most family-friendly mountain, has got to be the only mountain resort where kids — and their parents — can get up close and personal with Ice Age fossils at a bona fide Ice Age Discovery Center, and then jump on 21st-century sports equipment to careen down one of the most kid-friendly mountains in the country, meeting the resort's new mascot, Snowy, the Ice Age Mammoth.
That's all thanks to a careful bulldozer operator named Jesse Steele. A little more than a year ago, Steele was working on a reservoir expansion in Snowmass, about 10 miles from Aspen, when he discovered a bone — an Ice Age mammoth bone. And that was just the beginning.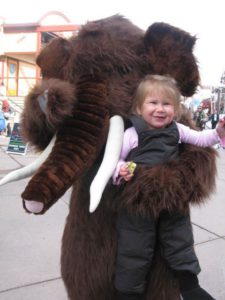 Paleontologists from the Denver Museum of Nature and Science called to the scene discovered an entire Ice Age lake dating back between 45,000 and 150,000 years. Since then some 4,826 bones have been pulled from the site. Dr. Kirk Johnson, vice president of the museum's research and collections division and leader of the excavation team, calls it "one of the most significant fossil discoveries ever made in Colorado."
"Each one is incredibly well-preserved and will help us better understand the Ice Age at this high elevation," he said. Some of the plant matter is still green and one of the tusks is still white, even after tens of thousands of years. It is exceedingly rare, scientists said, to discover such a diversity of plants and animals from the Ice Age in one place.
Some 125 logs and numerous samples of ancient peat, wood, leaves and rocks have been recovered, along with 26 different Ice Age animals — everything from mastodon, Ice Age deer, Ice Age bison, an Ice Age camel to mice, frogs and lizards. The numbers of species are expected to grow as work continues at the museum. A National Geographic story and NOVA/National Geographic special are in the works.
If you are in Denver, visit the museum and watch as fossils from the site are prepared and let the kids touch tusk fragments, mammoth and mastodon teeth. At Snowmass, the Ice Age Discovery Center tells the story of how mastodon DNA was recovered and why the bones are here in the first place (the mountain climate conditions made for perfect preservation. (Download a Snowmastodon or baby Mammoth poster to color.)
All this, of course, adds another element to the winter experience at Snowmass, which already boasts a standout children's center unlike any other I've seen at snow resorts. The Tree House Kid's Adventure Center has got everything a family needs to de-stress a trip to the slopes — specially-trained instructors attuned to child development and varying learning styles, one-stop shopping for kids' rentals and lessons and a shop where you can buy everything from a helmet to the lip balm and sunscreen you forgot. Let's not forget the indoor climbing wall, "Beaver Lodge," for kids to crawl through, a puppet show theater and nature shack or the apres and evening activities for preschoolers, kids and teens.
It's certainly a whole other world from when I schlepped my kids to ski school, getting equipment in one place, lift tickets in another, only to arrive and discover we'd dropped a mitten or pole along the way and then had to rush to a store before the ski school group headed off. I was usually pooped before I got on the mountain.
That's why I'm in favor of anything that makes a ski trip easier for families, from a center like TreeHouse to the unique Park City Mountain Resort site I've helped edit, which offers advice from snow-loving moms for snow-loving moms, to Door 2 Door by Christy Sports that serves most of the major ski resorts and will deliver rental gear to any place you want it. No waiting in a rental shop with cranky kids! (And with a five-day adult rental, a child gets gear free.)
Wherever you are going this winter, book ahead for the best deals, including packages where kids ski free. Save even more if you book flights, lodging and lifts together from a site like www.ski.com, which offers hundreds of deals across the country and abroad.
And don't automatically discount Aspen because you think it will be too pricey or only for celebs. A good bet for families with teens who will want to be in the center of things — the historic 126-room Limelight Lodge located in the middle of Aspen. It offers complimentary breakfasts, shuttles to all the mountains and extras like skiing First Tracks on Aspen Mountain at no extra charge.
Avoid the holidays and you'll find plenty of affordable packages here from early-season deals offering three days of lifts, rentals and group lessons for the price of two to kids' ski- and-stay-free deals in March and April.
See you on the slopes. I'll be the one mugging for a photo with Snowy the Mammoth.
(For more on Eileen's adventures in Aspen and Snowmass and elsewhere in Ski Country, read her travel diaries)
© 2011 EILEEN OGINTZ, DISTRIBUTED BY TRIBUNE MEDIA SERVICES, INC.