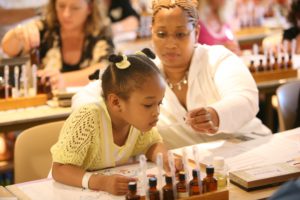 By Eileen Ogintz
Tribune Media Services
Kids were everywhere — splashing in the ship's pools, touring the Coliseum and Pompeii, posing for family photos before that "special" dinner.
Cruising the Mediterranean on the Disney Magic (www.disneycruise.com), there were at least 1,000 kids onboard, more than half of them under 10, many not yet out of preschool.
"Travel can be so stressful," said Geri Markey of Los Gatos, Calif., traveling with a 7 and 10 year old. "Packing and unpacking, making sure you didn't forget anything, finding food they will eat. Here, everybody is happy." 
Another plus: With all the deals out there (many cruises start at under $1,000 per person, significantly less for kids sharing parents' cabins) families may find that cruising is not only easier, but cheaper than traveling on their own in Europe, especially with a multigenerational group and especially when meals, lodging, entertainment and transportation from port to port is included. (Check websites like www.cruising.org for information and www.cruisecritic.com and www.cruisecompete.com for the latest deals.)
Whatever your budget or travel style, there have never been so many kid-friendly options — from ultra deluxe Crystal (www.crystalcruises.com), Regent Seven Seas (www.rssc.com) to Norwegian Cruise Line (www.ncl.com), which has three ships in Europe, including the Jade, which cruises all year round and is touting a special Nickelodeon-themed cruise from Barcelona set for late July. There's also Royal Caribbean (www.royalcaribbean.com), embarking on its biggest season ever with 11 ships sailing in the region, and MSC (www.msccruisesusa.com) offering seven ships, 85 itineraries and kids-cruise-free deals for those under 12 who share a cabin with parents (or grandparents). The new Carnival Magic (www.carnival.com) will also cruise the Med — the line's first full-season overseas cruise in three years. If you are looking for a special trip with your adult kids — graduation maybe — or a parents-only getaway while the kids are in camp, Windstar Cruises (www.windstarcruises.com) has deals on their sailing yachts that offer nearly half-off on Greek Isles trips.
It's easy to see the appeal. There are only so many gothic churches and staid museums a kid can take. Adults too. No wonder cruise lines are reporting an up-tick in families cruising Europe. Crystal — the only deluxe cruise line with dedicated children's space — is now carrying triple the number of kids on European cruises, while Royal Caribbean expects to carry well over 24,000 kids on its overseas itineraries, including its new Adriatic sailing that starts in Venice. Disney (if you want to cruise with the Mouse, go this year. In 2012 all four ships will be stateside) touts special kid-friendly tour excursions. (We took a pasta-making class at a Tuscany farmhouse.) Even Uniworld River Cruises (www.uniworld.com) reports that kids are joining parents and grandparents on itineraries that might include Normandy or Prague while SeaDream Yacht Club (http://www.seadream.com/), which typically caters to very upscale couples, is marketing its Aug. 3 sailing from Rome for families, offering special shore excursions, meals and more.
Aboard a cruise ship you can relax and meet families from around the world, instead of schlepping from city to city. And after an exhausting day of touring, you return to a place where most everyone speaks English and there are big swimming pools, familiar food and, with morning-till-night youth activities, a welcome break for mom and dad. "It's nice to get rid of the kids for a little bit without feeling guilty," laughed one mom aboard the Disney Magic.
You couldn't let your 14 year old wander alone in a European city, nor would she want to, but aboard ship, she can safely have all the freedom she craves — and plenty of company her own age. "The best part was meeting new people and making new friends," said Jennifer Davidson, 17, cruising with her aunt and cousin.
Kids with special needs — mental, physical, severe food allergies — are also accommodated. No worries if you encourage the kids to branch out with their food choices and they turn up their nose when the dish arrives, the obliging waiter will bring them something else.
You can even let the youngest cruisers remain onboard while you tour the sites. "The cruise is for the kids, the shore excursions are for us," explained Micah Herrelbrink, who was cruising with three friends — all wives of U.S. Air Force pilots deployed in Afghanistan — and their 10 children, all under the age of six. "We can focus on ourselves, which we never get to do at home," she said.
The downside? You can't linger as long as you'd like in a museum or soak up the atmosphere in a cafe because you have to return to the ship. You won't meet as many locals as you might have if you were touring on your own. And you may end up with cranky kids on a long shore excursion.
But that's a small price to pay, families cruising in Europe say. Ayman Neoman and Irene Malek, both physicians from Huntington Beach, Calif., were traveling with their four kids, 6 to 12, as well as Malek's parents, brother and sister-in-law. She opted for this trip so far from home because she wanted the kids to begin to appreciate that the United States is not the center of the universe. But she didn't want to make herself and her husband crazy in the process. "This is so much simpler," she said, watching the kids in the pool as the ship headed for the next port.
Be forewarned that cruise excursions — especially in Europe — can be expensive. That's why savvy family travelers, especially when touring with extended family or friends, book their own independent tours that not only save them money but also give them more flexibility.
Don't expect the kids to be fascinated by all the sites either. Dr. Steven Tuck, a classics professor at Miami University and president of the Vergilian Society, which offers all varieties of European tours (www.vergil.clarku.edu), suggests "making it about the people, not the buildings." Dr. Tuck was onboard the Disney Magic as the resident historical expert and has traveled widely with his own child, as well as others.
"What you are trying to do is plant a seed so they will want to come back and explore foreign cultures and travel," he said. "You don't want that all they remember is being hot and exhausted."
Parents either. Ready to jump in the pool?
For more on Eileen's cruise in Europe last summer, read her travel diaries
© 2011 EILEEN OGINTZ, DISTRIBUTED BY TRIBUNE MEDIA SERVICES, INC.