By Eileen Ogintz
The fisherman, crossing the ocean in the dead of night in a time before Earth had a moon, spotted something in the water. A huge octopus! The two looked each other in the eye and connected. But there was no happily ever after. They dived too deep and the fisherman drowned. The octopus, actually a goddess, sent his soul up to the sky to light up the night as the moon, helping sailors to navigate the seas ever since.
Welcome to Scarlet Night aboard Virgin Voyages' Valiant Lady. We were encouraged to wear red to honor the Red Night Sky and there are parties and after-parties on this adult-only ship. "Send a big kiss up to the moon and just go let it happen," suggests Rachel Sampson, the crew member who told the assembled crowd the tale. The Octopus, another crew member said, is the "spirit animal" of the ship. "We will party all night," Sampson promised.
Maybe some did. The thing about this ship is that there is a great age range. "I guess we are old because we are going back to the room to watch a movie," chuckled one woman in the elevator.
"There certainly is a lot of diversity," suggested Tedra Webb from Maryland, here with her husband, while her three daughters were with family in Ohio. The diversity is reflected not only in age but race, sexual orientation, and where people are from. "Everyone is here to have a good time in an adult atmosphere," she said. "But it's not too wild."
Overwhelmingly, people chose the Virgin Voyages ship because there are no children aboard. Nicole and John Fellin, who live on Long Island, NY, are celebrating their 40th birthdays while their kids are with grandparents. They said the no-kids policy was a big factor in choosing Virgin Voyages.
"I didn't want to be around any kids on this trip," said Nicole Fellin, a teacher on her spring break.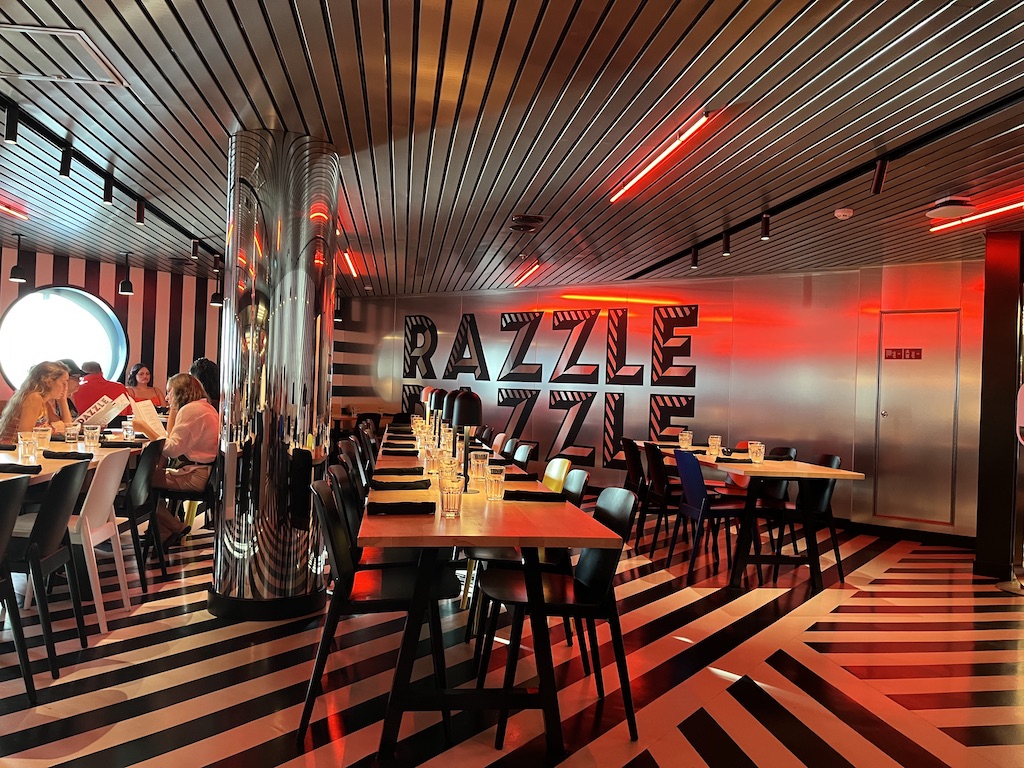 Her husband John, an attorney, added that on other big ships he felt "nickeled and dimed," while here there isn't an extra gratuity charge every time you order a drink (tips are included). Nor are the specialty restaurants at an extra charge offering everything from a Korean BBQ to upscale Italian, to Vegetarian-forward (though meat options are offered on a "secret menu"), to Mexican, pizza made to order, and Mediterranean mezzes. "The food is much better than on other cruises," said John Fellin said.
The only disappointments, the Fellins and others agreed, was the entertainment. "It's a Ship Show" featured a sword eating lady, a contortionist, and an over-the-top MC. "We walked out," Nicole Fellin said. Guests seemed surprised given the adult crowd that there wasn't a good comedian on board, though they praised some of the musicians performing around the ship.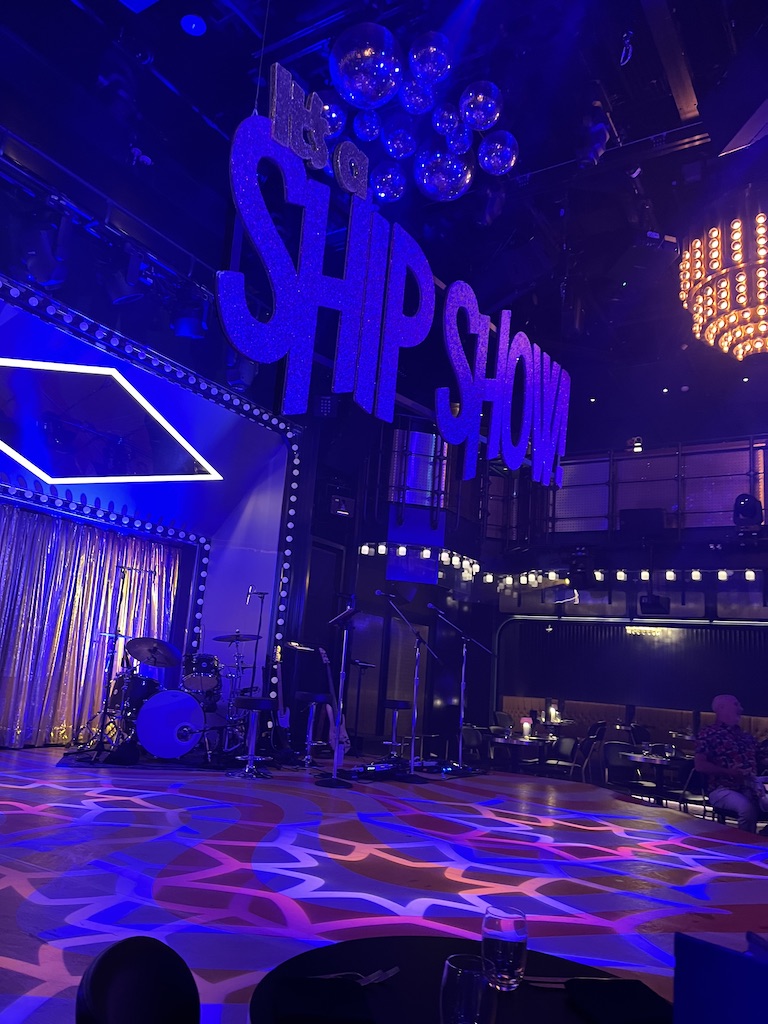 Some guests love the wellness offerings—as many as a dozen from a 7 a.m. Spin-Out Class, to Guided Meditation, to Open Heart Slow Flow Yoga. Others wished for more variety on board as there were many activities sold out and at an extra charge (afternoon tea, gin, or scotch tasting, learning about coffee).
"I like to be doing things, I've been on board too long," said Marcella Lombardo, a grandmother from Fairfield, CT.
One of our favorite activities was "Salty Trivia," in which groups of four to six form as teams and go through three rounds of trivia questions. We played twice. Our first team, which we named the "Buffalo Train Wreck" (after Buffalo Trace bourbon and other unknown reasons) won a free round of drinks.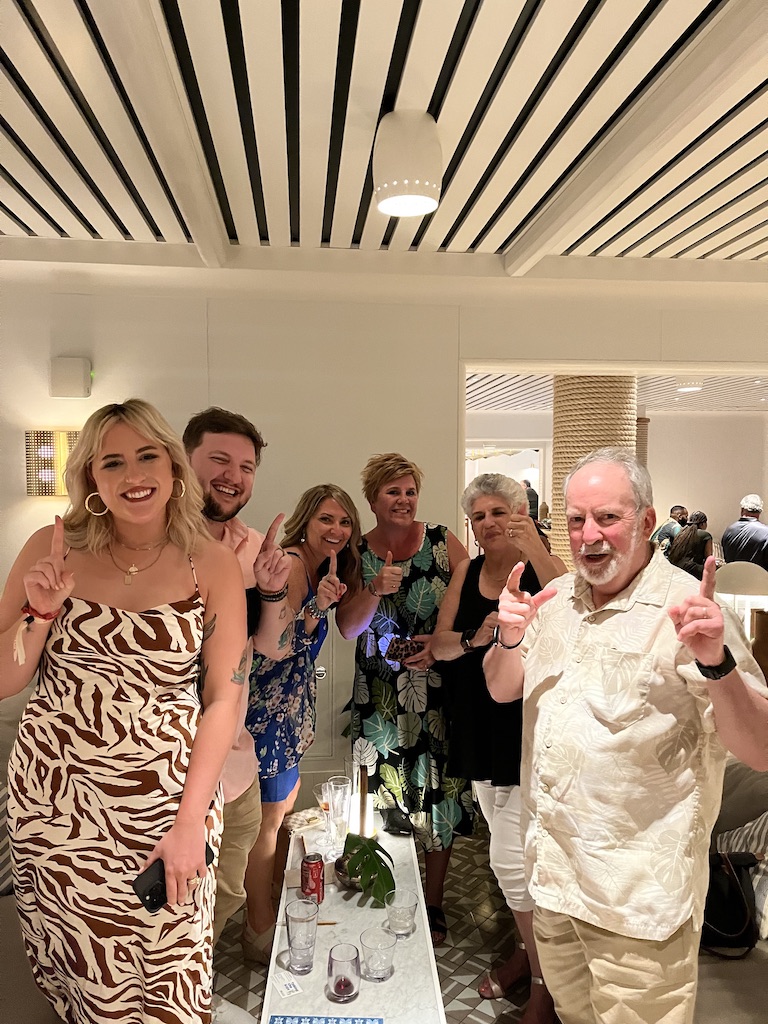 Our last day will be spent a Virgin Voyages private Beach Club at Bimini Island in the Bahamas. It overlooks the ocean with a large pool, six bars, and areas to kick back, join a yoga class, a DJ led pool party and water sports. The complimentary food offers locally-inspired menus—everything from conch salad to banana-wrapped snapper, ribs, and Bahamian rum cake.
To be fair, the itinerary was changed, adding a third day at sea to the six-day cruise. Shortly after the cruise began, a young woman fell to her death, necessitating a return to Miami the first night of the cruise. Passengers praised the cruise line for the way the incident was handled, offering everyone a free cruise. Many have already booked on board. And even Lombardo, besides her criticism, said she and her husband will cruise Virgin Voyages again.
"Absolutely," she said.