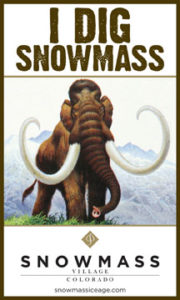 DAY EIGHT — One day last fall—Oct 14, 2010 to be precise—a bulldozer operator named Jesse Steele, working on the expansion of the Ziegler Reservoir for the Snowmass Water and Sanitation District, discovered a bone. But not just any bone—an Ice Age mammoth bone. That was just the beginning.
Paleontologists from the Denver Museum of Nature & Science were called to the scene and discovered an entire Ice Age Lake dating back between 45,000 and 150,000 years. 
Last October and November, before the ground froze, the Museum team of more than 60 staff and trained volunteers logged more than 3,600 hours and discovered eight to ten American mastodons, four Columbian mammoths, two Ice Age deer, four Ice Age bison, one Jefferson's ground sloth, one tiger salamander, insects, snails, some 600 bones and bone pieces, 15 tusks and 14 bags of tusk fragments. They've recovered some 130 samples of peat, wood, leaves, rocks and invertebrates.
The site has been recognized as one of the most important paleontological al finds in Colorado. The high-altitude setting (8,874 feet) is underrepresented and the scientists said, it is exceedingly rare to discover such a diversity of plants and animals from the Ice Age in one place. The preservation is fantastic—some of the plant matter is still green and one of the tusks is still white even after tens of thousands of years. Scientists think they may be able to recover ancient DNA.
The fragile bones have been taken to the Denver Museum of Nature and Science (www.dmns.org) to be studied. Frost-free barriers were created around the site to help protect the area. Fossils left in the ground, museum officials say, will be protected by dirt and deep snow over the winter. Further digs will be conducted when the ground thaws this spring.
Obviously everyone in Snowmass is excited and elated by the find, says Patsy Popejoy, spokesman for Snowmass Tourism (www.snowmassvillage.com) . Hopefully, there will be a display by next ski season and a new Mammoth Mascot on the mountain who will teach the kids (and their parents) important safety lessons.
This may be the only place where your kids can learn about fossils and snow sports in the same day.
But, no, contrary to rumor — Snowmass isn't going to be renamed Snowmastadon.