By Eileen Ogintz
Tribune Content Agency
Kevin Gerber isn't even a "Star Wars" fan, but he had happily just spent $100 to build a droid with his 5-year-old son at Disney World's Star Wars: Galaxy's Edge's Droid Depot.
The two had chosen pieces off of a conveyor belt to make their own customized droid — there are nearly 280,000 different combinations — that would interact with elements throughout the land.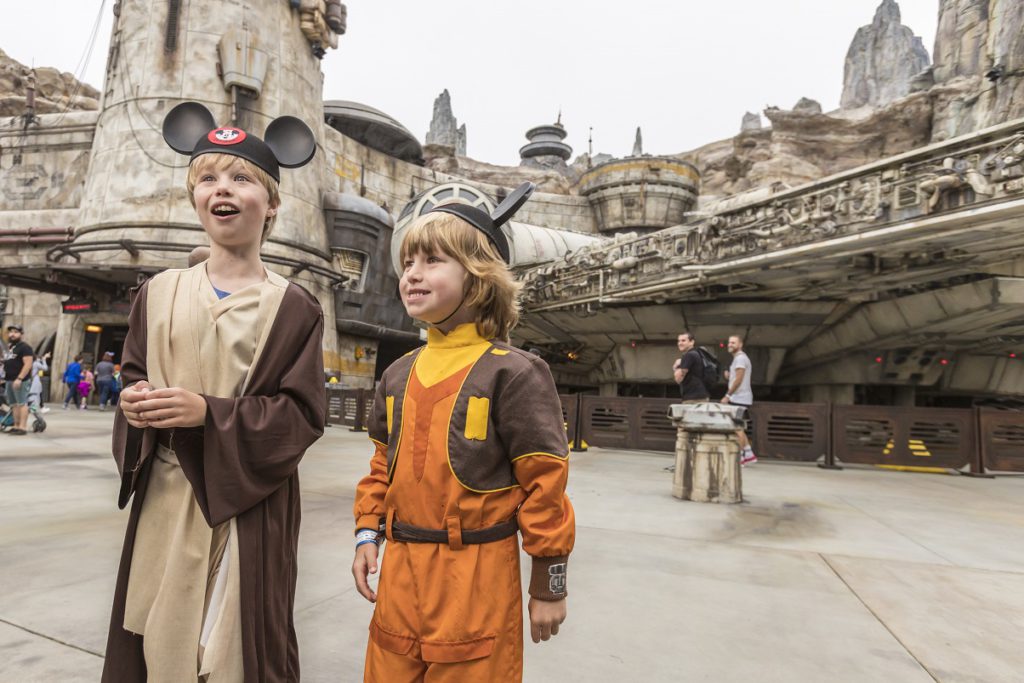 Everything from the souvenirs to the attractions to the food and the food servers to props (including the first full-size complete Millennium Falcon) are designed to not only make you feel like you are truly on the planet Batuu on the frontier of Wold Space, an uncharted region beyond all known star systems, but enable you to create your own adventure while there. You can even become recruits at the Resistance's temporary encampment at the start of the new Star Wars: Rise of the Resistance attraction, which opened in Orlando last month and will open Jan. 17 at Disneyland Park in California.
For a limited time, Southern California residents can visit the Disneyland Resort theme parks for $67 per day with the purchase of a three-day, one-park per day ticket. https://disneyland.disney.go.com/3-day-southern-california-ticket-offer/ Those visiting from outside California, can save on tickets for kids ages 3 to 9 for $67 a day with a purchase of a three-day, one-park per day ticket. Buy Jan. 7 through May 18, 2020.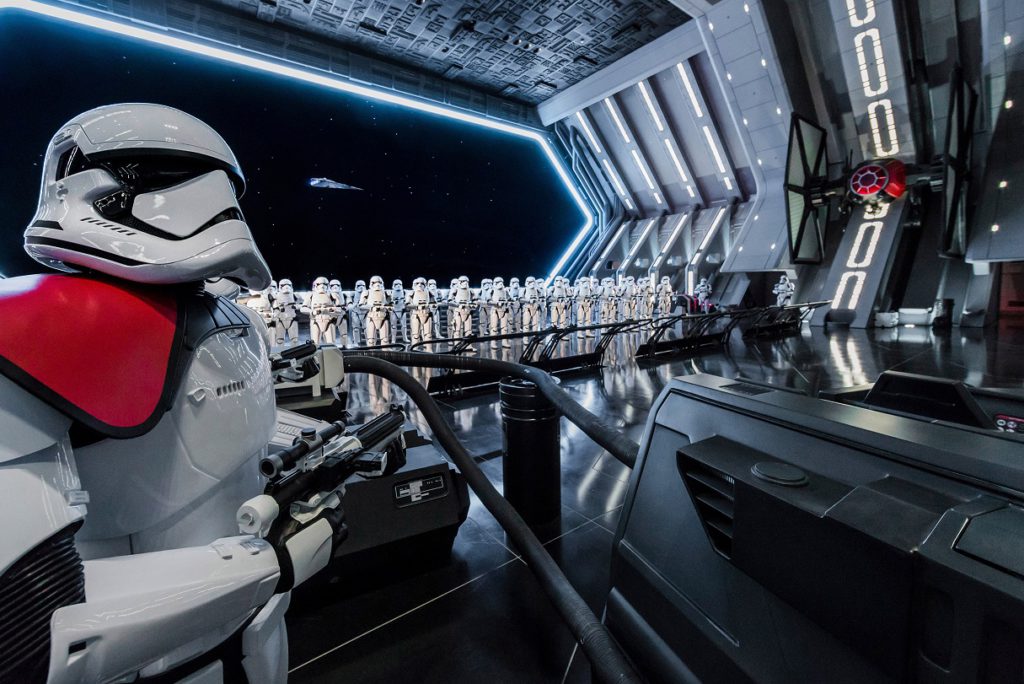 "We all have the power to be a hero, making choices that change the course of the galaxy," said Scott Trowbridge, Star Wars Portfolio creative executive from Walt Disney Imagineering.
And that's the case whether you know much about "Star Wars," or not, or are a child or an adult. "You don't have to be a fan to have fun," Gerber said.
Sophia Crippin, 7, meanwhile, visiting with her family from Massachusetts, opined that while she likes princesses, here, "There are so many cool things for girls to do. She was decked out in her "Star Wars" costume, as was her younger brother, Adam, who was brandishing the customized light saber he'd built at Savi's Workshop.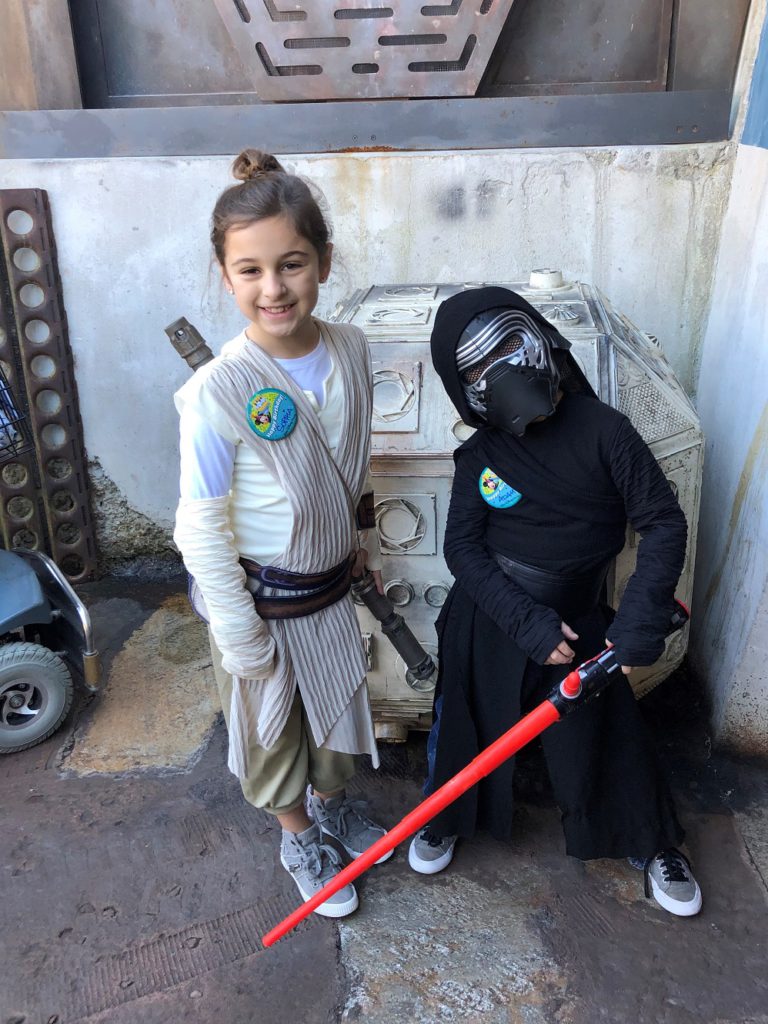 Adult fans have been brought to tears by the immersive experience, like Brien Hollingsworth, who came to celebrate his 28th birthday in a galaxy far, far away. "I love 'Star Wars' so much," he explained, sipping an other-worldly concoction at Olga's Cantina, the planet's go-to place for the latest news and gossip from around the galaxy, featuring tunes provided by DJ R-#X, a pilot droid from the original Star Tours. "It all feels so real," said Hollingsworth.
Disney Imagineers worked closely with Lucasfilm to accomplish that goal, visiting George Lucas' private archives, active "Star Wars" film sets, working with Skywalker Sound to create more than a thousand sound effects throughout the land and even traveling to Morocco and Turkey to experience ancient open-air markets to shape the look and feel of the Black Spire Outpost, an infamous port for smugglers, traders and adventurers. (Look out for the First Order Stormtroopers who may question you about the Resistance and the exotic creatures like the Kowakian Monkey-Lizard!)
Star Wars: Rise of the Resistanceis "the most ambitious, immersive, advanced action-packed attraction we've ever created," enthused Bob Chapek, chairman of Disney Parks, Experiences and Products at the Orlando opening. It may also be one of the longest — 18 minutes, though the lines are considerably longer.
The new attraction comes as Disney's Hollywood Studios celebrates its 30th anniversary with the new 14-acre Star Wars land that incidentally created 1,700 new jobs, the new Disney Skyliner, a state-of-the-art gondola system connecting the park and Epcot to four Disney hotels and, in March, Mickey & Minnie's Runaway Railroad. Get ready to burst through a movie screen and join Mickey, Minnie and their pals on an adventure — entirely different, of course, than the hair-raising, edge-of-your-seat Ride of the Resistance where you are smack in the middle of a climactic battle between the First Order and the Resistance, after being captured by a Star Destroyer. You'll and frantically try to escape, all the while pursued by Kylo Ren, who desperately wants to pry from your mind the location of a secret base.
Millennium Falcon: Smugglers Run is equally exciting as you play different roles each time you hurtle through space, as a pilot, gunner or engineers, with your experience dependent on the actions you take. "It was stressful," laughed one teen fan, Alexsis Neenam after her ride. "I had to control the ship!"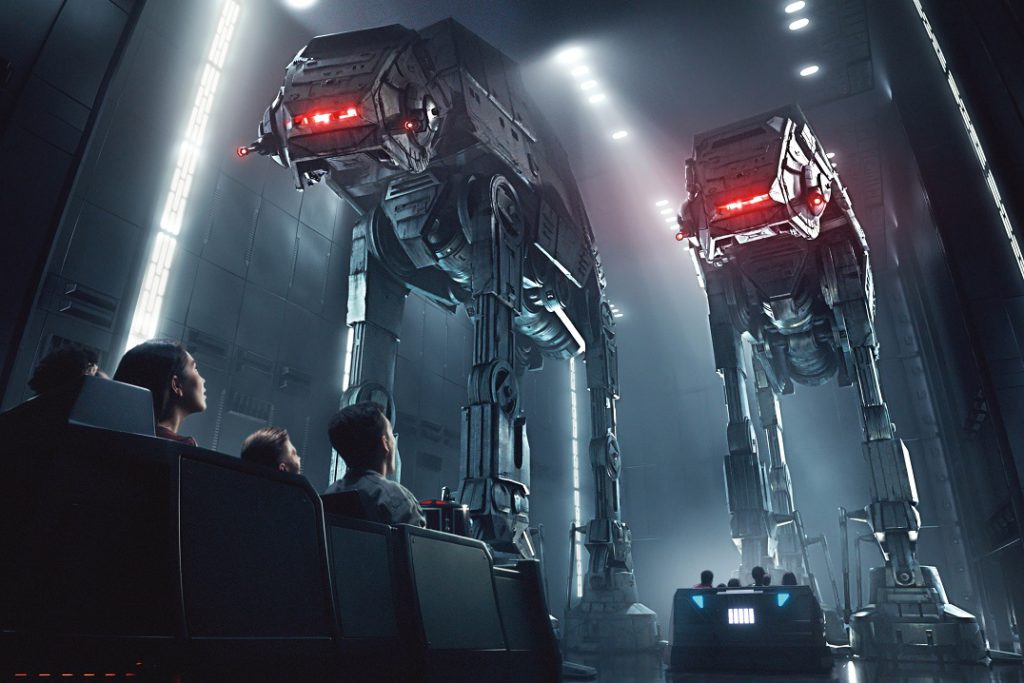 (TIP: You can't get a FastPass to schedule a time in advance for either attraction in Orlando, but there is a system on the My Disney Experience app that allows you to virtually wait, doing something else, until it is your turn. In addition, for the first time, you can use the Play Disney Parks app here for a deeper dive. (Interact with droids, blinking door panels; translate galactic languages and even eavesdrop on characters' conversations. The "Outpost Control" game is great while you are waiting or eating.
Your visit to Batuu wouldn't be complete without trying new flavors, as you would whenever you visit somewhere new, including blue and green milk (frozen fruity concoctions served up with or without alcohol). "Blue is definitely more popular," says Brian Piasecki, the director of Flavor Lab, which creates new food and beverage concepts for Walt Disney World.
One server in character explained how her family produces the blue and green milk on their farm but the work is "so smelly," she found her way to the Outpost "looking for something different." Guests, whether they like it or not, she said, get something different too. "We've never heard of pizza or hamburgers here," she said. Try popped grains (a kind of sweet-savory multicolored popcorn), Endorian fried chicken or plant-based meatballs.
The Ronto Roasters signature Ronto Wrap (think roasted pork and sausage) has proved especially popular. Look for the former smelter droid carefully turning the spit of meats.
As for the Gerbers, next on their agenda was Jedi training. We're figuring out "Star Wars" together," Kevin Gerber said.
That's the idea, of course.
© 2020 EILEEN OGINTZ
DISTRIBUTED BY TRIBUNE CONTENT AGENCY, LLC.