By Eileen Ogintz
Tribune Media Services
We miss the turn on the dark, winding road, a road that seems to go on forever. But, then, there it is, right in front of us, a castle, a sprawling, Victorian castle.
Not exactly what you'd expect just north of New York City. "So random," mutters 17-year-old Melanie from the back seat, as we arrive at Mohonk Mountain House (www.mohonk.com), which has welcomed families for the last 140 years — yes, 140! Honestly, I'd had to do a hard sell to convince her, and her 24-year-old brother, to come this weekend (the promise of a spa treatment helped), but she wasn't disappointed, I'm glad to report. And neither were we.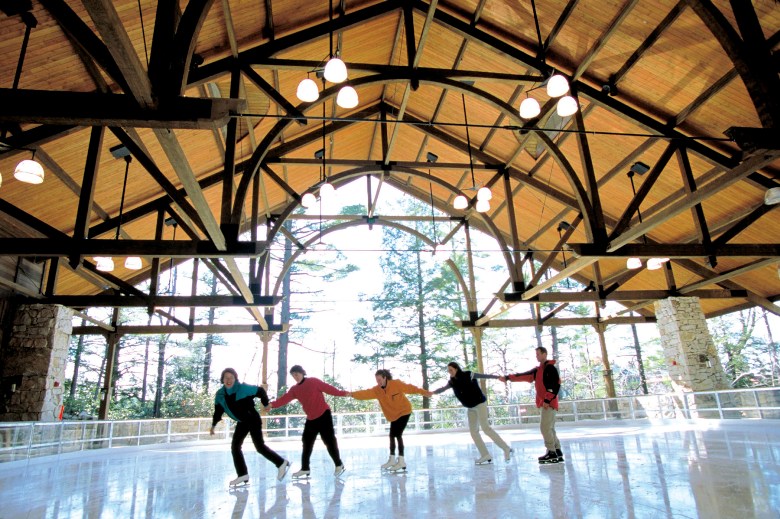 The 265-room resort, located in the Hudson River Valley, is a rarity. Green before there was such a concept, it has been owned by the same family since it began as a 10-room inn. Mohonk's focus is on nurturing family togetherness amid 85 miles of hiking trails and thousands of acres of pristine wilderness that surround the resort, including the 7,000-acre Mohonk Preserve, the largest in New York State, which was started with land donated from the resort.
"The world is crazy and people come here and say Mohonk is the same," says Nina Smiley, whose family is the fourth generation to run Mohonk Mountain House. These days, that certainly is an appeal, as other historic hotels around the country are discovering (www.historichotels.org).
But Mohonk Mountain House is unique. Smiley believes Mohonk is the only year-round resort in the country to be owned by the same family for so long. More than 20 family members are still involved, Smiley says, doing everything from serving on the board to giving house tours to leading recreation programs and overseeing the archives. I bump into one relative and board member, Eric Gullickson, playing in the game room with his young kids who, he told me, represent the sixth generation connected to this resort. The biggest challenge, he says, is to create a resort for 21st-century families — like his own — without losing what has made this place special from the start.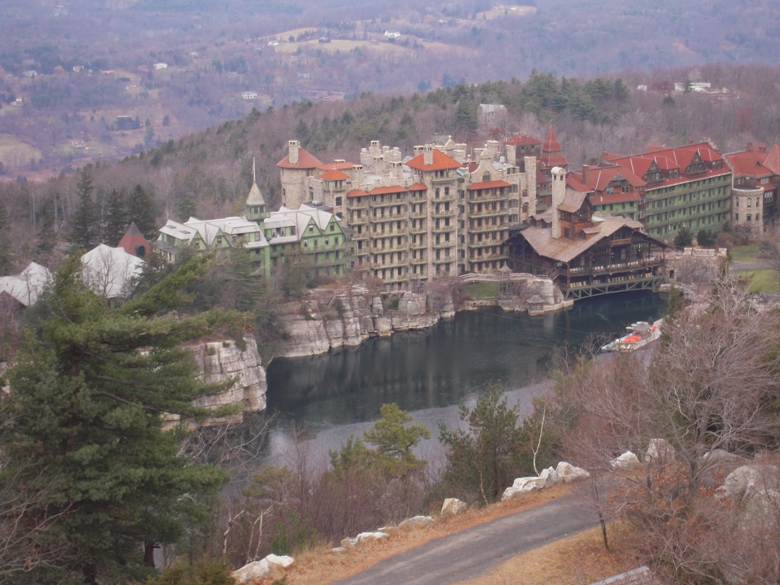 A breathtaking view of Mohonk Mountain House from one of the many hiking trails during summer (click image to enlarge)In fact, you feel as if you are visiting a wealthy relative's country house — comfortably shabby and comfortable, fine for the kids to climb on the furniture, with fireplaces in many rooms, but no television sets.
"It's not stuffy and there are lots of nooks and crannies for the kids to explore and hide," said David Harvey, who on a recent weekend was visiting from Connecticut with his wife and young children.
There's certainly plenty to do — the daily activity list starts with an early-morning bird-watching hike and includes a variety of exercise and yoga classes, hikes (two a day) ice skating at a spectacular outdoor pavilion, complete with a big stone fireplace, organized kids activities, afternoon tea and evening dancing.
If you think it's a throwback to another era you're right, right down to the big meals served three times a day at tables that will fit a big family group. It's also what families who can afford it (the place is pricey, but all-inclusive, with rates starting at $700 a night for a family of four — look for weeks when kids stay free) seem to want. "It's great that the kids have so much freedom and they are safe. The fact that it's not glitzy is part of the appeal," said Deborah Kazis, a New Yorker, who has been coming here since she was a child. She's back this weekend with her extended family.
There is something magical here, as if you can ward off your worries and fears by walking into the solid limestone building where the staff goes out of their way to be kind. No wonder multigenerational families like this place. "The only problem we have is fitting in all the activities," said Patti Hosey, who was spending the weekend with 20 relatives, including eight children to celebrate a birthday. "And then the kids go to the kids' club and we go to the spa. Perfect," she said!
The 3-year-old spa, fitness center and indoor pool were built with rock recycled from the site, which pleased my eco-savvy daughter. It's beautiful, with big windows overlooking the wilderness and spa treatments that use local herbs and witch hazel from the nearby mountain. The spa offers an outdoor mineral pool, a "relaxation" area with huge windows with views of the mountains and even a yoga studio.
The moms I met were glad for the guilt-free respite at the spa, while the kids were off at the children' program where they had the option of an outdoor or indoor activity. "Mohonk is all about choices," explained Nina Smiley.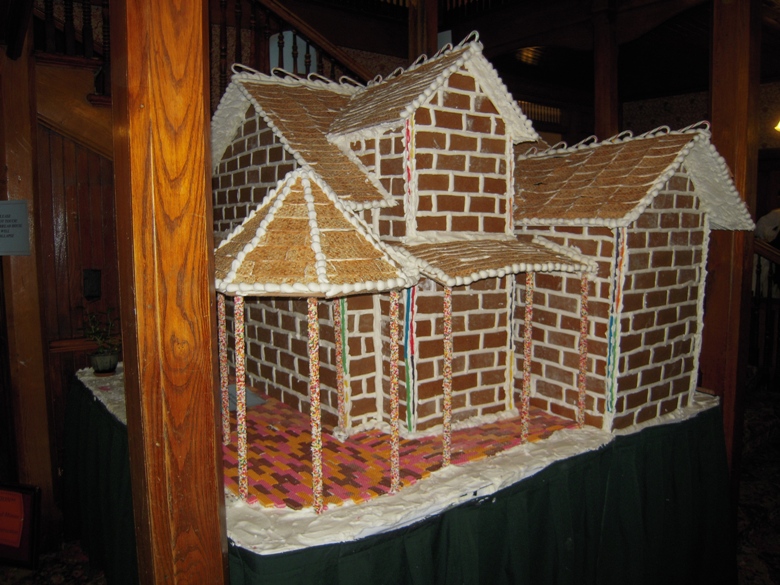 Parents like the fact that there are no TVs in the room (plenty of board games and puzzles to borrow instead) and that there are so many biking and hiking trails, as well as snowshoeing and cross-country skiing in winter, boating and fishing on the resort's lake and rock climbing in summer. Many families, including mine, ice skate. We hike up to a point where we can take in spectacular views of the mountains and the lake that convinced the twin Smiley brothers to buy land here so long ago.
People used to come for the entire summer, Nina Smiley said, and then for a couple of weeks, typically meeting up with other friends they'd made at the resort. These days, families come for just a few nights to spend time together the way they never seem to at home.
That was true in my family too. We lingered over the three-course lunch (yes, dessert at lunch!) and four-course dinner telling old family stories. We had nowhere to rush of to. The food was pedestrian, but we didn't care — not when a 17-year-old hung on our every word. "Tell another one about me!" urged Melanie.
And we did.
(c) 2009 EILEEN OGINTZ DISTRIBUTED BY TRIBUNE MEDIA SERVICES, INC.