By Eileen Ogintz
Tribune Content Agency
The Bannon family had just arrived in Hawaii, and they weren't at the beach, looking for sea turtles or heading to a luau. They were at Pearl Harbor on a sunny September day.
"This was the first thing I wanted Evie to see," said James Bannon. Both he and his wife, Becca, are Navy veterans, "and visiting here is an important history lesson," he said.
Pearl Harbor, with over 1.8 million visitors annually is the top tourist attraction in Hawaii, but it can be difficult for kids to understand and appreciate, acknowledges K. David Kilton, the chief of interpretation at Pearl Harbor National Monument, especially as so many of those who survived the attack on Dec. 7, 1941, are no longer alive to tell their stories. "We have a lot of recorded interviews, and we are working on doing a film series," Kilton said.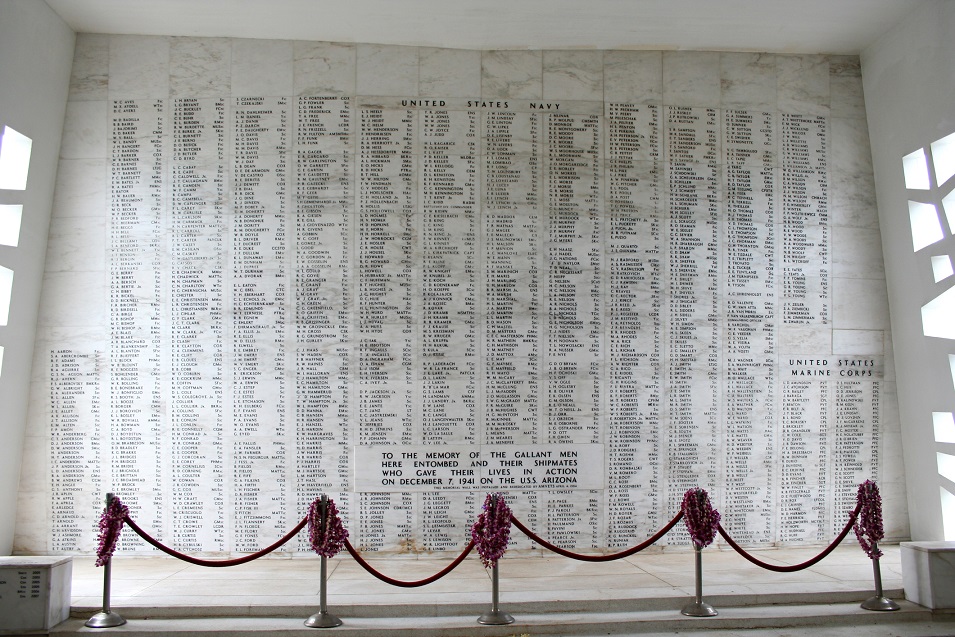 Meanwhile, there is a renewed effort to encourage the staff to tell the Pearl Harbor story to visitors. "It can be hard when you have teens who would rather be on their phones," he said. One point to make is that some of those who died were 18 and even younger — they had lied about their age to get into the navy — and it was their first time away from home. Teens can consider what they might have done.
Lachlan Chucherko, 20, visiting with his family from Australia, was struck by the fact that many of the sailors who died were younger than he is.
His mom, Rebecca Chucherko, noted that the story that is told here has a different emphasis than what kids might learn elsewhere in the world.
Kids who have grown up post-9/11 can relate to a sneak attack that wreaked such havoc and changed their world.
The most popular site here is the USS Arizona Memorial, the final resting place for the majority of the ship's 1,177 crewmen who died in the attack. Unfortunately, the day we visited, the Arizona was closed because of docking issues.
Evie, 10, got interested in Pearl Harbor from "I Survived the Bombing of Pearl Harbor," a book in the popular historical fiction series for kids from Scholastic Books. However, she thought the attack happened in the '50s.
Malosi Foxx-Allen, 13, who lives on Oahu and was visiting with his grandmother and brother, acknowledged, "There was a lot of stuff I didn't know." The native Hawaiian explained he had no idea the surprise attack on that fateful Sunday morning was so big.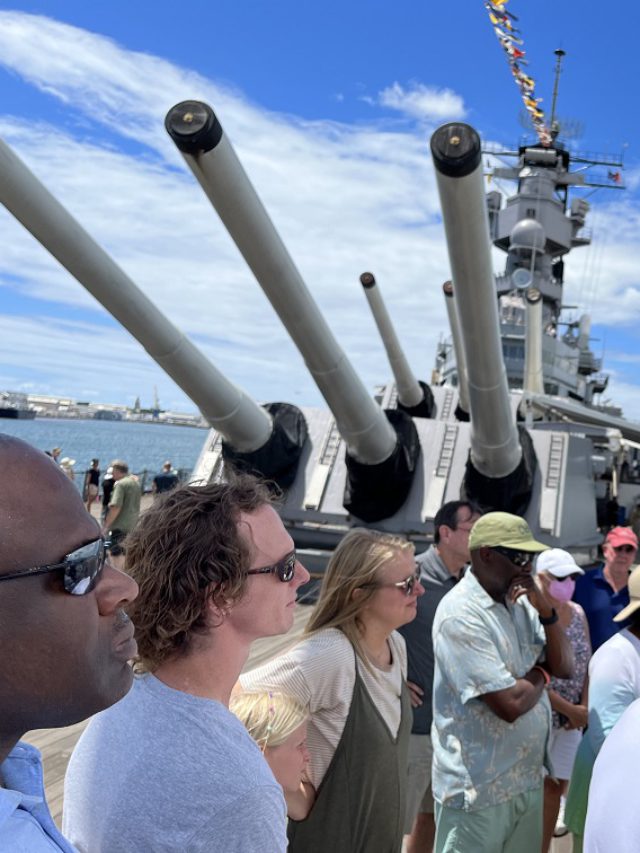 In total, 2,403 Americans were killed, including 68 civilians, and 1,143 people were wounded.
Of the eight U.S. Navy battleships present, all were damaged, with four sunk. All but the USS Arizona were later raised, and six were returned to service and went on to fight in the war. The Japanese also sank or damaged three cruisers, three destroyers, and more. More than 180 U.S. aircraft were destroyed.
Pearl Harbor, Kilton said, "was a story of failure. We weren't prepared. Over 2,000 were lost. We may fail in challenges we face." Those in power missed many signals that an attack was imminent, including a telegram that arrived too late to rookie radar watchers reporting that inbound planes were coming from the mainland. "You may not be facing a war, but you can certainly pay more attention to details," said Kelton. We look back and think, how did they miss it?"
Today Pearl Harbor remains an active military base, headquarters of the Pacific Fleet. It's also a National Historic Landmark home to four attractions from the surprise attack on Pearl Harbor to the surrender of the Japanese on the deck of the Battleship Missouri. The Pearl Harbor Aviation Museum and the Battleship Missouri are both located on Ford Island and only accessible by free shuttle buses.
Admission to the Arizona Memorial is free, though reservations are strongly recommended. The entire program lasts an hour and 15 minutes and includes a 23-minute documentary on the history of Pearl Harbor and a short boat ride to and from the memorial.
(Reservations for the USS Arizona Memorial are available at recreation.gov. A limited number of timed tickets are available through the website. If there are no tickets available, additional tickets are released at 3 pm (HST) the day prior to your visit. The National Park Service strongly recommends that visitors make advanced reservations as standby seats may not always be available.
General admission to the Battleship Missouri is $34.99 for adults and $17.49 for kids 4 to 12;
Go City Oahu All-Inclusive pass holders, no advance reservations required. Please show your pass at the Battleship Missouri Memorial admissions desk to exchange for a ticket.
Admission to the Pearl Harbor Aviation Museum, which covers over 75 years of Pacific aviation history and includes access to more than 50 aircraft, is $25.99; $14,99 for kids.
The Pacific Fleet Submarine Museum, adjacent to the Pearl Harbor National Memorial, features the WWII fleet submarine, the USS Bowfin, a museum — one of the few places to learn about the U.S. Navy's Submarine Force. Admission is $21.99 for adults and $12.99 for kids)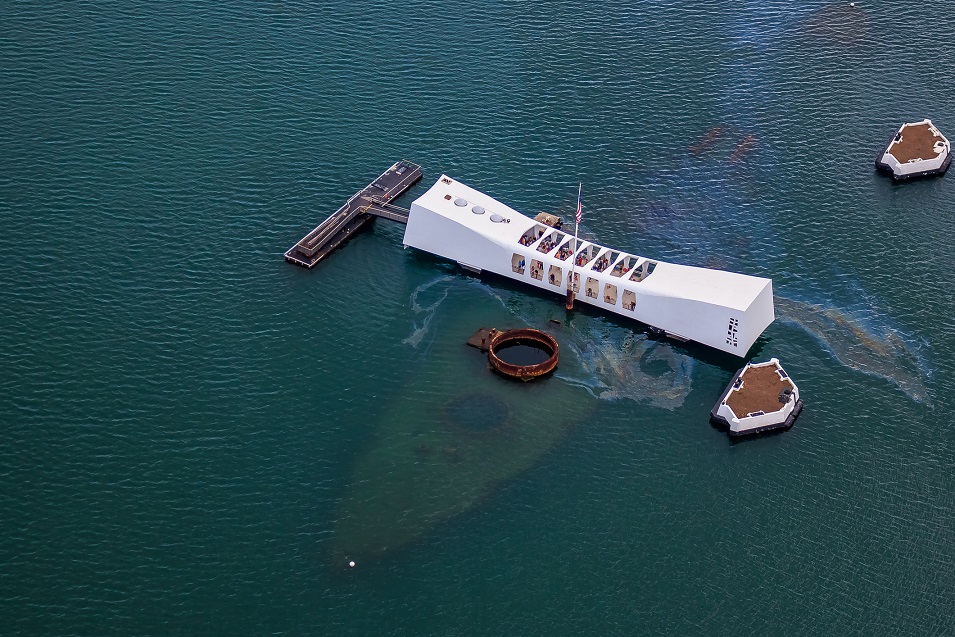 There are combination tickets available that include audio tours and virtual reality.
Kilton suggests explaining beforehand what the kids will experience. There are videos on YouTube and books for readers from 6th to 10th grade, including "Day of Infamy" by Walter Lord and "All the Gallant Men" by Donald Stratton as well as classic films like "Tora! Tora! Tora!" that offers both American and Japanese perspectives.
For younger kids, download the Pearl Harbor National Memorial's Junior Ranger program, though Kilton said the booklets are being redesigned to appeal to different age groups. The booklet encourages kids to look for sites with fun facts. For example, The Tree of Life sculpture was designed as a symbol of renewal, created by the USS Arizona Memorial's architect, Alfred Preis. In the Oahu Court, learn about life in the Hawaiian Islands before Dec. 7, 1941.
" One of the major focuses of our mission is telling the story of the attack, the lead up to it, and continuation about what happened … and conciliation. "To this day … we will have people who come who are still biased against the Japanese … our goal is to give the facts and we are not in that place anymore … don't carry the bias into the next generation."
(For more Taking the Kids, visit www.takingthekids.com and also follow TakingTheKids on Twitter, Facebook and Instagram where Eileen Ogintz welcomes your questions and comments. The Kid's Guide to Philadelphia and The Kid's Guide to Camping are the latest in a series of 14 books for kid travelers published by Eileen.)
©2022 Eileen Ogintz. Distributed by Tribune Content Agency, LLC.